There's a new disturbing trend that's made it's way to Phoenix. Locksmith businesses that appear to be legitimate are price gouging for their services.
We've often discussed on our website the current issue of scam locksmith companies. They promote $19-39 service calls "plus labor," The scammers then charge up to 50X what a legitimate company would charge. These scam company receipts contain no company name or phone numbers, so if a consumer want to complain about their lock service, who are they going to complain to or about? If a number can be recalled, they just go to call centers where no one will assist them in dispute resolution.
This new wave of consumer abuse is based on the scam locksmith model. They've come to realize that customers will jump at the low-quoted service calls because they seem like a bargain, and then they too charge astronomical rates or dubious charges (charges written down on the receipt when the work was not actually performed). The difference is that these companies appear to be real companies. Their name and phone numbers are displayed on their receipts.
Here is one such receipt. This customer, a senior citizen, searched for "ACME Locksmith" on Google. Unfortunately, they called the first ad that was presented – which was not ACME Locksmith. They asked if they were talking to ACME Locksmith and were told they were. The company arrived for a rekey of one door. This job with any reputable company would be much less than $100. However, the receipt shows that a fresh installation was performed (a hole being drilled into the door to install a lock where no lock has existed before). But according to the customer this was NOT done. The company was onsite of less than 1/2 an hour and charged $328.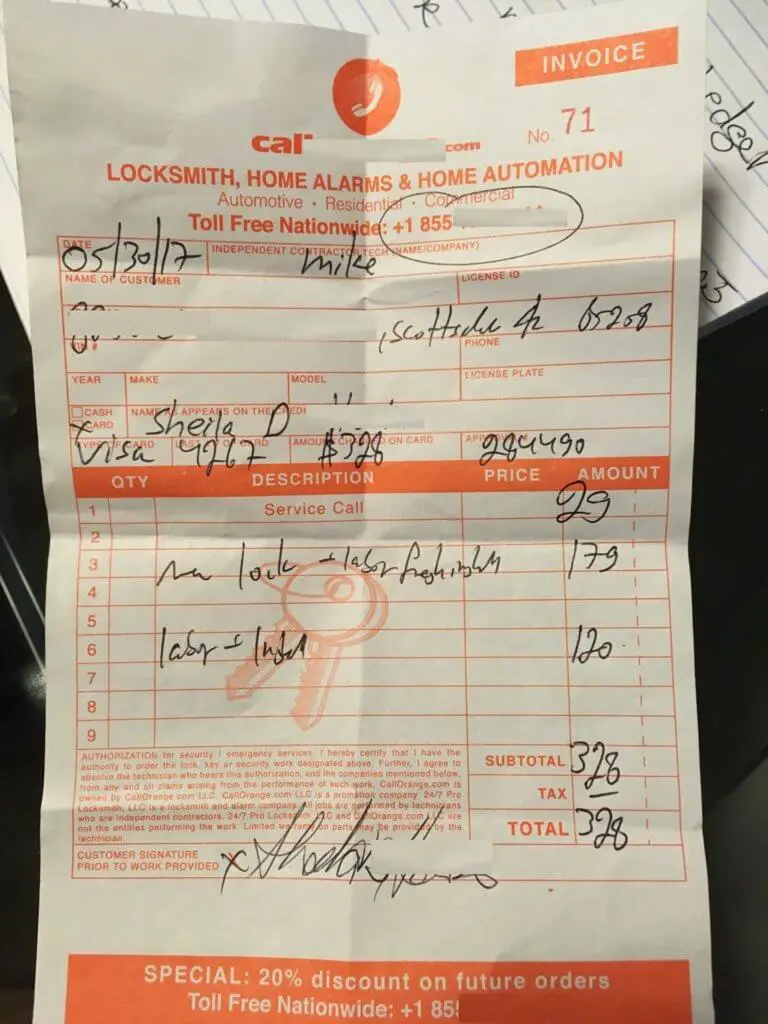 The customer, a senior citizen, has asked us for our assistance in disputing this charge. Regrettably we have enough experience in assisting consumers that have been ripped off to know that she will lose her case. Because this company wrote a description of the work and she signed the receipt, she will not win. It wasn't until after she signed that she reflected on the work done and realized the price seemed way to high. After not getting assistance from the lock company on the receipt, she called us.
The only tip off that this company was going to take advantage of this customer was their service charge quote of $29. When Google is charging these customer over $100 PER CLICK How can these companies only charge you $29 for a service fee? These companies are going to get that money back, one way or the other, and it's at your expense.
There are no $14-$39 locksmiths. It's a scam.