Yelp reviews can miss the mark. I came across this 5-star Yelp review, and what I found surprised me.
The most troubling thing about this review is that this person paid up to 2X the standard rate of an unlock then provided a 5-star-reviews after doing it!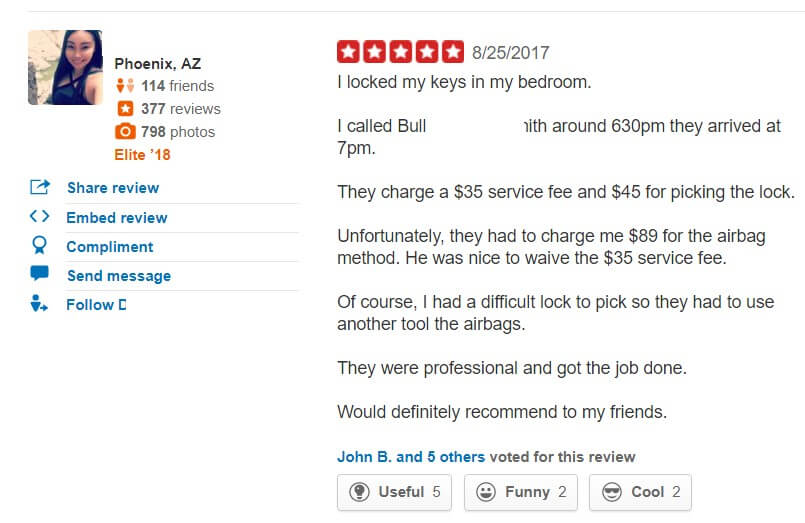 Upon reading you'd think this is a great company. They even waived their service call charge to cut the price for her.
But here's the thing. This girl was ripped off or at the very least she paid WAY TO MUCH for this door unlock. She paid $134 for an unlock service that any credible company would have charged her well under $100 for. There really is no such thing as an airbag fee. This is a made up bogus charge that companies price gouging are claiming to be valid. They typically say that the airbag is very expensive and only good for one use. But this is not true. These little airbag devices are under $20 and can be used hundreds of times. This "locksmith" never intended to pick her lock. For a trained locksmith it would have been easy. His goal was always to jack up the price after demonstrating how "difficult" her lock was to pick. Using airbags to pry open a house door can damage the door, the frame, and is purely an amateur move by someone that clearly doesn't know what they're doing.
At ACME Locksmith, depending on the time of day and day of the week, this person would have been charged just $69-$99 for this service.
What were the red flags that should have tipped her off? In this case, the $35 service call. Service calls cover the charge it takes to get someone out to your location – including the fuel, drive time labor, wear and tear, etc….The national average for a service call is $69. This allows for some profit to cover cost. Also, I can state with certainty that she did not get an exact price upfront. Legitimate companies open cars and houses thousands of times a year. We know exactly what it takes to get in and can quote an exact price over the phone. There will be no surprise fees when a real locksmith arrives because we know what needs to be done.
There are just no such things as $14-$35 service calls. It's a scam to bait you into using their service. They will make it up once they arrive.
Here's how the scam locksmith companies have improved.
They're quoting $35 service calls. Not so low as to raise suspicion, but low enough to seem like a bargain.
When the company makes up a huge make-believe charge, he makes the client feel better by waiving a smaller fee.
The client is left so happy, they write a glowing review so that other people can be price gouged as well.
We are seeing this type of intelligent locksmith scammer more and more, where the customer is left completely unaware they have been taken.