A few years ago it was relatively easy to spot a SCAM locksmith. By this I mean a locksmith that may do the work they were hired to do, but they'll charge up to 10X what a legitimate company would charge. Can you imagine being told you owe $300 for a car opening you were quoted $39 plus labor for? Sadly, we've seen this type of locksmith fraud. Lately we've noticed a shift though. They are raising the rates from what they quote, but only by about 3X. This way, they get your job by quoting low, yet the con isn't so obvious to those not knowing the going rate. Whats more is that they are getting very good at hiding any negative reviews revealing this tactic by overwhelming the search engines with hundreds of positive reviews.
At ACME Locksmith, we take great pride in delivering great service. We have 13 employees and service over 5,000 customers per year. Over a 10-year span, we have earned over 500 5-star-rated Google reviews for our company. Everyone of those reviews can be tied to a customer receipt. I can tell you, it is HARD to get a Google review. In our experience, 0.5% (or 1 out of every 200 customers) will take the time to right a Google review. We have several hundred reviews on other sites, but lets face it, Google is King, and it is especially hard to get a Google review. Why is it so hard?
First, customers need a Google account to write a Google review. If they don't have an Android phone, they likely don't have a Google account. iPhone users with Google accounts are rare.
Second, even if they have a Google account, while people are quick to complain about a service, it's much more difficult to get a satisfied customer to tout a good service. Once the service is received, they're getting on with their day. They soon forget about it. The customer's experience really has to be stellar for them to remember, go back, and write a review.
But in just the past year, we've seen brand new "locksmith" companies on Google getting 400, 600, and even 1000's of Google reviews in just a few months. Are they real? These "locksmiths" have circumvented the limited Googles safeguards to get these reviews posted and look completely legitimate to someone who doesn't have time to do the research.
One such company has been in business on Google for 9 months. They currently have over 1000 reviews!!! These guys are great! That's over 110 reviews per month! I want to hire them, heck, I want to be them!
But when we dive into this a bit, the numbers don't hold up. I've confirmed this company has just one driver on the road performing service. A quick locksmith can handle at most 7 calls a day, which includes driving around to and from calls. So they can service at maximum 35 calls per week or 140 calls a month. IF AND ONLY IF, they are fully booked, every day, without a single slow day or holiday.
I can tell you, after 10 years in the locksmith business, this is not possible. There are busy days and slow days, but lets assume it is possible just to continue our thought process. That means that 79% of this company's customers are writing them 5-star Google reviews. 79% !!! This company is truly amazing. Not only do 79% of their customers have the Google account needed to write the review, but 100% of those customers were so impressed by the service that they took the time to write a review! I wish I had these customers!
If you haven't guessed it. These customers don't exist. There are however review farms that unscrupulous lock service companies can hire to write fake reviews. Don't believe me? We get asked by these crooks to hire them all the time.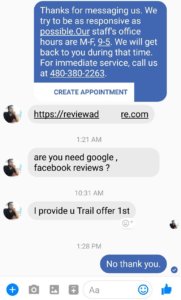 These companies create accounts and write reviews; that's all they do. We've even seen these companies copy and paste reviews from other lock businesses onto their own business. Seriously. Word for word. Even when the city/state mentioned in the review isn't the state where the lock company is located.
But who has the time to figure all this out? When you are in a bind and need a locksmith, you certainly don't.
Another company we investigated had 500 reviews in under 1 year, another too good to be true number. So we hired them to see what they were doing. At the end of the service he asked our secret shopper who was on her phone, "Can I borrow your phone for just a second?" and proceeded to write a review on her phone about how good his service was. I couldn't believe that he asked. I couldn't believe that anyone would hand him their phone.
Is it OK to write your own reviews? We believe it's good business to ask for reviews. If a customer takes the time to write one, then well done. But taking a customers cell phone and rating and raving about yourself, well that seems dishonest to me. And a company using a review farm is way outside of the moral ground. Do you want to hire a lock security company with such dubious morals?
So how can you be sure to hire a credible company that you can trust?
Hire a licensed locksmith company. Companies that go through licensing have best in class businesses. Especially in Arizona where licensing is NOT required. ACME Locksmith is one of fewer than 10 licensed locksmiths in Phoenix-Metro area. Almost everyone advertising as a locksmith is claiming to be licensed and bonded. Ask for their ROC license number to confirm. When they don't have one, and they're website is telling you they do, hang up and call the next guy.
Look for steady reviews, over a sustained period of time. Remember, it's hard to get reviews. Small locksmith services that are getting 5 reviews per day should raise a red flag.
Look for bad reviews. Try as we might, someone will always eventually be unsatisfied, and a unsatisfied customer is very vocal. A company with 0 bad reviews and 500 5-star reviews is suspect. When the bad reviews mention price gouging, be very careful.
For the most common lock services, you should get an exact price. Locksmiths rekey locks, unlock houses, businesses & cars thousands of times a year. We know exactly what it takes and exactly what you will pay. Don't accept a "plus labor" quote for these types of services and don't except any varying away from that quoted price once they've arrived.