Last Updated on November 18, 2022
ACME Locksmith Recommends the Arlo Pro 2
The Arlo Pro 2 camera system is recommended because:
You get two free weeks of online storage – no monthly fees
Easy to install
Intuitive interface
Outdoor home security cameras are becoming more and more popular as the technologies continue to improve, prices drop, and features get added and enhanced.
In fact, they are often replacing home alarms, because many don't require monthly subscription fees and services; the cameras themselves alert you directly on your cellular phone.
You can find some outdoor wireless camera systems for less than $100 on over-seas websites like Ali Express, which is extremely affordable for most people. But, very often the instructions aren't very clear and the camera app functionality can be a problem as well.
So, I wanted to look at an outdoor security camera system that would be extremely easy for anyone to set up and didn't have monthly fees.  I went with a referral from a friend who was extremely happy with her Arlo camera system.
ACME Locksmith recommends the Arlo Pro 2 Security Camera System. If you want free video cloud storage, the Arlo Pro 2 has it with many of key features desired – without subscription fees. If you don't mind paying, you can add a subscription (such as those wit the Arlo Pro 3 or 4 security camera systems). Subscriptions provide cloud storage and additional capabilities.
Prefer Video? Our Arlo Security Camera Review
Review of the Arlo Pro 3 with Hub
The Arlo Cameras are Super Easy to Install
Why did I choose this one, around $400 (at this writing) when far less expensive systems are available? Simplicity. This security camera system can be set up by just about anyone. And we like easy!
You Can Have USB Video Storage
There are a number of camera system configurations offered by Arlo; I reviewed the Arlo Pro 3 with Hub available here on Amazon. This set-up will allow you to store the recorded video on to a USB storage device plugged into the Hub. You can then view the stored video at any time so long as you are on the same network that the Arlo Hub is on.
You can view a live camera feed at any time.
The cameras are wireless and 3 were included in the system I installed, plus the Hub.
There is no subscription required when using the USB for storage but you are limited to accessing the recorded camera video from the Arlo app to only when you are on the same network that the Hub is on (i.e., your home network).
You can view the live feed from anywhere.  There is a subscription available, though, that gives you more features, including the ability to store camera video in the cloud and access the recordings from anywhere.
You Can Have Free Cloud Storage
The older Arlo Pro 2 Cameras comes with free 7-day cloud storage and you can still find the Arlo Pro 2 Cameras available on Amazon at good prices. Even though they are older, that free storage makes them our preferred version of the Arlo Security Camera System.
You can purchase the systems with more or viewer cameras.  Be sure to read the descriptions of the product carefully to see what you will receive, and what isn't featured.
There are No Wires, None.
A lot of the home security camera systems claim that they are wire free systems. But what they mean is that they connect to your internet wirelessly. However, they still require low voltage wire runs to power them. This is NOT wire free.The Arlo cameras are battery operated. So they are indeed 100% wire free and no wires need to be routed to the cameras in any way.
In addition, I purchased the Arlo solar panels from Amazon to go with our cameras. These aren't required; but since they are completely wireless and battery operated this eliminates the need to bring the cameras down to recharge the batteries every six months are so.
Arlo Camera Features – What I Like
100% wireless. No wires for power, no wires for internet connection
Active movement notifications to your smart phone
Live video on your phone
2-way speaker system
Motion sensitivity adjustment
Camera Brightness adjustment
Follow movement option (camera will pan and zoom to follow the moving object)
Snap-in magnetic mounting
Solar panel recharging option
Arlo Camera Features – What I Don't Like
Arlo's newer security camera systems require a subscription to view recorded video from anywhere
Requires a subscription to use the camera zone feature (define a sensitivity zone)
What's in the box?
The box comes with a hub that simply plugs into your router to your network. The cameras communicate to your network through this hub.
There are a select number of cameras in the box.  They come with a rechargeable battery pack, which is easy to remove and put in. To recharge the batteries, you simply remove the camera from the mount and snap on the magnetic charging cable supplied with the system to the exterior of the camera. You don't even take the battery out!
The new mounting brackets for the outdoor security cameras take just one screw to install and are magnetic so the camera simply "snaps" on. No screwdriver is needed. The battery should last around 6 months between charges.
But as I said, I like easy.  So I opted for the purchase of the optional camera solar panel chargers from Amazon, which can be installed near the cameras in a sunny location, eliminating the need to ever have to bring them inside.
Setting up the System
The security camera installation instructions couldn't be any easier. They are (in their entirety):
Plug in the Hub
Install the App
Follow the prompts.
That's it.
During the actual set up process, I found the Arlo app prompts extremely intuitive, and setup went remarkably fast. The longest part of the initial camera setup was updating the firmware and software for the camera system.
In the next step the app pairs the cameras to the app. This went flawlessly as well.I recommend doing all of the initial camera setup in your home before installing the cameras; that way, you know everything is functioning before the actual install.
The Aro Pro Home Security Cameras come with a motion activated spotlight. If someone enters at night, this light will turn on to indicate they've been spotted.  The home security cameras also have 2-way audio so you can talk to the people you see.  There's an emergency audible siren, as well.
After updating the firmware and setting up the features, you're ready to install.
How to Install Arlo Outdoor Security Cameras
This part really couldn't be easier.  The mounting brackets for the camera hang from a single screw in a wall.  They just snap onto this screw. And with the newer mounts, the cameras hold in place with magnets.  Adjust the camera angle as needed, and you are done. Older style camera mounting brackets may have a 3-screw mount, which is only slightly more difficult.
The solar panels I installed were 3-screw mounted. The installation of the entire home security wireless camera system took about an hour and a half, most of that time was securing the cable from the solar panel to the camera so it looked neat and tidy.
If you do subscribe to Arlo's monthly cloud storage, you can create zones from within the app for each camera. The zone excludes areas in the field of view which you do not want motion detection to set off, like public sidewalks.
Summary – Recommended w/ Reservations
Since installing the Arlo Home Security Camera System, I've been impressed by them.  It really could not be made simpler nor more intuitive.
About the only thing I don't like is the limited access to the USB recordings unless you have a paid subscription. I don't like paid subscriptions, as I want to make a purchase and be done, rather than tied to a monthly or yearly commitment.
So, for this reason, I don't recommend the newer system overall, but the Arlo Pro 2 found on Amazon still offers free 7-day storage and that will solve this issue and that is the system I would recommend.
If you don't mind paying a monthly fee for cloud storage or the additional zone features, this system is fantastic.
Disclosure: As an eBay / Amazon Associate I may earn from qualifying purchases.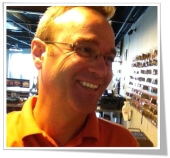 Robert has been the Owner of ACME Locksmith, Arizona's #1 Rated Locksmith, since 2007. Robert's company has provided locksmith service to over 160,000 Phoenix houses and businesses.