Last Updated on November 18, 2022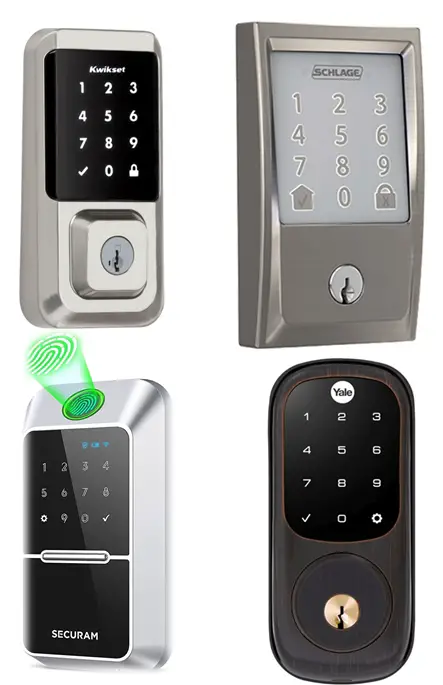 This article focuses on residential smart locks, which are almost always a bad solution for commercial applications. See our page on commercial access control systems.
In 2020 lock manufacturers finally got the concept of smart locks dialed in for the average consumer. Gone are the complicated hardware and software components to set them up, the apps that run them are more intuitive to the end users, and the designs are now compatible with standard door preparation, meaning to install one, you won't typically have to do any drilling on an existing door.
For 2022, they continue to improve the smart locks and their appearance.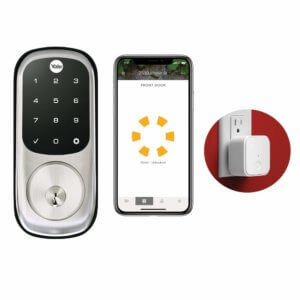 The best smart lock of 2022 is  the Yale Assure Connect by August (CBA) smart lock. It's the only smart lock that has the ability to sense if the door has been left open. It has the ability to swap lock cylinders so practically any existing house key can be made to work as the override key. It is fully integration into the AirBnB platform for owners who rent their homes. And Furthermore, it can be purchased as non-wifi, very affordable basic electronic lock to be easily upgraded later with the CBA upgrade kit.
No other locks have all of these abilities, and when it comes to wifi support, they're all or nothing.
We sell both versions of the Yale lock on our website Purchase the Yale Connect by August Smart Lock.
We've done three detailed reviews of the most popular 2022 smart locks available. We're ready to declare our favorite smart lock of 2022. The smart locks we reviewed in detail are the:
Schlage Encode Detailed Review 
Yale Assure Connect by August Product Review and the
SECURAM EOS (See Our YouTube Review)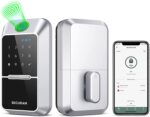 All four of these locks have greatly improved capabilities over their predecessors, and for most home owners, any of them are going to be suitable for your needs.
If you have an existing deadbolt on your door, these locks can be easily installed if you pay attention to the instructions. If you miss a step, it can cause problems. Any locksmith service for homes will be able to sort it out for you though.
The SECURAM EOS, the newest offering from a company known for making safe locks, has really stepped it up and the EOS Smart Lock is the price leader on Amazon. It depends on how much you need or value the differences mentioned above.
You can see some differences between these smart locks looking at the chart we've created to compare their features.
Table: 2022 Smart Lock Comparison
Finding the Best Smart Lock of 2022
Feature
Yale CBA
Schlage Encode
Kwikset Halo
SECURAM EOS
 Lock Grade What are Lock Grades
2
1
2
Not Yet Graded
 Voice Assitance
Amazon Alexa
Google Assistant,
Siri
Amazon Alexa,
Google Assistant
Amazon Alexa,
Google Assistant
Amazon Alexa,
Google Home
 Lock Warranty
1 Year Electronic
Limited Lifetime Mechanical/Finish
3 Year Electronic
Limited Lifetime Mechanical/Finish
1 Year Electronic
Limited Lifetime Mechanical/Finish
1 Year Electronic
1 Year Mechanical/Finish
 Max User Codes
250
100
250
9
 Is Door Open Sensor
Yes
No
No
Yes
 Multiple Keyways Supported
Yes
Yes
No
No
 Redo Setup on WiFi Change
Yes
No – according to customer
support but no documentation
on this.
Yes
No
 Code Guessing Protection
Fingerprint Resistant Screen
Fingerprint Resistant Screen
Random Number Generator
Random Number Input
 BioMetric
No
No
Another Version, No Pin Code
Yes
 Single Use Codes
Yes
No
Yes
Yes
 AirBnB Integration
Yes
No
No
No
 Door Thickness
1-3/4 to 2-1/4
Optional Gasket for 1-3/8
1-3/8 to 1-3/4
Thick kit for Up to 2-1/2
1-3/8 to 2
1-3/8 to 2
 Fire Rating
20 Minutes
With Add-On Kit
No
20 minutes
No
Our YouTube Review of the Smart Lock
Yale CBA
Schlage Encode
Kwikset Halo
SECURAM EOS
Current Amazon Price
Supported by All the Smart Locks Reviewed
One Touch Locking
Standard Door Prep
Auto Relock Feature
Key Override Option
Monitor by Phone
Tamper Alarm
Wifi Supported 2.4Ghz
Locked Unlock Status
The Biggest Limitation of Available Smart Locks
To be fair, all 3 share the same shortcoming of requiring a 2.4Ghz router, which can be problematic with routers that dynamically choose between 2.4Ghz and 5Ghz, such as the new routers by Cox in my state, Arizona. We learned this the hard way during an installation when we couldn't get one of the smart deadbolts to connect.
A way around this limitation for all of these locks is to get a 2.4Ghz router extender and connect the locks via the extender. I have done this in my home with several smart products that require 2.4Ghz after my router was upgraded to the new Cox router.
Each of these models have key overrides. There are also available models without them, but at ACME Locksmith we highly recommend having a key override, because electronic components can fail, especially when exposed to our hot Arizona sun. Choose the smart lock version you prefer, with or without the key override.

Why the Kwikset Halo Smart Lock is Not Our Best Smart Lock of 2022
See our Kwikset Halo Detailed Review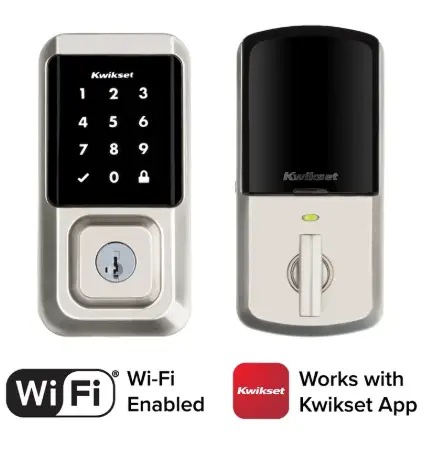 We liked the newly release 2022 Kwikset Halo because it definitely has the most stylish design of the three. It's also has the most flexibility in how codes can be assigned, and a high number (250) of available codes that come with the product.My favorite feature of the Kwikset Halo is its SecureScreen™ feature to keep people from guessing codes based on fingerprints on the lock face. And it's the only one of the three that has a 20-minute fire rating without needing an upgrade purchased.
It's not that this is a bad lock. All of the 2022 smart locks are good locks, and for many home users, especially ones who already have Kwikset locks on their home, this can be a great smart lock.
We sell the deadbolt version on our website Buy Kwikset Halo Smart Deadbolt
But, the Halo has some drawbacks. There is no door sensor to tell if the door is actually open or closed. Notifications to your phone from the lock are a 'yes' or 'no' option; you cannot select to only receive particular alerts, so either you get every notification (which can be annoying) or none at all (even worse.) And if you change your WiFi, you have to factory reset the lock and start the programming process all over. Who hasn't had a router go bad on them? This is a big drawback.
Why the Schlage Encode Halo Smart Lock is Not Our Favorite Smart Lock of 2022
See our Schlage Encode Detailed Review and the
We liked the Schlage Encode also. It's best feature is that it's a Grade 1 lock – the highest grade available (Learn About Lock Grades), it comes with better hardware that make the installation more robust, and it's also the easiest to install as both halves of the lock will 'snap' together and hold the smart lock pieces in place while you screw in the bolts.
It allows up to 100 user codes, which is plenty for most, and it is the ONLY smart lock (that we've seen) with a 3 year electronics warranty (the others featured here have only a 1 year warranty). These are great selling points for this lock. Check out our detailed review of the Schlage Encode Smart Lock – link.
There are some drawbacks with the Schlage Encode Smartlock. For instance: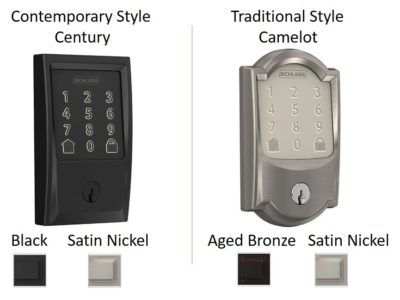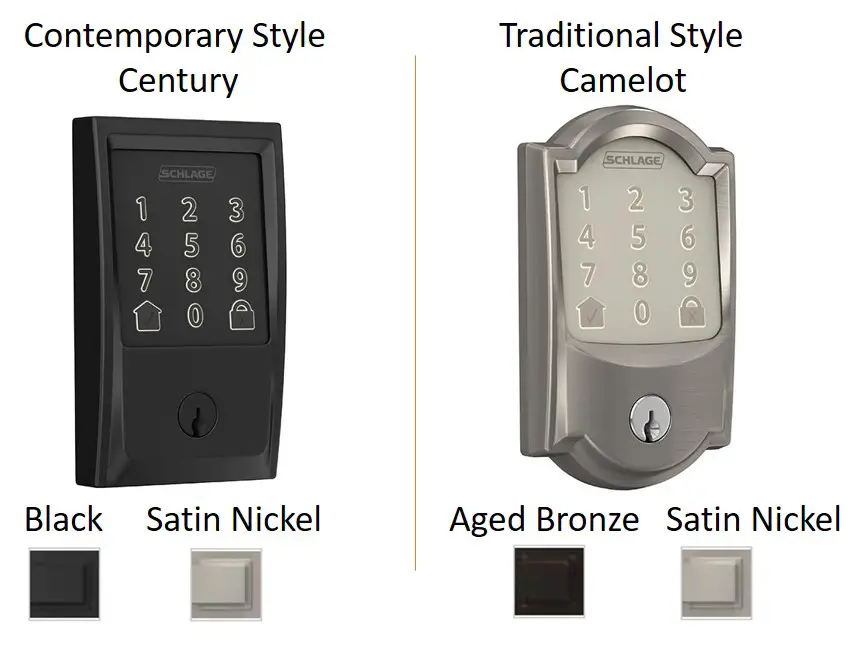 There are no single-use codes available, but you can set one for a very limited time frame to get around this.
If you change the length of a code (4-8 numbers), ALL codes will get deleted and have to be reentered.
I could not find a list of Schlage approved routers anywhere to help eliminate potential compatibility issues.
The range of doors this lock will fit on out-of-the-box is the most limited. And, if you have a non-standard thicker door, it can be a hassle to get an extension kit. However, once you've added the thick door kit, at additional expense, it does become the only smart lock to go up to a 2 1/2 inch door.
Not a lot of resellers are carrying the lock. We did find them on Amazon at the best price here.

We Chose the Yale Connect by August as Our Favorite 2022 Smart Lock
Yale Assure Connect by August Product Review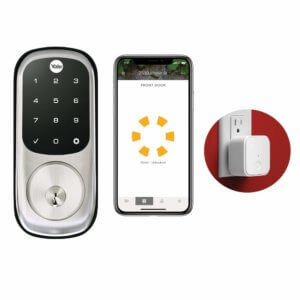 That leaves us with the Yale Assure Connect by August. The only real drawback to this lock is that it is a grade 2 product (learn about ANSI lock grades). Grade 2 locks are robust residential locks, there is no doubt, but it is second to Schlage's grade 1 lock rating.
You can Buy the Yale Connect by August on our website.
In nearly every other metric, the Yale lock is the most versatile.
It's the only lock here that will tell you if the door is actually open – not just if the lock is locked or unlocked.
It works with more voice / personal assistant platforms than either competitor.
It works with the widest range of door thicknesses without additional purchases.
But one of our favorite features of this lock is that the cylinder it uses can be replaced to use a different keyway. So whether you have a Schlage, Kwikset, or a number of other popular keyways, this lock can get a cylinder to match. Even some high-security lock cylinders can be used.
The Yale Assure Connect by August Smart Lock is already our Best AirBnB choice for its full integration with the AirBnB platform, and for the above reasons, the Yale Assure Connect by August Smart Lock is the overall Best Smart Lock for 2022 as well.
Other Great Locks
If you're looking to enhance the security of your home and are looking for the best home locks you can find. Our article mentions linked there has some tremendous suggestions.
Disclosure: As an Amazon / Google Associate I may earn from qualifying purchases.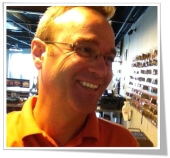 Robert has been the Owner of ACME Locksmith, Arizona's #1 Rated Locksmith, since 2007. Robert's company has provided locksmith service to over 160,000 Phoenix houses and businesses.