Last Updated on April 6, 2023
Overview of The Hollon Gun Safe Lines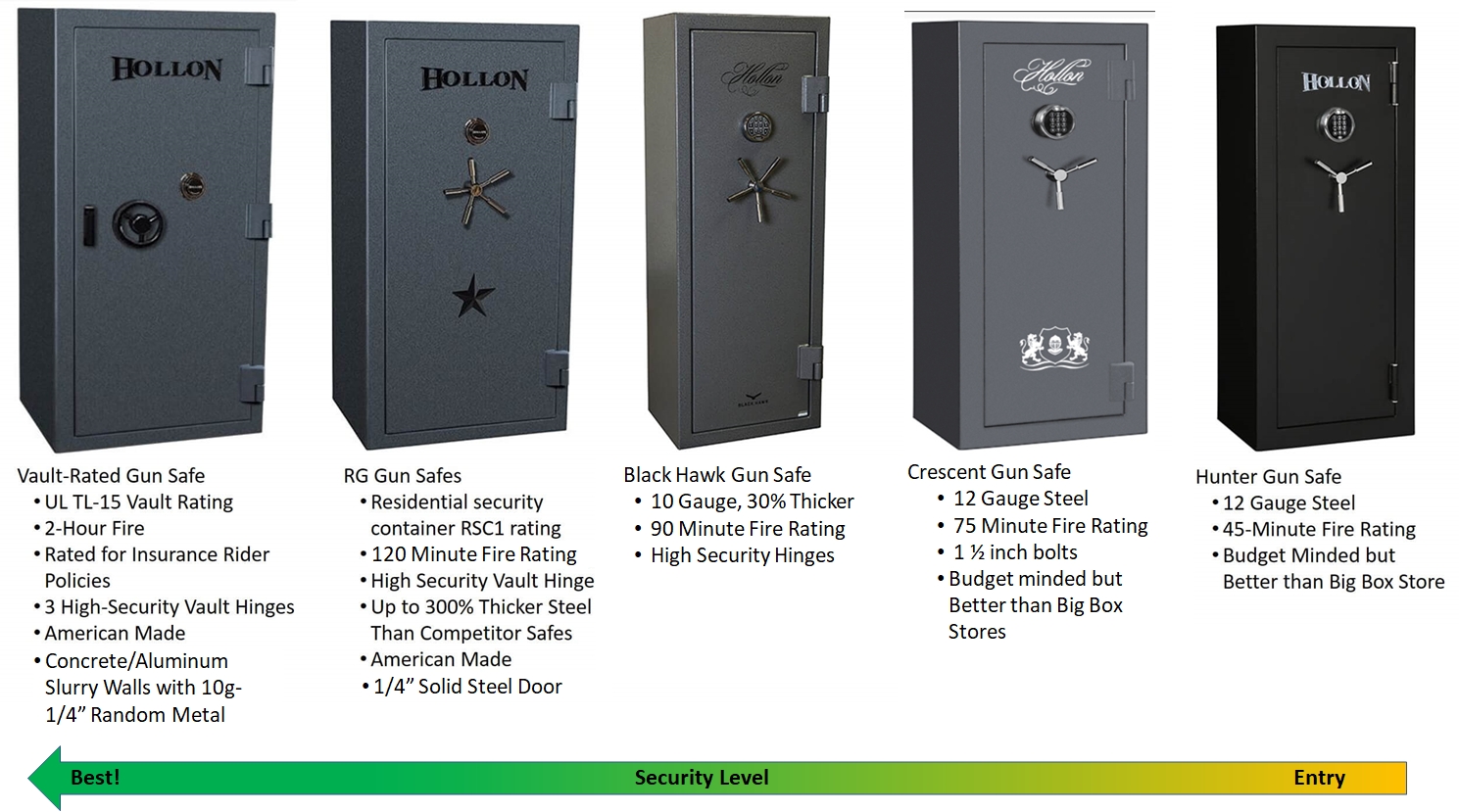 Before buying any safe, do your research. It's a big purchase that deserves serious consideration. Hollon makes several gun safe lines to offer a suitable safe for everybody's needs and budget. Hollon gun safes are a tremendous value.
In 2023, Hollon makes the best gun safes available for the money in terms of both security and affordability. Hollon gun safes offer better security features than any other brand at their price point. Quantity of steel, thickness of the steel, size of bolts, anti theft measures, and mechanical linkages are all better, and they deliver these features at a better price.
Hollon has 5 categories of gun safes, each one a step up in security and features than the series before. Their lower-end gun safes are very similar in price and features to those of several competitors. This is driven by the need for affordable fire and minimal security protection.
As you move up to the high-end Hollon gun safes (specifically the Hollon BlackHawk and Hollon Republic gun safe, you start to see features in Hollon gun safes where others are charging 2-3X as much as Hollon for similar security.

Hunter Series Gun Safe – Best on a Budget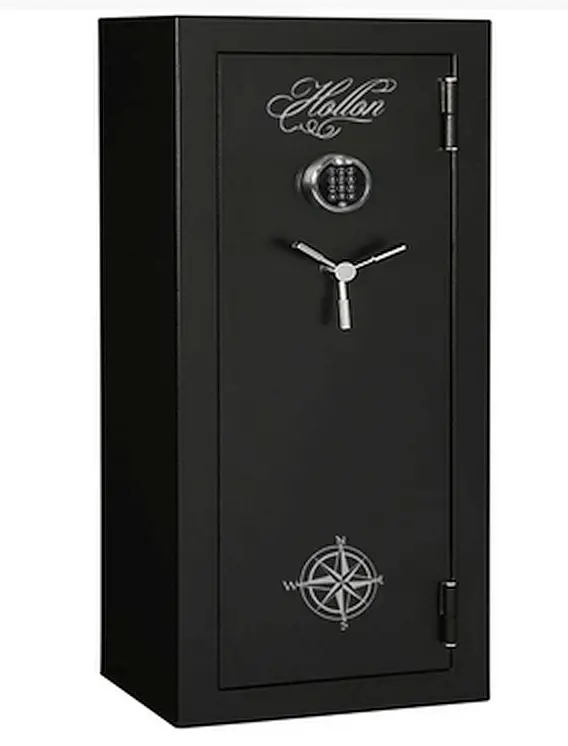 The Hollon Hunter series of gun safes is Hollon's entry-level gun safe. But even as an entry line, they are made of 12-gauge steel, which is thicker than most entry-level safes. Big box store competitor "high-end" safes are often made of 12-gauge steel, and low-cost, big-box-store safes can be as thin as 22-gauge steel!
You don't want to protect high cost valuables in a 12-gauge steel safe. They are designed primarily for document protections and safety of firearms.
The Hollon Hunter Gun Safe series offers 45-minute fire protection at 1400F, and up to twelve 1.25″ locking bolts across four sides of the door. Drill and ballistic resistant hard plating protect the interior of the lock and there's an auxiliary relocking system to lock the door down in case of sudden impact.
A comparative model to the Hollon Hunter might be the Gardall GF-5517. It's about the same size as the Hollon HGS-11E, with similar features. I found it on Amazon for about $1000 (at this writing we sell our Hollon HGS-11E for $895).
To be fair, the Gardall safe uses 11-gauge steel on their brand which is really good at this price point and may justify the extra cost. It needs to be considered. At this thickness, though, it is a difference of 1/64th inch of steel.
However, our similar Hollon Hunter HGS-11 safe still weighs in 30 lbs heavier than the Gardall despite the difference in steel gauge on the two safes. The HGS-11 has:
45-minute fire rating to 1400F instead of only 30 minutes to 1200F.
Bolts that are 25% thicker than the Gardall.
And Internal mechanical linkages that are more robust
All for about $100 less. Because the inexpensive gun safes are primarily fire and safety protection, we feel the Hollon Hunter Gun Safes offer better value than competing brands.
Hollon Crescent Shield Gun Safes
A step up from the Hunter Gun Safe line and just below the Hollon Black Hawk Gun Safes is the "Crescent Shield" series gun safes. Similar to Hunter, but with some additions, the Crescent Shield Gun Safe Offers:
A 75-minute fire rating. There are not many competitors that offer a 75-minute fire rating. Most competing gun safes are at 60-minute fire ratings. So, the Hollon Crescent Gun Safe gives you just a bit more for the money.
Larger 1.5" bolts (up to 14) on each side of the door for pry resistance. This is a bolt that is 25% thicker than most of the competitors in the same class.
An upgraded grade-1 electronic lock
And, like the Hollon Hunter safes, is protected with the drill and ballistic-resistant hard plate.
Hollon Black Hawk Gun Safe Review – The Best Mid-Level Gun Safe On the Market
The next step up in quality you have the Hollon Black Hawk Gun Safe line. In terms of security, it sits just below the Hollon Republic Gun Safe line.
We love Hollon Black Hawk Gun Safes. We sell more of these than any other brand we carry in our locksmith shops, and it is available for order on our website Hollon Black Hawk Safes.
Hollon Black Hawk Gun Safes are one of the best value safes available in the market and take security to the next level. They featuring 10-gauge steel construction. This is best-in-class for this price point. They have an additional 1/4" steel plate inside the door surrounding the lock area, up to sixteen 1.5" bolts, and carry a 90 minutes fire rating at 1400F external temperature. It uses a Grade 1 lock that is EMP rated, the U.S. Military's highest EMP standard. EMP is "electro-magnetic pulse" and refers to electronics surviving this type of attack.
Our Review of the Hollon Black Hawk Gun Safe on YouTube
Hollon Black Hawk Safe Review
The Black Hawk Gun Safes also offer a very well-built and robust u-channel bolt working mechanism, with minimal welds to reduce cracking / breaking.
We are not aware of any other gun safe brand at this price, with this thick of steel siding, and this thick of bolt work.
Here is a quick comparison chart of a Hollon Black Hawk Gun Safe to its major competitors as of the time of this writing. We feel that the Hollon Black Hawk Gun Safes are better safes than the competitors and priced to sell.
How Good is a Hollon Republic Gun Safe?
Want even more security? Hollon is just getting started! Their top-of-the-line, off-the-shelf gun safe is the Hollon Republic Gun safe series (also known as the Hollon RG Gun Safe line).
Hollon Republic Gun Safe Review
Review of the Hollon Republic Safe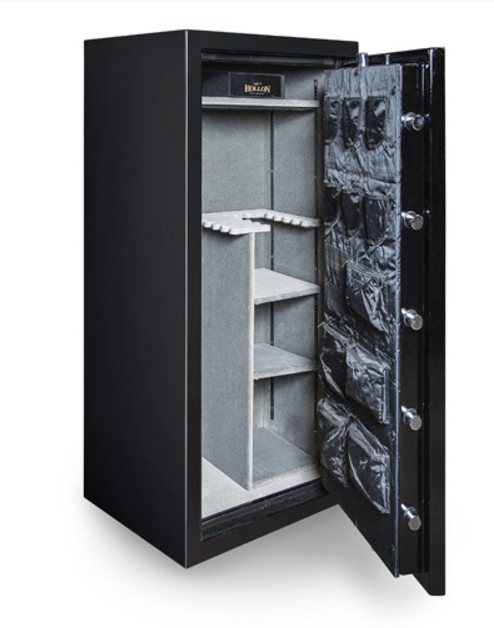 The Hollon Republic Gun Safes offers features that are not known to be matched by any other safe in the market at this price. The fire rating, bolt size, ¼ inch solid steel door, 10-gauge body, u-channel and UL RSC rating are what makes the Republic gun safe stand out.
120-minute fire ratings
1.5" active bolts on all sides of the safe door that are 3.5" long, twice as long as most competitors.
10-gauge steel constructed body, with a 3 gauge (1/4 inch) solid steel door.
Drill/Ballistic resistant armored ball bearing hard plate is added to protect the lock.
It also features a spring-loaded re-locker to prevent punch attacks.
Enhanced u-channel, minimum weld bolt work.
UL-RSC burglary rating (What do Safe Burglar Ratings Mean?)
This safe far exceeds California's Department of Justice Regulatory Standards for Residential Security Containers. This is one tough gun safe.
Here's a chart stacking up the RG Gun Safes against the most common competitor we see for them as a similar price point. Hollon gun safes are built better in every important way. You can check out our prices on the Republic Gun Safes one our Website (link)
I would place this safe just one-level below an American Security (AMSEC) BF Gun Safe. American Security is also a great safe company (see AMSEC Gun safes on our website). Their BF gun safes, also have 120-minute fire ratings. Stacked up against a Hollon Republic Gun Safe, the main difference between them is that AMSEC BF rated gun safes are concrete filled and have ½ inch solid steel doors. However, they are also almost twice as expensive as the Hollon RG Gun Safe line. So we favor the Republic Gun Safe until the value of the safe's content starts to exceed $25-$30,000. At that level, short of a TL-15 rated gun safe, I'd point you to the AMSEC BF gun safe series. But if that's not in the budget, I'd keep you in a Republic Gun Safes by Hollon – in our opinion, the best gun safes for the money.
But what if the value of the content starts to get really high? $50,000? $100,000? Then you want to be looking at the highest rated gun safes available.
Hollon TL-15 High-Security Gun Vaults
The Republic gun safe seems like it could be the top of the line gun safe product, but it's not. That would be the Hollon TL-15 Gun Vaults. These safes are extremely well built and carry a UL TL-15 rating.
The walls of their TL-15 are different than any other we've seen manufacture. At this level of safe, most manufactures pour a concrete-composite slurry between the interior and exterior walls of the gun safe and leave it at that.
Hollon Gun Vaults add to this air gap, prior to filling with a concrete slurry, multiple layers of steel in thickness from 10 gauge to ¼ inch. Then they fill the gap with an aluminum concrete mixture that is drill resistant. The walls of this safe eat tools trying to cut through them.
Like the Hollon Republic safe, the door has a solid 1/4 inch armor plate but adds a glass relocker.
It has a 2-hour fire rating.
Its shelves are birch (covered with felt to protect items). They hold heavy items like ammo at height.
The Hollon TL-15 Gun Vault features a Group 2M anti-manipulation dial or an EMP electronic lock.
Hollon gun vaults exceed, by far, the necessary standards for a TL-15 rating, it's one of the FEW gun vaults that offer this rating, and insurance companies will allow this safe's use for your insurable items.
It's not easy to even find a competing TL-15 rated gun safe. The closest I found was 19L model from Format Safe. It cost about the same as the Hollon TL-15s on our Website, but it's 500lb lighter and only offers a 1-hour fire rating (and the rating is at only 1400F degrees rather than Hollon's 1750F).
When you want the most secure gun vault, Hollon Gun Vaults are built better and offers more value for the money.
In Conclusion
The Hollon Gun Safe line offers something for everyone's budget and security needs. Their budget gun safes are comparable but often offer just a bit more security than common competitors.
The higher end gun safes, from the Hollon Black Hawk line on up, is where you really start to see difference. The Black Hawk and Republic gun safes offer many more features than typical other gun safes at the same price point and the TL-15 is offering amazing security and value.
You can find all of the Hollon Gun Safes on our website.
Disclosure: As an Amazon / Google Associate I may earn from qualifying purchases.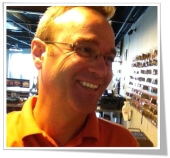 Robert has been the Owner of ACME Locksmith, Arizona's #1 Rated Locksmith, since 2007. Robert's company has provided locksmith service to over 160,000 Phoenix houses and businesses.