Last Updated on November 18, 2022
Review of the Schlage Encode Smart Lock by ACME Locksmith
2022 has been a great year for electronic deadbolt smart locks. Three of the major players have introduced new smart lock deadbolts and levers in just the past few months and they have FINALLY nailed it. Yale, Schlage and Kwikset have smart deadbolts that have removed all of the hassles of installing and using their smart locks.
We are reviewing the above three products in detail, in separate articles, and then will compare them to reveal our favorite.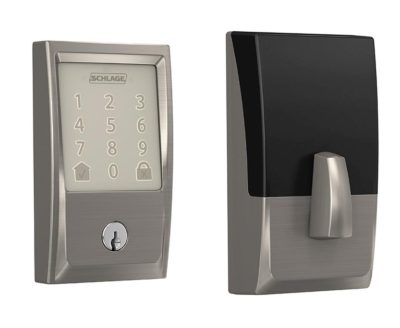 The Schlage Encode is Schlage's smart deadbolt that connects directly to the Wifi so it can be easily accessed by the Schlage Home App without requiring additional 3rd party hardware.
The Schlage Encode, therefore, does not require Z-wave or Zigbee hubs. Schlage makes several smart locks, and the Schlage Encode is the top of the line product from Schlage.
We've already written A Review the Yale Connect by August Lock (CBA) and a review for the Kwikset Halo Smart Lock. This article focuses on the Schlage Encode Smart Lock.
The Schlage Encode Smart Deadbolt's Design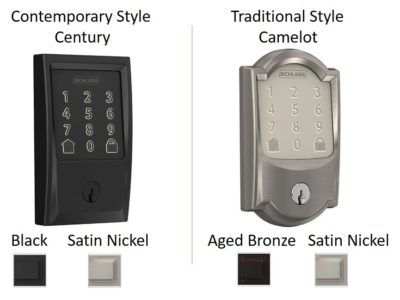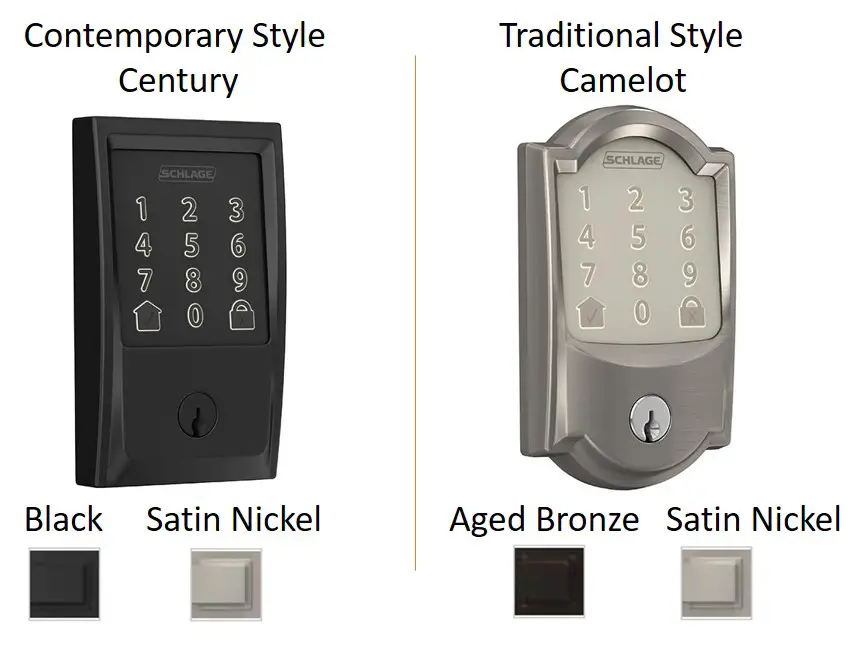 The Schlage Encode Smart Lock comes in two styles. The first is a modern contemporary smart deadbolt called the Century style. It has the more square and rigid lines that we discussed in our article Door Hardware Design Trends. It is very attractive and if you are choosing all new hardware, the sleek styling will be on trend for many years to come.
The Schlage Century version comes in just two finishes, black and satin nickel. Black is a new hardware color that is gaining in popularity. See our article on trending door hardware finishes,
The Schlage Encode Century on Amazon sells for less than I can buy it from my lock distributors, so if price is your only concern, it's likely the best price you will find.
For those that like the look of a more traditional lock, or have existing locks installed, Schlage offers the Camelot styling with this new smart deadbolt.
The traditional Camelot version only comes in Aged Bronze and Satin Nickel, and the Schlage Encode Camelot runs about $20 less than the Schlage Century see it on Amazon, but it has all the same features.
When shopping Amazon for Schlage Encode locks, be sure to get locks labeled as "Encode." Schlage has several version of their smart locks and you don't want to get on that require the old Z-wave and Zigbee hubs…trust me on that.

Installation of the Schlage Encode Smart Deadbolt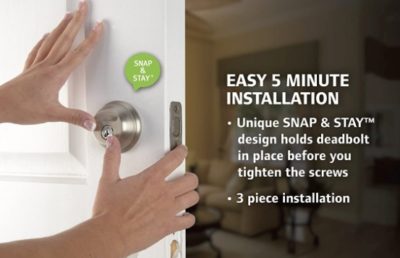 Aside from connecting the lock to the WiFi, installation of the Schlage Encode Smart Lock follows the same installation of a standard deadbolt. You can check out our article for instructions on How to Replace a Door Lock. Or, if you are uncomfortable, call a local locksmith. Arizona customers can schedule ACME Locksmith online to help with the installation and save up to $20.There is one feature that is unique to the Schlage Encode Smart Deadbolt meant to help with the installation and I love it! It has a "snap and stay" feature. It will snap the interior and exterior pieces together so the lock will stay in place. This frees up both of your hands to screw the two lock pieces together easier installation.
Schlage also sells a thick door kit that allows the Schlage Encode Smart Lock to be installed on thick doors (from 1 7/8″ to 2 1/2″). If you have a non-standard door, you may need this kit. You may not be able to find it at a big box store though, but it can be ordered from any local locksmith shop.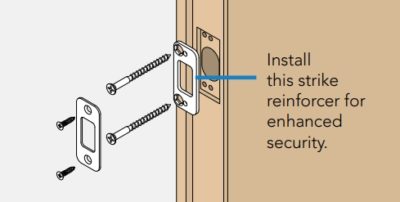 Thick door kit installation for a smart deadbolt does complicate the install a bit, since the cylinder must be pulled out of the lock. You may want to consider hiring a local locksmith or handyman for the installation if you door is not the standard 1 7/8″.Another thing we like about Schlage products in general is that they are more heavy duty than other brands. This means during the installation there are extra pieces that will help reinforce your deadbolt.
For example, the Schlage Encode Smart Lock has an extra steel strike with extra long screws. Your existing strike probably isn't reinforced. Although you do not need to install this extra piece to complete the lock installation you should install it. We STRONGLY recommend you take advantage of these ways to reinforce your door frame and lock. It will greatly improve the overall strength of you door's security.
Once installed, The Schlage smart deadbolt will need to determine how it is positioned in the door in order to control the motor extension and retraction of the bolt. That is, the motor needs to know if the bolt is coming out to the right or the left to property extend/retract the bolt. To do this, the lock will go into an-auto setup mode after installation and after you've entered one of the default user codes. This auto setup prevents you from having to mechanically change the lock for left handed and right handed doors (see What is Door handing?).
A word of caution on the installation of all motor driven smart deadbolts. This is not unique to the Schlage Encode, but you need to know this for all smart lock deadbolts. You must make sure during your installation that the bolt of the deadbolt fully extracts into the door frame to ensure proper operation of the lock. Make certain that the receiving hole in the frame is at least 1″ deep. If you don't do this, your electronic deadbolt can bind, lock up, and/or continue to run the motor trying to fully extend the bolt.
What are the Features of the Schlage Encode Smart Lock Deadbolt
As will all Smart Locks, the Schlage Encode allows you to control and monitor your lock from anywhere. Also, the Schlage Encode can be used as a simple keyless entry without integration to the WiFi or a phone, but there are less expensive alternatives if you are only interested in a keyless, electronic deadbolt for your home. Some of the Schlage Encode's main features are:
The Schlage Encode will work without WiFi. But it's functionality becomes that of a simple, and much less expensive, keyless deadbolt. Without the WiFi, you lose the ability to use the app which is the primary benefit of the Encode deadbolt. But it can be done.
Up to 100 user codes that can be set from 4-8 digits. Every code issued is the same length depending on the setting chosen. Choose the length of the code wisely. If you decide later to change it, all of the existing codes will be removed from the lock and have to be setup.
Built in WiFi support for 2.4g network. This can be problematic. See Things I Don't Like About the Schlage Encode below.
The lock has Schlage's built-in tamper alarm, a feature often found in Schlage electronic locks. If someone tries to bypass the lock (hit it, etc…) a 90 decibel alarm will sound. The alarm feature can be disabled if desired.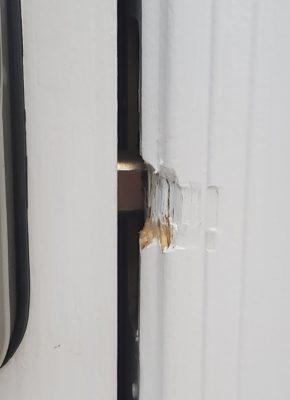 The Schlage Encode smart lock can be set to auto-relock from 15 seconds to 4 minutes. I've said in other articles that on my home I've disabled this feature. Inevitably you'll be going in and out of the door, bringing in groceries or something and the lock will auto-lock extending the bolt. Then someone not paying attention, or your when you forget, closes the door and the bolt hits the frame causing damage. If you are going to use this feature, I'd recommend the maximum time setting to try and avoid that.
1-touch locking. There is a symbol on the screen that you touch that allows you to lock the door from the outside without a key or code.
The Schlage Encode comes with a 3-year electrical warranty. This is the best of all new smart locks available (others offer 1-year warranties).
The Schlage Encode Smart Deadbolt is a Grade-1 deadbolt. This is also the best residential grade smart deadbolt available. Don't know what lock grades are? Check out our article: Lock Grades Explained.
Comes with a key override. Yes, you CAN rekey a Schlage Encode to match your house key. The key override can be made to work with any existing Schlage keyway locks so that you can match the current key on your home. Just take the smart deadbolt to your local locksmith BEFORE installing it, and they can rekey it to your house key. Even better, shop local and purchase the lock from a local locksmith.:-)
The smart lock comes with a vacation mode setting. This will temporarily disable all codes so that any code in the system will not open the lock while you are away. The key override will still open the lock even when in vacation mode.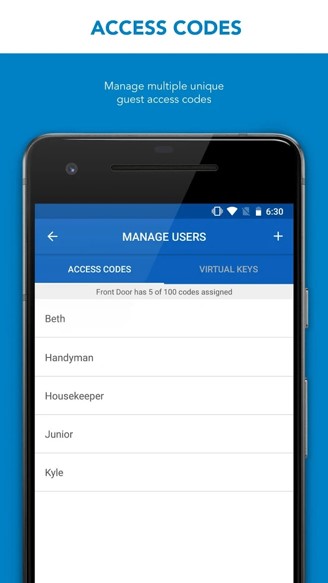 What are the Schlage Home App Features
The Schlage Home App allows you to monitor the Smart Locks activity log. This includes who opened the lock and when.
It allows you to lock and unlock the door from anywhere.
You use the Schlage Home App to assign codes. Codes can be limited by day and time. This is great for cleaners, dog walkers, etc… Codes can also be set to expire after a given length of time. And of course, there are anytime codes. The Schlage Encode Smart Lock does not support 1-time access codes.
Virtual keys. This is where you send a virtual key to someone's phone and the phone will be able to unlock the door if they've installed the Schlage Smart Home app.
A nice feature of the Schlage Encode Smart Deadbolt is that you can control which notifications you want to receive including low battery, code was used to open the lock, etc…This is not available in some other smart locks.
In the app, the battery level shown as a percentage. Our customers really like this feature, because it eliminates the guess work.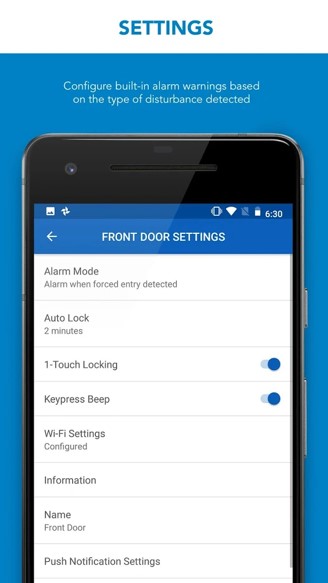 The Schlage Encode Smart Lock supports multiple locks via unique naming. The Schlage Home app does not yet support multiple locations. That is, in some apps you can set a location and then put locks under that location (ex. Location = Work and then under that location, Lock = Front Door, Back Door, etc….). It makes it much easier to manage several smart locks at multiple sites. With the Schlage Home App there is no way to categorize your locks like this and you have to rely on the lock's name.
Misc Features of the Schlage Encode Smart Lock
Just a few extra features on this Schlage electronic deadbolt that we haven't yet mentioned.
If your WiFi changes, there is no need to reset the lock. From the Schlage Home App, you can just change the WiFi settings. So if you change your router, you don't need to start over and redo all the codes in the lock.
It supports Amazon Alexa and Amazon Key. Amazon key is specifically for Amazon deliveries so that the drive can leave a package inside your home instead of on your porch. I'm not sure I like this feature as it allows a complete stranger into your home, but it is in place to reduce Amazon package theft. Choose this option carefully.
The Schlage Smart Lock also supports Google Assistant.
The screen is fingerprint resistant. This feature is to help hide oil / fingerprint marks on the screen that might identify which numbers are used in the code.
What I Don't Like About the Schlage Encode Smart Lock
It seems so many of the smart locks have great features available, but none of them have ALL the best features available. The Schlage Encode is no exception. Here are the things that I don't like about this Schlage Smart Deadbolt.
The lock only comes with one physical key. This lock is over $200 and it only comes with one override key. Really? Even at the great prices on Amazon for this lock, it should come with two keys.
When I look at my lock's audit trail I want to see who accessed the lock and when. But I also want to see when someone tried to get into the lock but couldn't (using the wrong code or an old code for example)! This is a feature that most smart locks don't have but really need.
No monitoring of the door itself. You can tell if the lock is in the locked or unlocked position but not if the door is open or closed.
If you decide to change the length of your codes at a later date, changing the code length will delete all existing user codes.
The Schlage Home app has no single-use codes, but you can schedule for a very brief active period.
I've never been able to find a list of supported routers for the Schlage Encode. Since the lock only supports 2.4g routers, it will likely not work with the new dynamic routers coming out (those that automatically toggle between 2.4g and 5g). Judging from the number of connection complaints I've seen online, this is likely a real issue. Until a list of supported routers is available, make sure your router has a solid 2.4g broadcast signal.
The Schlage Encode is by far the best of the Schlage smart lock options with the features that we now expect in a smart lock for 2020. But Schlage currently has limited style/color options for the Schlage Encode despite having a different line of products and finishes (see our article Door Hardware Style Trends and Door Hardware Finish Trends)
Summary
The new Schlage Encode Smart Lock is a very good lock, and being Grade 1, it is best-in-class when it comes to lock grade (the durability of the lock). If you already have Schlage locks on your home, or another brand using the Schlage keyway, this is definitely one of the best smart deadbolts you can get. Just take it into a locksmith to key it up to your existing house key before doing the installation.
Disclosure: As an Amazon Associate I earn from qualifying purchases.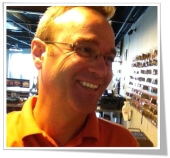 Robert has been the Owner of ACME Locksmith, Arizona's #1 Rated Locksmith, since 2007. ACME has provided locksmith service to over 160,000 Phoenix houses and businesses.
Over 1400 5-Star Rated, Verifiable Arizona Customer Reviews
Super Service Award Winner Eight Years Running
Selected as an Angie List Phoenix-Best Contractor
BBB International Marketplace Excellence Award Finalist
BBB Ethics Award Winner – The Only Locksmith to Ever Win this Award