Last Updated on July 11, 2023
Best Security Improvements You Can Make to Your Storefront Door
While completing commercial door hardware services , we are often asked, "What are the best things I can do to protect my business from a robbery or break in?"
There are two major weaknesses in commercial aluminum / glass storefront doors that allow them to be easily and very quickly bypassed — even by a complete novice.
Attacking the mortise lock itself and the other the body that the mortise is secured to (see our article Commercial Lock Types.
Attacking the mortise body (where the bolt comes out)
See our article Improving Commercial Door Security for the thing you can do to improve a standard commercial door.
These attacks work on all mortise type locks and lock bodies. These locks are most commonly found in strip malls on glass/aluminum store front doors. But major office centers with glass doors use them as well.
What's more is that it doesn't even matter if you've installed a high-security mortise lock that cost hundreds of dollars. That will protect you from lock picking and lock bumping, but it will not protect your commercial storefront door from these break ins.
Some might say, "So what, they can just break the glass." And, in a riot, that would be true. But during a robbery where someone is worried about being discovered, burglars want to access your commercial property as quietly as possible. These door improvements prevent them from getting in undiscovered.
Storefront Door Break-in Via the Mortise Lock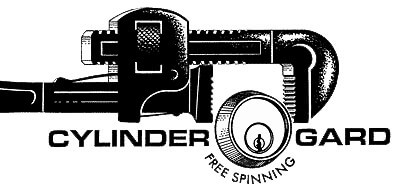 Without a cylinder guard, the mortise lock itself is very susceptible to an attack. A simple pair of channel locks is all that is needed to torque the lock and quickly break in to your small business.
Watch This 5-Second Break In – How to Protect Your Business from Burglary
I break into this business in 5 seconds and teach you how to stop it with a simple, inexpensive security product.
A few years ago a little Brazilian restaurant next to our Mesa, AZ location didn't have a torque collar installed. We offered to take care of his door at cost since he was our neighbor, and we often ate there. But he, despite this very inexpensive door security improvement, was on a tight budget. He declined our offer.
After just a few months his lock was snapped off and the burglar got all the money in the register. We got him taken care of, but the impact of the theft contributed to his closing just a few short months later.
Using pliers to remove the lock can be halted by installing this simple anti-theft product to all of your glass storefront doors. The steel cylinder guard (or torque collar) protects your lock by acting as a slip ring. This very inexpensive product is the best thing you can do to protect your business.
Storefront Break-In By Attacking the Mortise Body
Recently a YouTube personality made this weakness generally known to over 10 million viewers. Though bypassing the the commercial storefront door requires a specialty tool, it can be purchased online by anyone without restriction.
A latch guard ensures that this technique cannot be used to release the lock mechanism because of the bends that would be required make it impossible to do.
Lockpicking Lawyer Defeated – Stop this Storefront Attack
This lock bypass uses a special tool designed to get passed the lock that can easily be bought online.
Small business owners looking for ways to protect your small business from robbery should check out our other articles.
How to Reinforce Standard Commercial Doors
Small Business Security Camera System Installation Video