Last Updated on March 6, 2023
"I've Lost my Car Keys"
"Key origination" is the term locksmiths use to make a new key for a car when no key is currently available.
When you've lost all of your car keys:
Call your insurance company. They may pay for all or a portion of the cost to get replacement keys
Get proof of ownership. Before making a key, online services, locksmiths, and dealers will need to know you own the vehicle.
Get your VIN number. It will be needed by online key by VIN services, locksmith and dealers.
Auto Locksmiths can originate and replace lost car keys by using the car's VIN number, cutting a key to a code found on the vehicle, or by reading the wafers in the ignition or door lock.
Originating a key by VIN is the simplest method, but you need to be aware that is going to give you the factory original key to the car (the key it shipped with).
If the ignition was ever changed, that key will not work in the new ignition. Sometimes the ignition or another lock on the car will contain the code needed without someone having to retrieve it by VIN.
Replacing Lost Standard Car Keys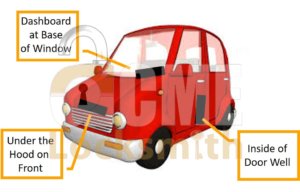 If you are lucky and your car does not have a transponder key, you may be able to use an online service or a locksmith shop to simply mail you a key.
You provide ACME Locksmith with the VIN and proof of ownership, and we can cut a key by VIN number and mail it to you.
The vehicle does not have to be present because no programming is required for standard keys link.
There are a couple of potential issues to be aware of.
First, the ignition has to be the original or the key sent will not work.
Second, the car cannot be too old that the VIN cannot be used. There is a sweet spot for making keys by code that are not transponder keys, and it exists primarily between the late 80's and pre-2010 (always call to check, there are outliers and exceptions).
When the car is too old, a locksmith can come out onsite and try other methods to get keys made for the vehicle.
A good automotive locksmith or the dealer are your only choices to replace these when all have been lost because of the car programming equipment needed and the need to be at the vehicle in order to program it.
Call your local locksmith and set them up to come out and make a key to your car.