Last Updated on February 21, 2023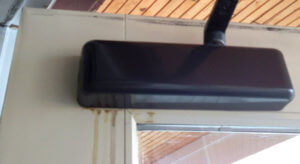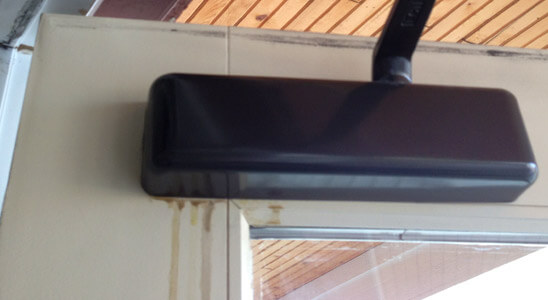 When your commercial door has started to slam or close too quickly, a quick inspection of the door closer that reveals any signs of oil immediately tells you that the door closer needs to be replaced.
It is important to replace failed door closers as quickly as possible so that you can remain in code compliance and be relieved of financial responsibility.
How to Quickly Spot a Failed Door Closer
Before making any door closer adjustments, it's a good idea to inspect a door closer for other problems that may either be the root issue itself, or may indicate that servicing is not going to be enough to correct the speed of the door closing.
The #1 Cause of Door Closer Failure
Oil. If you see oil, there's no need to go further. A leaking door closer will always need to be replaced. It's shot. Go no further, replace it.
A door closer leaking oil fluid means only one thing: it's time to replace the door closer. This is a sign that the oil reservoir is leaking. That will impact the ability of the closer to maintain pressure and perform within code compliance.
Why is the oil so important? See our Article: How do Door Closers Work?
Attempts to repair a door closer leaking oil are futile at best, and worthless at worst. You may resolve the problem for a short time, but it will come back again and again, and may fail during use, which can be dangerous and your company will be liable. It's also labor intensive, so in the end, it's simply cheaper to replace it.
Sometimes you can easily see the oil (as in the photo) but for darker duronotic (brown) doors, it will may be hard to spot an obvious stain.
If you and your door closer are in Phoenix, we'd be happy to get you an estimate for the door closer replacement.
Access the Interior of the Door Closer
If there are no visible signs of oil on the exterior, inspect the interior for signs of leakage.
Surface-mounted door closers (like the one pictured above) have a plastic or metal cover that are held on by tension or just a couple of side screws. If you don't see any screws try to gently pull it off so the closer itself can be inspected.
Concealed closers are harder to expose but you'll need a good look at the closer to check for signs of damage. Concealed door closers can be a little daunting, and you'll want to hire a professional, commercial locksmith.
Other Signs Your Hydraulic Door Closer Needs to be Replaced
If you didn't see any oil or other obvious issues needing repair, the next step is to adjust your door closer to see if that solves your door issue.
If, after a couple of "adjust door closer" attempts, the door still doesn't work properly, or it won't work consistently, then there may be other issues with the closer that cannot be addressed with adjustments.
Typically, it will need to be replaced, and while a repair MAY be possible, it would be labor intensive, making replacement a more economical fix. When in doubt, you can always have a good local locksmith come out and help you make these determinations.
Door Closer Items That May Be Repaired
Mechanical Components
When the door closer is not working properly, check for loose screws or bolts on the arm of the door closer or broken components within the arm assembly itself.
With loose screws and arm assemblies you normally won't need to replace the door closer. Parts are typically available for replacement so long as that style of door closer is still available.
Can You Replace Your Own Door Closer?
You can likely replace a leaking surface mount door closer, especially if you order the same model ensuring the existing holes line up with the new unit. You can find many door closers on Amazon for good prices.
Disclosure: As an Amazon / Google / Home Depot / eBay Associate I may earn from qualifying purchases.

More of Our Favorite Security Products
See our Amazon Store for Videos and Links to All of Our Favorite Security Products.
Door Armor: Reinforce your doors. This video on YouTube shows the installation of Door Armor, and you can buy the product direct from Door Armor at a great price.
Video Doorbells: This video doorbell offers great images and video and has NO monthly video storage fees. Watch our SkyBell Video Doorbell Review on YouTube and buy it on Amazon.
Smart Locks: Access Your Locks via Smart Phone. You'll find some of our favorite smart locks that allow you to control home access and monitor entry in our Amazon Smart Lock Shop. Watch our Smart Lock Comparison Video on YouTube fore reviews of the most popular Smart Locks.
High Security Safes: When you want a safe that is designed to protect the valuable you put inside, you want a high security safe found on ACME Locksmith's Safes for Sale website.
Sliding Glass Door Lock: The best arcadia door lock that stops your sliding glass door from being lifted out of it's tracks and to prevent little ones from opening the door and leaving the home. Check out the video on YouTube and Buy it on our website.