Our Favorite Combination Padlock of 2021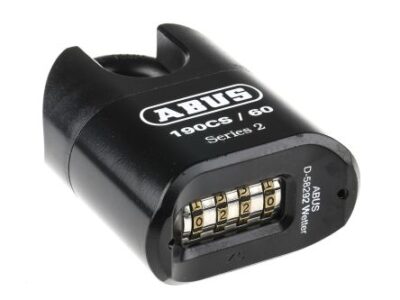 Combination padlocks are notorious for being less secure than other types of padlocks, but for locking up bikes and such for short periods of time, the combination padlock is really one of the best and easiest options.
But for keeping things secure for long periods of time, most combination padlocks fail to deliver because they can be bypassed using a variety of techniques, and in the cover of darkness, people can bypass them undetected and remove whatever they were securing.
Our favorite combination padlock two years ago, is now known to be easily bypassed, see below for details, so we went on the hunt for a combination padlock that really could secure the content it was protecting.
The best combination padlock of 2021 is the ABUS 190cs with 60mm (2.4 inch) body. The ABUS 190cs can withstand numerous lock bypass techniques. It is shim resistant, has shielded wheels to prevent bypassing the combination wheel, and it is made of incredible strong armored steel. This new second generation padlock is far superior to the first model. Look for the one labeled "Series 2"
The ABUS 190cs/60 is excellent in both commercial and residential application, but it is getting difficult to find and expensive on Amazon, but you may be able to find it there using this link to ABUS Padlocks. But recently we found them available and for much less at other sites like Zoro, Taylor Security and Mega Depot.
If you like this lock, take a look at all of our recommended door locks.
Details on the security features that make this padlock our new favorite combination padlock can be found below. But first:
What happened to ACME Locksmiths 2018 Favorite Combination Padlock?
Unfortunately, the internet happened. You can check out our review of our previous favorite on YouTube in the video below.
When we made that video the Master Lock 1177D was fairly new to the market and had overcome it's main previous design flaw of being able to use a pick to bypass the combination wheel's code altogether and they made it more difficult to determine the combination using a similar technique. This and other features of the padlock shown in the above video gave that padlock a thumbs up from us for short-term locking of objects (bike at the market, etc….).
But in short order, a new design flaw was found by the Lockpicking Lawyer, who then put it out for the world to see. The new flaw required no tools and absolutely no skill to determine the lock's combination, and that's what had us looking for another solutions.
Security Features of the ABUS 190CS/60, the Best Combination Padlock Currently Available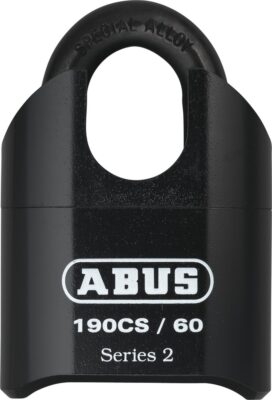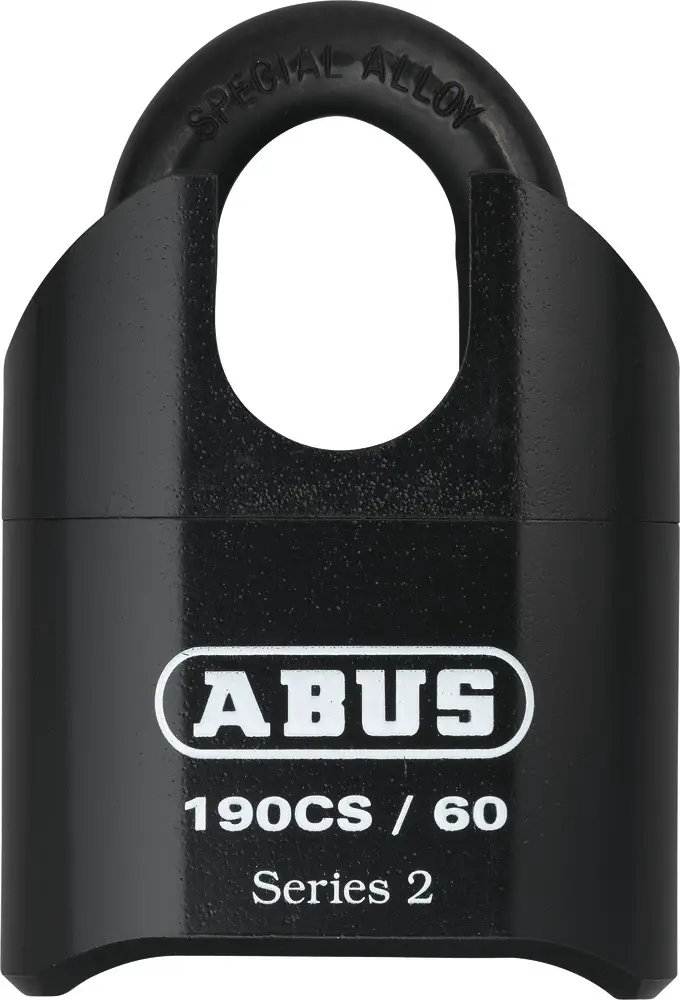 And this led us to the ABUS 190CS/60. Though it cost roughly twice as much money as the Master Lock 1177 the new security features of this lock more than justify the price. For a combination padlock, you will not do better than the ABUS 190CS. It is important that you look for the lock labeled "Series 2" to get the security enhancements we discuss below. This ABUS padlock is a 4-wheel lock that results in 10,000 possible combinations. Once of the more interesting features of this lock is that once the combination is entered the shackle must be pushed into the lock before it will release (pop out and open), and there's a little bit of force necessary to do this.
This results in making it really annoying to try all 10,000 combinations to open the lock. You can't simply dial in every combination, in a relatively short amount of time, and wait for the lock to open. You need try one, push the shackle, then try another. This greatly slows down the process of going through every possible combination.
The table below highlights the common security flaws found in combination padlocks. It provides a brief explanation of how the lock can be bypassed using that technique and what ABUS has done with his lock to prevent this type of technique from being used to open this padlock.
Security Features of Our Favorite Combination Padlock the ABUS 190CS/60
Bypass Methods and Features of ABUS 190CS to Prevent Them
Combination Lock Security Flaw
Description
ABUS 190CS Prevention Method
Shimming
Sliding a shim into the hole where the hasp closes to unlatch the locking mechanism.
An Oversized shackle creates a lip so that a shim cannot be inserted.
Trip the actuator
Sliding a shim between a combination wheel and pushing up to release the actuator allowing the shackle to come out
All of the wheels are shielded so a shim cannot be inserted./td>
Using a shim to decode the combination
A shim could also be used to find the flat service of the wheels and use this information to decode the combination
All of the wheels are shielded so a shim cannot be inserted.
Using reset keyhole to decode the combination
Shining a light into the reset keyhole may allow you to see the gates and decode the locks combination.
The hole is blocked by metal when the shackle is inserted
More general features of this lock that make it the best are:
Made of hardened steel 2.4 inch body
Has a hardened steel shackle cover to prevent cutting of the shackle
Has a large 7/16 of an inch stainless steel shackle
Disclosure: As an eBay / Amazon Associate I may earn from qualifying purchases.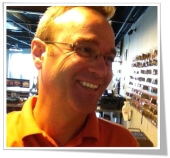 Robert has been the Owner of ACME Locksmith, Arizona's #1 Rated Locksmith, since 2007. ACME has provided locksmith service to over 160,000 Phoenix houses and businesses.
Over 1400 5-Star Rated, Verifiable Arizona Customer Reviews
Super Service Award Winner Eight Years Running
Selected as an Angie List Phoenix-Best Contractor
BBB International Marketplace Excellence Award Finalist
BBB Ethics Award Winner – The Only Locksmith to Ever Win this Award