DIY Home Security Products You Didn't Know Existed but Will Love.
As a locksmith I see new home security products frequently, most of them don't stand the test of time and fade away, but there are a few that I really like because home owners can realize their value immediately to help protect their homes and families. These DIY security products are of the do-it-yourself variety and easy for most homeowners to take care of. If you do need help, your local locksmith should be more than willing to assist.
Install a Garage Butler – Automatic Garage Door Closer
Have you ever left your home for work and then thought to yourself, "Did I leave the garage door open?" Have you woken up and headed out in the morning only to find that you left the garage door open all night? The Garag Butler solves that problem by closing the garage for you.
It has a timer that can be set to automatically close your garage door 3 to 60 minutes after it was open.
It also has a light sensor to automatically close the garage door when it senses it is dark out.
Manual override to keep door open or closed.
Check out the Garage Butler on Amazon
Use Padlocks That Open With Your House Key
How many times has this happened? You put a padlock on shed, utility box, or side gate and when you go out one day to open it you realize you've lost the key! So you then need to have a locksmith out to open the lock for you (that can be a little expensive) of spend a few hours of your time getting the tools needed to do that job and forcing it open yourself.
Why not buy a padlock that works from your house key? The Abus 83/45 series does just that. If you have a kwikset house key, order the 83/45 200 lock. If you have a schlage house key, order the 83/45 300 lock.

Once you have the lock, take it to your local locksmith and have it pinned up to your house key. Or skip the online order all together and buy it at your neighborhood locksmith to support local businesses. ACME Locksmith sells and rekeys this up to your house key for less than you can buy them online and have it done seperately, but prices may vary depending on region. You can find them here
if you want to go the online order route.
Complete DIY Home Security System With NO Monthly Payments
Alarm systems have come a long way but most systems have one thing in common. A monthly monitoring fee for the system. If an alarm is tripped the alarm company calls you and then the police if you don't give the all clear. Why not skip the middle man. Why not buy a home alarm that has ZERO monthly monitoring fees? No contracts, ever.
You can. Home alarm kits now come with smartphone apps so that, should the alarm sound, the kit will alarm your phone via the app. I've been testing a kit we are planning to sell and I have to say, I'm impressed by how easy it was to install after I got the hang of setting it up.
For a few doors you're looking at under $200 and you will never have a monthly monitoring fee so you make out ahead financially in less than a year.
I should mentions though. Most of these home alarm kits come out of Asia. It can take a bit of decoding the instructions to determine what needs to be done to add components. Once you figure it out for one type of component (a door sensor for example) adding more of the same components to the system goes very quickly.
You can find several DIY home security alarm kits on Amazon
.
AliExpress, which is like the overseas version of Amazon, has them as well. You can get a better system for less by ordering direct. Check them out here.
Some of the latest features:
Camera support for live video feed of your property
Pet-tested motion sensors, won't alarm due to pet movement.
Alexa support – "Alexa, Arm Away."

The Commands will vary depending on product. Side note: I have Alexa in my home and the kids and I love it! Especially the video version we have setup in the kitchen to display recipes. Check out the Alexa products on Amazon.

Very simple, no-wire installation to accommodate any number of window, room and cameras.
Most come with GSM sim card capability. If you put an activated sim card into the unit, it can be programmed to text or call you when the alarm has been triggered so that you don't need to rely on the smartphone app. I've seen this offered on line for $5 per month. This is optional for most units.
Install WiFi Video Doorbell With Camera
I love this product! This is a photo from my video doorbell.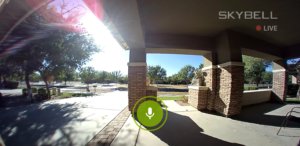 You've probably heard of Ring, made famous from Shark Tank. I don't own the Ring. I decided against it because for live video coverage they charge you a monthly fee. Why pay monthly fees?! I use a product called Skybell (here it is on amazon)
. It is a little more money upfront, but there are no monthly fees.
When my doorbell is pressed, my smartphone get's an alert, that coincidentally sounds exactly like a doorbell. At this point I can view who is at my door in a live video feed and then talk to that person from my phone, no matter where I am at. I am also able to review the videos taken at a later time if desired.
I installed this DIY video doorbell in under 10 minutes (only two wires). Then just connect it to your WiFi, and you are all set.

Install a Cal Locks on all Sliding Glass Doors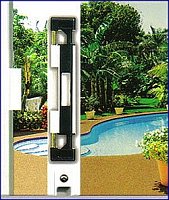 I've talked about this product in several past blogs and as a locksmith I can't say enough good things about it. The main important thing about this bad boy is that it is the only lock on the market that can prevent your sliding glass door from lifting out of its tracks using a screwdriver or other flat tool. All other Arcadia door locks do not prevent this.
The old way of preventing the door from being forced open was to install a breaker bar to the arcadia door. Breaker bars prevent the sliding glass portion from opening because a bar is locked in place between the sliding portion of the door and the frame. Good product, but it also does not stop the door from being lifted out.
We sell this product on our website. In additional to the security advantage, it also addresses several child safety concerns. A great do it yourself security product.
Install a Flip Guard

This is another great product for security and child safety discussed in great detail on our website in past posts. We believe this to be the single best DIY home security product you can put on your home's door.
It works by locking the thumb turn of your deadbolt in place. Many people don't realize that when you use a key to unlock a deadbolt from the outside of the home that the thumb turn, on the inside of the door, rotates as the key turns the cylinder open. That's because they are mechanically joined. So locking the thumb turn in place so that it cannot spin, stops the deadbolt from being open — even from a working key.
Instantly protect your home from being accessed by anyone that has a key. It also stops lock bumping and lock picking.
This is another product we sell on our website.


Replace Your Door Strike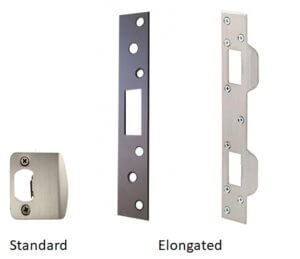 The key to strengthening an exterior door is force distribution. If you can distribute the force, the door become exponentially harder to kick in or get in with other means of forced entry.
Believe it our not, most homes have only 3/8″ screws to secure the hinges on the door and and the strike to the door frame. These tiny screws don't penetrate the framing of the door. So you are door is only secured to the flimsy door framing.
BONUS TIP: Replace those 3/8″ screws with 3″ screws. A 3″ screw will go through the framing and into the two 2 X 4 studs within the wall making the door that much more secure.
To distribute the force of an attempted break in, you need more points on which that force is being place or a larger service area on which it is being applied. To achieve this, replace the standard strike in the frame with an elongated strike. Elongated strikes give you more screw holes in which to secure the strike (again with 3″ screws) to the studs behind the framing. So any force from forced entry will be distributed across more points. These are very affordable and simple for the Do it Yourselfer. You can find them on Amazon
.
Depending on how your door is constructed you may want to beef up the door around the deadbolt as well. After all of the other reinforcement methods mentioned above, the door itself, right around the deadbolt, becomes the weak point of the door in case of forced entry. A door deadbolt wrap is a piece of metal that wraps around the deadbolt. It will distribute the force of a forced entry to a bigger service area (instead of just the deadbolt latch) making the door harder to kick or force in. Check them out on Amazon here
.
The only draw back to the wraps is that they are not very good looking so many or our customers tend to pass on this important home security upgrade.
Prefer Video? Cool DIY Home Security Products that are Locksmith Recommended
ACME Locksmith Discusses Cool Home Security Products





Disclosure: As an Amazon Associate I earn from qualifying purchases.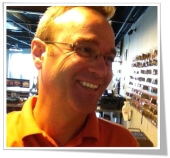 ACME Locksmith is Arizona's #1 Rated Locksmith. We have been performing lock and key services in Arizona for over 20 years. In that time ACME Locksmith has serviced over 100,000 customers.
Over 1900 5-Star Rated, Verifiable Arizona Customer Reviews
Super Service Award Winner Eight Years Running
Selected as an Angie List Phoenix-Best Contractor
BBB International Marketplace Excellence Award Finalist
BBB Ethics Award Winner – The Only Locksmith to Ever Win this Award
Details About ACME Locksmith