What is the Best Lock for Sliding Doors?
When your arcadia, sliding glass door lock gets old, it is likely to fail.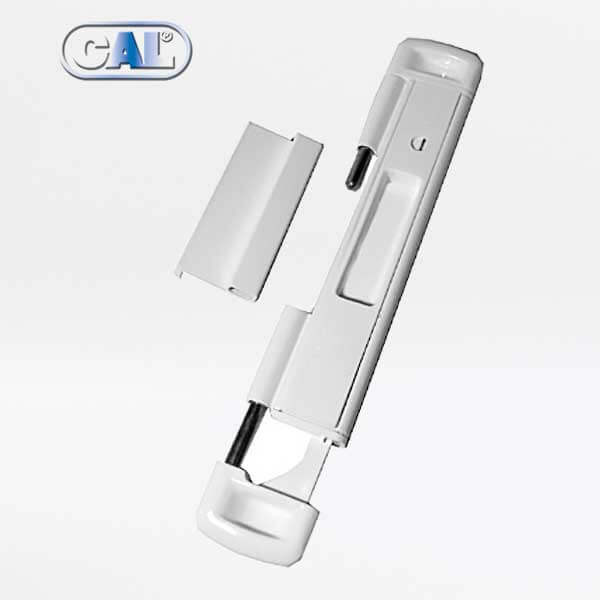 While you could simply replace what you have with the identical item, doing so won't benefit the security of your sliding glass door. It is the time to upgrade your door lock and strengthen the security of your sliding glass door by installing a Cal Double Bolt Lock. 
The best lock for your sliding glass door is the Cal Double Bolt Arcadia Door Lock. It cost less than replacing the arcadia door lock currently on the door. It is easy to install, and it gives you added security. There is a child safety feature to prevent your children from existing the home unknown to you.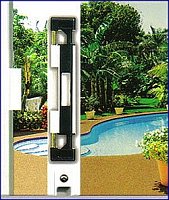 We recommend this lock to all or our customers that have had an arcadia door lock fail because of the value. The only time you would not be able to use this lock, is when you use the sliding glass door to access the home via a key.
The Double Bolt Cal Lock easily retrofits to your door above the existing lock, and it is likely less expensive. 
But the main benefit of the Cal Bolt Sliding Glass Door Lock is that it is the only sliding glass door lock that prevents the door from being opened by lifting it off its tracks. Most of the older arcadia doors can simply be lifted off and opened by a screwdriver.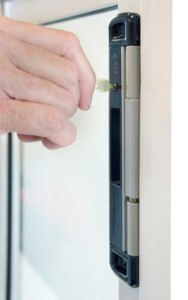 This lock bolts the door to the frame from two points, above and below. This prevents the door from being tilted and lifted off the tracks.
It has the added benefit of child protection. Because it requires that both bolts, using two hands, be used to open it, making it difficult for little ones to use. The newest model of this sliding door lock also uses a small key to lock the bolts in place, completely eliminating the possibility of a little one's escape. 
The Cal Lock is mounted above the and can be mounted above the existing locks, and the current sliding door lock does not need to be removed.
We sell the Cal Lock sliding glass door locks for a great price on our website.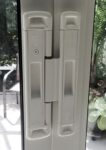 Cal lock makes a version that allows it to be used when two sliding door come together in the middle.
We started installing the Cal Double Bolt Locks when they first arrived on the market about 10 years ago. Up until that time, we were installing Charlie bars for arcadia door security.
Charlie bars are a great step above throwing a wood dowel in the window track. They secure to the slider and then folded down and locked into place on the frame side so that the sliding glass door cannot be opened.
A wooden dowel used to prevent the door from open can often be shaken out by shaking the sliding glass door back and forth.
But, Charlie bars weren't ideal for securing sliding doors ideal either. While the door was firmly held shut by a Charlie bar, the door could still be lifted out of its tracks with a screw driver and they are pretty ugly.
Sliding Glass Door Lock Demo
Watch a Demo of the Cal Lock

More of Our Favorite Security Products
Door Armor: Reinforce your doors. This video on YouTube shows the installation of Door Armor, and you can buy the product direct from Door Armor at a great price.
Video Doorbells: This video doorbell offers great images and video and has NO monthly video storage fees. Watch our SkyBell Video Doorbell Review on YouTube and buy it on Amazon.
Smart Locks: Access Your Locks via Smart Phone. You'll find some of our favorite smart locks that allow you to control home access and monitor entry in our Amazon Smart Lock Shop. Watch our Smart Lock Comparison Video on YouTube fore reviews of the most popular Smart Locks.
High Security Safes: When you want a safe that is designed to protect the valuable you put inside, you want a high security safe found on ACME Locksmith's Safes for Sale website.
Sliding Glass Door Lock: The best arcadia door lock that stops your sliding glass door from being lifted out of it's tracks and to prevent little ones from opening the door and leaving the home. Check out the video on YouTube and Buy it on our website.
Padlocks: Not all padlocks are created equal. These padlocks are the best for their specific application. See our Favorite Padlocks on Amazon.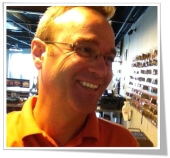 ACME Locksmith is Arizona's #1 Rated Locksmith. We have been performing lock and key services in Arizona for over 20 years. In that time ACME Locksmith has serviced over 100,000 customers.
Over 1900 5-Star Rated, Verifiable Arizona Customer Reviews
Super Service Award Winner Eight Years Running
Selected as an Angie List Phoenix-Best Contractor
BBB International Marketplace Excellence Award Finalist
BBB Ethics Award Winner – The Only Locksmith to Ever Win this Award
Details About ACME Locksmith