The Schlage BE365 electronic deadbolt is a great, affordable basic electronic deadbolt. We've sold and installed a lot of them over the years. It's so affordable now, that many people are buying and installing it themselves. However, they often seem to get the installation wrong because the most important step of the installation is a tiny little sentence within the manual.
In our YouTube Schlage BE365 Product Overview & Programming Video we keep seeing two questions pop up over and over again in the comments:
Why does my Schlage electronic deadbolt unlock by just pushing the Schlage button?

…and…
Why does my Schlage deadbolt lock instead of unlock when I enter a user code?

Proper Behavior of the Schlage BE365
On the BE365, when the Schlage button is pushed, it is suppose to allow you to lock the door with the thumb turn, not unlock the door. It does this by actuating an internal cam into the proper position. When a code is entered, the same linkage is used, but this time it allows you to unlock the door using the thumb turn.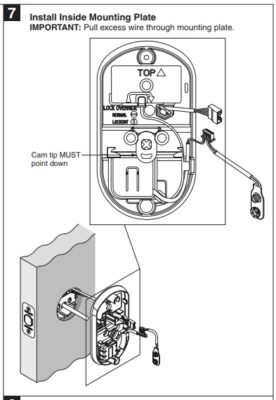 If the Schlage deadbolt unlocks when you push the Schlage button then the cam of the lock was not in the correct position when the lock was installed. To fix this problem you need to remove the lock and fix the position of the cam. Here's how.
Attached is step 7 of the Schlage BE365 installation manual. The most complicated and important part of the installation is that one tiny sentence of step 7; the cam tip must point down. And it must point down when the bolt is retracted (inside the door).
When it is pointed up, it is 180 degrees out and locking and unlocking will behave exactly the opposite of expected. The Schlage button unlocks the door, instead of locking the door, and entering a code locks the door, instead of unlocking it.
How to Fix a Schlage Electronic Deadbolt that is Working Backwards
Place the lock into the unlocked position (bolt retracted inside the door)
Remove the two screws that hold on the back plate.
Disconnect the battery
Remove the two screws on the inside of the lock that hold the front and back pieces of the lock together. Remove the back side of the lock.
Look for the small black egg shaped cam shown in the photo.
Turn the cam back down so that the tip is pointed down as shown.
Once you do this correctly reinstall the lock keeping it in the unlocked position (the bolt is retracted).
Note: This also will fix the light not coming on when you press the Schlage button.
Disclosure: As an eBay / Amazon Associate I may earn from qualifying purchases.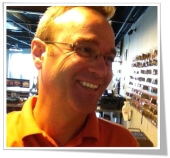 ACME Locksmith is Arizona's #1 Rated Locksmith. We have been performing lock and key services in Arizona for over 20 years. In that time ACME Locksmith has serviced over 100,000 customers.
Over 1900 5-Star Rated, Verifiable Arizona Customer Reviews
Super Service Award Winner Eight Years Running
Selected as an Angie List Phoenix-Best Contractor
BBB International Marketplace Excellence Award Finalist
BBB Ethics Award Winner – The Only Locksmith to Ever Win this Award
Details About ACME Locksmith