Here's a BIG commercial door security weakness we see all the time.
Locks without latch guards. If you don't protect the latch in that lever, any stiff card can be used to slide that door right open. This includes credit cards.
This one door lock fail really is as easy to open as the movies.   So the door can close when the latch is out, the tip of the latch is angled so it slides into position when the door closes. That's the key. It slides. So by using a credit card or other stiff object, the latch can be pushed back into the door when sliding the object down the crack. Just like in the moves.
ACME Locksmith installs latch guards so people stay out of your business.
In this simple door  lock modification, our locksmith drills  four additional holes through the door. Heavy duty bolts are then installed to keep the guard in place, even under the most significant force, so the guard can't be pried off. The entire installation of this commercial door hardware takes about 30 minutes and the job would cost well under $150. Isn't that a small price to pay to prevent someone from walking into your business?
We should also note that the entry lever on this door is a clutched lever. That is, it will turn freely even in the locked position. This prevents the lever from being kicked or hit with a hammer in order to break it. The handle just rotates and the door lock stays secure.
Check out the breadth of  ACME Locksmith Commercial Lock Services.
Clutched Entry Lever – Before ACME Installed Latch Guard
Clutched Entry Lever with Latch Guard – After ACME Installation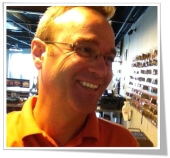 ACME Locksmith is Arizona's #1 Rated Locksmith. We have been performing lock and key services in Arizona for over 20 years. In that time ACME Locksmith has serviced over 100,000 customers.
Over 1900 5-Star Rated, Verifiable Arizona Customer Reviews
Super Service Award Winner Eight Years Running
Selected as an Angie List Phoenix-Best Contractor
BBB International Marketplace Excellence Award Finalist
BBB Ethics Award Winner – The Only Locksmith to Ever Win this Award
Details About ACME Locksmith