What are the Best Padlocks for Your Application?
Padlocks come in different sizes, with different ways to open and with different levels of security. They can be priced from just a few dollars to several hundreds of dollars. But which padlock is right for you? Over the course of 20 years as a locksmith business we definitely have an opinion on the subject.
For those just wanting our top picks, our recommended best padlocks are:
Best Low-Cost, Low-End Padlock: Master Lock Commercial Padlocks (see on Amazon)
For when you just want to keep honest people honest or children from being tempted.
Best Easy-to-Use Padlock: 83/45 Series Abus Padlocks
Keyed to your house key so the key stays on your key ring, and you'll never go searching for it.
For Schlage Keys On Amazon.
For Kwikset Keys On Amazon
Best Combination Padlock: Master Lock 1177 (see on Amazon)
Weather protection, shackle guard, and strong.
Strongest Padlock Using a Regular Key: Abus "ROCK" 83/80 (see on Amazon)
A massive 3 pound padlock.
Strongest Padlock Using a High-Security Key: (see on Amazon)
The lock we use to secure our locksmith shop. For when you want the absolute best.

Jump to:
Characteristics of a Good Padlock
Are You Looking to Lock a Gate?
Do You Need an Expensive Padlock
Why We Chose Our Recommended Padlocks
Characteristics of a Good Padlock
Like door locks, padlocks have grading system. At least they do in Europe. But in the US it's more difficult to determine what is good.
In Europe padlocks are graded 1-6. One being the least secure and six being a high security padlock (and quite rare).
In the US, we have a grading system but it is practically unknown so you have to look a bit harder to determine what a good padlock is.
Overall weight of the lock. When evaluating two locks of roughly equal sides, go with heaviest, as it is an indication of the quality of the materials used.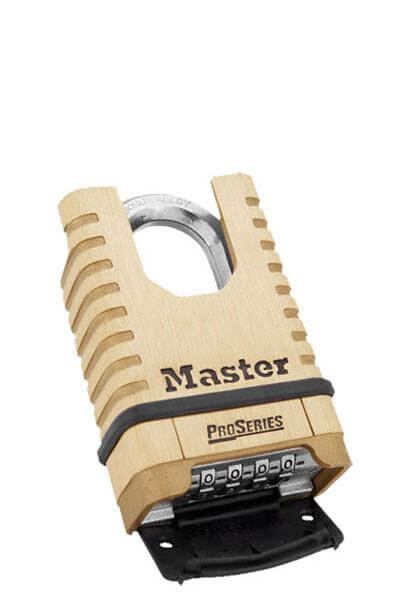 Shackle construction can be used to determine how difficult it may be to cut the lock off. Thicker the better, but you may be limited by the size of the gap you are securing the shackle to.
We also like the shackles that are not round. Master Lock makes a nice combination padlock with an octagonal shackle. The idea behind it is that it is more difficult to use bolt cutters because the flat service will distribute the force of the cutters making it more difficult.
Padlock Shackle Guards are also a nice feature of a secure padlock. It creates another layer that needs to be gotten though to cut through a shackle. However, they can't be used in many applications because they create shackle clearance restrictions.
Different Kinds of Padlocks
Standard padlocks. The basic u-shaped padlocks of our youth. Typically key operated.
Combination padlocks. The main advantage of combination padlocks is that they don't have a key to worry about, but you need to remember the combination!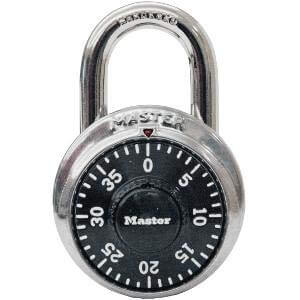 There are two varieties here. The old-style locker lock with a spinning disk that opens the lock after rotating it. Because the wheel rotation is a specific sequence (3 times right, 2 times left, 1 time right) they can be difficult to open. In all honesty, this is my least favorite lock.
The other style has a combination wheel like the Master lock shown above. Several disks are in a line and each disk is turned to the correct number/letter to enter the combination. In many cases you can find these with a weather guard to protect the spinning wheels from dust and rain as rust can be a problem.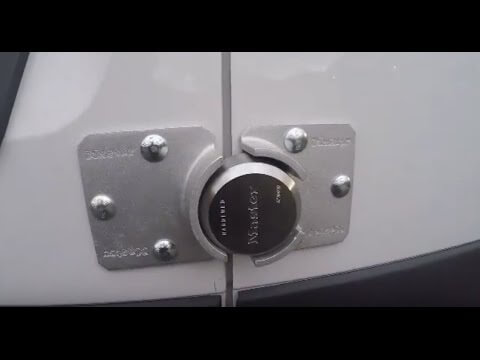 Shackle-less Padlocks For specific applications a shackle-less padlock is an ideal lock. It eliminates the main method used to get into a padlock (cutting the shackle). We use these on our service vehicles to secure the van doors. These locks require a special hasp designed for them to secure the doors.
Luggage Locks After 9-11 special locks were introduced to the market for luggage. These TSA approved locks are combination locks that can be opened by inspectors via an universal key (should an inspector determine they need to get into your luggage to inspect it).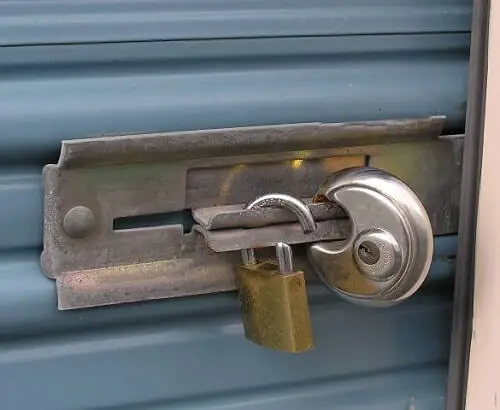 Others cannot access the lock (unless forcing/breaking it). Some versions indicate to the owner if the luggage padlock has been opened by an inspector.
Storage Unit Locks or disk locks are built specifically for the standard storage shed unit. These disc locks have a very small shackle making them very difficult to cut through if trying to break in. They are fantastic for storage units but have very little use elsewhere.
Should You Get a Padlock or Something Else?
Many homeowners are currently using padlocks to lock side gates. While this is a good solution to securing the gate, it is an awful solution for ease of use. Because the padlocks are always on the inside of the gate, entering the gate from the outside requires reaching over, through, or around the gate, positioning the lock and then opening it. This is terribly inconvenient and there are several better and easier alternatives.

Gates can be modified to accept keyed gate latches requiring a key from only one side or both sides. They can be modified to accept access control locks (pin code entry) or even the standard door hardware found on your home.
Pool gates require that the unlocking mechanism be placed high on the gate -out of reach of children. The Magnalatch pool gate lock is hands down the best product for this (check Amazon). It is easy to use and install.
We'll write a detailed blog post on gate lock options soon.
Padlock Ease of Use Features
Manufactures have created padlocks that target one primary problem with the traditional padlock, "Where is my key?"
In addition to combination padlocks you can find padlocks that can be opened using your house key, opened using a series of movements and opened by finger print (bio-scan) controlled padlocks.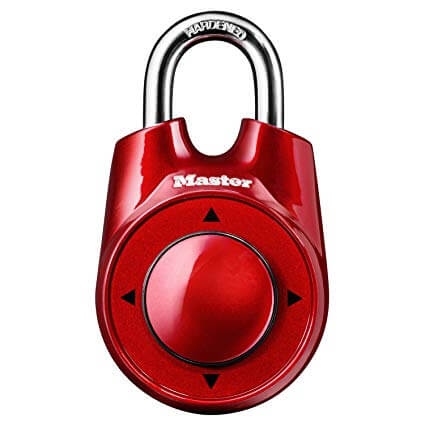 Rollerball Padlock. The Master Lock 1500iD is an interesting lock. It opens by sliding the face plate in a series of Left – Right – Up – Down motions and it can be set to any number of motions in any sequence. We loved these when they first came out. I put one on my electrical box. To keep programming simple I thought about how I would enter the Master Bathroom of my home from the front door. Go in (up), turn left, go straight (up) turn right, go straight (up). So I had a sequence (up-left-up-right-up) that was easy for me to remember. The trouble was that my electrical box was exposed to the brunt of the full Arizona sun and the lock did not hold up well with the heat and dust. It failed within two years.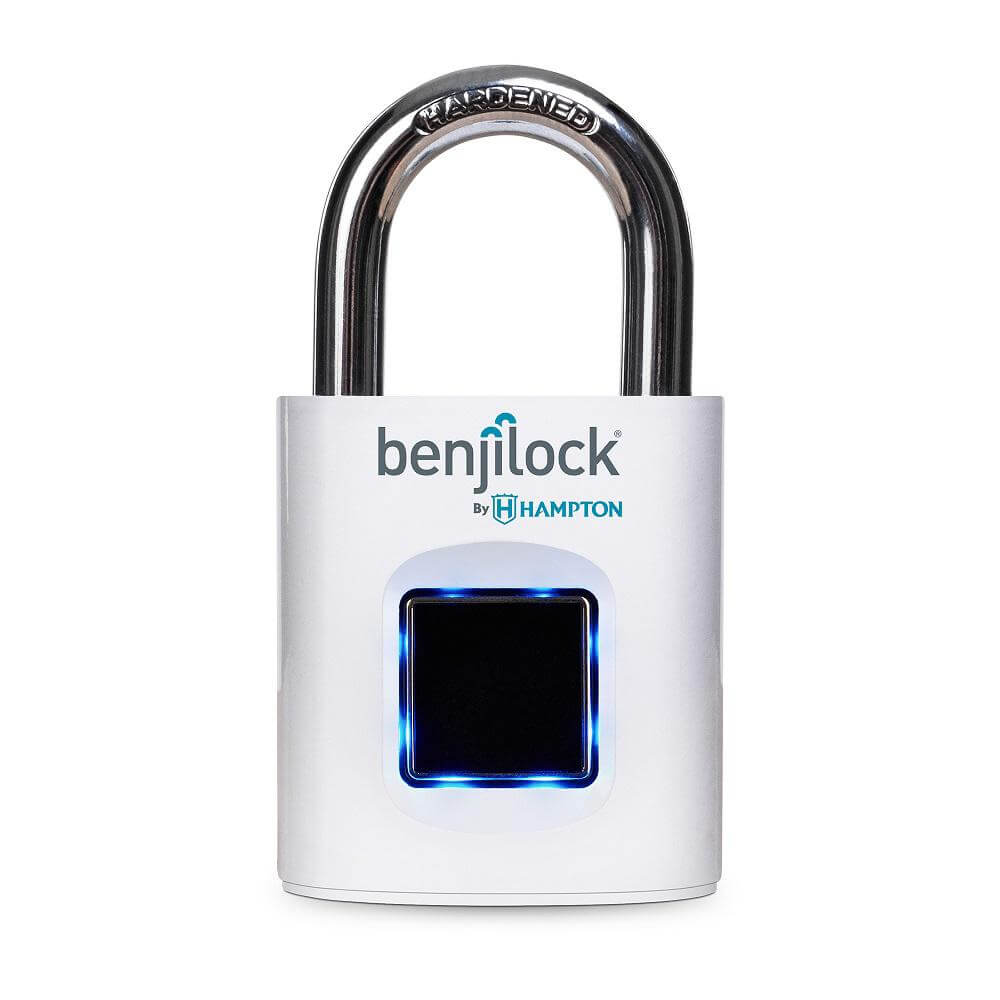 Biometric Padlocks are a new entry into the market. We have not thoroughly tested them. I already know I do not like bio-metric safe locks. They have too many false positives and false negatives and that's for indoor applications. Most padlocks are installed on outdoor applications, so I can't imagine them standing up to the heat and dust of an Arizona summer. Contact your local locksmith for their opinion on these locks in your area.
House Key Padlocks. If you are looking for our favorite ease-of-use padlock feature, it's the house-key controlled padlock. These locks can be pinned up so that they operate from your house key or business key. Nearly everyone keeps their house key with them at all times, so the key is always there when you need it, and it doesn't have the problems of the other two locks above.
Do You Need an Expensive Padlock
As with all security, it comes down to the value of what you are protecting with the padlock. If you own a business and your commercial yard has been broken into several times resulting in thousands of dollars of damage and theft, then a high-quality, high-security padlock is warranted. If you just want to keep the neighborhood kids from running into you back yard to retrieve a ball, the expensive padlocks would be overkill.
But what makes a good expensive padlock. Not the bells and whistles. Not the bluetooth. Not the biometric scanner. You're only concern when protecting high-valued property should be strength of materials.
Why We Chose Our Best Padlocks

Disclosure: As an eBay / Amazon Associate I may earn from qualifying purchases.