This is the Best Security Improvement You Can Make to Protect Your Business
We are often asked, "What is the best thing I can do to protect my business from a robbery via break in?" Here's the answer.
ACME Locksmith has found that there is one improvement every business owner should make to prevent an easy break in to their business. If you have a glass storefront door with a mortise lock installed (a little lock about the size of a half dollar), you need to install a cylinder guard (also called a torque collar) now.
Video: Protect Your Business from Break In
See me break into this business in 5 seconds and teach you how to stop it with a simple, inexpensive security product.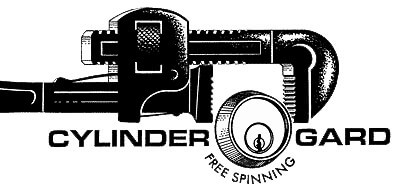 Without a cylinder guard, that lock is very susceptible to an attack. A simple pair of channel locks is all that is needed to torque the lock and quickly break in to your small business. This attack works on all mortise type of locks. These locks are most commonly found in strip malls on glass/aluminum store front doors. But major office centers with glass doors use them as well.

The scariest part of this is that it doesn't matter what kind of lock you have installed. Even a high security mortise lock on your business that costs hundreds of dollars will not protect your business from break in without this cylinder guard installed.
A few years ago a little Brazilian restaurant next to our Mesa, AZ lock store didn't have one of these installed. We offered to do it at cost since he was our neighbor, and we often ate there. But he, despite this very inexpensive business security improvement, was on a tight budget and declined our offer. After just a few months his lock was snapped off and the burglar got all the money in the register. We got him taken care of, but the impact of the theft contributed to his closing just a few short months later.
This easy penetration technique can be halted by installing this simple anti-theft product to all of your glass storefront locks. The steel cylinder guard (or torque collar) protects your lock by acting as a slip ring. When grabbed by a pair of pliers or channel locks, it rotates freely around the lock so that no torque can be applied to the lock itself.
This inexpensive device is the best thing you can do to protect your business.
Small business owners looking for ways to protect your small business from robbery should check out our other articles.
How to Reinforcing Commercial Doors
Small Business Security Camera System Installation Video
Best DIY Security Systems
The 6 Best Door Lock Brands
 
Call us at 480.380.2263 to install these locks on your business today.