The Most Awarded Locksmith in Chandler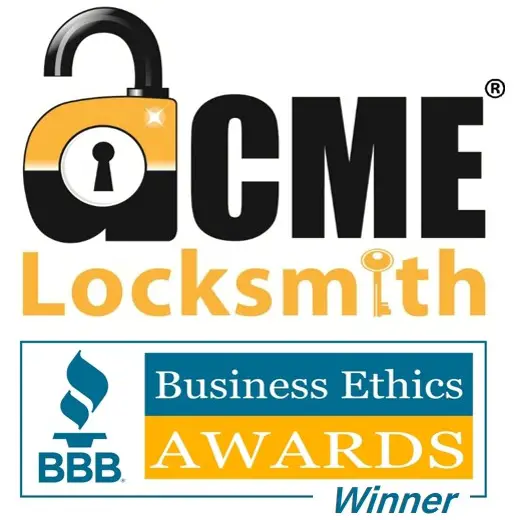 We have a Chandler lock shop on the Gilbert / Chandler boarder at Elliot and McQueen Rd for fast service at your location or ours.
ACME Locksmith is a local Arizona lock company. We've been performing Chandler locksmith services since 1997. As one of the largest locksmiths in Chandler, AZ, we can provide fast, same-day service.
Hiring a true, local locksmith company is an excellent way to support the Chandler community. Local company spending goes back into your community at a much higher rate than outside businesses or franchises that are required to send a significant amount of their sales out of state. Additionally, ACME supports the local community by donating money to local schools, sports, teachers and fund raisers.
Lock & Key Services
Automotive Locksmith Services:
Make replacement car keys for doors and ignitions
Program car remotes & keys
Unlocked cars
Sell replacment car keys & remotes/FOBs
Safes for Sale:
Service safes, move & install safes
Change safe combos
Free Curbside Delivery in Chandler
Home Lock Services:
Rekey locks to work with a new keys
Replace door hardware
Mailbox keys
Child protection, bump and pick resistant/proof locks
Arcadia door locks
Fresh installation of new locks
High security locks by Mul-t-lock, ASSA, Medeco and more…
Unlock doors
Business Lock & Key Services:
Master key systems
Restricted keys that cannot be duplicated by employees
High-security locks and keys
Panic bar repair and replacement
Push paddles
Door closer adjustments and replacement.
Chandler Keyless Entry Systems / Access Control
ROC271563 licensed for your protection.
How Much Does a Chandler Locksmith Cost?
There are no $9-$49 mobile locksmiths. Those quotes are a scam. These companies quote a very low price to get you to hire them, but once they're there the undisclosed charges add up to hundreds more than a legitimate company would have charged.
To open a door in Chandler a legitimate lock company will charge between $100- $150 during regular hours. An onsite house rekey in Chandler is around $220 for a 3-door home (price varies based on the number of cylinders).
Hire a lock service that gives you all of the pricing upfront for jobs like home rekeying and unlocking a car door / house. Avoid those that say it varies by car or by door lock. We do this thousands of times per year, we know exactly what it will take to get in, and can identify over the phone any possible variances.
Why Can't I Find a Licensed Locksmith in Chandler
There are no licensing requirements in AZ specifically for locksmiths, but there are contractor licensing requirements that apply.
In Chandler, Arizona, any jobs performed under $1000 do not require licensing, but jobs over $1,000 will. So if you are replacing a lot of door hardware through you home or Chandler business, you will want a licensed contractor to protect yourself and/or your Chandler business.
Because of this under $1,000 exception, many lock companies claim to be licensed when they are not. There are only around 12 licensed locksmiths in the entire Metro area. ACME is ROC-Licensed for your protection."

Our Chandler Lock Service
ACME Locksmith in Chandler

is AZ's Real #1 Rated Service. All of our reviews can be traced back to real customers. We never hire a review service or pay for reviews.
Fleet of field service vehicles for quick, same-day Chandler lock service.
Field service hours:

Monday-Saturday 8-8 pm.

Emergency 24/7.
Over 1400 verifiable reviews on Google, Yelp, etc…
ROC Licensed for your protection (License 271563)
ACME Locksmith is the only Arizona Lock Company to win a Better Business Bureau Ethics Award and an Angie's List Best Contractor Award. We were the first in Chandler to offer a 100% Money-Back Guarantee and 1-year workmanship warranty for EVERY customer. Where we lead, others follow.
Jo B.
2022-02-18 11:22:44
I needed a key made. Called confirmed they could do what I needed. They were only five minutes away. I drove over and had my key within two minutes. The...
Travis T.
2021-09-04 10:54:44
Super friendly and honest. The price that was quoted on the phone was what I was charged upon arrival. The technician was able to take of my needs in less...
Company Overview
ACME Locksmith Chandler, About Us
Service Area
Locksmith Service for all Chandler zip codes including : 85224, 85255, 85226, 85255, 85246, 85248, 85249, 85286.