ACME Locksmith's Commercial Services Department sells, services, and repairs high security locks by Medeco, ASSA-Abloy, Marks, and Mul-t-lock.

While the most common applications are commercial, there is increasing interest for high security products in the residential marketplace and our high security solutions can be installed in deadbolts, door levers, high security padlocks, storefront doors and more….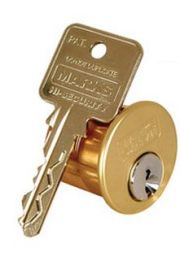 Our Favorite Budget High Security System
Marks
---
Durability:
Affordability: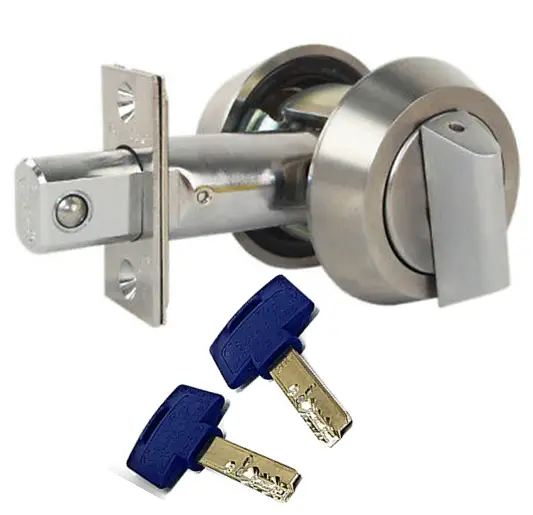 Our Favorite High Security Security Deadbolt
Mul-t-Lock
---
Durability:
Affordability: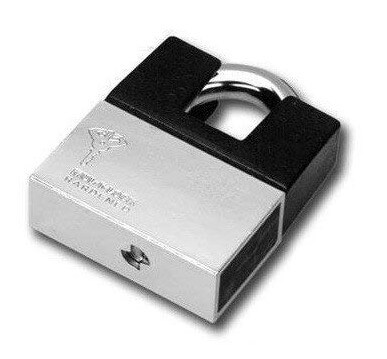 Our Favorite High Security Padlock
Mul-t-Lock
See Our Detailed Article on High Security Padlocks
---
Durability:
Affordability:
What is a High Security Lock?
High security locks have additional security features standard locks do not have. These features include: extreme pick resistance, bump proof, constructed from thicker and stronger materials, and keys that cannot be duplicated without authorization. Plain and simple: high security locks are harder to bypass.
In addition to deadbolts, high security lock cylinders can be used in padlocks, gate locks, cam locks and even mailbox locks among others.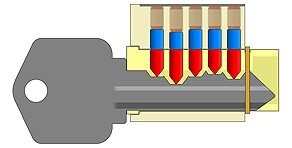 Extreme Pick Resistance & Bump Proof
High security locks come with high security cylinders that make them very difficult to pick and can't be bumped.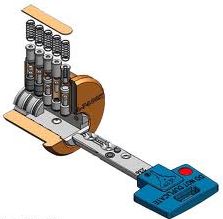 A traditional lock cylinder contains top pins and bottom pins in a vertical row. When the split between the top pins and bottom pins line up from using the correct key, the cylinder will spin and the lock will open. Having the pins lined up neatly makes a lock easier to pick or bump pen.
High security lock cylinders use complex keyways. They may have side bars, side pins, ball bearings or other anti-pick components within the cylinder.  These components make it more difficult for a lock picker to manipulate the pins inside the lock cylinder.
Keys Not Easily Duplicated
Because of the complex lock cylinder, the keys required to open them are not common (see What are High Security Keys). And, they often require special equipment to cut the keys. As a result, big box stores and hardware stores won't stock high security keys that open high security locks.
Safeguard Features Not Found in Off-The-Shelf Locks
High security locks can come with anti-drilling plates, reinforce steel construction and other measure that make it hard to bypass.
Stronger Materials with Thicker Construction
Typical deadbolts from large online vendors or big box stores, as an example, often have plastic components inside.  A few of these brands may feature anti-pick or anti-bump technology, the overall build of these locks can be easily defeated by brute force, lock bumping or lock picking.
Mass marketing house locks are, most often,  Grade 3 – able to withstand only 2 door strikes with a sledge hammer and support of 150 lbs of weight.
High Security deadbolts are almost always Grade 1. They must withstand 10 door strikes and a 360 lb weight test. (Read more about lock grades at our ANSI Lock Grades Explained article.)
Are High Security Locks 100% Secure?
Not entirely; you just need more time and more time and effort to defeat them.
You may have seen a YouTube channel where someone defeats a high security lock. A great many of them are staged. However, there are some lock pickers that have taken high security locks apart, found a spot to attack, and made specialized tools so that they can pick them open. But the level of skill, practice and knowledge necessary to achieve this is beyond that of most locksmiths, let alone criminals.
Additionally, Grade 1 locks will take the most time to defeat by brute force, but there may be other weak points to your door that fail before the lock body.
For example, most door hinges and strike plates are held in place by short stubby screws just 3/4" deep. These are the door's weak spot for entry and beyond a high security lock's scope of protection.
Are High Security Locks Worth It?
Yes, in most commercial applications high security locks are worth the cost.  Typically, these door fronts will be robustly built for maximum lifespan, and normal locks would be the likely weak point on a steel commercial door.
In some residential situations though, possibly not. A lock can only be as good as the door it's mounted on.
If you have an inexpensive hollow door, it's a waste of money to put a Grade 1 lock on it; the door itself is too easily compromised to justify the expense. And, there are other things you can do to reinforce your door security such as these tips in our Door Reinforcement article, for very little expense.
On the other hand, if you have a heavy-duty security gate in place at your home, or a metal or solid wood door, going with a high security lock is definitely going to improve the security of that gate and door, because without it, the weak point of those would be the lock.
If the cost of high security is putting you off, you can opt for a middle of the road approach. Purchase more robust Grade 2 door locks, and add a high security cylinder to it. This gives you anti-pick, anti-bump technology, as well as key duplication control. There is a little sacrifice to the material construction, but you will have a much lower overall cost with the benefits of a high security cylinder.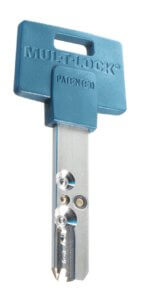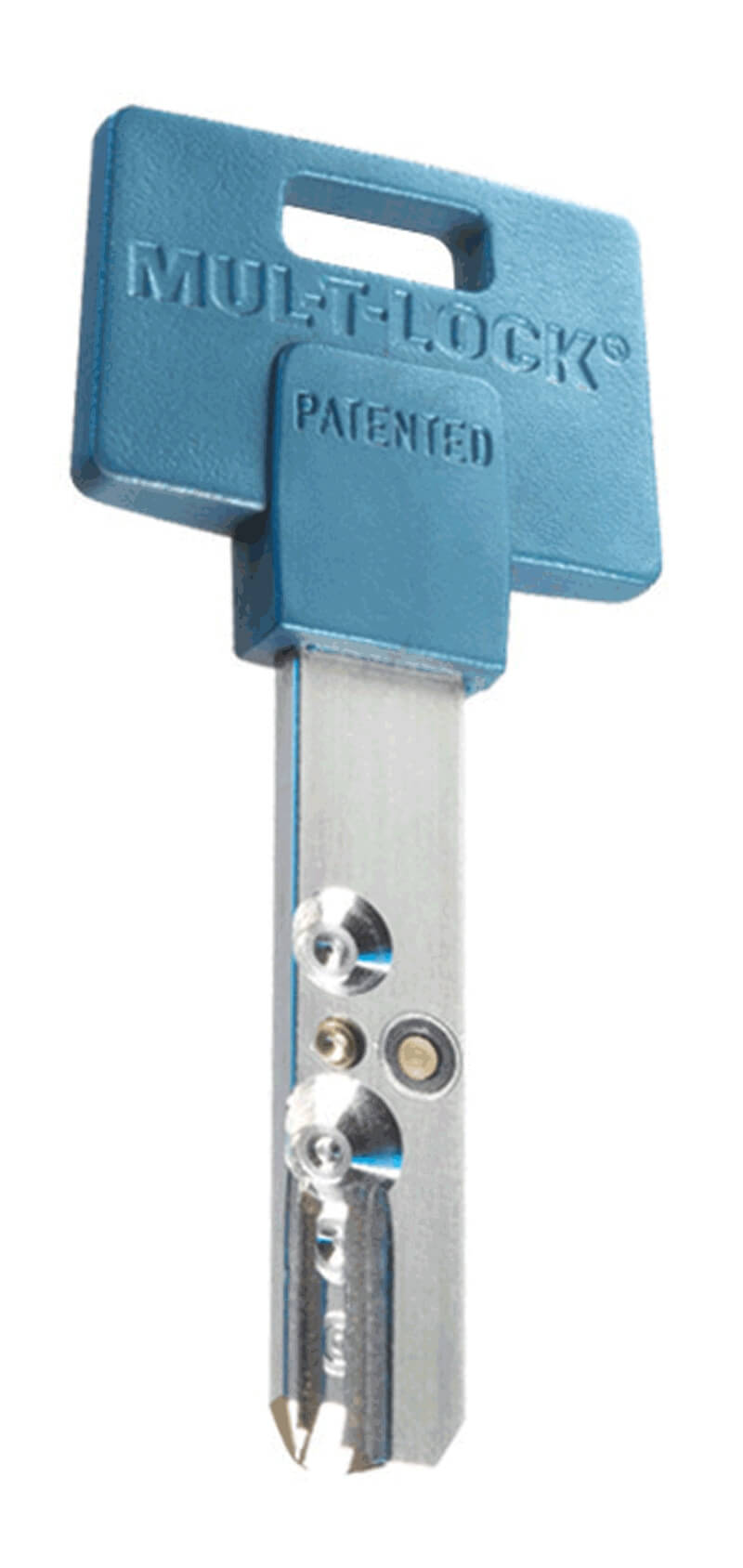 What Are High Security Keys
High-security keys protect against unauthorized key duplication. They commonly have grooves along the middle or side of the key blade.  They can also have dimples drilled at points along the blade. These features require specialized machines to cut and prevent big box stores from duplicating them.
Typically, only a locksmith will have the equipment necessary to cut the key.
High security keys may be issued with a high security lock, or they may be part of a high security lock cylinder installed into a standard lock. They are commonly made from stronger and more durable materials such as nickel silver or titanium.
Many high security keys come with cards that must be presented before a duplicate key will be made. The key maker is restricted by contract to only cut these keys if this card is present.
With high security keys, you can be certain that no unauthorized duplications of your key have been made without your knowledge.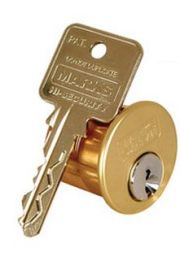 How To Tell If A Key Is High Security
High security keys usually, but not always, look a lot different than the standard keys you use to open your home locks.
To identify if you have a high security key, look for non-straight grooves milled into the key that do not go all the way through the key (it is a groove, not a cut). Look for dimples that have been drilled into the side of the key blade. And, if a patent number can be found, it almost certainly is a high security key.
Sometimes there may be traditional cuts alone the edge of the key, but they are usually combined with one of the features above.
Are "Do Not Duplicate" Keys High Security?
Beware! Without any other verbiage, key's stamped "Do Not Duplicate" (or DND) are not high security keys and offer no copy protection.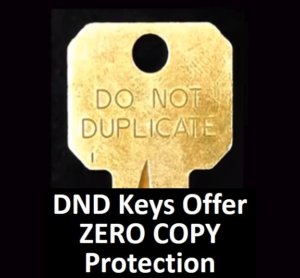 Back in the days before much technology was around, a business or person could choose to have standard keys stamped with "Do Not Duplicate" or DND as a way to deter employees and others from making copies. But there is no law or regulation that prevents DND keys from being duplicated.
Employees at big box stores and franchise hardware stores often pay no attention whatsoever to the stamp. In addition, standard keys stamped with the DND mark can be inserted into any automated, local store key kiosk. Key Kiosks complete ignore the stamp on the key. They'll make a copy and send the customer on their merry way.
True high security keys can't be read by those machines (manufacturers prohibit access to them).
Instead, you will have to go to a locksmith that has access to that high security key for a duplication.
Our Favorite High Security Lock Brands
There are several high security lock brands ACME Locksmith thinks are worth considering depending on your application. Here's a high-level overview of some of them.
For details of these companies refer to our article Best Door Lock Brands
Marks USA
Marks focuses on commercial locksets, for the most part, and they have both Grade 1 and Grade 2 available, as well as mortise, rim, and key-in-knob cylinders which can be used with other (select) manufacturer's hardware such as Schlage. They offer products at a lower price point than some larger manufacturers.
This is the least expensive high security solution for homes, and likely the least for most commercial applications as well. These cylinders use a duel 'security wave' sidebar to defeat lock bumping and all but the most experienced lock pickers.
Mul-T-Lock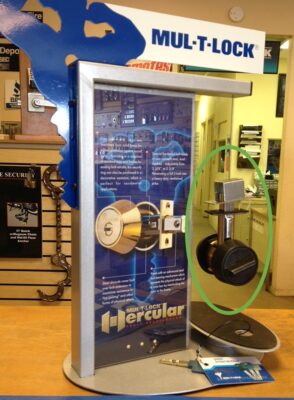 We admit it; this is our favorite high security lock manufacturer. They also have cylinders available for retrofitting into a variety of lock brands. Their keys utilize a double dimple-cut keyway design (with a couple other keyway features designed to prevent bumping and picking).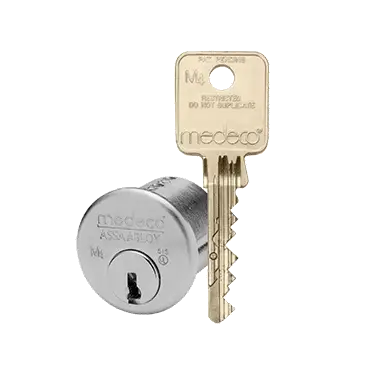 Their Hercular Deadbolt in particular features a retaining bearing that locks into the door frame, preventing the bolt from separating from the frame when locked. No other high security lock has this  feature, and it's one of the reasons we like them so much.
Medeco
Medeco uses a different method to achieve high security, but their high security cylinders are probably the most well known, being used in lots of government buildings. They, like Mul-T-Lock, offer many different types of locks featuring high security cylinders.
Their keyways, among other things, feature cross-cutting on the blade which makes bumping impossible.
ACME Locksmith High Security Solutions
ACME Locksmith sells, installs, and has keys for the following high security locks:
Marks
Assa
Medeco
Mul-t-lock
Deadbolts
Door levers
High security padlocks
Storefront door locks
And more….