ACME Locksmith Sells, Repairs & Installs High Security Locks & Keys
High Security Locks and Restricted Keyways by Medeco, Assa, Mul-t-lock, & Marks
Stop Theft and Unauthorized Key Duplication
Are extremely pick resistant – requiring special skills or tools not widely available
Are Bump Proof
Are made of the Strongest Materials
Can't be duplicated by Employees, Workers, or Home Service Providers. When you get the key back, you know they haven't made copies.
No Unauthorized Keys Made from a Photo sent online
ACME Locksmith sells, services, and repairs high security locks by Medeco, ASSA, Marks, and Mul-t-lock High security locks.  Protect your home or business by ensuring that no unauthorized key copies exist and your high security locks are the top commercial grade lock. These locks provide the maximum security possible through the strength and quality of material. The following information is from Mul-t-lock (our preferred high security lock) but applicable to all other brands.

Get The Strongest Lock, Get Control of Your Keys
High security locks, such as the MUL-T-LOCK, are patented keyways. They are issued to specific locksmith or security copies. That is, only the company that provided you the keys can make copies of them because no one else in the region has access to the same key blank. High security keys are the best way to establish key control.
High security keyways are patent protected. This means that there is only one manufacture that can make the key. The manufacture then issues the specific key to a security or locksmith company. As an example, ACME Locksmith owns a Mul-T-Lock keyway. We are the only locksmith in the Phoenix region with this specific keyway and are the only locksmith that can make you a key. When keys are not patent protected any company can manufacture the key, any company can buy it, and any company will copy it.
High security locks are made of the strongest material. Locks are heavier, screws are thicker, and they often contain other anti-theft measures. They are also bump proof locks. That is, there exist no key that can be used to bump the lock. Watch our video on lock bumping. When you give keys to employee, tenants, or homeowners in a HOA, copy protection is a very real concern. In all of these situations, you don't want keys made without your knowledge. There are two primary methods to prevent key copies from being made without your knowledge: stamping keys as "DND" (Do-Not-Duplicate) and using restricted keyways.
ACME Locksmith carries, installs and recommends two brands for high security locks
Marks: Restricted Keyways – Prevent Duplication – Affordable High Security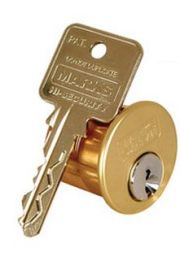 A budget oriented lock with a restricted keyway
Can be installed in most existing hardware by simply replacing the cylinders
Stops unauthorized key duplication
Ideal for businesses that hand keys to employees
Ideal for rental homes and condos – get the keys back, no need to rekey
Side bar locking system to prevent picking and bumping
Mul-t-Lock: Highest Security Locks and Keys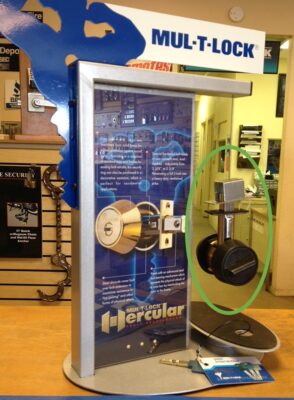 This is our favorite high-security lock
The strongest security and materials
Bump and drill resistant
Has three levels of security built into the key
Keys can only be duplicated when a key card is presented, ensuring no unauthorized duplication. When you get the key back, you know no one made a copy
Contains a retaining bearing preventing the lock from separating from the door frame. No other high security lock offers this feature. It's unique to Mul-t-lock and why we use it. Check it out on Amazon
Lifetime finish warranty with limited lifetime mechanical warranty.
In addition to high security door locks, Mul-t-lock, Assa, and Medeco also provide high security pad locks and high security gate locks.