What Type of Locks are Available?
What types of locks are there? What do you want to secure a cabinet? Lock a gate? What is the difference between a latch and a bolt? We'll walk you through it in this article. 
Jump to:
Types of locks by locking application
Types of home locks
Pro Tip: How to Fix Your Home Latches
Types of Commercial Locks
Other resources:
Types of locks by locking functions
Lock Grades 1 2 3 Explained
Types of Locks by Locking Application
How to Secure Objects
These are locks that prevent items themselves from being taken: bikes, motorcycles, small items, etc…
Most often this is accomplished by the use of padlocks and chains/cable around the object you want to protect. Lock shackles and chains can be a few fractions of an inch to over 1/2 inch thick depending on the security lever you desire.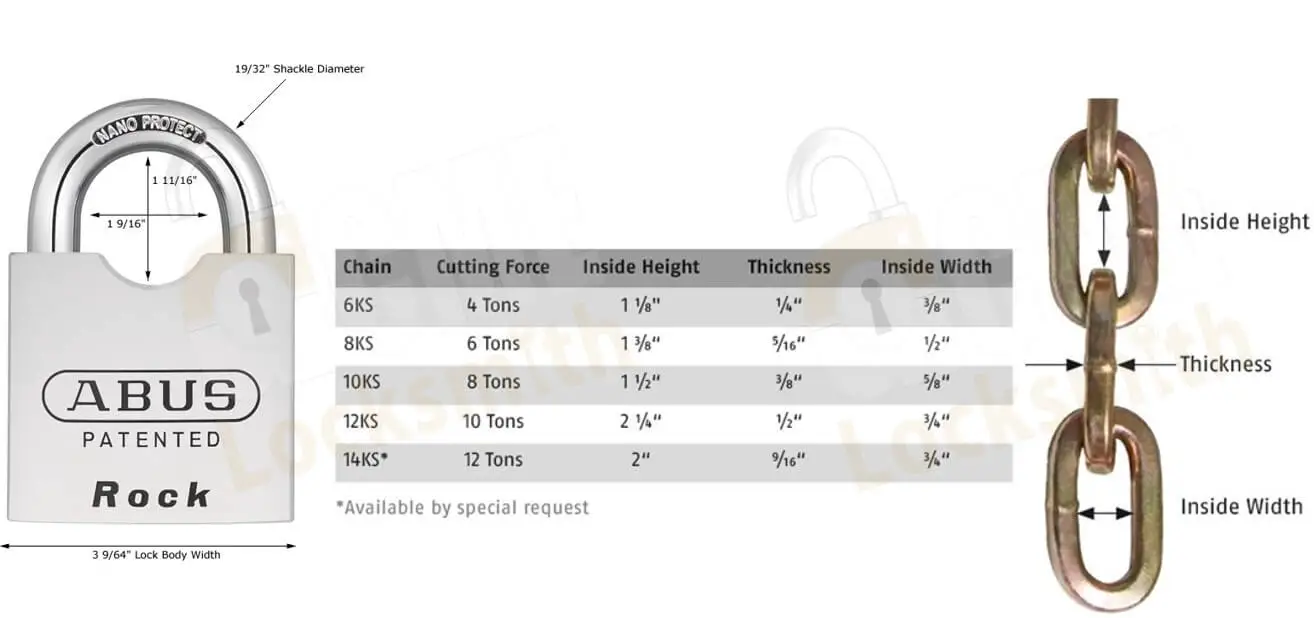 For high-end security, we love the Abus Rock padlock. It's as tough as it gets and has over a 1/2 inch shackle. The price of this lock has come down considerably over the last few years. See the latest pricing on Amazon. Combine it with a massive Abus 14ks chain (also over 1/2 inch thick) and you've protected your property to fullest extent possible. The Abus chain is not cheap, but it is the best. We found the best pricing for it.
Another method of locking objects is by using a bolt mechanism specifcally designed for that object. For automotive use there's the steering wheel lock called the Club. This large bulky object prevents a thief from turning the steering wheel making the car undriveable.
For bikes and motorcycles there are various u-lock options. Some u-locks have a big loop, so you can secure a bike to a bike rack. But our favorites u-locks are the little ones used on motorcycles. They work by preventing the disc brake from spinning and are a very effective motorcycle lock.
For smaller objects a number of manufactures are coming out with portable safes. These little locking devices are great for phones and smaller objects while you're out in public someplace and don't necessary want to be dragging that stuff around. On of my favorites is a little locking device from Master Lock (see it on amazon here). It comes with a cable that is easily tucked away when not needed.
Types of Residential Door Locks
Yep, these are the standard deadbolt and door knobs/levers.
Door knobs and deadbolts serve two primarily different functions. The first is to automatically latch the door (so it won't blow open). This is accomplished by the latch that is in the knob or lever. When the door is closed, the latch automatically latches the door shut so it won't come open.
A deadbolt's primary function is securing the door. Deadbolts must be "thrown" to secure the door and don't latch automatically. We provide our recommendations for Best Home Deadbolts on another post.
Both latches and deadbolts can also be used on gates. The main benefit being that the gate lock can work from the house key keeping your key ring down to a minimum. For gates, a deadbolt can be modified with a gate latch. This changes the function of the deadbolt so that it will auto-latch when the gate is closed and thus auto-lock the gate. These are combined with gate closers so the gate won't be inadvertently left open.
Having recently entered the market, electronic deadbolts can be set to automatically throw the bolt of the deadbolt to lock the door after a specified time has lapsed. This is done by mechanical linkage within the lock. My favorite, and the lock on my home, is the Yale electronic touchscreen deadbolts. You can check their latest prices on Amazon.
Types of House Locks by Style
There are five common types of house locks by style. They come either with a bolt that needs to be "thrown" to lock the door or a latch that will automatically hold the door closed and can also be locked.
What are Latching Locks
Locks with latches will hold the door closed, even if not locked, to stop the door from accidentally opening. Pretty much all door knobs and levers are of the latch type. They can be found in passage, privacy, and entry functions.
Door knobs are the oldest of the bunch but they've fallen out of favor. They are certainly the least expensive of the options.
Door Levers are the most popular today. Our customers like them because they are easier to turn, especially for those, like me, getting up in age. The lock levers provide leverage so not as much strength is required to open the door. When customers call us wanting us to make their door knobs easier to open, we put on a lever. There are many flavors of these locks in terms of style and finish. Check out what's available on Amazon.
Door Handles are also very popular on front doors. Instead of twisting, a thumb turn is pressed to release the latch. Many of our customers do not like like the handlesets stating that the thumb turn is hard to press. However, the are very decorative and make a front door look amazing. Check out the styles and finishes of handlesets at Amazon.
Pro Tip – Latch Alignment: See that little extra piece of material on that latch? It's called a deadlocking plunger. Do you know what's it's for? Well, it serves to lock the latch in place so it can't be moved/slid back into the open position by a credit card or screw driver. This is extremely important for your home security, but many homes do not have the locks adjusted correctly so that they work.
When the latch is in the out position and the door is closed, the latch should be pushing the plunger into the door. If the door or latch is misaligned, or if someone has ground out the latch hole too big, the plunger will not be pushed in and the lock with the latch can be very easily bypassed.
Bolting House Locks
These are the deadbolt style locks. They differ in that the bolt must be thrown in order for it to have a securing benefit. Most major lock manufactures (Kwikset, Schlage, Yale, Emtek, etc…) have created electronic versions of these types of locks. The best thing about electronic locks is that they can be setup to auto-throw the bolt after the door has been unlocked for a certain amount of time. Thus, you door will always be at it's most secure. We recommended our Top 3 Favorite Electronic Deadbolts on our blog.
Pro Tip: People like to shop online, but if you buy your locks online (or even in a big box store) you may run into a couple of issues. The key for the lock purchased will not be the same as the rest of your house, and they keys may not be the same as the other locks you purchased at the same time. Before installing the lock(s) take it to a local locksmith shop. They will be able to key up the new locks to your existing house key if you want or key them all the same if you need that done. At ACME Locksmith, when we sell a lock we include the keying of it for free.
Almost everyone has seen a standard commercial lever. They are very similar to house levers but built much more robustly. This is the most common and prevalent lock on a standard commercial door. Everything in a commercial lever (the latch, key cylinder, etc…) resides in one unit (i.e. the lock).
There is another very common commercial door lock: the mortise lock. The mortise lock is found on glass aluminum storefront doors. Those doors have a narrow strip of aluminum on the edge and thus the locks are considerably smaller. These locks are snapped out of place easily if you don't install a cylinder guard (our #1 recommended commercial lock upgrade).
Mortise locks are composed of two products, often purchased separately, a mortise cylinder ((the part that takes the key) and the mortise body or locking mechanism. Mortise locks can have all the same functions mentioned above with a few additional options. They can latch the door when closed or not. So entry to and from the storefront can be done by turning a handle or pushing a plate/panic bar (on the inside of the door) or the door can simply swing freely during business hours until it is locked again.
Cabinets/boxes Locks
Locking cabinets or storage boxes is almost always done using a cam style locks. These types of locks have a post (cam) on the rear that turns as the key turns to lock/unlock the cabinet. There are a number of options available for cam locks.
There are a number of options available. They can be keyed to a standard key or keyed to a barrel key. They can also have a lock combination on the front of them so no key is required.
New electronic cam locks provide pin-code access and some even support audit trail (a report of who entered when). These are great for medical, dental and school medicine cabinets. Some are able to auto-lock the cabinet as well to ensure that it is not left open. The one we've installed at many businesses and my favorite electronic cam lock is the CompX Regulator. Check the latest price on Amazon.
Safe Locks
We went into quite a lot of detail in our article Types of Safe Locks. There you can read about the keyed options, dials, electronic, biometric, and redundant safe lock options.
Disclosure: As an Amazon Associate I earn from qualifying purchases.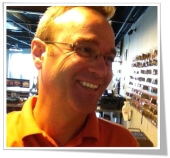 Robert has been the Owner of ACME Locksmith, Arizona's #1 Rated Locksmith, since 2007. ACME has provided locksmith service to over 160,000 Phoenix houses and businesses.
Over 1400 5-Star Rated, Verifiable Arizona Customer Reviews
Super Service Award Winner Eight Years Running
Selected as an Angie List Phoenix-Best Contractor
BBB International Marketplace Excellence Award Finalist
BBB Ethics Award Winner – The Only Locksmith to Ever Win this Award