How to Barricade a Door to Stop Forced Entry
Standard home locks won't make your door 100% safe from a would-be intruder. Home builders are looking to build the least costly homes possible, and they trim expenses everywhere, including your home's security.
Your door is likely held to the framing with only 3/8 to 1/2 inch screws (see our article, How to Reinforce a Door), and your lock's strikes plates are probably secured using those same tiny screws. These items make a forced-door entry possible.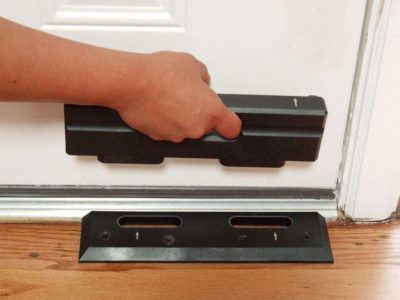 To fix this, you can remedy the items above or add door security devices to reinforce the door and prevent the door from being kicked in. Even if you reinforce the door, if you don't address the door locks themselves they can still be bypassed – it isn't as difficult as you may think.
Most current door locks, installed by builders and sold by big box stores, contain plastic parts. What's more, the Kwikset SmartKey locks used by builders are highly bump and pick resistant, but a bypass tool already exists that allows someone to easily bypass those locks.
Once someone gets past your locks, how do you stop them from getting in? What you want is an easy-to-use device that will provide maximum resistance against home break-ins even if the door locks are not engaged.
The best ways to barricade a door from the inside is to use a door brace. They require no special door modification, are easy to install and easy to remove. They stop the door from being forced opened, and they also prevent the door from being opened if your locks have been unlocked (from a key, picking or lock bumping). In a lot of ways, they are the best door security product you can add to a door.
We go in depth with door braces to guide you in selecting the best door brace for your needs. Door braces are an easy first step to reinforce the door, many of which require no tools or modifications of any kind to use.
Jump to Section:
What is a door brace?
Do security bars work?
Door Brace Types – Product to Secure Doors from being kicked in.
ACME Locksmiths Door Brace Product Recommendations

What Is A Door Brace?
Door braces are installed from inside the home and brace your door closed from unwanted or forced entry. There are five different types of door braces: portable, security bars, half deadbolt or flush bolts, barricade bars, and door closer covers (used primarily on commercial doors).
Each door brace type comes with its own unique features. Select what to buy depending on the security level or mobility you want. Some are portable while others are fixed permanently. Door security braces offer security by stopping the door from inward or outward swing making the door resistance to kicks and brute forceful entry.
Security braces increase the pounds per square inch of the pressure needed by a burglar to break into your home or business. Typical doors, residential and commercial, are compatible with the various braces. For front and back doors, you should use heavy-duty braces since these are the main entry points.
A security brace must be set from inside of the home so they cannot be used on a door that you use to leave the home. In Arizona, we mostly leave our homes through the garage so that the door brace security products can be used on the main front and back entry doors.
One of the main benefits of a security brace is that you can stop someone from entering the door even if they have a working key to the home.
Considerations When Choosing a Door Brace
Here are some things to consider when getting physical home security braces for your door.
Door Dimensions
Standard doors are from 30 inches to 36 inches and about 80 inches in height. However, this is not the case for every door. So, before you purchase a door brace, measure the door's height, thickness, and width to make sure the product you are looking at is within the product's working dimensions.
Placement
Consider where the security bar will be placed on your door. Some will only work with hinged doors, and others are made for sliding doors.
There are specific door braces for outward swinging doors too but those are primarily for commercial doors and only briefly mentioned below.
Before you buy the door brace, make note of the flooring next to the door you want to secure, because some security bars may not work on linoleum or carpet flooring.






Do Door Security Bars Work?
Door security bars work well to reinforce a door when you choose a high-quality product. The most efficient door barricade devices are metallic or steel and are designed in a way that ensures they offer securing reinforcement without damaging the floor or the door. Choose a product strong enough to withstand over 350 pounds of force.
Installation Methods
If you are not good with tools, choose products that are easy to install without professional help. Some braces are as simple as angling the security bar against the doorknob and using pressure to secure it. These bars take less than a few seconds to install. No drilling required. Others require securing to the foundation (concrete) yet are still pretty simple to install. The most complex ways require drilling additional holes into the door. Though difficult to install, these can provide the best door security improvement.
Products to Secure Doors From Being Kicked In
There are several ways to more secure doors and to prevent the door from being forced open. Choose the door type that is best suited to your needs. As stated earlier, the door bracing systems are available in five types.
To secure a door from being kicked in you can brace the door from the inside, install additional locks to distribute force from the door, you can improve the quality of locks on the door, and you can install better screws that will secure the door to the studs behind the framing other than just to the framing.
Below we discuss ways to brace the door, but the other items were discussed in our article and video, How to Reinforce a Door.
Door Jammers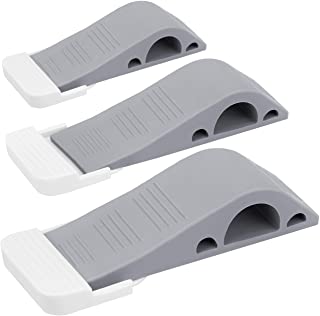 Door jammers are one of the smallest of the door braces. Door jammers secure the door at the base of the door using either pressure or a base plate secured to the floor. They in effect, "jam" the door preventing it's opening. Portable door jammers are available for travelers to secure doors while on the road.
Door jammers are used at the far corner of the swing side (opposite the hinge side) of the door, at the base of the door. There are two types of door jammers. One uses tension between the base of the door and the floor to hold the door in place. Some use tension from the door pressing into them as it opens, such as door wedges and other use a base that extends / retracts via turning the base into the ground. Door jammers that use tension are portable and can be used outside of the home (such as a rental home or hotel).
The other door jammer type attaches to a plate secured to the ground. The jammer itself slides or snaps into this floor plate. These are more secure, as the base is screwed into the flooring, but not portable.
Some door jammers even come with an alarm or siren to alert anyone in the house if they sense force.
Door Jammer Advantages:
The portable style door jammer requires no tools to install and can be used while traveling.
Small footprint so cosmetically appealing.
Disadvantages:
The weakness of a door jammer is that it blocks the door from opening at the base of the door.
If the door is unlocked (for example someone picked the locks, used a key or bumped the locks (see What is Lock Bumping) all the resistance from a forced break in will be at the base of the door. By applying all of the force high on the door,weaker doors can flex, and possible break, thus allowing someone to get in. To what extent this is an issue will depend on the strength and overall dimensions of the door.
Door jammers can only be used on inward swing doors.
Door Security Bars
Door Security bars, like door jammers, use pressure to secure a door in place. The bar is fitted under your door handle or knob, and the bottom extends to the floor to offer tension between the floor and the closed door. This bar can extend at an angle of 45 degrees to give maximum door reinforcement and force resistance. Many door security bars are able to be used on sliding doors as well as hinged doors.
When not in use, many will collapse to as small as two feet long and less than a few inches wide, so they can be stored out the way in a corner next to the door.
Advantages:
Since a security bar resists force at the middle of the door, you don't have the same issued mentioned above for a door brace that secures at the base of the door. So, the strength will almost entire be based on the strength of the door knob/lever you are securing it under. If that is strong, this is one of the most secure door braces you can use, often adding several hundred pounds of force resistance to the door.
Disadvantages:
Because they are long, security bars are not portable.
When not installed correctly, they will fail to withstand an attack.
Door security bars can only be used on inward swing doors or sliding doors.




The Use of Half Deadbolts or Flush Bolts to Brace the Door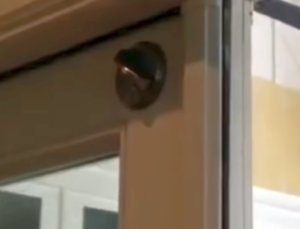 Half deadbolts are an amazing way to better brace a door. Half deadbolt are deadbolts that you see from inside the home, but have no evidence that they exist on the outside of the home because there is no keyhole on the outside. This makes it a bump-proof and pick-proof deadbolt.In most applications, the half deadbolt is installed above the existing deadbolt to further brace the center of the door by distributing any force across yet another bolt.
When additional security is desire, half deadbolts can be installed at the base and top of the door. This provides maximum resistance against forced entry.
Flush bolts are mounted on the back of the door and extend into the floor or header of the door. Because they are screwed into the door, the strength of the door and size of the screw largely determine their effectiveness. We prefer the half deadbolts to flush bolts because they are stronger and more cosmetically appealing.
Half Deadbolt Advantages:
Maximum resistance against a forced door entry.
Work for inward and outward swing doors
Half Deadbolt Disadvantages:
Unless you're a carpenter, installation by a residential locksmith service is almost always necessary.
Barricade Bars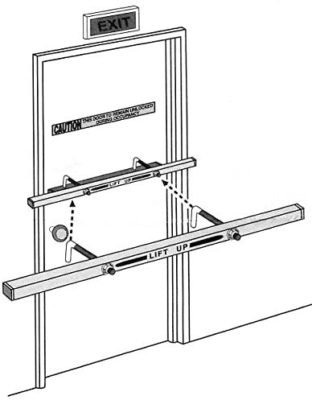 Barricade bars are easy to use, and they can provide robust security for inward and outward swinging entry doors. The are mostly used on commercial doors but there are some that are now designed for residential.
Barricade bars consist of one bar and two door barricade brackets. The barricade brackets are installed to the left and right on a door. A bar is slide onto the brackets to prevent inward swing doors form being forced open. They are almost always used in commercial applications since they are unsightly.
The traditional version of the barricade bars was made of wood. Modern ones are more often made of steel.
For ease of use, several models come with a hinge on one side; allowing you to secure the barricade bar in seconds.
Advantages:
Extremely secure.
Disadvantages:
You have a big ugly bar on the inside of your door.
Potentially against fire code for commercial use. You will need to check with the fire marshal. Many county's will allow barricade bars so long as they are labeled that it has to be removed during business hours.
Requires installation.




Door Closer Covers
Door closer covers are a unique door brace and have good application and use in commercial doors (or any door that has a door closer installed).
Door closer covers are mostly used in offices, hospitals, or business premises.
The devices are made to slide over the rods of surface mount door closer. These rods move as a door is open. Locking the door closer rods in place service to lock the door in place because the rods are no longer free to move and the door can't open because of this.
Advantages:
Extremely affordable.
Super easy to install.
Good commercial applications.
Disadvantages:
The door's security brace becomes the screws of the door closer, which, with enough force, can rip out the door closer out and allow the door to open.
Not a product intended to secure home doors.
Potentially against fire code for commercial use. You will need to check with the fire marshal.

ACME Locksmith's Best Security Braces for Doors
Half Deadbolts Installed on the Door
This is our best home security tip. When combined with 3″ hinge and strike screws, it is the most secure, the most attractive and the easiest method to brace the door. However, installation is beyond most home-owners ability to install. Contact your local locksmith to install half deadbolts.
OnGuard Security Door Brace
The OnGuard is one of the most solid door jammers you can find and it is built to withstand 3,000 lbs of force. It is a base plate type of door jammer which is more secure than the pressure mounted type.
The base plate is installed using screws into the flooring. The base plate is ½ inches high so you will need to ensure you have that much clearance when the door swings open.
This security brace is perfect for concrete or tile floors. If you are not comfortable with tools, your local locksmith can install it to ensure it is done correctly. It is not recommended for carpet.
The OnGuard is available on Amazon at the best price I've found. See our article for our other home door lock recommendations.
Features
• Can withstand high forced weight that exceeds 3,000 pounds; this is the weight of an elephant.
• Comes with a life warranty.
• Perfect for most types of tiles, concrete and wood floors.
• Mounted on a secure, strong plate.
• Works on French doors.
Half Deadbolt Installation
Nightlock Door Barricade
Similar to the OnGuard this is a door jammer that secures to the floor via plate. It is not as heavy duty, but it is more affordable than the OnGuard. See pricing on Amazon. https://amzn.to/2XzYQ36
The plate is also ½ inch high, so you will need the doors clearance to be that high.
To install it, you need to drill a bit and screw it on the floor securely. The Nightlock Door Barricade (available from Amazon) slides onto the floor plate from the side, making it a bit of a hassle if it will be used and removed often.
Features
• Perfect for concrete and tile floors.
• Solid aluminum.
• Multiple finishes to match door hardware, including bronze, brushed nickel and bright brass.
• Works on French doors.
DoorJammer Door Lock
The DoorJammer door brace is portable and light in weight. The compact security device is made of aluminum and is perfect for travelers. It is pressure mounted between the door and floor by adjusting the leg and takes a few minutes to install.The device can be used with various types of floors (including carpet and laminate) and pressure applied to the door actually force the jammer into the ground more to anchor it even further. However, it can be quickly removed when not in use. Check out both the heavy duty and light duty versions at Amazon.
Features
• Light in weight, weighing only eight ounces.
• Portable uses.
• Made of strong steel
• Perfect for all types of floors
• Remains securely attached.
Master Lock Door Security Bar
The Master Lock Door Security Bar (available on Amazon) works with standard doors and has a removable head to allow it to work with sliding doors as well.
It is made of 20-gauge steel, and secures the door by bracing the top part of the bar under the door knob or lever and the bottom on the floor. It is good for most flooring including Carpet.
It is one of the easiest to use as you don't have to get on the floor to install it, and it requires absolutely no tools/screws. But, it is also one of the trickiest to make sure it is installed correctly. When it is not installed correctly, it is not very effective.
Features
• No tool installation
• Prevents forceful entry.
• Made of sturdy steel.
• Comes with a removable head
• Can be adjusted from 30 inches up to 44.5 inches for hinged door applications
• Comes with a rotating rubber foot sole
• Limited lifetime warranty
Conclusion
Door barricade devices can be used without modifying your existing locks or door and provide a high level of improved door security to prevent the door from being kicked in or a forced entry.
There are various options including those for travelers. For the do-it-yourselfer, our favorites are those with a floor plate and a vertical brace such as the OnGuard and NightLock door jammers.
It is ACME Locksmith's recommendation to use the half deadbolts for the most streamlined look and best door security, but the door security braces are excellent options if you don't want to hire someone to install the door security protection.
Disclosure: As an Amazon / Google Associate I may earn from qualifying purchases.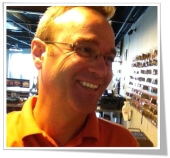 Robert has been the Owner of ACME Locksmith, Arizona's #1 Rated Locksmith, since 2007. ACME has provided locksmith service to over 160,000 Phoenix houses and businesses.
Over 1400 5-Star Rated, Verifiable Arizona Customer Reviews
Super Service Award Winner Eight Years Running
Selected as an Angie List Phoenix-Best Contractor
BBB International Marketplace Excellence Award Finalist
BBB Ethics Award Winner – The Only Locksmith to Ever Win this Award