What are the New Door Hardware Finish Trends?
Just as with fashion, door hardware styles and finishes change over time as manufacturers try to capitalize on trends in architectural styles and consumer awareness. Door hardware can be considered an 'accessory' item that can make dramatic changes to the appearance of your home, but with the newest finishes coming out with anti-bacterial coatings, they can also be something that impacts your health.
What are the latest trends in residential hardware finishes that our Arizona Residential Locksmith Service is seeing and forecasting in the Arizona market?
The main door hardware trends we see are seeing include new hardware finishes and coatings, new hardware styles, and new capabilities and security features. We're going to focus on new hardware finishes and coatings in this article.
Door Hardware Finish Trends
In Arizona, the most popular door hardware finish is satin nickel, and it has been for a number of years. Oil rubbed bronze also continues to be very popular and runs second to satin nickel. When you walk though a new neighborhood, these two hardware finishes adorn over 75% of the doors.But there is one new door hardware finish that is gaining quick popularity. That is matte black, also called iron black depending on the manufacture.
Several residential hardware manufacturers have recently reintroduced the matte black finish. It's been an option for high-end specialty door companies for years, but the more common manufacturers whose price points are much lower have started to release it.
The trend for dark hardware started about 10 years ago, when the popular "Oil Rubbed Bronze" (also called "Venetian Bronze" by some manufacturers) came to the forefront. This finish is a dark brown color, and is designed to wear over time, so sharp edges and the most used portions would actually show their wear creating an historic look to the door hardware. Aged bronze finishes are very similar in appearance but come with the "aged look" already built into the finish.
Bronzes are still very popular, but now that matte black (or aged black) is available, we're seeing more customers choosing the boldness of the matte black as a stunning contrast to the typically lighter painted or stained doors, as well as the bold colors like red that are often used for entry doors. The finish doesn't wear over time (a feature that many purchasers didn't realize oil rubbed bronze had). And let's face it, black matches EVERYTHING.
As the black finish gains popularity, more hardware styles will offer it. The two most common keyways for home door hardware are Kwikset and Schlage. You can see the available Kwikset Styles in their Iron Black on Amazon here and those hardware styles from Schlage in their Matte Black on Amazon here.
Satin nickel is a softer, less bright version of a stainless-steel finish for customers that like a more contemporary feel for their home.
Those 3 finishes are what you'll find to be the most popular for several years to come. But manufactures continue to sell more traditional finishes. They are aware that people may just be replacing a single failed door lock that uses an older finish. These finishes include bright brass (shiny gold), antique brass (something of a duller brass color), satin chrome (a dull white-metal finish more commonly seen in commercial settings). Some manufacturers are also bringing back the bright chrome finish that was common 50 years ago, but we haven't yet seen a rush of people ready to go back to this finish yet. Checkout our web page for other common lock finishes.

These popular colors, are by no means the only options. High end manufactures, like Emtek, offer some really incredible, but not yet as common door hardware finishes. If you're looking at door hardware for a high-end home, you can really get some unique finishes other than what we've mentioned here like Satin Steel, White Bronze, and Black Patina.
Door Locks with Antibacterial Finishes and Coatings
Several years ago, my locksmith shops were carrying a line of door locks by Master Lock that came with an antimicrobial coating. Having young kids, I thought it was an awesome idea!
But it was a head of its time. Our customers simply did not see the value of antimicrobial / antibacterial locks.
But in light of the recent Coronavirus wave, I fully expect locks with antibacterial coatings to become a new hot trend. You can still buy the Master Lock Door Locks with their antimicrobial coating on Amazon but the styles are a bit out dated. Their locks are also typical grade 3 (see What are Lock Grades?) so they are best suited for non-entry doors, like interior doors.
The antimicrobial coatings last for the lifetime of the hardware finish, so you can worry less and feel more secure. It works by preventing cell multiplication. In order for bacteria to spread, it has to multiply. If it can't multiple existing cells die off quickly. Some studies show that antimicrobial products are 99.9% cleaner than standard door hardware.
Just recently other lock manufactures have come out with antimicrobial locks, such as Kwikset.
Kwikset calls their coated finish Microban and it's readily available on Amazon. They are incorporating this coating on several of their new styles of locks. So you can get very modern finishes and styles. Also, their line of Smartkey products is highly pick and bump resistant (What is Lock Bumping?).
Products with this coating will have a Microban sticker on the box.
ACME Locksmith carries several of the Master Lock and Kwikset antimicrobial products in our stores, but if we don't have it, we can order what you need. When ordering locks in our stores, we key the new locks up to your existing house keys at no cost.
And if you choose to order your new door hardware finishes from Amazon, no problem, just bring them in before installing so we can rekey the locks to work with your existing house key.
Schlage also has door hardware with antimicrobial coatings, but only on some of their commercial products at this time. I bet we'll be seeing it soon for the residential market.
What to Know Before Changing Your Door Hardware
If you plan on changing your door hardware to take advantage of the new finishes and antimicrobial coatings, ACME Locksmith previously wrote an article about What You Need to Know Before Buying Your New Door Hardware. You will definitely want to take a look at that article before making your final new door hardware choices.
Briefly, it's a tutorial to teach you some of the terminology used in the industry, as well as how to take measurements from you existing hardware that you may need to know. We also discuss some considerations you'll want to think about, such as current hardware footprint, backset, etc…
Yale Lock Brand Finishes
Kwikset and Schlage are the top brands you'll find in your big box stores and places like Amazon, but there are some other exciting trends that are just starting to come out with new finishes. Yale lock's new finish is called "Gun Metal", which is also coming out in kitchen and bath hardware manufacturers. It's a super-dark metal finish that offers something unique and unseen in door hardware until now.
Product lines are limited right now (for instance, our favorite smart lock deadbolt, the Yale Assure Connected by August – read our review – doesn't yet have this option), but if this finish becomes more popular, we'll begin to see more styles offered and other manufacturers coming out with their own versions, possibly before the end of the year.
Disclosure: As an Amazon / Google Associate I may earn from qualifying purchases.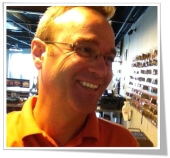 Robert has been the Owner of ACME Locksmith, Arizona's #1 Rated Locksmith, since 2007. ACME has provided locksmith service to over 160,000 Phoenix houses and businesses.
Over 1400 5-Star Rated, Verifiable Arizona Customer Reviews
Super Service Award Winner Eight Years Running
Selected as an Angie List Phoenix-Best Contractor
BBB International Marketplace Excellence Award Finalist
BBB Ethics Award Winner – The Only Locksmith to Ever Win this Award