The Best Home Security Improvement You Can Make
This simple device stops your locks from being picked or bumped
Our Best Home Security Tip
STOPS Lock Bumping
STOPS Lock Picking
STOPS Any Key from Opening Your Lock
Ideal for child safety to prevent little ones from running out a door
Ideal for Home and Travel Security
Installs in Seconds
No Modification to Door or Locks is Required
Buy Online Ultimate Flip Guard Deadbolt Lock or we'd be happy to send one of our home locksmiths out to your location to assist in the installation.
Four lock finishes to choose from: Satin Nickel, Antique Brass, Polished Brass and Venetian Bronze
ACME Locksmith has tried to beat this security measure to no avail! We've broken dozens of working keys attempting to get into a lock with this product installed. Come into any of our locations and try this product!
Here's how it works. You may not realize it, but whenever anyone opens your deadbolt from outside your home the thumb turn on the inside of the door turns too. This nifty little device locks the thumb turn in place so it won't spin. When it's locked in place, the outside lock cylinder won't spin either and the keys snap off before the deadbolt locking device gives in. Lock pumping and picking become impossible.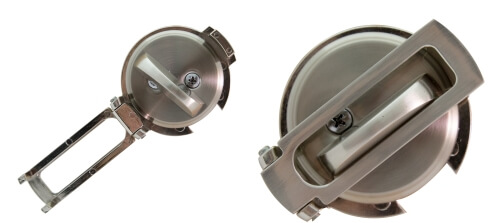 Buy in our shop to save shipping, or buy the Deadbolt Lock online to save gas. Multi-purchase discounts.
Criminals can unlock a deadbolt in seconds using easily available bump keys and other unlocking devices. These devices can unlock a deadbolt nearly as fast as if the criminal had the actual key.
Foil Them – Use the Police recommended Super Grip and prevent anyone from unlocking your deadbolt at home or when traveling, even if they have your keys!
Check out our other Home Security Tips