ACME Locksmith – Phoenix Shop & Service
We're Earning Customer's for Life
ACME has four valley locations that provide in-store and on-site door hardware, key and safe services. We opened our Phoenix location in 2013. We provide fast, affordable, same day automotive, residential and commercial lock and key services.
You can Bring your needs into our shop and avoid the trip charge! This lock shop stocks over 600 automotive, commercial, and residential key blanks. Our technicians can program car keys & remotes, repair car door locks & ignitions, repair residential and commercial locks, rekey buildings and perform all safe repair. The store has many of our most popular selling safes so you can see the one you lik,e and we'll deliver the size you need. We stock residential and commercial locks for purchase. What we don't have, we can order and have it in our store the next day.
We are near the South East corner of Glendale Ave and 12th St. It's quickly become a lock & key hub for car mechanics, auto dealers, and residents to bring their lock needs to. Shop manager, Drew, has expert knowledge of automotive locks, key, and remotes. Stop by and say, "Hi." You'll be glad you did.
The ACME Locksmith – Phoenix Shop and Service is a branch of ACME Locksmith and is located at:
1219 E Glendale Ave, STE 5

,

Phoenix

,

Arizona

,

85020

Phone: (602) 422-9879

Shop Hours: Mon-Fri, 8:00am-4:00pm

(Emergency Service 7AM-10PM Everyday)NOTE: SHOP HOURS CURRENLTY LIMITED TO 9-1 PM. FIELD HOURS CONTINUE 7-10PM.

Over

1347

Verifiable Reviews!

4.9

rating

average.

Fax: (602) 633-2883
See our complete list of Services
Tired of split, bent and broken keys? The keys we sell are made to last. Any key with our stamp on it, is a key guaranteed for life. If it ever bends, breaks or splits, we'll make you another one for free.
Hire With Confidence
Answers to Common Lock Questions
About Our Company
Who We Are and What We Do.
Why Hire ACME?
You'll get Trusted Lock Service – Over 140,000+ Lock Services Performed
Over 1300 verifiable Reviews on Google, Angie's List & more…These reviews have been earned over years of delivery quality service to the best of our ability. Each of our reviews can be tied to a real, actual customer. Be wary of lock companies getting dozens of 5-star reviews per day. It's a sign that they may be paying for those reviews. Real reviews for services companies roll out slow and come over time.
You'll get honest pricing. What we quote for your lock & key service, is what you pay. Learn about Locksmith Fraud. If you're getting a quote that is much lower than other quotes, it may be just too good to be true.
You'll get best-in-class service. We are the only locksmith in Phoenix to earn a BBB Ethic's Award, we were one of Angie's List's Best Phoenix Contractors, and we've earned three nominations for Small Business of the Year (from Scottsdale, Mesa, and Phoenix).
You'll be serviced by a Pre-screened, Well Trained Lock Specialists
We are an active member of ALOA, the premier professional security and lock association.
Our technicians successfully pass background checks & drug screenings upon hire and random screenings thereafter. There is no requirement to screen a locksmith in Arizona, but we perform these tests for the security and safety of our customers.
Our Phoenix technicians also pass annual re-certifications and are regularly trained on the newest locks and key technologies. Locks are getting more complex and advanced with the introduction of electronic locking devices and we continually update our technicians as new technology roles out.
You'll get a 30-day, no-questions-asked, money back guarantee on locks and labor. If anything goes wrong, we'll make it right.
You'll get the lock industry's strongest 1-year additional labor warranty, matched by no other lock company in Phoenix.
Your work is completed by an ROC- licensed company (License 271563). At the time that this page was created there are only 10 licensed locksmiths in Phoenix? Licensing is not required in the state of Arizona, but hiring a licensed company is for your protection. It guarantees you are hiring a bonded and insured service provider, not one that is just adding bullet points on a website.
You're Helping Support Local Business and Their Families
Want to hire a local locksmith company? ACME is a local company with four current locations. It is owned by an ASU graduate and family operated with the owner and his brother working in the business.
We are a Veteran Owned business. Robert, the owner, is a proud military veteran of the US Navy.
When you hire local more of the money spent stays in the Arizona community for the benefit of Arizonians? Hiring out of state businesses, such as contract building maintenance or franchises, sends a significant amount of the overall job earnings out of state to support those businesses instead of Arizona businesses.
Inside Our Phoenix Location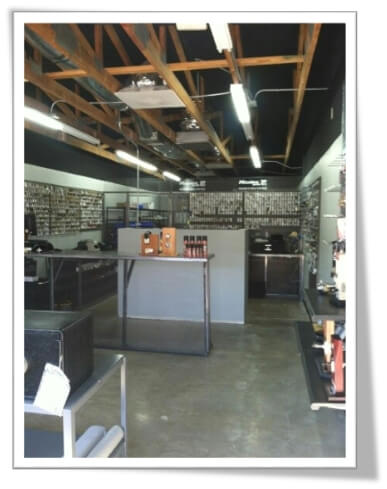 Map to Our Phoenix Location:
Find A Locksmith Near You