When You Want the Best Fireproof Home Safe, Look at UL or other Certified Fire Rated Safes
Unfortunately, this home was recently lost to the Carr Fire in Redding, Ca. Upon returning the owners discovered complete devastation. The house had burned HOT and was still smoldering several days later.
But then…there was this safe…still standing…charred and fire damaged….but standing.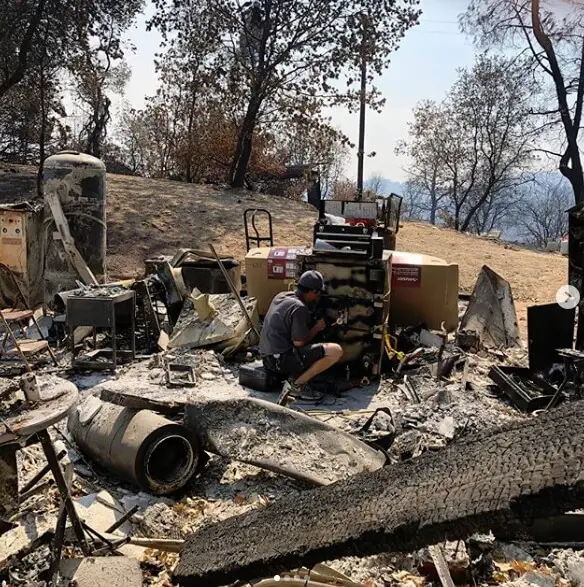 The lock on this fire rated safe had burned off so it would have to be drilled. Now this is an American Security / AMSEC TL-rated high security safe with a 2-hr fire ETL Certified fire rating (see our article Safe Fire Rating's Explained).
What to Look For in a Fire Rated Safe.
This AMSEC safe is as high-end as it gets. And so is the fire rating.
When you are buying a safe for fire protection, home safes or business safes, the best fire rated safe you can by is one that has a certified fire rating such as UL or ETL. These are the gold standard for safe fire ratings. There are other "fire ratings", but they might not provide the fire protection claimed (see Fire Ratings Explained).
The AMSEC line of fire safes are rated at 1200 degrees.
This TL-rated safe is rated for 2 hours at 1200 degrees.
Now most home safes don't need to be 2-hour fire rated. In fact, 30 minutes is sufficient for a home safe. Home fires burn at about 1100 degrees. Once the house is at the temperature the fire department is usually there putting out the blazes and further cooling the blaze. So a UL 30 minute fire rated safe is usually good enough for homes under 2,500 sf.
But if you are not in a city and you are in a rural area, it can take much longer for the fire department to arrive. And, if it is a large fire, like this blaze in California, the safe can be exposed to the flames for much longer than an hour. That's when you need a UL rated 90-120 minute fire rated safe.
This TL rated safe is built like a tank. They are designed to protect their content and can cost a few thousand dollars. My best guess is that this safe was probably in the neighborhood of $5,000. It's so secure, it took this California locksmith 3 1/2 hours to drill it open.

UL Rated Fire Safes Survive the Heat
But once he got this charred, fire exposed safe open, what did he find?
The entire content of this safe survived the fire! Wedding ring, coin collections, stamps… it all made it! Are fire proof safes worth it? Yes! When you wan to protect what inside, the UL fire rating is definitely worth it!

Non Certified Fire Rated Safes, Might Not Cut It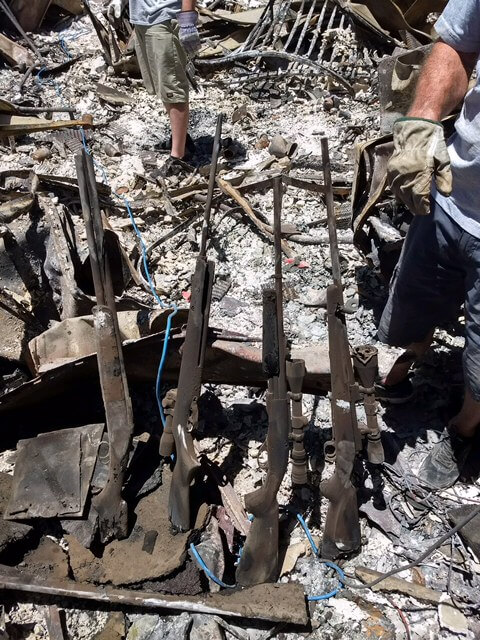 Now here's a photo of what's left of one of those big-box-store fire rated safes.
How much fire safe do you see left here? Nada. And practically nada of what was inside either.
These safes sell for WELL under $1,000. Was this safe worth it? Who got the better deal?
Safes are like parachutes, when you need one you don't want it to be made cheap. To be sold cheap, cheap safes are simply made cheap. They don't protect their content.
Why Certified Ratings are Important and Why Choose AMSEC
AMSEC conducted an internal study of the fire rating of their BF line of fire rated safes against those of their competitors.
AMSEC's BF line of gun safes is 2-hr fire rated safe. Check out these results. NONE of the competitors safes came close to their fire ratings.
[iheu_ultimate_oxi id="1″]
Table: Fire Rating vs Fire Actual Protection
Fire Rating vs Fire Actual Protection
Brand
Given Fire Rating
Actual Fire Protection
 Brand A 60 Min
60 Min
47 Min
 Brand A 2.5 Hr
150 Min
69 Min
 Brand B
120 Min
9 Min (that's not a typo, just 9 minutes)
 AMSEC BF Safe
120 Min
128 Min
Summary:
Fire rated safes come with all sorts of fire ratings. Look for those rated at values greater than 1200 degrees for added protection and look for those that carry the UL Fire Rated symbol if you want to be 100% sure it stands up to the heat.
Want to know How Fire Rated Safes Work? Our article breaks it down for you.

More of Our Favorite Security Products
See our Amazon Store for Videos and Links to All of Our Favorite Security Products.
Door Armor: Reinforce your doors. This video on YouTube shows the installation of Door Armor, and you can buy the product direct from Door Armor at a great price.
Video Doorbells: This video doorbell offers great images and video and has NO monthly video storage fees. Watch our SkyBell Video Doorbell Review on YouTube and buy it on Amazon.
Smart Locks: Access Your Locks via Smart Phone. You'll find some of our favorite smart locks that allow you to control home access and monitor entry in our Amazon Smart Lock Shop. Watch our Smart Lock Comparison Video on YouTube fore reviews of the most popular Smart Locks.
High Security Safes: When you want a safe that is designed to protect the valuable you put inside, you want a high security safe found on ACME Locksmith's Safes for Sale website.
Sliding Glass Door Lock: The best arcadia door lock that stops your sliding glass door from being lifted out of it's tracks and to prevent little ones from opening the door and leaving the home. Check out the video on YouTube and Buy it on our website.
Padlocks: Not all padlocks are created equal. These padlocks are the best for their specific application. See our Favorite Padlocks on Amazon.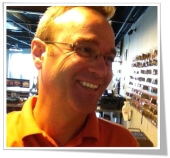 Robert has been the Owner of ACME Locksmith, Arizona's #1 Rated Locksmith, since 2007. ACME has provided locksmith service to over 160,000 Phoenix houses and businesses.
Over 1400 5-Star Rated, Verifiable Arizona Customer Reviews
Super Service Award Winner Eight Years Running
Selected as an Angie List Phoenix-Best Contractor
BBB International Marketplace Excellence Award Finalist
BBB Ethics Award Winner – The Only Locksmith to Ever Win this Award