Last Updated on July 14, 2023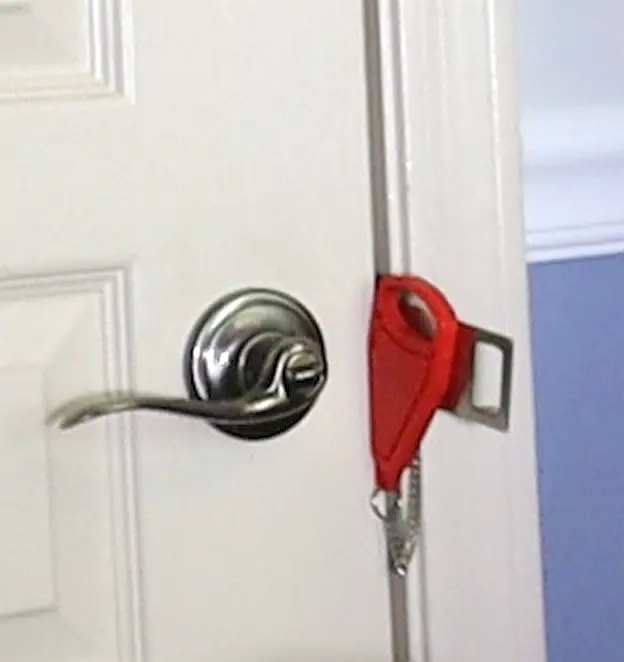 Best Portable Door Lock: Addalock
Small and portable. Good for doors don't don't lock with a key or that someone might have the key to.
---
Rating when compared to other portable door locks
Effectiveness:
Ease of Use:
Cost: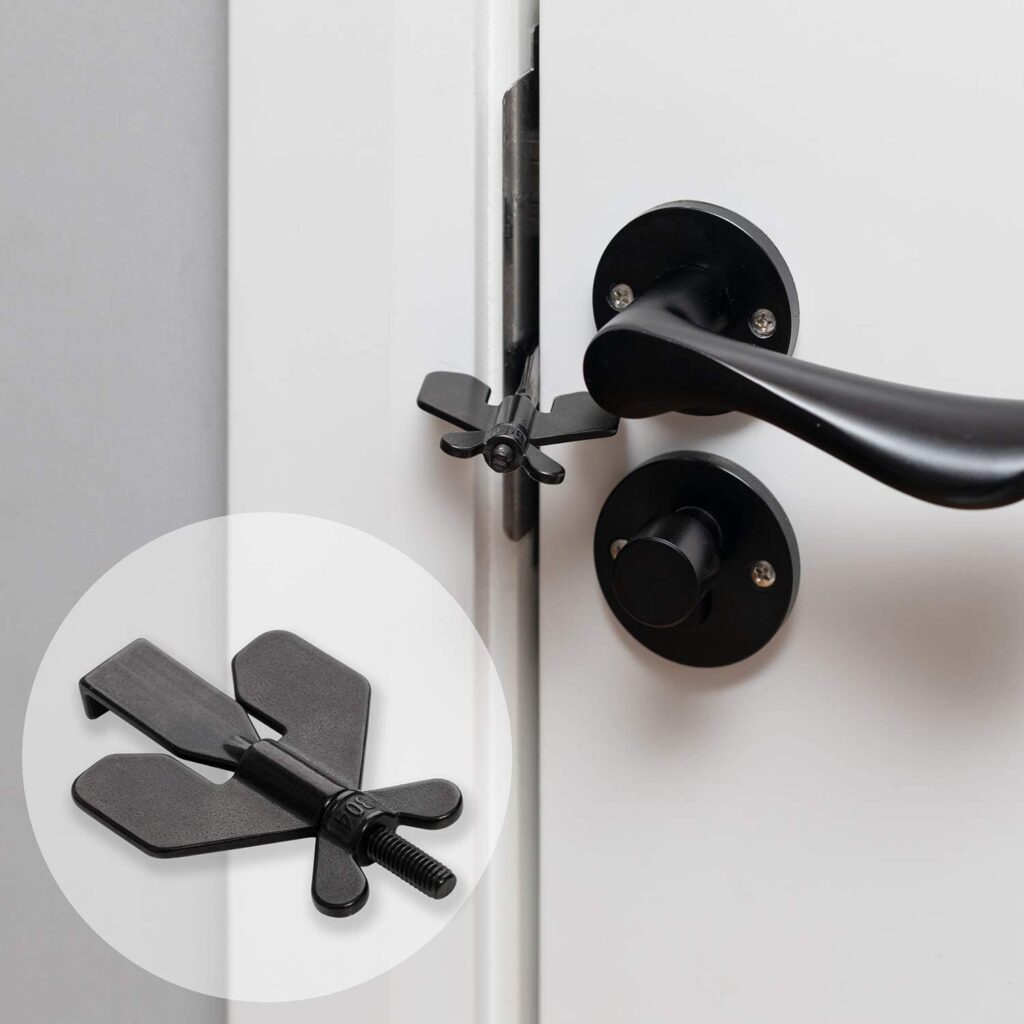 Runner Up: Penmama Portable Door Lock
Small and portable. Not quite as versatile as our winner
---
Rating when compared to other portable door locks
Effectiveness:
Ease of Use:
Cost:

---
Portable door locks are lightweight products that can be used to lock, or improve the locking of a door, without tools, to increase security while traveling. Often, portable locks are used for hotel doors, but they can also be used in AirBnB rental or room rental situations.
While they offer a greater level of security than if not used, unfortunately some of them can still be forced open. But they can be particularly useful if a door has no locking function, or if your concern is someone has a key that could (otherwise) open the door.
These type of locks can usually only work on in-swinging doors. Most entry doors and hotel doors are in-swinging (when entering the door, the door opens into the space being entered. Out-swinging doors open to the outside of the space being entered.
How We Evaluated These Portable Locks
We're going to look at 4 different products today that roughly cover the 4 types of portable door locks you can find. We graded them 1 to 5 stars (5 star being the best) and evaluated them on:
Effectiveness:
Does this product provide a security level greater than that found on a standard locked door, relative to the other product / product types we evaluated in the portable door lock category?
So the best at improving the door's security for these product types was given a rating of 5, but if the same portable lock was compared to a permanent installation of a door barricade bar, for example, it would not be rated so highly.
Is it versatile, meaning can the product be used for a variety of door sizes and configurations?
Does the portable lock brace the door at the best location. Door braces that lock in the center of a door's height secure better than those which are placed at the top or bottom of the door.
What about flooring? Does it work on all types of flooring? Some braces won't work well on carpeted or linoleum flooring.
Ease of Use
How hard is it to install and remove this product? How hard is it to travel with and store in a suitecase? Most portable barricades and braces require no tools, but some may (which isn't convenient) and some may have little parts that could easily get lost.
Cost
How much of an investment is this product?
With this in mind, lets get to the reviews!

The Best Portable Door Lock – Locksmith Recommended
Or Winner: The Addalock Portable Door Lock
(available on Amazon – check price here)

Overview:
This lock functions by utilizing the existing latch hole and hardware (the strike plate) found on the door frame.
One side of the device secures into this hole by metal projections ('claws'), creating a fixed locking point.
By hanging a plastic-coated, metal piece on the portable lock's side that is projecting into the room the hanging piece will act as a door brace.
When door entry is attempted, the door hits the hanging metal piece, which then pulls on the metal wedge, which in turn pulls on the strike plate, where it's secured, preventing entry.
Both sides of the metal wedge have these claws. One side is for commercial locks and the other for standard house locks, and the wedge can be rotated and used regardless of the lock type.
This door brace effect works even if the door hardware latch becomes retracted (i.e. the door lock was opened using a key or card or bypass method). It is, effectively, as strong as a standard residential deadbolt.
This door brace lock is super compact, easily fitting into a purse or small handbag (and anything roomier as well).
The lock parts are connected by a chain so they won't get separated from each other and lost.
And in addition, it's under $20 (at the time of this writing).
Addalock is the original manufacturer of this type of door brace but currently, several different manufacturers exist.
Scores
Effectiveness:
Ease of Use:
Cost:
Summary:
This portable door lock is compact, affordable, and and easy to take along. It will work on a wide variety of in-swinging doors, including most hotel room locks (price it on Amazon).
Prefer Video? Portable Door Lock Demo & Review
Amazon's Best Selling Portable Door Lock Review
PROS
The strength of a deadbolt even if one is not installed or has been opened.
Can be used in a variety of doors (hotel, bedroom doors, entry doors, and commercial).
Secures in the middle of the door, reducing door flex during a forced entry attempt.
Inexpensive and easily transported.
All pieces are attached, so they won't be misplaced
CONS
Though I found it easy to install, some have reported difficulty in getting it work.
In-swing door only.
---
Our Runner Up: the Penmama Portable Door Lock
(available on Amazon – check price here)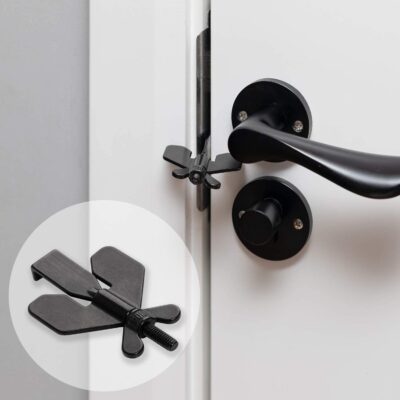 Overview:
This portable door barricade is similar in how it works to the Addalock product.
It, too, uses a projection that hangs on the lip of the frame's strike plate (you align the wing nuts vertically to close the door).
Then screw down the larger (closest to the door) wingnut until it rests horizontally against the door and frame.
Then secure down the smaller wingnut to lock the larger wingnut in place.
As with before, this lock only works on in-swinging doors.
The principle is the same as Addalocks, but it does operate a little differently and that affects it's usability.
Due to the wingnut design, the moulding around the frame may prohibit you from securing the large wingnut against both the door and the frame. The moulding will stop the nut from sitting flush against the door so the door will have some play in it. that little bit of play is enough to build up force when striking this lock while attempting a forced entry.
Also due to design, it will not work on deep doors (not flush with the wall) as you will not be able to attach the wing nuts.
Soft wood doors may be dented by the wingnuts of this product during installation , and there needs to be a gap of at least 1/8″ to use this portable door brace.
Because it is three separate pieces, it's entirely possible for this lock to work itself apart during travel and the pieces become separated, making them easy to loose.
Pro-tip fix to keep the parts together: put a little fingernail polish at the tip of the bolt and it will create enough resistance once dry to prevent the wingnut from escaping. Just be sure not to glue the wingnut to the bolt during the application!
All that being said, when it can be used correctly and installed flush to the door, it is very effective.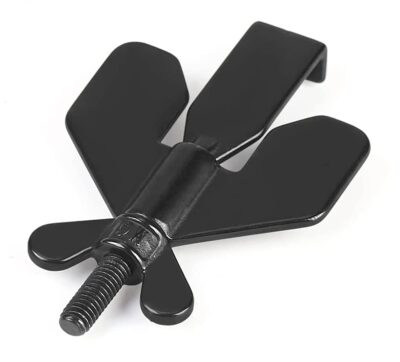 Scores:
Effectiveness:
Ease of Use:
Cost:
PROS
Suitable for most residential interior in-swinging doors and many exterior ones, as well as some commercial doors like hotels.
When used on an appropriate door, gives the strength of a residential deadbolt.
Secures in the middle of the door to resist flex during an entry attempt.
Intuitive to use.
CONS
Pieces may separate from each other and get lost.
Door or paint can be damaged or dented during installation and use.
Won't work well on doors with decorative frame moulding, narrow door/frame gaps, or door not flush with the interior wall.
In-swinging doors only.
---
Review of DoorJammer Portable Door Lock / Brace
(available on Amazon – check price here)
Overview
This portable door brace works by attaching it to the bottom of the door and screwing down a rod to flush it snug to the door and floor. Its available in a travel model that is less than 3" x 3" x 5", and there is a larger "XL Heavyweight" version as well.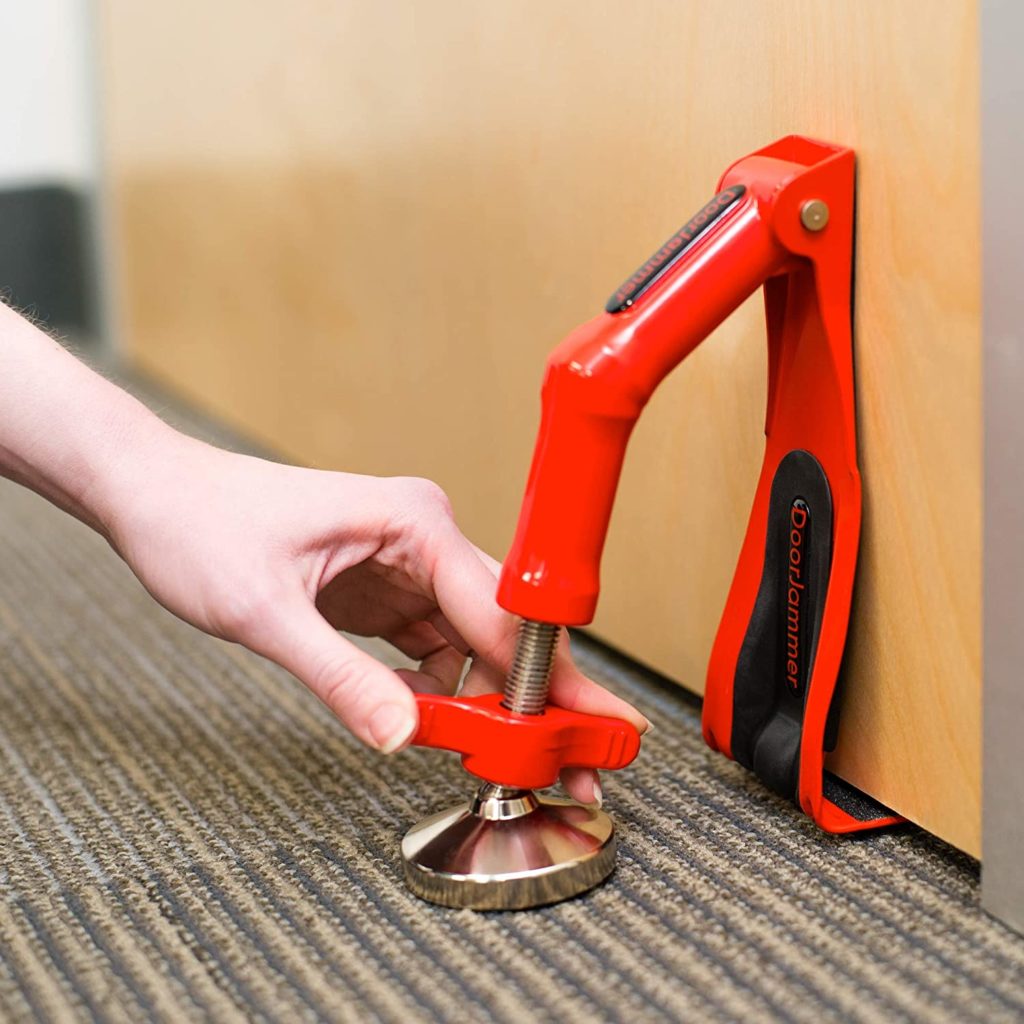 While it comes with a travel bag, there are 3 separate parts included (extension foot and door frame spacers) that could get easily misplaced.
The door frame spacers are required at the top of the door, and they are critical to keeping the door from being lifted and damaged during while using the brace.
And without the spacers the upward pressure from the brace will lift the actual door, affecting it's operation since the force won't be as tight.
Another design element we didn't lock is the emergency 'quick release' feature. If you need to get out in a hurry, you can just lift and pull and the lock will release.
While we see the need for the feature, something as small as a piece of metal could be jammed underneath the door to push it from the other side and activate the release. And just like that, the lock is defeated. I recognize that someone would have to know what they are up against to try this bypass.
The small version of the DoorJammer is around 12 ounces, a little bulkier in weight than one might want to carry in a purse, and definitely larger than the two locks reviewed above.
This door brace secures at the base of the door; this can lead to the top of the door being bent in by force until the remaining door gives (i.e. the further you get away form the lock the less force is required for the door to flex and start to give), if the normal door latch has been defeated first.
And as with all tension based door brace, it can be prone to slipping if it's not installed perfectly.
Of all the options in this article, it is also the most costly.
All of that said, this door brace did pass the European PAS24 impact test. This is a standard of testing to measure the security performance of doors to ensure they can resist a level of attack from an opportunist burglar. So, if it is installed correctly, it can perform well.
Scores:
Effectiveness:
(when installed correctly)
Ease of Use:
Cost:
PROS
Has passed the PAS24 impact test
CONS
Important components can get lost and affect the usability of this device.
Lock may be defeated.
It's a little bulky to carry around.
---
General Door Stoppers
(available on Amazon – check price here)
Overview: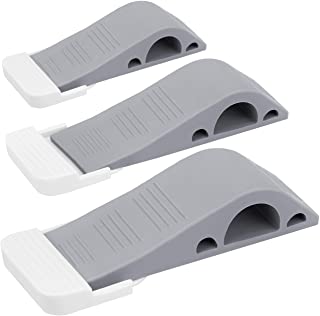 Another product type is the good old fashioned door stopper. This is basically a wedge, often made of hard rubber, that creates friction between the door and the floor when an attempt to open the door occurs.
Unfortunately, these can easily fail. I remember trying to use these when I was in the military to keep people from just waling into my dorm-style room at E-school while I slept.
One hard push, is all it takes to get past most of them.
Another method is to use a ruler or something else to simply push them away from the door.
The door stopper wedges are certainly inexpensive (the least costly of those reviewed here), easy to use and easily portable…but hardy functional.
We haven't looked at all of them, so there may be some that are of use, but those we have experience in should be relegated to just keeping doors open so they don't blow closed.
Scores:
Effectiveness:
Ease of Use:
Cost:
PROS
Inexpensive.
Easy to install.
.
CONS
Easy to defeat.
Poor results.
---
Conclusions
Portable door locks come in all flavors. From super light, super easy to use to really heavy and difficult to use.
Our favorite portable door locks are the ones that install at the existing latch hole of the door frame. This mid-point on the door gives anti-force protection both high and low on the door.
They should be portable and their pieces should be attached so that you don't lose an important element during your travels.
Or Winner: The Addalock Portable Door Lock, is the best at meeting those features (check price here on Amazon).
Disclosure: As an Amazon / Google Associate I may earn from qualifying purchases.