Last Updated on July 11, 2023
There are various reason you'd want to use a keyless gate lock on your gates. But what are your options? How do the gates need to be changed to support a keyless solution? Let's discuss.
Keyless gate locks are more convenient to use than a keyed lock. You enter a pin code to unlock the gate and do not have to search for, or provide, keys. Keyless locks are also more secure. They can be auto-locked when the gate closes, and the pin codes can quickly and easily be changed if desired. Some gate modifications are required in almost every keyless entry conversion.
Jump to:
When to use a mechanical keypad lock and our recommendations
When to use an electronic gate lock and our recommendations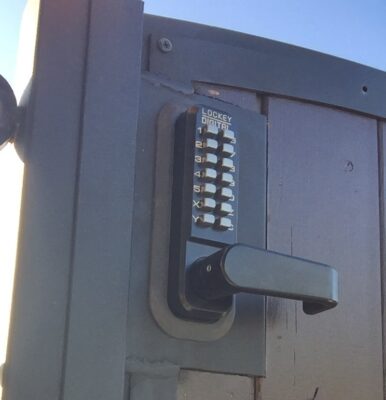 Considerations for Gate Locks with Keypads
Power at the Lock
There are three types of keyless locks
Those that have mechanical keypads and do not require power
Those that require low power connections at the gate, and
Those that use batteries (stand alone keyless locks).
Except for high-end applications (parking garages, multi-gate communities, etc…), almost all keyless solutions can be most easily, most affordably, implemented using stand alone keyless device.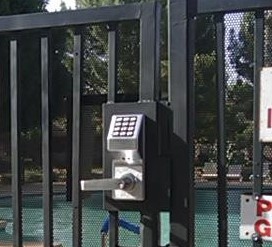 We recommend mechanical or battery operated, keypad locks in nearly every solution when there are fewer than 4 gates and code changes will be performed less than once per month.
Installation is Typically Outdoors
Outdoor gate locks need to be weather resistant. We know of several home owners that had installed home electronic smart locks on their outdoor gate, but that is a big mistake.
Residential Smart Locks are NOT Made for Gates. Only one side of a residential electronic lock is weather resistant. The part of the lock that is normally inside the home, is not. Putting smart locks on outdoor gates results in failure of the lock.
The Configuration of the Gate Frame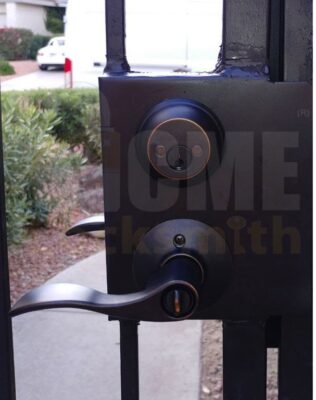 Will the frame need a gate box?
Gate boxes are metal boxes with holes that support the lock. If the lock has a standard door prep (where it needs a hole to mount to, like the door locks in your home),modification may be required. Normally, this includes welding in a metal box to support the lock.
Are the frame posts thick enough to support a non-standard-bore lock?
Many keyless gate lock options today are designed to mount to the posts of the gate. The size of that post, will determine if you can mount directly to itn and if you can, which locks you can use.
Can the lock bridge the gap?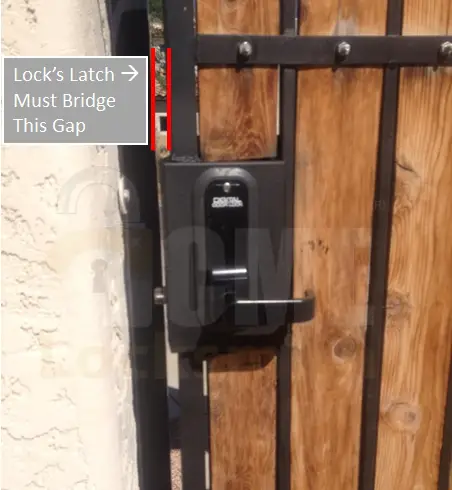 Any installed lock needs to cross the open gap between the swinging post and the stationary post. On many old gates, the gap is too wide. This gap can often be adjusted, but if it cannot be reduced small enough to support the desired lock, gate modifications may be needed in order to latch the gate shut.
Will You Need a Gate Closer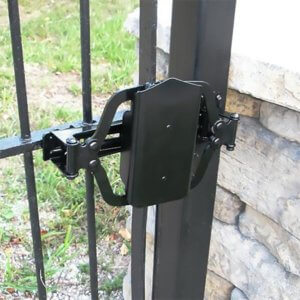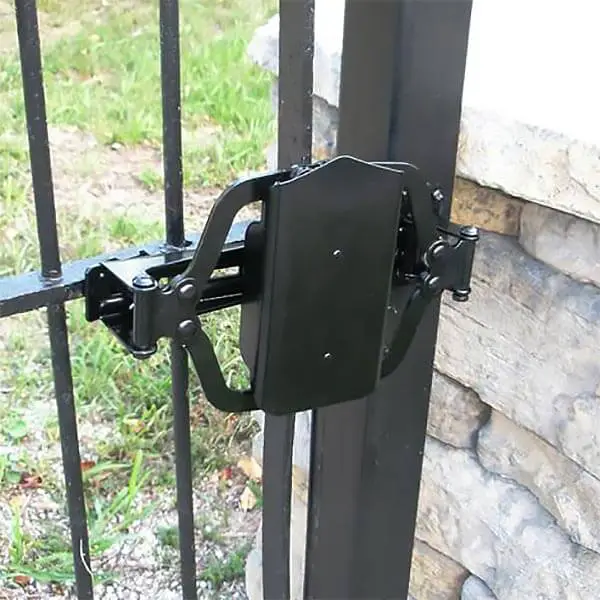 You will usually want the gate to auto-latch when closed so that it automatically locks. If you own a pool, this is a pool code requirement. For this, you will need a closer that swings the gate shut and latches it. You can find gate closers priced well on Amazon and most do not need to be welded.
Will you Need a Pass Through Barrier
If the gate frame has large gaps, or is short, someone may be able to reach through the gaps, or over the gate, and open the lock from the inside.
Double sided keyless gate locks, one that has a keypad on both sides, prevent this, but may not be allowed by building code if they prevent free egress.
If double gate locks are not allowed, then a restrictive barrier will need to be attached to the gate to prevent reaching through/over.
What type of Gate is It
The type of gate can dictate which keyless entry system you can use. We are going to focus on standard metal-framed / aluminum gates here.
If you have a chain link fence, check out our article on locking chain link fences.
When to Use a Mechanical Keyless Gate Lock
Benefits of Mechanical Keypad Locks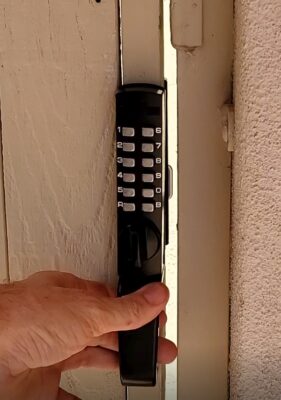 Mechanical gate locks are less expensive than their electronic counter parts.
Many come with lifetime mechanical warranties. Meaning, you'll never have to pay to replace it if it fails.
Some can be installed on the posts/frame of residential gates without needing to modify with a gate box.
Limitations of Mechanical Keypad Locks
You get a single code to enter, you can not issue individual codes
It can be difficult to change the code because the locks must be taken apart and a series of wafer pins rearranged.
No remote monitoring
The best keyless lock to use on a side gate of a home is a mechanical keypad lock. They are the most affordable option, homeowners typically only need one gate code, and they may not require any gate modifications.
Check out our easy installation video of our favorite, affordable, no-weld solution (well priced on Amazon), that can be installed on any gate frame with a post width of 1″ or more.
A note on this locking solution. It's our favorite affordable, no key solution, but the lock operates like a deadbolt. It has to be manually thrown to lock the gate. When we install these, we often leave the top auto-latching mechanism in place. This is especially important if you have a pool.
Leaving that mechanism there allows the gate to latch for safety should you forget to throw the deadbolt to lock the gate.
Easy DIY Mechanical Keyless Gate Lock Installation
Easily Installed Keypad Lock for Side Gates
The best mechanical keyless gate lock for a commercial metal or aluminum framed gate, when you have a 1.5″ post width and the gap between the swing and stationary post be made less than 2″, is the Lockey GL2.
The Lockey GL2 is a heavy duty, no weld, single sided (or double sided) mechanical lock with a lifetime functionality warranty. For a commercial lock, it's affordable and easy to install.
We offer this gate lock for sale on our website with free shipping.
When to Use Electronic Keyless Gate Locks
Benefits of Electronic Locks
Electronic locks offer all of the advantages of mechanical, no-key gate locks. But they have the additional advantages.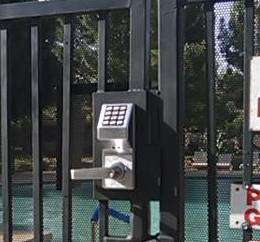 Use a battery operated, electronic keyless gate lock when: you must have more than one user code, you anticipate code changes often, and you want to monitor who entered that gate and when. They are ideal for communities and businesses with a large number of employees.
Limitations of Electronic Locks
Electronic locks are are the most expensive locks available. Not only are the locks themselves costly, but the frame almost always needs to be modified using a gate box to mount the lock. That modification requires welding.

Check out our review of our favorite stand alone electronic locks to see if these locks are right for you.
These are heavy duty locks, best used in high traffic areas, and get up to 100,000 cycles before needing to change the batteries.
Disclosure: As an eBay / Amazon Associate I may earn from qualifying purchases.

More of Our Favorite Security Products
See our Amazon Store for Videos and Links to All of Our Favorite Security Products.
Door Armor: Reinforce your doors. This video on YouTube shows the installation of Door Armor, and you can buy the product direct from Door Armor at a great price.
Video Doorbells: This video doorbell offers great images and video and has NO monthly video storage fees. Watch our SkyBell Video Doorbell Review on YouTube and buy it on Amazon.
Smart Locks: Access Your Locks via Smart Phone. You'll find some of our favorite smart locks that allow you to control home access and monitor entry in our Amazon Smart Lock Shop. Watch our Smart Lock Comparison Video on YouTube fore reviews of the most popular Smart Locks.
High Security Safes: When you want a safe that is designed to protect the valuable you put inside, you want a high security safe found on ACME Locksmith's Safes for Sale website.
Sliding Glass Door Lock: The best arcadia door lock that stops your sliding glass door from being lifted out of it's tracks and to prevent little ones from opening the door and leaving the home. Check out the video on YouTube and Buy it on our website.