ACME Locksmith – Scottsdale Shop & Service

ACME Locksmith provides safe repair, automotive, commercial and residential locksmith services for Scottsdale & Paradise Valley from our Scottsdale Arizona Lock Shop.
Located at the corner of Scottsdale and Shea Roads (previously Saguaro Lock & Safe) ACME Locksmith in Scottsdale brings over 30 years of dedicated Scottsdale service to the Valley. We've serviced over 160,000 Arizona customers and are eager to help you take care of all of your lock & key needs.
For a locksmith near you, with fast, affordable lock service call ACME.
Exceptional Scottsdale Service
A Proven Scottsdale Locksmith Service
Over 160,000 customers served and satisfied
Arizona's strongest 1-year labor warranty
You're Protected
We are ROC Licensed Locksmith Company
Licensing guarantees we're bonded and insured
The Most Awarded Scottsdale, AZ Locksmith Service
Scottsdale Chamber of Commerce Sterling Award Finalist
BBB A+ Rating and Ethic's Award Winner
Super service awards 2010-2018
Veteran Owned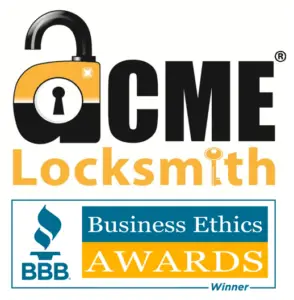 Safes for sale. Stop by our Scottsdale lock shop to view a wide selection of safes.
Safe repairs, opening, installation & moves.
Change safe combinations, electronic safe lock upgrades
Replacement car keys made, duplicated and originated.
Install and repair residential and commercial door hardware throughout Scottsdale
Rekey doors and master rekey Scottsdale business locks so that locks work with new keys (no need to replace your door hardware!)
Mailbox locks & keys
Access control / keyless entry systems
Door closers, panic bars, high-security locks and keys serviced, installed and repaired
Lock & key services for HOA community & property managers in and around Scottsdale / Paradise Valley
ACME Locksmith Reviews
Allie Wiener
16:19 09 Sep 22
Great help to us. Our lock had a bent pin and the tech was able to fix it right away and at a reasonable cost. He arrived when he said he would. Great service.
Laura Hagye
02:46 18 Aug 22
We needed our front door hardware and interior garage doorknob replaced, Carter the technician showed up on time and was very professional I highly recommend Acme Locksmiths.
roger brown
16:11 10 Aug 22
Irv found the replacement parts and was able to put back a custom lock that I took apart and in doing so lost a 2 1/2 inch screw.Great job!
Kristy Barrie
23:58 14 Jul 22
Was on time, very courteous, and got the locks done quickly. I had to change my appointment time and they were very accommodating which was very nice thank you Acme
Dennis Knudsen
20:10 01 Jul 22
Willy was a great help getting a safe open that no longer wanted to! Educated me on quality vs not , safes. Showed me several floor models to replace my old one. Good guy! Thanks, Dennis
Ashli Galbreath
17:51 05 May 22
Erv was a perfect professional! And fixed MY mistake with ease and no qualms. Thank you so much!!
Michael LaSorte
18:44 18 Apr 22
In matter of minutes Willie fixed a lock I was having trouble with and did it pro bono. Extremely professional and friendly! A good find. I will go to them for all my future lock needs.
William Scott
19:19 24 Oct 21
I am the manager there great place to get a safe or some lock work done at
Steve Vansickle
12:51 26 Aug 21
Big Mike was able to open a safe in our newly purchased home that we didn't get a combo for. He was able to reprogram combo and saved us considerable cost by being able to use it. He was professional and very competent. Would highly recommend him

and acme

read more
chandini mcconnaughey
17:55 06 Aug 21
I have used acme for years since 2002 in two different homes. I have referred many people to them. They have friendly people and show up promptly with a great attitude. I never hesitate to call them, even for the smallest of jobs. Great company all

around!

read more
Why Can't I find a Licensed Locksmith in Scottsdale?
There are no licensing requirements locksmiths in Scottsdale when performing work costing less than $1000. However, ACME Locksmith carries an Arizona Contractors license (ROC #271563) for your protection. There are fewer than 12 ROC-licensed locksmiths in the Metro area, and licensing is required for larger jobs.
Do You Have a Locksmith Shop I Can Go Into?
Yes! Come into our Scottsdale lock shop and save money! When you bring your locks or keys to us, you don't pay a service charge, for a big savings over the mobile-only locksmith services. Our lock shop sells keys, locks, safes and performs all lock & key services.
Why Choose ACME Locksmith of Scottsdale?
ACME is the only Arizona locksmith to earn a BBB Ethics Award. We have the industry's strongest 1-year warranty on labor, our ACME-stamped keys are guaranteed for life, and we are the most recognized lock company in Arizona. We're earning customers for life.
Shop Location & Hours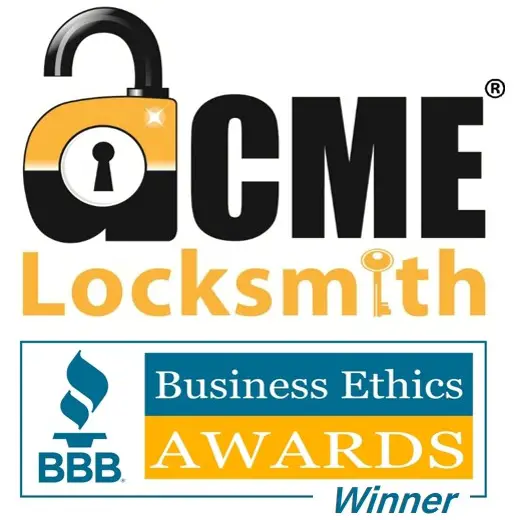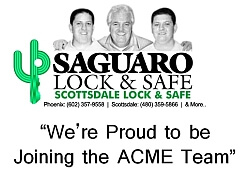 ACME Locksmith has been providing commercial, residential and auto locksmith services to Scottsdale residents since 1971.
ACME Locksmith's Scottsdale Locksmith Shop & Service is at:
7118 E Sahuaro Dr, STE A
,
Scottsdale
,
Arizona
,
85254
, near Scottsdale Rd and Shea.
Phone:
(480) 951-1971
Shop Hours: Mon-Friday 8-4 pm. (Emergency Service 24/7 Everyday).
For the most up-to-date hours due to illness, special closures, etc… visit our Google Business Page and select "see more hours" then choose "Access Hours".
Contact ACME / Submit Photos Online
Company Overview
Scottsdale's Real #1 Rated Locksmith Service.
Map to the Scottsdale Lock Shop:
Our Lock Shop