Last Updated on November 18, 2022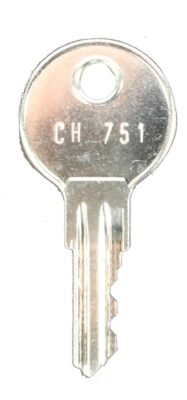 Your RV Locks Can be Opened by the Same Key
One key will open the compartments of nearly all RVs, the CH751 key. The CH751 keys is a universal key. If your RV compartments use this key, the keys and locks in your RV are the same as other RVs. You should replace your storage locks if you're concerned at all about security.
We've seen estimates that the CH751 key will open up to 90 percent of RV compartments. This key can be ordered online, precut, so that anyone can have access to all of those RV compartments.
Does that sound like a secure situation? No? Then this article is for you.
Which RV Locks are Not the Same?
Though the compartment locks are the same, not all locks on RVs are the same. 
This is especially true in 2 places: the ignition, and the RV entry door.  The ignition and RV entry door keys are NOT the same across RVs.
We know this because the dealers who sell these RV's in our area call our Phoenix RV and Car Locksmith Service to make them new sets whenever they've lost the keys.
For the ignition key, the cylinders have thousands of possible combinations. They are the same type ignitions that go into other common US vehicles. GM model ignitions are, most often, used, usually a 10-cut key (meaning there are 10 distinct cylinder wafers for which the key needs to have cut correctly.)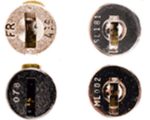 Just about any locksmith shop will be able to duplicate your RV ignition key.
For RV door keys, TriMark keys are the standard and there are about 1000 unique key cut combinations available. In fact, TriMark is one of the most common key manufacturers.
Each RV key corresponds to a code which usually can be found on the backside of the door lock or stamped on the front of the lock. That number is plugged into a computer program that provides the proper cuts needed to make a key. So even if there are not current keys available, an RV key can be made.
You should be able to find an RV locksmith that carries these keys in your area. But you can also order RV Keys online at Amazon, and then take them to your local locksmith for cutting.
How to Replace RV Compartment Locks with More Secure Locks
If you are worried about your RV security, you need to change out the CH751 compartment locks for new locks.
RV storage compartment and trailers (and some Ford truck beds, and other non-auto applications as well) quite often share the  CH751 key (or alternately a 751CH).
It's so common that some call it the 'Everything Key'. You can even find locks that use this key in toilet paper dispensers, tool boxes, storage bins, and filing cabinets. The CH751 key is quite possibly the most common key in America. It almost certainly is the most widely-held.  If you have this key, it will almost always have either CH751 or 751CH stamped on it.
For security, you can replace the RV CH751 compartment locks with more secure tubular locks. Tubular locks do not use pin-based tumblers, and replacing the locks will provide you with a key that isn't on every other RV. Care must be made to order ones that are the right length and with the right cam.
RV storage locks will vary in length, so it is best to go out to your RV and take an inventory before going to order the compartment locks. Take measurements of each lock and the quantity needed for each measurement.
Tubular locks for RV's are available on Amazon for extremely reasonable prices. They sell individually and in sets, which is nice because the locks that come in a set are keyed alike (i.e. one key works all the locks). You should be able to find replacements for all your keyed locking compartments to give you a little more piece of mind, while still maintaining a single key for all of your RV compartments.
Where to Get Other RV Keys?
We get a lot of inquiries about the CH751 keys and RV locks due to the Phoenix area having a lot of winter visitors and retirees who like to travel.
All of our lock shops stock the RV keys including the CH751 key, Trimark Keys, and the Bauer keys as well as some of the harder to find RV Keys by SouthCo. Come on in, and we'll get you squared away.
But if you're not in Arizona, you can get many of RV keys on Amazon. Some of the RV keys come from Amazon precut and will work perfectly. But those that aren't cut can be taken to your local locksmith for cutting.
Where to Get Keyless RV Locks
We've started seeing some upgrades in RV lock technology.
Want to go keyless? They now sell keyless RV door locks for the entry door that are compatible with most modern RVs. 
The keyless RV locks can be opened by PIN code and come with a key override, in case the batteries die or the electronics fail.
They even make one that uses a FOB so you don't even need to enter a code. Some RV manufacturers are already offering this as an option on new RV's.
Disclosure: As an Amazon / Google Associate I may earn from qualifying purchases.

More of Our Favorite Security Products
See our Amazon Store for Videos and Links to All of Our Favorite Security Products.
Door Armor: Reinforce your doors. This video on YouTube shows the installation of Door Armor, and you can buy the product direct from Door Armor at a great price.
Video Doorbells: This video doorbell offers great images and video and has NO monthly video storage fees. Watch our SkyBell Video Doorbell Review on YouTube and buy it on Amazon.
Smart Locks: Access Your Locks via Smart Phone. You'll find some of our favorite smart locks that allow you to control home access and monitor entry in our Amazon Smart Lock Shop. Watch our Smart Lock Comparison Video on YouTube fore reviews of the most popular Smart Locks.
High Security Safes: When you want a safe that is designed to protect the valuable you put inside, you want a high security safe found on ACME Locksmith's Safes for Sale website.
Sliding Glass Door Lock: The best arcadia door lock that stops your sliding glass door from being lifted out of it's tracks and to prevent little ones from opening the door and leaving the home. Check out the video on YouTube and Buy it on our website.