Last Updated on September 25, 2023
Prices on Safes Vary Based on Size & Security
I get asked this question all the time. But the answer isn't as simple as just giving a dollar amount, because there are many types of safes, in a lot of different sizes, and made for varying levels of protection (fire, burglary, etc.).
A better way to phrase the question might be, "How much does a safe cost that will allow me to …?" Just finish the sentence with whatever needs you are looking for. I'm going to go into detail on the various safe types and give you prices for safes that typically fall into that category.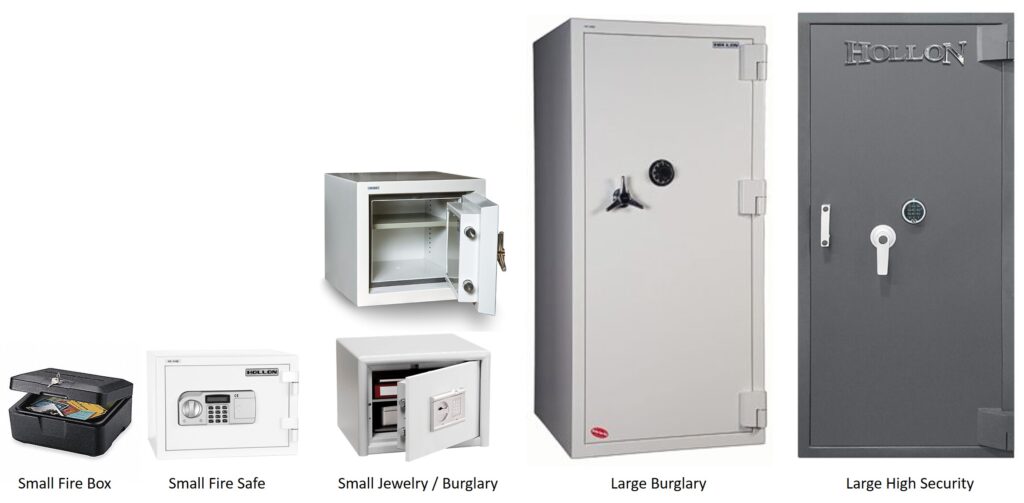 The cost of a safe today will include the cost of the safe itself and sometimes additional tariff charges for the safe, since most safes are built overseas. Often the tariff charges are included in the price, sometimes they are not. Most online safe companies today are shipping safes to you curbside at no additional cost. Always check before buying to confirm that the price you are seeing include any tariff charges and/or shipping charges.
How Much Do Safes Cost in 2020 – Cost Table by Type & Size
Safe Prices by Size & Type
Type of Safe
Typical Price of Safes
Typical Tariff Charges
 Portable Fire Boxes
$20-$199
None
 Small Fireproof Safes
$300-$700
None
 Small Jewelry / Burglary Safes
$750-$1800
0-$30
 Large Burglary-Rated Safes
$1200-$3000
$25-$50
 Large High-Security Safes
$2600-$11000+
$50-$300+
How Much Do Small Safes Cost?
I'll start by taking a look at the prices for small safes. Small safes are ideal for paper work. fire protection, cd's, watches, jewelry etc…
How Much Does a Small Safe Box Cost?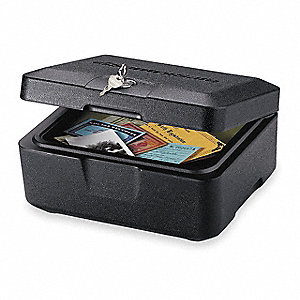 By "small", here I mean the size of a microwave oven or smaller and by "safe" I really mean a security box/chest of some sort. Though manufactures call them safes, "safes" in this category are not meant to protect you from theft. They are primarily meant for document fire protection. Think safes that big-box-stores and office stores sell.
If you have just a few trinkets that need to be locked up to keep honest people honest, with no expectation or concern about theft, or any desire to place valuables in it, this is the small safe for you.
For small safe boxes, you will pay between $20 and $100. You can buy a small safe box with ½ cubic foot of volume for as little as $20. Add a fire rating to these small safes and they will sell from $20 – $199 depending on size and manufacturer.
Small, portable safes are not overly expensive, and this is reflective of the level of security you get from them. But they can be ideal if your only need is fire protection. Readily available at any office supply store, in many different sizes, most of these small safes have a simple cam lock which protects the contents with a single point locking mechanism.
I don't sell any small fire boxes, because they are not really considered security. But you can readily find them on Amazon at these prices.
How Much Does a Small Fireproof Safes cost?
The next level up in price are small home safes. They are better than the fire chests but "Good" is a subjective term. What makes a safe "good"?
In general, the more materials put into a safe, the more secure a safe will be. When deciding between similar safes, all else being equal (fire rating, etc….) the heavier one will likely be more secure. Keep in mind, fire ratings affect the weight of a safe too. Longer rated fire times will result in a heavier safe so compare safes with similar or equal fire ratings.

Small home safes, with fire ratings, will cost you from $300-$700. The variation in price is attributed primarily from the manufacturer, fire rating, lock type and the size of the safe.
Small home fire safes differ than fire rated chests in several ways:
1) A good home fire safe will be made of metal, while fire chests are often plastic on the outside, inside, or both.
2) Home fire safes have combination locks, as opposed to just keyed entries.
3) Home fire safes come with bolt down holes so they can be secured to you studs or concrete flooring for increased security.
Even with the above, I would not place anything of significant value in a home fire safe. They are not built for security; they are built to keep the house cleaner or kids out and for fire protection.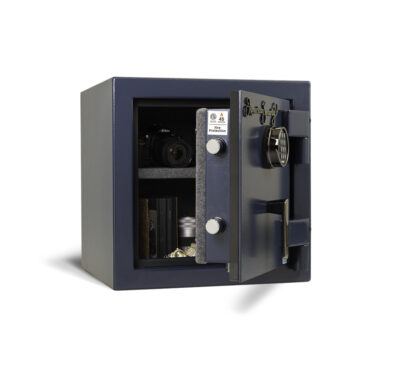 If there's more concern regarding theft, then you may want something more robust, with multiple throw bolts and additional materials to resist tampering, and a better lock. These tend to be slightly larger safes, and certainly heavier safes.
Sentry is probably the most famous small fireproof safe manufacture, but we don't sell them due to the security provided. You can find them on Amazon though.
Hollon's HS series is another example of this class of safe. It has a 2-hour fire safe. The largest in the series is 1.5 cf of space and priced under $630. Check out our article, "Are Hollon Safes Any Good?"
The American Security AM product line is a good example of a small fire rated safe. It is a very well-built safe for this class, has a 45-minute fire rating and the smaller size is less than $700. Is a 45-minute fire rating enough? For most home fires, in populated areas, it is.
How Much Do Good Small Safe Cost – Safe that Protect Their Content?
Moving up in security you'll find burglary rated safes, RSC rated safes, TL-15 and TL-30 rated safes. See our article Burglary Rating Explained for details on these rating. As you increase security, you increase the cost of the safe. It is my opinion that you are not buying a good small safe until you have bought one that is, at a minimum, burglary rated.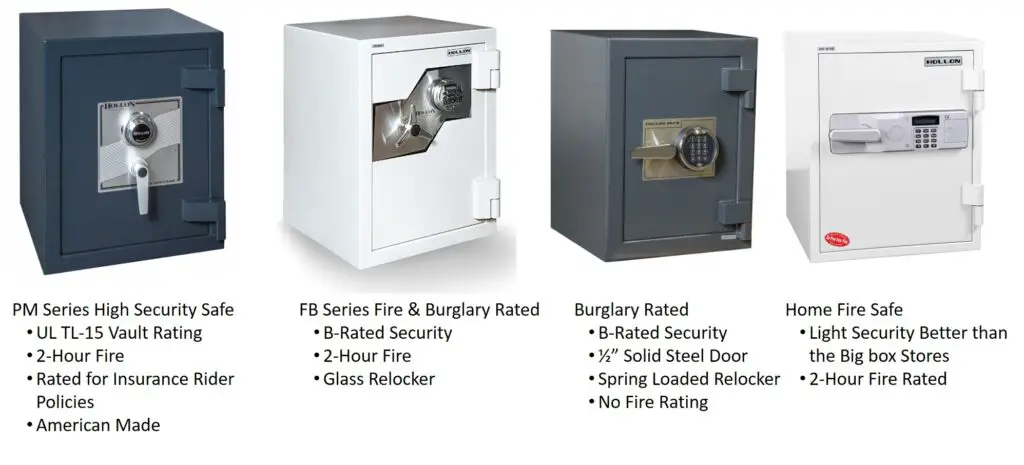 Good small safes are usually capped at the RSC rating class. TL-rated, or high-security safes, require too much material to achieve their rating that they can't be used for smaller sized safes.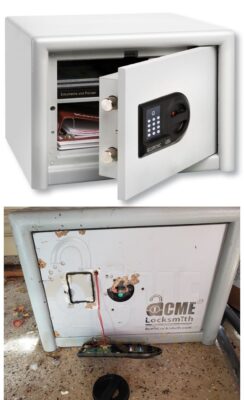 Good, small, burglary rate safes, are ideal as jewelry safes. You can expect to pay from $750 to $1800 for a quality, small safes with a burglary rating. The burglary rating, lock and size of the safe are the primary factors determining price.
Burglary rated safes are specifically designed to thwart attacks, but at considerable additional expense. However, if you have valuables to store inside, this is exactly what you need. I like the Burg Wachter CL series with an electronic or biometric lock (Burg Wachter has the only biometric lock I endorse). These safes only have a 30-minute fire rating, but they have the equivalent European rating to our RSC rating used in the United States. It's my opinion, that these are the best safes you can buy at this size. They are small enough to be placed in a closet, but built to withstand attacks.
The Burg Wachter CL Series safes also have mounting holes in both the floor and backside of the safe, for added installation security if desired.
The smaller sizes of the Hollon FB Fire and Burglary Safe Series can also make for a good jewelry safe and they start at around $900.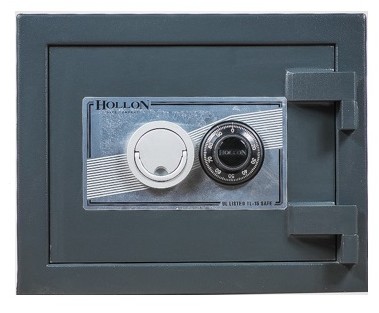 Hollon does make small TL-15 rated safes. The Hollon PM1014 on our website is the smallest TL-15 rated safe I am aware of, and it's priced at just under $1400.
If you plan to store valuables like jewelry, you definitely want a safe that can protect those items, but that added security does cost considerably more. Do you have a large number of valuables? Let's cover larger, even more burglary-resistant safes.
How Much do Large Safes Cost?
Now, I'll look at large safes. When you have large items are a large quantity of items, small safes won't be enough. No one has ever said to me, "My safe is too big," but I get a lot of people coming to us saying, "Our safe is too small."
The Cost of Large Burglary Rated Safes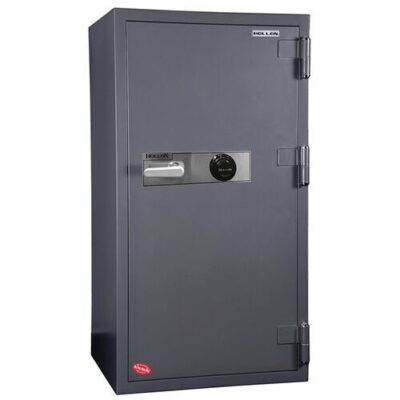 If you need a larger safe (think a mini fridge to full size refrigerator), pricing is reflected similarly to the above.
For a no-frills way to lock up your stuff, with no expectation of theft or fire protection, just a safe to keep honest people honest, you can get a smaller one (the size of a minifridge) for as little as $350, but I do not endorse this style of safe. They are too easy to find in a burglary (Where's the Best Place to Hide a Small Safe), and once found, they are too easy to break into. They are simply knocked over and forced open.
If you're going to buy a large safe, spend a bit more and buy an office safe at a minimum or a burglary-rated big safe. You can buy a large safe, that is burglar rated, for $1,200 to just over $3,000. Price depends primarily on the manufacture, size and the burglary rating.
Hollon HS Office safes are a good point in security between a home fire safe and a burglary rated safe. You can pickup a large 2.5cf office safe for under $1200 at ACME Locksmith.
The larger Hollon's FB series safes are affordable, large burglary rated safes. It's the same safe we mentioned above as a good small safe, but they can be ordered as large as a refrigerator. You can score a massive 1,000lb 14.5cf buglary rated safe for a bit over $3,000.
The Cost of Large High-Security Safes?
When you really want to protect the content, and you have a lot of content, buy a large, high-security safe.
When you have lots of valuables like jewelry, you may want to get a TL-15 rated safe, or even a TL-30. Both these ratings are what many insurance companies require if you are to add insurance for these items, with many added features to make these extremely difficult to break into.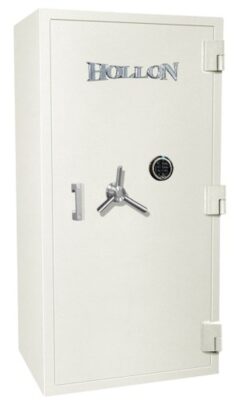 Large burglary rated safes can cost from $2600 to $11000+. Because of the heavy construction of these safes, when the safe gets bigger, the prices get crazy and the size of the safe is the main contributor to the overall price of the large safe.
TL-30s have so much material guarding the contents that it can be difficult to find one with a large interior that can be installed by most safe companies. We can ship any size safe, anywhere, but we'll only move safes that weigh under 3,000 lbs.
The AMSEC AmVault TL-30 CF3524, with nearly 10 cubic feet interior space, has a $5,700 list price, but we sell them for around $4100. Though only 42" tall these safe weighs in at nearly 2,000 lbs!
The largest AMSEC TL30x6 clocks in at over 4,500 lbs, well beyond what a typical safe company can deliver. A safe this secure and this massive will cost over $11,000. Totally worth it if you have something of large value you want to protect.
Disclosure: As an Amazon / Google Associate I may earn from qualifying purchases.