Last Updated on February 20, 2023
You've probably done it. I've definitely done it. Everyone with kids has likely had it done to them.
How do you open a bathroom door or a bedroom door when the door is locked from the inside, and you're locked out?
There are five ways to unlock a bathroom door. The privacy locks found on bedroom and bathroom doors can be opened by turning the inner spindle with a privacy lock key, a small screw driver, a thick paper clip, or a metal clothes hanger. Or, you can open the latch using a thin piece of plastic.
What Type of Lock is on a Bathroom/Bedroom Door – the "Privacy Lock"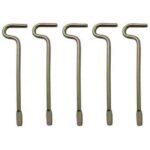 A privacy lock is one which has a locking mechanism on the inside of the door that you turn to lock the door, but it does not have a keyed cylinder on the outside of the door. Most homes have privacy locks installed on the bathroom and bedroom doors. We'll use bedroom and bathroom in this article interchangeably.
Though privacy locks don't take a standard key, they do have a means of unlocking them from the outside.
Typically, you'll see a little hole in the center of the outside portion of the lockset. Inside that hole is the means to unlock the door.
The locks come with a privacy lock key when you purchase them, but they often disappear over time.
Prefer Video? How to Unlock a Privacy Lock
Unlock a Bathroom Door without a Key
5 Ways to Unlock Bedroom Door or Bathroom Door Locks (Privacy Locks)
Unlock the Bedroom Door Using the Privacy Key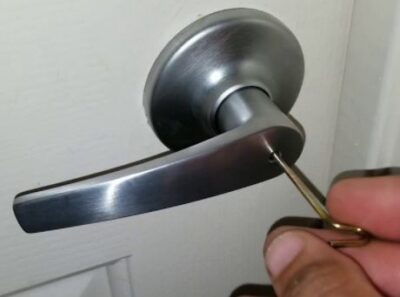 The first ways to unlock a privacy lever, when it's been locked from the inside, is by using this key, which seem kind of obvious, but it's important to know how to works, because the other three hacks we're going to show you, involve the same concept as using the key to unlock the bedroom door.
Basically a privacy key is a rod whose tip is just a flattened piece of metal. In the attached image you can see the inside of a sample privacy knob. That little piece in the center has a notch that will fit that privacy key. Insert the 'key' straight in the hole, give it a turn, and you will have unlocked your lock!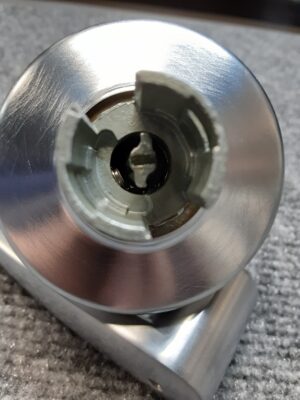 The only tricky part is that you really need to make sure you are going into the hole in the door straight at the groove. If you are at an angle, you'll miss it.
These little tools will sit nicely above the frame of the outer door. That way, if your child every locks the door, you can just grab the key from right above the door. It's out of the way, but handy should you need it. We sell privacy lock keys in packs of 5 on our website for less than $10, and we carry them in our Scottsdale key shop.
But, if you are reading this, it may be because you've just been locked out of the bedroom or bathroom, and you are looking to get into that room NOW!
No problem.
Many objects in your home can be used to substitute for a privacy key in a pinch, starting with the most obvious:
Use a Small Flathead Screwdriver to Open the Bathroom door.
Very small – like an eyeglass screwdriver. Most dollar stores carry a small set of 5 or 6 eye glass – sized screwdrivers. If you have one of these laying around the house, insert it into the bedroom or bathroom door's hole, turn, and you're in, just as if using a key.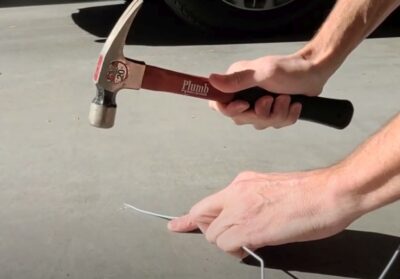 Make a Door Opening Device Out of a Cloths Hanger
No screwdriver? No problem. A cloths hanger can be used too! A third method is to use a hammer to flatten the head of a wire coat hanger tip, which can work also.
Once made, unlocking is exactly the same as if you had an actual key.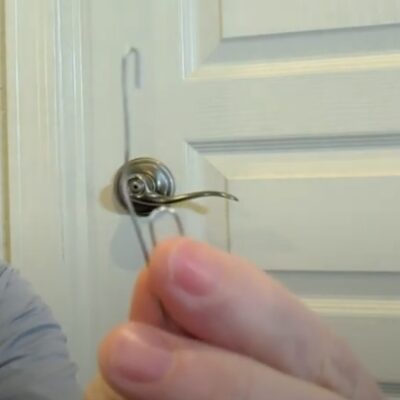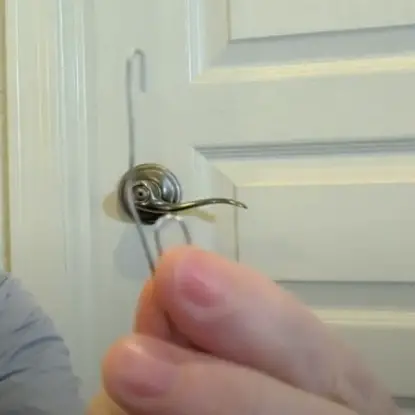 Open the Locked Bathroom Door Using a Paperclip
As a key substitute, you can even use a robust paperclip.
You'll need a larger sized one. The smaller paperclips have thinner metal that will just often twist before they turn the spindle to open the door lock.
Just bend the paperclip so that it has a rounded, yet flat tip and use it just as you would an actual key.
Open a Bedroom Door with a Piece of Plastic
All of the above methods act like a key substitution, but you can also attack the latch to open the bedroom door.
Since bathroom doors don't have locking plunger, a piece of plastic cut from a water bottle, or any firm yet flexible plastic card can be used to slide the door latch over.
Shim the plastic between the door and the frame, the wiggle it back and forth towards the latch. You are creating a wedge between the door frame and the latch.
You can see this method in this video we posted on YouTube. The method will usually work on any door but, because privacy locks do not have a locking plunger that prevents this type of lock attack, they are super easy to open with it.
Demonstration: Open a Locked Door Using a Piece of Plastic
We demonstrate how to open a door without a key

More of Our Favorite Security Products
See our Amazon Store for Videos and Links to All of Our Favorite Security Products.
Door Armor: Reinforce your doors. This video on YouTube shows the installation of Door Armor, and you can buy the product direct from Door Armor at a great price.
Video Doorbells: This video doorbell offers great images and video and has NO monthly video storage fees. Watch our SkyBell Video Doorbell Review on YouTube and buy it on Amazon.
Smart Locks: Access Your Locks via Smart Phone. You'll find some of our favorite smart locks that allow you to control home access and monitor entry in our Amazon Smart Lock Shop. Watch our Smart Lock Comparison Video on YouTube fore reviews of the most popular Smart Locks.
High Security Safes: When you want a safe that is designed to protect the valuable you put inside, you want a high security safe found on ACME Locksmith's Safes for Sale website.
Sliding Glass Door Lock: The best arcadia door lock that stops your sliding glass door from being lifted out of it's tracks and to prevent little ones from opening the door and leaving the home. Check out the video on YouTube and Buy it on our website.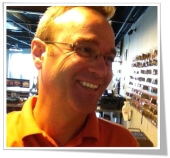 Robert has been the Owner of ACME Locksmith, Arizona's #1 Rated Locksmith, since 2007. Robert's company has provided locksmith service to over 160,000 Phoenix houses and businesses.