Last Updated on October 6, 2023
The Best Door Hardware Brands
The security needs of home and commercial establishments have undergone tremendous change over the years. Today, companies and homeowners are confronted with complicated issues related to protecting door entry into their property by way of bypassing locks through picking, lock bumping, or forced entry.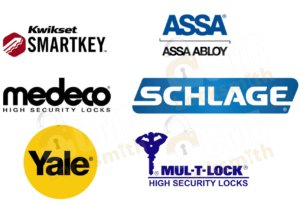 Leading lock makers have developed and designed a wide range of high security, technology-intensive, and innovative products that address the evolving needs effectively.
We explore three categories:
Off the shelf locks. Those you get a big box store.
High Security locks. Those purchased from a locksmith or security professional.
Smart locks. Because of their increasing popularity.
If you are in the market for new door locks for your home or office, here is ACME Locksmith's list of the best of the best.
Best Deadbolt Locks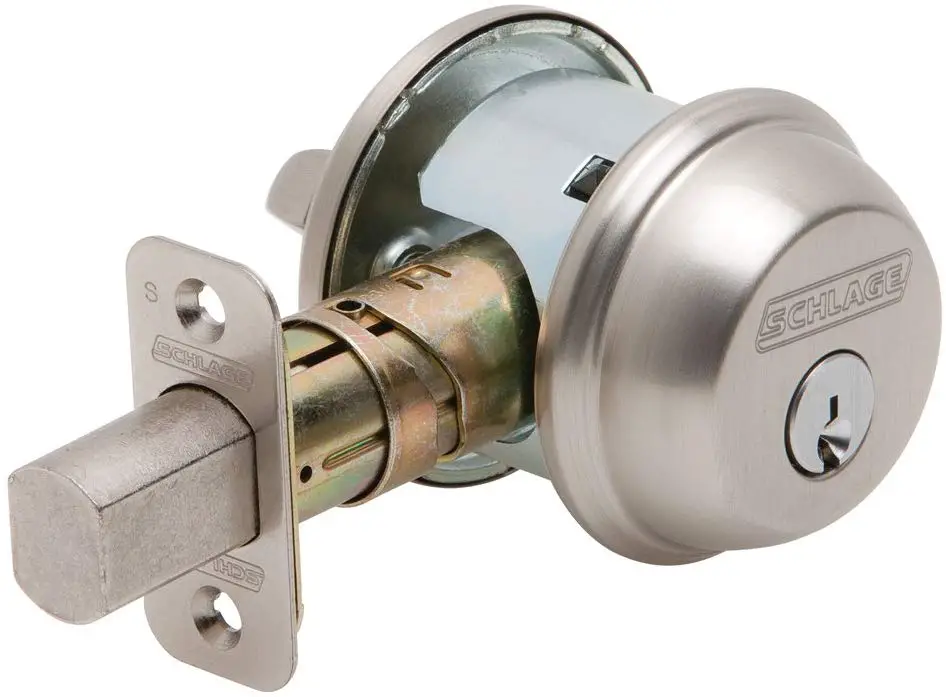 Best Off-The-Shelf Brand
Schlage B60 / B62 Series
Residential ANSI Grade 1 / BHMA AAA rated lock
---
Durability:
Style:
Affordability: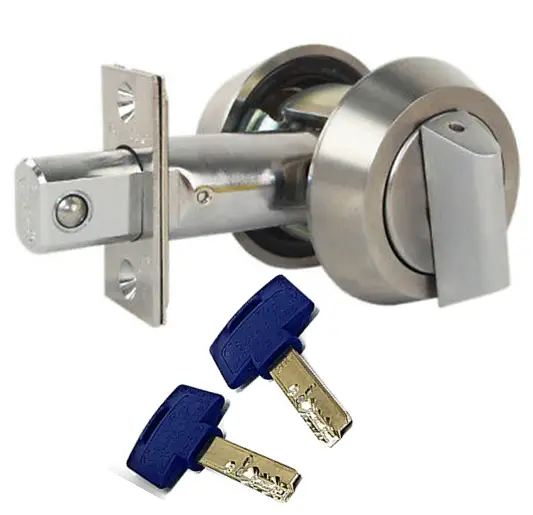 Best High Security Brand
Mul-T-Lock
Commercial Grade 2 or Grade 1 Lock
---
Durability:
Style:
Affordability:

The 6 Best Door Lock Brands Are
Kwikset, Yale, and Schlage are the off-the-shelf, big-box-store brands we'd trust (such as those found at Home Depot). Though not high security, they beat the knockoff brands at discount stores and online sites by a lot! Moving into high security locks, our favorite are Medeco, Assa and then Mul-T-Lock.
There are numerous other knockoff brands and brands that are designed mainly for esthetics (very ornate/beautiful locks), but in terms of security, they don't measure up. Full of plastic parts, cheap material and not very durable.
In nearly all cases, any of our 3 favorite residential locks will do, if you make a few improvements to the locks and the door.
But in high crime, high valued home areas, consider moving up to the high security locks. 
Schlage makes a lock that sits nicely in the middle of those tools. It's primarily carried by locksmiths and is very heavy duty without the price of a high-security lock. See our lock comparison article here.
6. Kwikset
Shop Kwikset SmartKey locks at Home Depot.
Kwikset is a leading residential lock brand that homeowners trust ever since 1946 when the company was founded.
The company's commitment to meeting the customers' needs has inspired a wide variety of innovation.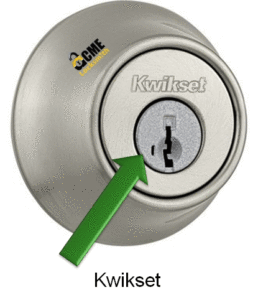 Kwikset SmartKey Security Technology
Among the most popular Kwikset innovations included patented SmartKey Security bolts, keyless entry-combination locks, and first-to-market electronic locks.
In 2009, Kwikset announced the launch of SmartKey re-key technology.
Kwikset is the only lock maker that offers SmartKey Security technology which protects the homeowners against lock bumping and picking, two most common types of lock break-ins. Additionally, SmartKey Security technology offers you the convenience to re-key your own locks in the event of a unreturned or lost key.
Kwikset has also developed Home Connect Technology that allows the touchpad electronic deadbolt to operate in conjunction with home automation and security networks. This makes it possible to offer a wide range of access control options.
Kwikset's door products offer reasonable quality, superior lock bumping technology, and attractive style. It is one of the most common residential locks on the market.
Kwikset locks are sold throughout the US, Mexico, Australia, and Canada both online and through a network of retailers and distributors. The company is committed to providing a combination of security features at attractive and affordable prices to its customers.
Kwikset is part of Hardware & Home Improvement (HHI), a market leader with a rich portfolio of renowned brands in residential locksets, hardware, and faucets. HHI has production and distribution facilities in the US, Mexico, Canada, and Asia.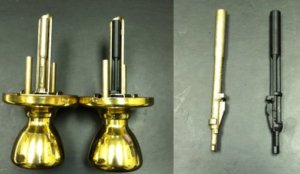 The Bad about Kwikset Locks
Kwikset is focused on the residential market and has come under a lot of pressure from cheap import locks. To stay competitive, in my opinion, the quality has suffered.
Many of the Kwikset brand locks are now shipping with plastic parts which I feel makes the longevity a question mark. Evan so, it is still not nearly as bad as the off-brand locks.
That said, there is no better affordable lock bumping and lock picking solution. So if forced entry is not a concern, but lock bumping is, Kwikset Smartkey locks are the solution.
You can Shop Kwikset SmartKey locks at Home Depot and get some good prices.
We just reviewed their newest smart lock the Halo Smart Lock in our article Review of the Kwikset Halo Smart Lock. The newest lock in the Kwikset line has some great benefits and is a best buy if you already have Kwikset locks installed in your home.
5. Yale
Shop Yale Residential Locks on Amazon.
Shop Yale Commercial Locks on Amazon.
Yale is an international brand trusted by millions of people worldwide for securing their homes and commercial businesses. It is one of the oldest global lock brands.
Yale is among the most respected brands in the lock industry. We install Yale in both our residential lock service and commercial lock services.
Yale locks are guided by the principle that we must first feel safe and secure to realize freedom. The company aims to make its customers feel safe and secure so that they can enjoy their life without any worry.
In Yale's language, this is called unlocking life.
This is a philosophy of the ASSA ABLOY Brand, of which Yale is a part.
Yale products are superbly designed and manufactured, thanks to the use of the latest and hottest technologies. They have a strong build and the construction of the individual products is flawless. They are not only strong and sturdy but they are one of the most stylish locks with custom finishes (colors) not found in other lock brands.
Smart Locks: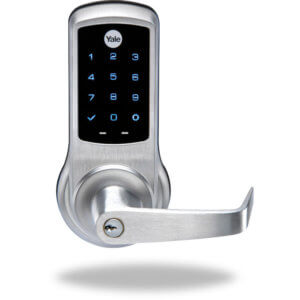 In keeping with the latest trend of digital security, Yale has introduced a range of smart locking solutions. Yale offers a slew of smart security devices to control, monitor, and secure your home.
Its locking solutions in the Smart Living series boast a range of excellent products. Smart Door Lock, Smart Alarm, Digital Door Viewer are some of the Smart Living products from Yale that enhance your home security to the next level and put you in control of it.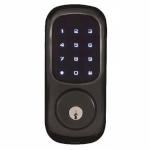 Control Your Home with App: Yale Assure Smart Home app offers smart access control, smart alerts and other secure technology that give you greater control over the entire security mechanism and a lot of peace of mind to you.
With this app, you never have to worry about your home, even if you lose the keys. With your app, you can turn off the alarm and unlock the door to allow someone in. It's smart and easy.
Smart Door Locks: A smart door lock is the beginning of a smart home. This allows you to open the door with an app, key tag or code. You also get notifications of who is entering your home and who is coming out.
The Yale Assure Connect by August is our favorite smart lock. It is the lock I use on my home. We have detailed reviews on our YouTube channel and a comparison review of the smart locks by Kwikset, Yale, and Schlage.
4. Schlage
Shop for Schlage Locks at Home Depot.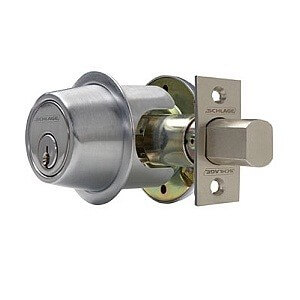 Schlage is a prestigious brand in the international lock industry. They offer a wide range of high-grade locks such as Deadbolts, Knobs, Levers, Handlesets, Electronic Locks, and Smart Locks.
All Schlage products have premium metal construction that adds strength and security. These products enjoy a Limited Lifetime Warranty.
The B60/B62 deadbolt offered by Schlage is the only residential grade 1 lock that is available at big box stores. It is the best off the shelf deadbolt you can buy and it's price is very attractive.
But the Schlage, light commercial grade, deadbolts are the lock I recommend homeowners use to secure their doors. Even though they are grade 2 and not generally available (you'll likely need to head into a lock shop), they are built better than the B60/B62 line.
So if you want one level up, without going high-security, visit a locksmith shop.
NOT those carried by the big box store. Check out our comparison of a locksmith's Schlage lock vs the big box store.
For Schlage locks, durability is an important factor. Its electronic and mechanical deadbolts have plated key and premium metal construction. These locks are available in a wide variety of unique style and finish and can be installed in minutes with an easy single-tool installation. Your door gets a stylish makeover within minutes!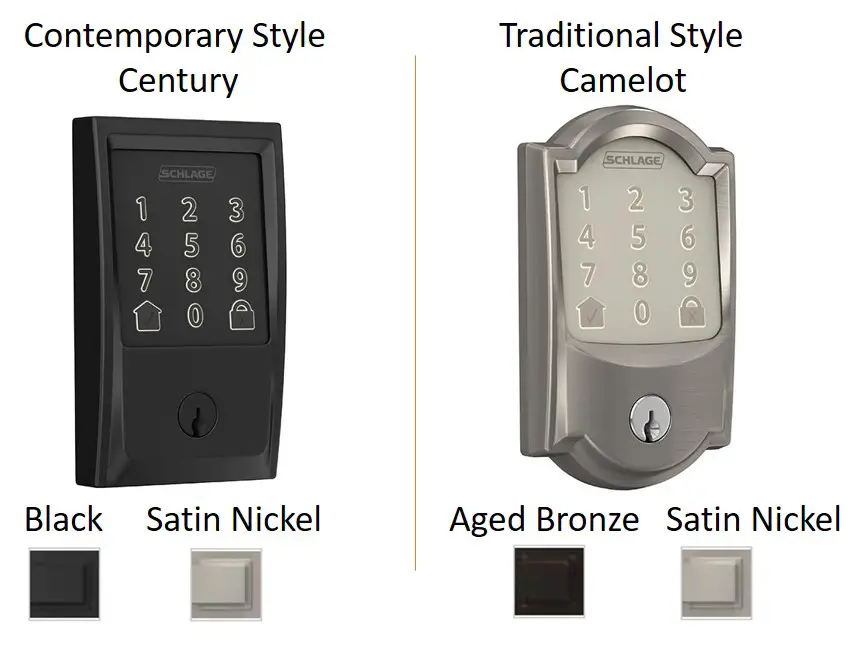 The deadbolts are available in single and double cylinders as well as in a smart format. These heavy duty door locks are durable and come with a fingerprint-resistant screen. These locks can also connect to your home automation hub or smartphone.
Schlage Smart Lock – The Schlage Encode
Schlage has a range of smart locks that work well with any smart home. You don't need to worry about losing your keys anymore. These locks can store 19-100 access codes.
If it weren't for my love of the Yale Smart Lock, the Schlage Encode would be the one I'd recommend. It is the top of the line Schlage smart lock.
It offers life monitoring of the lock without the need to install a hub and there are no subscription fees of any kind. Basically a plug and play smart lock. You can see our detailed Review of the Schlage Encode Smart Lock here.

Schlage has been a leader in innovation and with inventions such as the first cylindrical push-button door lock. With the help of innovative thinkers and engineers, Schlage has been able to maintain a perfect balance between style, safety, and innovation. Shop for Schlage Locks at Home Depot.
High Security Door Lock Brands
High Security Locks are locks that you will want to buy from a local locksmith. Why? Because they have restricted keyways that are not generally available. In fact they are usually licensed to only one company in a region.
So if you buy a high security lock brand online, you may find that you can't get any additional keys made locally because there isn't a licensed provider for that specific key way in your area.
You want a restricted key way for just this reason. They can't just be duplicated at just any place, but you want one that CAN be duplicate for you, in a controlled way, and that's why a local locksmith offers the best solution if you are getting high-security locks.
Our best high security lock brands are Medeco, Assa, and Mul-t-lock. They are all similar in that they are built well, they are grade 1, and they are as secure as a lock can be made to be. But Mul-T-lock offers one feature in deadbolt security that the other two brands don't, and that's what makes it the best high security lock brand available.
3. Medeco Lock Brand
For nearly 50 years, Medeco locks have been providing pioneering solutions to the security needs of millions of people and businesses worldwide. Innovation and quality have been its hallmarks. Medeco locks are made in the US at their production facility in Salem, Virginia.

Medeco locks are high-security, restricted-keyway locks. This means you get the best material and a key that cannot be duplicated by anyone that doesn't present a valid ID and a Medeco card that was issued when the lock was purchased.
Medeco locks are extensively throughout US military installations both within the country and abroad. These locks are also preferred by schools, universities, hospitals, banks, and many more institutional clients.
Medeco is a group company of ASSA ABLOY, which is ranked among the world's leading brands in locks and associated products. It has a wide range of products under various categories such as Deadbolts, Visa navigation, Rim & Mortise Cylinders, Visa navigation, Key in Knob/Lever, Padlocks, International Cylinders, Cam Locks, Cabinet Locks, Switch Locks, Vending Equipment Locks, Banking Security Locks, and Parking Equipment Locks,
Medeco Products
Medeco Maxum Deadbolts: This lock is all about strength and preventing unauthorized entry. Medeco has a range of products with amazing features, high security, and key control as part of its Smart Deadbolt Solution.
Medeco Rim and Mortise Cylinders: These locks offer patented key control in adaptable retrofit cylinder models. and They are equipped with UL437 Physical Security. You can also choose from a number of eCylinder solutions that the company offers.
Medeco Key-in Knob and Key-in Lever Cylinders: These knob cylinders are designed to retrofit knob and lever type cylindrical locksets and padlocks. They also retrofit bored type deadlatches and deadlocks.
Medeco Interchangeable Cores: These core cylinders have been designed in such a manner that cores can easily and quickly be changed by a non-technical person with the help of special control key.
Medeco Key Management System: The company provides a standalone way, the T21 Key-Management System, to organize and manage multiple keys.
Padlocks: It offers a range of High-Security Padlocks that accept both eCylinders and mechanical technologies.
Medeco Export Cylinders: Medeco supplies its products to all six continents. Medeco locks are in use at high-security installations and various industrial and institutional facilities worldwide.
Cam Locks: Medeco cam locks are appreciated throughout the world for high standards of protection in a inch diameter lock. Hardened steel inserts have been used throughout Medeco cam locks.
Cabinet Locks: Medeco offers a range of high-grade Cabinet Locks that accept both eCylinders and mechanical technologies.
Switch Locks: Medeco 3/4-inch diameter Switch Lock offers a wide variety of electrical functions. It enjoys the patented key control and physical security of a Medeco cylinder.
Banking Security Locks: Medeco has a range of locks and locking solutions for banks and financial institutions as they continuously face security challenges and need to boost operational efficiencies at the same time.
2. ASSA ABLOY Lock Brand
Shop ASSA Abloy Products on Amazon
ASSA ABLOY is a global brand in locking solutions and a market leader in many countries. The company was formed through the merger of ASSA Sweden and Abloy Finland in 1994. Over the last 25 years, the company has transformed from a regional company to a leading global player with 48,500 employees. ASSA ABLOY offers a complete range of high-grade products, cutting-edge solutions, and reliable services for commercial, institutional, and consumer markets.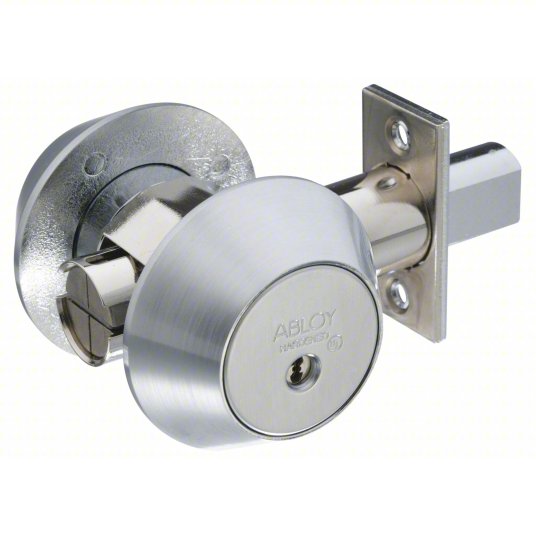 ASSA Abloy has acquired and now owns many of the popular brands you have become familiar with including the Medeco and Yale brands already discussed. They also own our favorite lock brand below, Mul-T-Lock.
The extensive product portfolio of ASSA ABLOY offers a complete range of door opening solutions and cover areas such as Mechanical & Electro-mechanical locking, Access control, Identification technology, Entrance automation, Security doors, Hotel security, and Mobile access.
But we're giving them the #2 position specifically for us in their high-security door locks and cylinders. They are built great and have all the high security features you need. If it weren't for Mul-T-Lock's one additional feature, this could have been our #1.


Assa Abloy deadbolts have:
Case hardened steel body and hardened steel cylinder provide maximum resistance to drilling
High Security extreme 2″ hardened bolt can withstand 2 tons of force
1/4″(6mm) thick hardened steel retaining screws to stop prying
Hardened steel bolt shield to stop ice pick attacks
Reinforced steel strike box with 2″ anchor screws
Solid rotating collar so wrenches and pliers just slide off
Between 2013 and 2018, ASSA ABLOY has figured four times in the Forbes list of 100 most innovative companies worldwide. Today, ASSA ABLOY is a leading brand that provides a complete range of door opening solutions. Its security solutions include security doors, electro-mechanical locks, mobile keys, electronic locks, door automatics, door closers, access control cards, or RFID readers.
No matter what your locking need, ASSA ABLOY will have a solution for it. Padlock, deadbolts, key and knob levers, IC cores, profile cylinders, rim cylinders and more. All with patented high security, restricted keys.
ASSA ABLOY's recent acquisition of August Home strengthened its market in the residential smart door segment. The Group also acquired Arjo Systems SAS, which was an identity solutions provider for government ID applications.
1. Mul-T-Lock Lock Brand
Shop Mul-T-lock Products on Amazon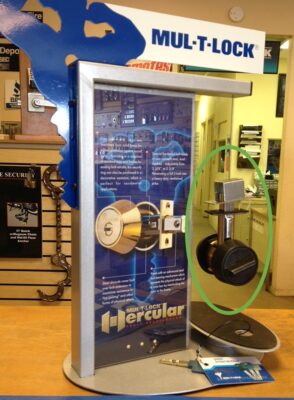 Mul-T-Lock has a range of award-winning and world-famous access control and locking solutions. It is also a high security product, but it is my favorite high security lock because of its multiple, various means of ensuring a lock stays locked.
Why is Mul-T-Lock Our Favorite Brand?
Because of its deadbolt. High security is high security and one product is roughly the same as the others. But Mul-T-lock has added security features to its key and to its deadbolt that the others just don't have. The strike that comes with the deadbolt is fully encased and meant to retain a ball bearing that is within the deadlatch. When the lock is closed, this makes the two product inseparable without a key, locking your door into the strike within the door frame.
Hercular Deadbolts Have:
UL Fire Rated, ANSI Grade 1 Deadbolt
High Security Key and Cylinder Platform
UL437 Listed for Pick and Drill Resistance
Adjustable Backset – 2-3/8" (60Mm) Or 2-3/4" (70Mm)
Full 1" (25Mm) Bolt Throw with Anti-Pulling Ball Bearings Mechanism
Locking Mechanism Reinforced with Hardened Steel Pins
UL Fire Rated Latch
High Picking, Drilling, Bumping, Prying and Kicking Resistance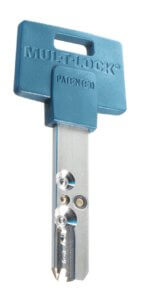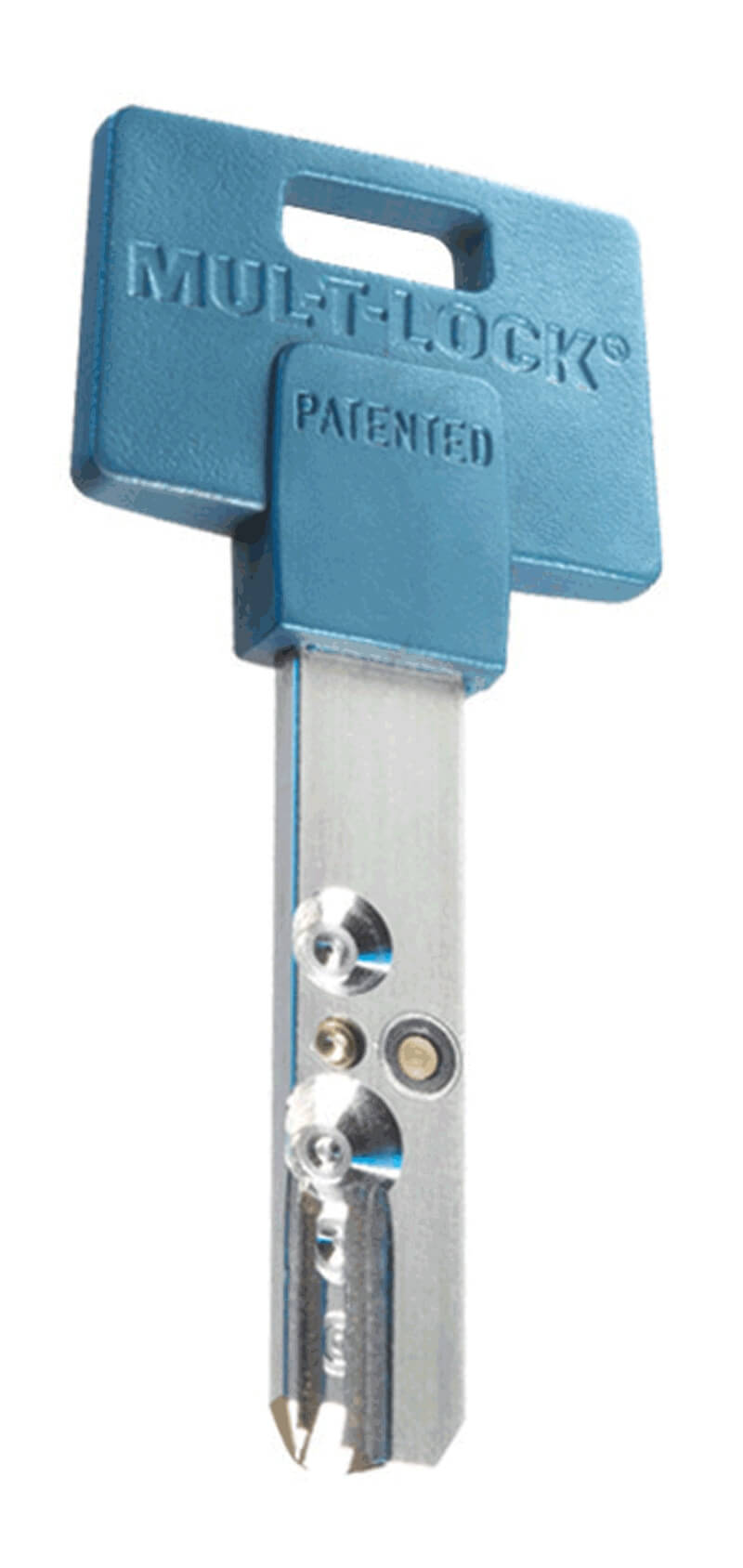 Their key is also like no other key. Side dimples and magnets are part of the security features within the key to stop lock bumping, picking, and duplication without authorization.
The Mul-T-Lock large portfolio of products and services includes high security products, strong yet simple locksets for the basic residential market, padlocks, cam locks and more. From the basic to highly sophisticated electro-mechanical access control, Mul-T-Lock has a wide variety of products and solutions that provide unwavering protection to its customers.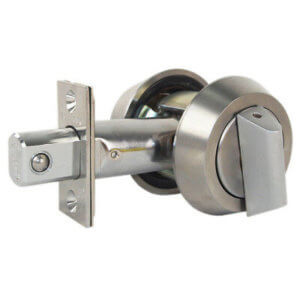 Key Platforms: Mul-T-Lock is a pioneer in developing and designing key platforms that meet the evolving needs of the market. The company uses patented and advanced technologies, to provide the most effective security solutions to its customers.
Cylinders: Mul-T-Lock has designed and developed a wide selection of heavy duty cylinders, both mechanical and electro-mechanical. These products address the emerging security needs of businesses and institutions.
Padlocks: Mul-T-Lock's has a wide range of mechanical and electro-mechanical padlocks that can meet the needs of any application and requirement. Many of these padlocks use patent-protected technologies. We use their padlocks to secure our bay doors. Check them out on Amazon.
Locksets: The company offers high-security Mul-T-Lock Lockset that provides effective protection to both residential and commercial doors. It is made with premium material and at a state-of-the-art production facility.
Pro Tip: Our high security recommendation is for the Hercular product due to it's ball bearing feature. Mul-T-Lock also makes a grade 2 deadbolt (the Cornus) as a more affordable option targeted at solely residential applications. Still a great lock! It's a bit more affordable, but you do lose the ability to lock the bolt to the frame. You can price the Mul-t-lock Cronus on Amazon.
Mul-T-Lock is a leading brand in locks and locking industry that believes in sustainability in everything it does. Its product development process is inspired by social responsibility, employee behavior, and financial concerns. The company is committed to creating sustainable solutions that are stable and future-proof.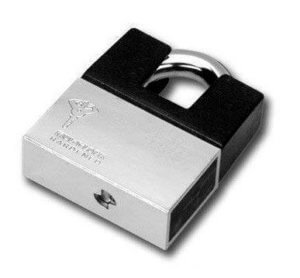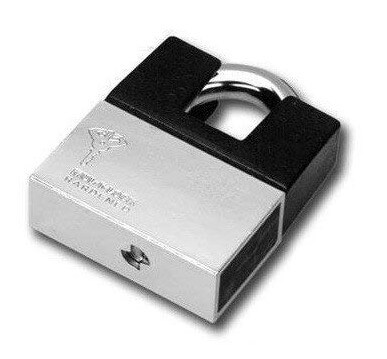 The company's products and services are guided by responsible ethical and social behavior that its employees worldwide represent. It spends a considerable amount of time and resources to provide training to its staff periodically so that they can convert emerging business challenges into big-time opportunities.
Because Mul-T-Lock takes a great deal of care in designing and production, its locking solutions pass the most stringent tests for quality and industry standards. These products are conceived in a manner that they provide the highest level of safety and security, yet they do not cause any harm to the environment either during their production or while in action.
Disclosure: As an eBay / Amazon Associate I may earn from qualifying purchases.

More of Our Favorite Security Products
See our Amazon Store for Videos and Links to All of Our Favorite Security Products.
Door Armor: Reinforce your doors. This video on YouTube shows the installation of Door Armor, and you can buy the product direct from Door Armor at a great price.
Video Doorbells: This video doorbell offers great images and video and has NO monthly video storage fees. Watch our SkyBell Video Doorbell Review on YouTube and buy it on Amazon.
Smart Locks: Access Your Locks via Smart Phone. You'll find some of our favorite smart locks that allow you to control home access and monitor entry in our Amazon Smart Lock Shop. Watch our Smart Lock Comparison Video on YouTube fore reviews of the most popular Smart Locks.
High Security Safes: When you want a safe that is designed to protect the valuable you put inside, you want a high security safe found on ACME Locksmith's Safes for Sale website.
Sliding Glass Door Lock: The best arcadia door lock that stops your sliding glass door from being lifted out of it's tracks and to prevent little ones from opening the door and leaving the home. Check out the video on YouTube and Buy it on our website.