Last Updated on December 1, 2022
The Issues Locking Chain Link Gates
Chain link fences can be the most difficult to lock.
A standard welder cannot weld to the galvanized metal used in chain link fences, so using lock boxes, that deadbolts or keyless locks can mount to, are out.
The gates have wide gaps so finding things that cross that gap to secure the gate to the fix post is difficult
Tolerances are sloppy. A chain link fence gate won't always close the same way, each time. So to create a self latching and locking gate is difficult.
Jump to:
Why are Chain Link Gates Hard to Lock?
Using Padlocks, Latches & Chains
MagnaLatch Chain Link Gate Adapter Kit
Keyless Locks for Chain Link Gates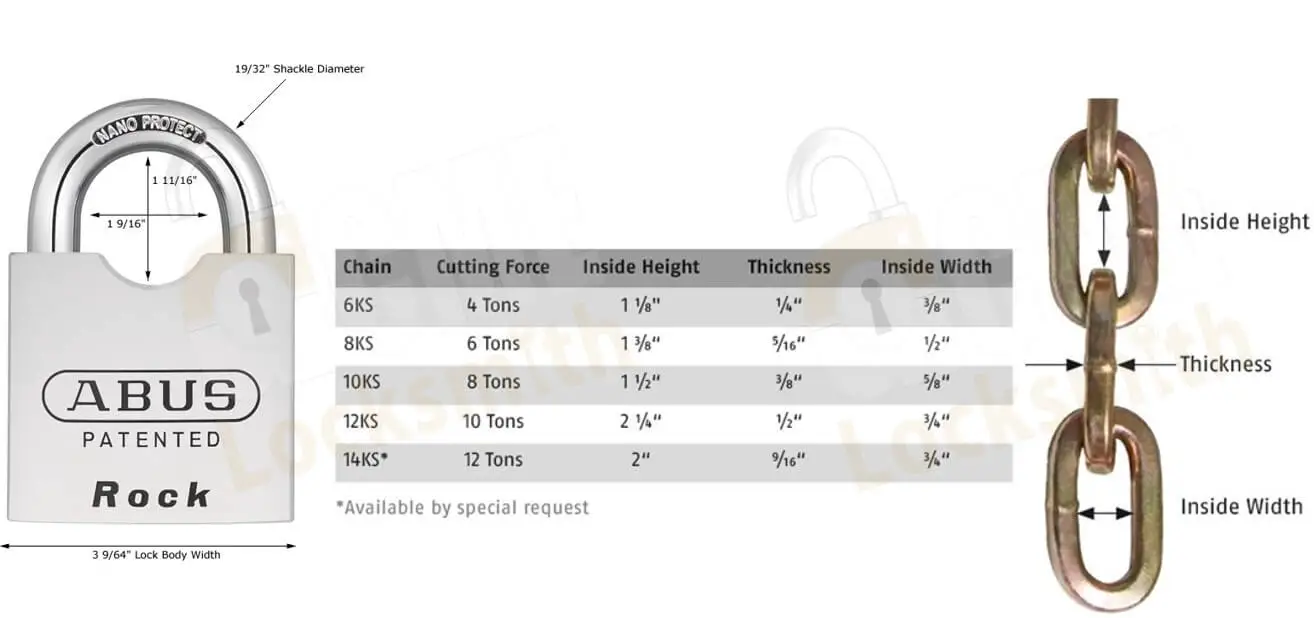 How to Lock a Chain Link Gate
Use a Chain and a Combination Padlock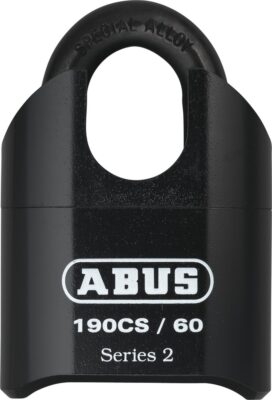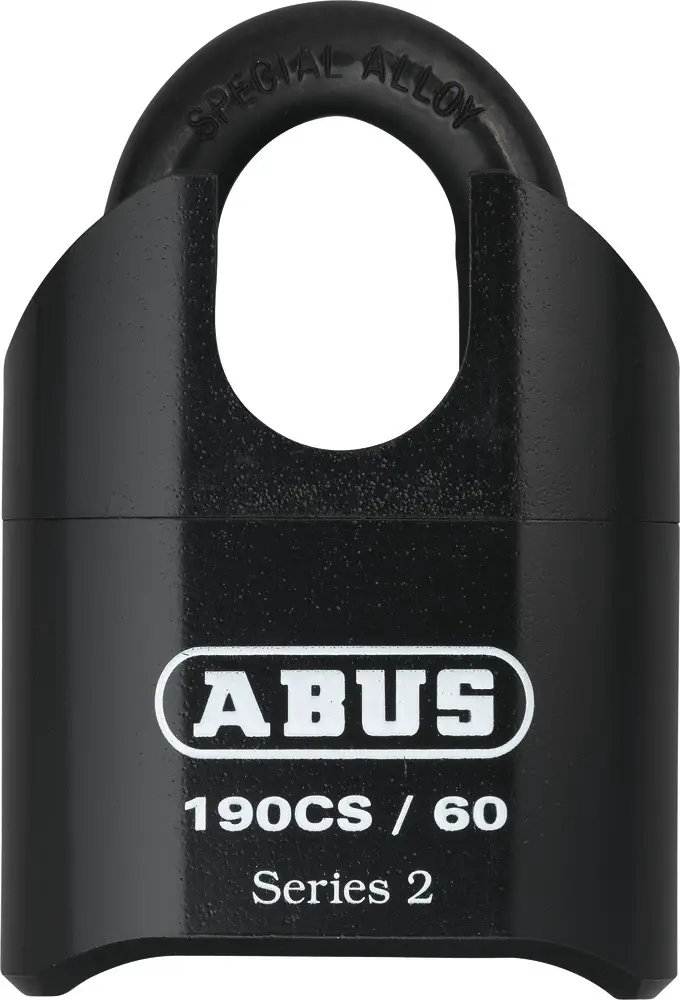 This can often be the easiest solution, but there are issues with it.
Primarily, you have to track a key. You could use a combination padlock for the gate, but they have been pretty easy to bypass and best avoided….until now.
We have evaluated and recommend the Abus 190cs/60 combination padlock, available here on Amazon. It's fixed all the flaws often found in combination padlocks for a very secure solution. Our YouTube video covers in detail why.
Possibly the Best Combination Padlock Available
Finding a secure combination padlock has always been a bit of a challenge, but we've found one.
And, since you're upgrading the padlock, get yourself some good Abus chain from Amazon too. It comes in various thickness and is one of the best chains we sell.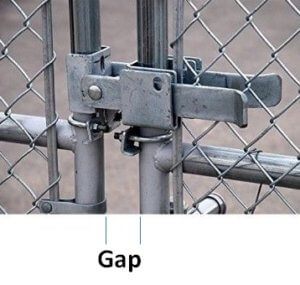 Use a Gate Latch
A chain link gate latch is a fold down device that joins the fixed post and the swing post together. It is then locked in place using a padlock. There are a wide variety of gate latches available.
We'd recommend the Abus 190cs/60 combination padlock, available here on Amazon, we mentioned above when it can be used. Often, a padlock with a longer shackle is necesarry.
Use a MagnaLatch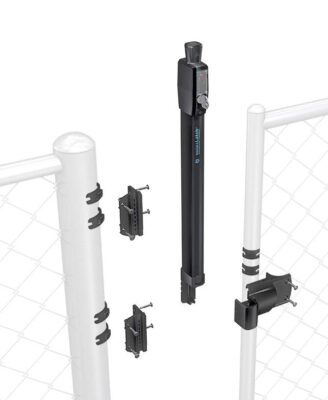 MagnaLatch is a lock that is often found on pool gates. If your chain link gate is less than 5′ tall, this can be a good keyed option.
They've just released a very affordable mounting option for chain link gates, see it on Amazon here (link is for just the adapter kit, the lock is sold separately).
A note on the MagnaLatch, the gate will close and latch automatically, but you do need to use the key to lock it. Without using the key, you will have just an auto-latching gate.
These locks are great for child safety because of the auto-latching and their unique design that requires you to reach very high and pull a knob up in order to unlock them.
Use a Chain Link Fense Keyless Gate Lock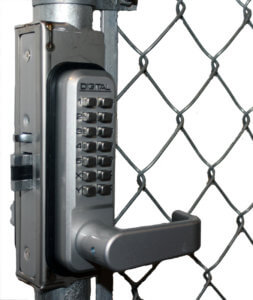 A manufacture, Lockey, came out with an excellent gate box that allows you to secure chain link fence gates using a mechanical keyless gate lock (find out if a mechanical keyless gate lock is a good solution for your needs).
The gate box is called the the GB2900. It secures to the gate with no welding. After installed you can put a variety of the Lockey mechanical keypad locks on it. It can be used with their 2900, 2930, 2945, 2950,2985 series locks.
No welding is required to install this gate box. Considering the very limited options for an easy to open keyless chain link gate lock, this is a great solution. I found a good price for it when writing this blog on Amazon.
To get the self latching feature, lock when the gate is closed, you need to add the Lockey 2985 mechanical keyless lock. It also has a good price on Amazon. The other locks available behave more like a deadbolt, you need to throw them closed to lock the gate.
If you're in our service area, we have a ton of experience installing these locks. If you're not in Arizona, just contact your local locksmith if you need assistance.
Can You Use a Keyless Gate Lock on Your Chain Link Fence?
You can use the Lockey keyless gate lock on your chain link fence gate if: The gap between the rail and the fence post is less than, or can be made less than 1/2″ before installation. This is necessary for the lock's latch to catch and lock the gate. Additionally the fence rail must be 1 5/8″ or 1 7/8″ in diameter to secure the gate box to it.
Note: As an Amazon and eBay affiliate I may earn a small commission if the links in this post are used to purchase products.

More of Our Favorite Security Products
See our Amazon Store for Videos and Links to All of Our Favorite Security Products.
Door Armor: Reinforce your doors. This video on YouTube shows the installation of Door Armor, and you can buy the product direct from Door Armor at a great price.
Video Doorbells: This video doorbell offers great images and video and has NO monthly video storage fees. Watch our SkyBell Video Doorbell Review on YouTube and buy it on Amazon.
Smart Locks: Access Your Locks via Smart Phone. You'll find some of our favorite smart locks that allow you to control home access and monitor entry in our Amazon Smart Lock Shop. Watch our Smart Lock Comparison Video on YouTube fore reviews of the most popular Smart Locks.
High Security Safes: When you want a safe that is designed to protect the valuable you put inside, you want a high security safe found on ACME Locksmith's Safes for Sale website.
Sliding Glass Door Lock: The best arcadia door lock that stops your sliding glass door from being lifted out of it's tracks and to prevent little ones from opening the door and leaving the home. Check out the video on YouTube and Buy it on our website.