Last Updated on November 18, 2022
Replacement Car Key Cost Summary
Cost depends on the technology involved. In the 1990's, auto manufacturers started adding computer chips to their keys (called transponder keys) for additional key security, and car technology has only progressed.
The cost for a car key is as little as $9 if all you need is a copy of a lost, spare, basic key. Modern key FOBs can be as much as $600 to replace. This includes the key FOB, key cutting and programming. When all keys are lost, however, the key must be originated. The cost to replace a key when no key/FOB is available goes up another $125-$175 above the prices already mentioned.
Total Cost to Make a Car Keys By key Type of Key
Type of Car Key
Cost of the Key or Fob
Additional Cost for Key / FOB Programming
Total Cost of Key, Cutting & Programming
Duplicate basic key
$ 7-25
$0
$ 7 – 25
Duplicate Transponder Key / Chip Key
$ 10 – 80
$ 60 – 150
$ 70 – 230
Duplicate Laser Cut Car Key including cutting
$ 50 – 150
$ 50 – 150
$ 100 – 300
Duplicate Proximity FOBs

$ 75 – 400
$ 50 – 200
$ 125 – $600
Additional Cost if All Keys Lost (Origination)
–
–
$ 125 – 175
in addition to above
Table: Cost to Replace Car Keys and Fobs by Key Type

Jump to:
Factors that Increase Replacement Cost
Charges for Transponder Car Keys
Can I Program A Car Key Myself?
Why Locksmiths are the Low-Cost Option to Replace Car Keys
Car Key Replacement Cost – Factors
There are many factors in the cost of a car key replacement. Some include:
Key type – is it a mechanical, transponder key, or laser cut key?
Key programming – does it need to be programmed, can you program it yourself, or will you have to go to a dealer to get it programmed?
Is it a key fob or remote head key? This mainly impacts the cost of the key itself.
And, do you have a current, working car key or have you lost all the keys? There are more charges involved to originate a car key when no current key is available.
We will focus, on the cost for a duplicate car key (when you need an extra car key). The costs to replace a spare car key still apply if you have lost all the keys, there would just be some additional charges.
Types of Car Keys
We discuss types of car keys in our article on where to get keys made, you can also view our YouTube video.
What types of car keys are there?


IMPORTANT NOTE: If you only have one working key for your vehicle, the time to get a copy is now. The reason is simple: the cost to replace a key, remote, or FOB is far cheaper than it is to originate one. While you may balk at these duplication costs, it can be 2X – 10X more expensive to originate a key when you've lost that last one!
Where You Get Car Keys Made
In some cases (older vehicles only), you can get duplicate keys made at a hardware store or box stores.
For most vehicles, locksmiths and some independent auto repair shops will have the equipment and credentials to make and program car keys. Auto Locksmiths are usually your low-cost option.
Locksmiths are competing for your business against dealers and mechanics, so your local locksmith will keep prices low to attract business via word of mouth.
Furthermore, one of the main benefits of using an auto locksmith, is that when you bring them a car for a duplicate, they will take the key out to your car and test that the key works before you drive away.
Obviously, your car dealership can handle a car key replacement. If your auto dealer participates in the National Automotive Service Task Force (NASTF) key copies will still be reasonably priced.
NASTF is a cooperative effort from the auto service industry to ensure vehicle owners have the ability to swiftly and properly repair and service vehicles. There are rules and procedures in the US that most auto manufacturers abide by, allowing things like key programming to be accomplished by locksmiths and mechanics.
But a few European manufacturers do not participate in NASTF. There are financial penalties to this these manufacturers, but they pay them to keep their information proprietary. Meaning, if you need a or replacement key fob, you have no choice but to go to the actual dealer. With very few exceptions only dealers will be able to make post year 2000, VW, Mercedes, BMW, Porsche, Saab and Volvo keys.
If you are lucky enough to drive one of these cars, you are unlucky in that they will be the most expensive backup car keys and FOBs you will ever buy.
Cost for a Basic Car Key?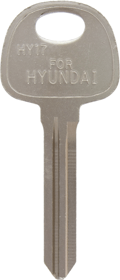 Basic keys are good, old fashioned, mechanical, all metal keys. They are the least expensive keys to have copied. You can pay as little as $7 or $8 for these keys, and most are around $10. Very rare keys (think out of production classic cars) can go as high as $25.
There is one exception, VATS keys. A VATS (Vehicle Anti-Theft System) key is a mechanical key, but it has a little resistor in it. The resistor value is set to the car, as a anti-theft measure. They do not require programming. A duplicate key will have to match the proper resistor value. VATS keys cost around $20-$45.
Do you Need to Program the Key – Transponder Car Keys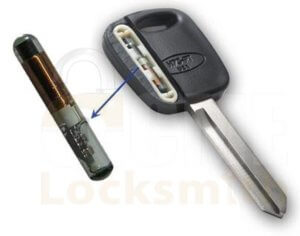 Keys with transponder chips in them, sometimes called chip keys, will need to be programmed to the car so that the car recognizes the key and starts.
The car key is more expensive, and there will is the service cost of programming.
Transponder keys are the reason why most box stores won't make new car keys (although that is starting to change). They do not usually have the equipment or the knowledge to program transponder chip keys.
Locksmiths will charge to program a new key FOB or chipped key. The locksmith will charge between $60 and $150 to program most keys or car key FOBs.
There are some variables at play. The most expensive common car to program are Chryslers because the require a special code to complete the programming. The locksmith is charged for that code and passes the cost to you.
Can You Program You Own Car Key to Save Money?
Some manufacturers, allow you to program your own car keys. You can check if you car allows this by searching for the year, make, and model of your vehicle in our online car key replacement portal.
If your vehicle offers self programming, you'll find a tab after selecting your car key or FOB labeled "Programming."
Read the instructions carefully. Some manufacturers will let you self-program additional keys, but ONLY if you already have 2 operating keys in your possession.
BE ADVISED: If you have a key and a remote in one unit, the programming directions may only work for the remote portion, not the key. The key may still need to be programmed by a locksmith to run the vehicle even if the remote can be self-programmed.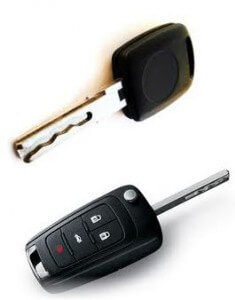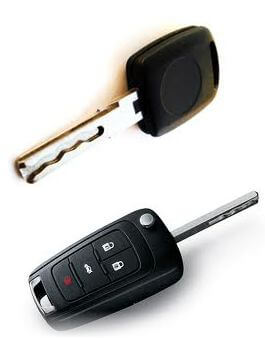 Why Laser Cut Car Keys Cost More
Newer keys are not made with the traditional cuts along the side of the blade (the shaft). Instead the cuts are routed into the edges of the key – but not all the way through. Or, the cuts may be routed into the center of the shaft.
These are called laser cut keys or high-security keys. Laser keys require more expensive cutting machines and take longer to cut.
Car Keys with Remotes Attached?
Car/Remote combo keys are keys that have the remote as part of the key head. In some cases, the cost is only incremental and minor, but in others it can add significant expense.
In most cases, you can save money on a spare keys by buying the key-only portion without the remote. This will allow you to still drive the vehicle should you ever lose your primary key, but you won't need to spend the extra money on the combo unit until necessary.
How Can You Save Money on Car Keys?
If you're feeling a little "sticker shock", there are some options that may help make it less expensive, or that may help you reduce costs if you lose your last operating key and need a key originated.
One option is to have a key cut for your transponder-equipped car and not have it programmed. This key won't start your vehicle, but if you do lose your primary key you will save money because:
It will at unlock the door and you won't need lockout service.
By having this key you have the cuts required to turn your ignition thus eliminating the expense of determining those cuts.
This backup can simply be programmed to the car and the car will now run. You only paying for the programming should you need it at a future point.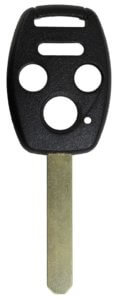 A second way to save money is to obtain a spare shell. A shell is a key/remote combo unit without the electronics. Just duplicate the blade from your original key and you will have key that opens the car doors, but won't start the car.
Often the cases of the key/remote combo units break. Should your primary car key break, you can put the electronics from that key into your spare key shell.
Locksmith Tip
One final note on getting a duplicate key for your vehicle:
Be sure to bring all current and new operating keys AND fobs with you when you are adding keys or fobs to your vehicle.
Some vehicles will 'drop' keys that are not present at the time of programming, rendering them at least temporarily unusable (they can, of course, be re-added later for an additional car key programming cost).
By bringing all your current and new equipment, you can make sure that everything still works with the vehicle, avoiding unnecessary inconveniences.
Quick Q&A
The good old fashion basic, all metal keys are the cheapest, often running under $10 for a replacement key. Once your key has a plastic head, it is possible that it is a chip key and that adds cost. This article covers pricing of all types of keys.
It varies by vendor. Dealers are typically the most expensive. Locksmiths are less. Price will land somewhere between $60 - $150. Some locksmiths, and almost all dealers, will not program a key that they didn't sell. We do.
In almost all cases, a 3rd party, such as your local auto locksmith, can make your replacement car key duplicates for less money. The one big exception is cars manufactured in Germany. We tell you why in this article.

More of Our Favorite Security Products
See our Amazon Store for Videos and Links to All of Our Favorite Security Products.
Door Armor: Reinforce your doors. This video on YouTube shows the installation of Door Armor, and you can buy the product direct from Door Armor at a great price.
Video Doorbells: This video doorbell offers great images and video and has NO monthly video storage fees. Watch our SkyBell Video Doorbell Review on YouTube and buy it on Amazon.
Smart Locks: Access Your Locks via Smart Phone. You'll find some of our favorite smart locks that allow you to control home access and monitor entry in our Amazon Smart Lock Shop. Watch our Smart Lock Comparison Video on YouTube fore reviews of the most popular Smart Locks.
High Security Safes: When you want a safe that is designed to protect the valuable you put inside, you want a high security safe found on ACME Locksmith's Safes for Sale website.
Sliding Glass Door Lock: The best arcadia door lock that stops your sliding glass door from being lifted out of it's tracks and to prevent little ones from opening the door and leaving the home. Check out the video on YouTube and Buy it on our website.
Disclosure: As an eBay / Amazon Associate I may earn from qualifying purchases.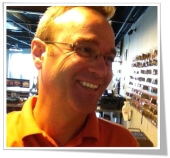 Robert has been the Owner of ACME Locksmith, Arizona's #1 Rated Locksmith, since 2007. ACME has provided locksmith service to over 160,000 Phoenix houses and businesses.
Over 1400 5-Star Rated, Verifiable Arizona Customer Reviews
Super Service Award Winner Eight Years Running
Selected as an Angie List Phoenix-Best Contractor
BBB International Marketplace Excellence Award Finalist
BBB Ethics Award Winner – The Only Locksmith to Ever Win this Award