Last Updated on September 8, 2023
It seems like smart locks are being installed everywhere, but sliding glass door smart locks haven't really had any true, viable solutions….until now. For manufactured home owners in particular, the sliding patio doors can be a main entry for the home.
Welcome to our guide to smart locks for sliding doors! In this article, we'll look at the benefits, the top options available, and the factors you should consider before making a purchase.
Let's dive in and discover how smart locks for a sliding patio door can get you the benefits of keyless entry for your home.
Short Summary
Smart locks for sliding doors provide keyless entry, enhanced security features and remote access.
Consider whether you really need a smart lock. Is it compatible with your door type? Is the cost worth it? You can get keyless entry without all the bells and whistles of smart locks.
Follow regular maintenance tips to keep your smart lock functioning smoothly.
Positives:
Every possible feature
Recognized and well known company
Best warranty for electronics
Negative: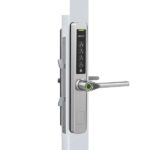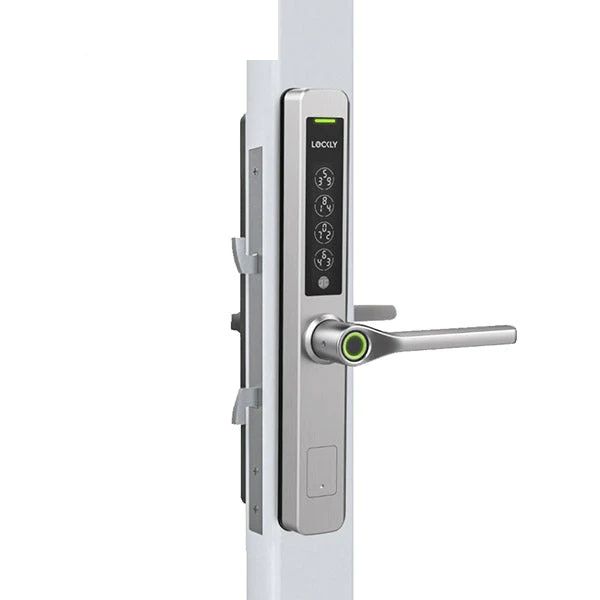 Best on Budget – TUYA
Positives:
Every possible feature
Affordable
Negative:
Not well known
Must order for your specific door handing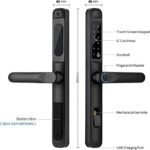 Best for Keyless Only – Lockey C150
Positives:
Affordable
Lifetime mechanical warranty
Negative:
Mechanical
Pin-code entry only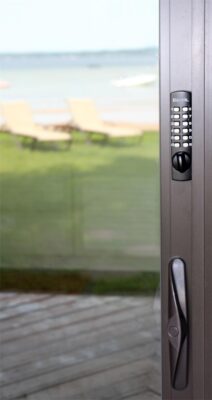 Related Articles:
Will smart locks work when power goes out?
Can I use a smart lock without a Wifi connection?
Understanding Sliding Door Smart Locks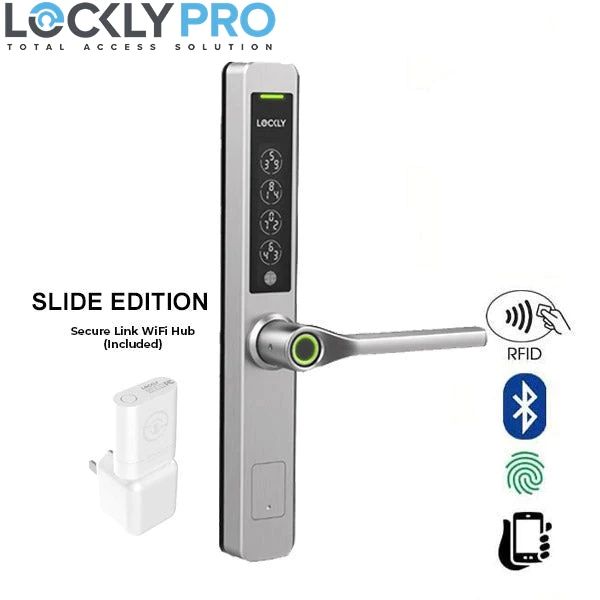 Sliding door smart locks are designed to provide keyless entry and remote access to your glass doors. Unfortunately, there aren't many smart lock options for sliding doors on the market right now, but the ones that are available have made home access much easier.
Smart locks have multiple ways to open them: such as PINs, fingerprints, app access or mechanical key overrides. They offer flexibility and convenience.
If you don't need the remote (app access) options and are only interested in keyless entry by pin code, you can install a non-smart lock on your sliding doo that is much more affordable.
So let's take a closer look at the keyless entry options and enhanced security features of sliding door smart locks.
Keyless Entry Options
There are three types of keyless entry options.
Mechanical Push Button Locks
You can get keyless access to doors using a mechanical lock that has push button to enter a code. The advantages of using mechanical push button locks on sliding glass doors is that the lock us likely warrantied for longer as there are no electronic components to fail.
Electronic Lock
Basic electronic locks offer an electronic pin code that will open the door. This is basic pin code entry buy electronic mechanism and do not offer remote monitoring or remote access from a phone app or computer.
Smart Locks
Smart locks have all the bells and whistles. Not only do you get pin access, but many come with biometric access as well. You can remotely monitor the lock to check if the sliding door is locked, and you can remotely control the lock to change codes, add users, or let someone in.
Enhanced Security Features
Mechanical pin-code locks are purchased without an override key. Since they are mechanical worry of failure is really minimal. Having a keyless lock helps protect the sliding glass door from lockpicking, bumping or forced entry via the key hole (which no longer exists).
With smart locks you gain the ability to remotely monitor the lock. This allow you to quickly check the status of your door (is it locked or open) and you can lock it remotely if needed?
Smart locks also allow you to set alerts to notify your phone any time the lock has been opened, and provide an audit trail to track when the lock has been opened by any given user.
Top Sliding Door Smart Locks on the Market
Now that we understand the benefits of sliding door smart locks, let's explore the top three options on the market: Lockly Guard, TUYA Smart Door Lock for Aluminum/Glass Sliding Doors, and Lockey C150 Mechanical Hook Bolt Lock. While it's still a small market, these options have proven to be reliable and offer various features to secure your sliding doors.
From remote control and monitoring to strong, durable materials, these three sliding door smart locks provide the best options for homeowners seeking to enhance the security of their sliding doors. In the following sections, we will discuss each of these smart locks in more detail and highlight their unique features and advantages.
Lockly Guard – The Best Choice for a Sliding Glass Door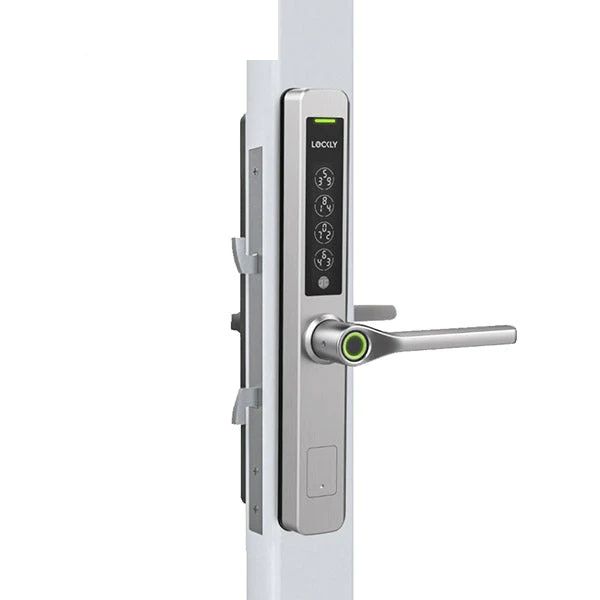 The Lockly Guard is the newest sliding glass door smart lock on the market. It has everything one would ever want in a full-blown, feature rich smart lock.
It is designed for both sliding doors and swing-open doors, and offers keyless entry via pin code, fingerprint, RFID card, key override or phone app. The Lockly Guard stands out from other sliding door smart locks due to its Bluetooth and WiFi capabilities, remote monitoring through an app, and a random password feature.
It also offers one-time use codes, which I think are great for contractors or anyone that you only need to access your home once. After which, the code no longer works.
The random password feature is unique to Lockly smart locks. It will randomly display number across 4 buttons on the keypad and user can press any number that contains the digits of their code. This not only limits the detection of worn out spots and fingerprints to determine a code, but if anyone is watching you enter the pin number, they cannot possibly decipher your code.
In comparison to other options like the TUYA or PAWPAE, Lockly is a name brand company with an established history for keyless locks used in the locksmith industry. If something goes wrong, Lockly will be there.
As a new lock, inventory is scarce, but you you can pick up the Lockly Smart Lock for Sliding Glass Doors on or Website.
TUYA Smart Door Lock for Aluminum/Glass Sliding Doors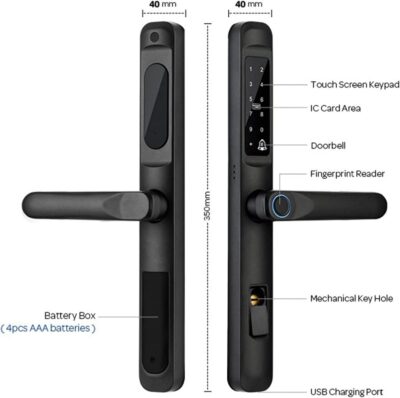 The TUYA Smart Door Lock is another option for those with glass sliding doors. Its biometric fingerprint feature allows for quick and easy identification and unlocking in a matter of seconds. Plus, you can control the lock from your mobile device, pin code, or biometric fingerprint scan providing additional convenience and security.
TUYA (also sold under the name PAWPAE) is an imported product from an overseas manufacture/company. This isn't necessarily a bad thing as the price is about half of the cost of the Lockly product, so it means saving for you.
Ideal for aluminum and glass sliding doors, the TUYA Smart Door Lock offers a combination of compatibility and cutting-edge features at an affordable price. It also offers pin-code, biometric fingerprint, RFID card, key override, and mobile app entry.
The one limitation of the TUYA sliding glass door lock is that it is not a universal lock for left or right handed doors (What is door handing?). You must order the lock for the door configuration you have.
Lockey C150 Mechanical Pin Code Sliding Door Lock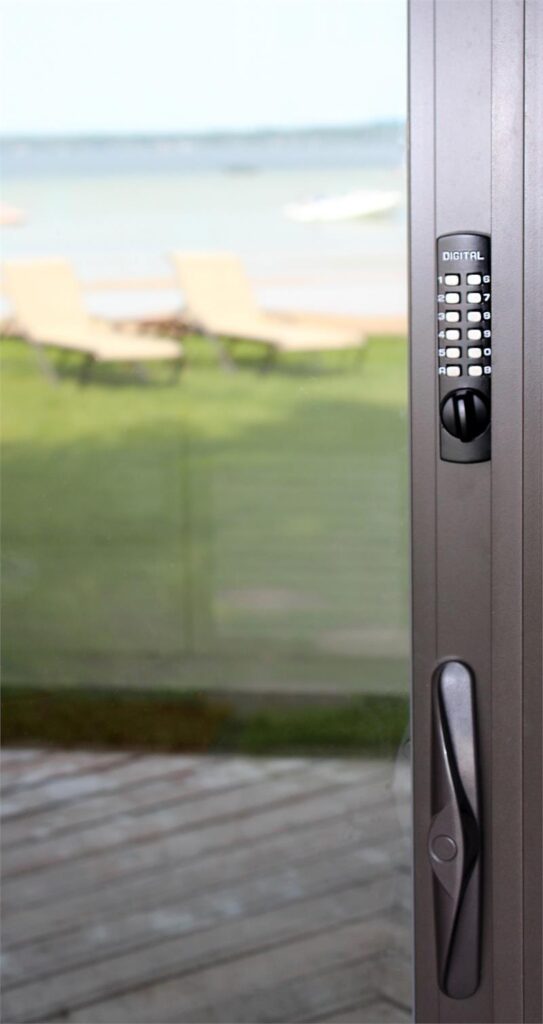 The Lockey C150 Mechanical Hook Bolt Lock is another great option for securing your sliding doors. This keyless, keyed combination lock features a hook bolt that secures the door in place, making it incredibly reliable and secure. The lock is surface-mounted and configurable to both left and right-handed sliding doors, ensuring it can accommodate various door types.
This is a mechanical keyless entry for sliding glass door lock and it does not offer all of the remote features of a true smart lock, but it is the most affordable option available if you only only need a single-code keyless entry sliding glass door lock system.
A simple yet effective way to enter sliding doors.
Factors to Consider When Choosing a Sliding Door Smart Lock
Do you Really Need a Smart Lock?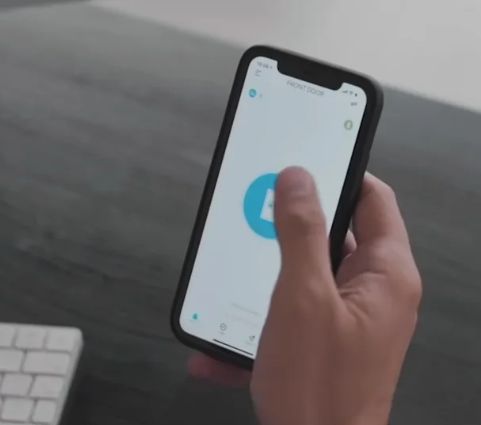 While sliding door smart locks offer numerous advantages, it's essential to consider whether you truly need one for your home. These locks provide the most convenience, allowing you to control access to your home remotely and dynamically (in real time from wherever you are). However, smart locks can be pricier than mechanical keyless lock options.
Many customers find that they really only need keyless entry. This can be much more affordable than a full blown smart lock.
Ultimately, the decision to invest in a sliding door smart lock comes down to your individual needs and preferences.
Compatibility with Your Door Type
Another critical factor to consider when selecting a sliding door smart lock is compatibility with your door type. Ensure that the smart lock you choose is designed for sliding doors. There a very few options for sliding glass doors, and we've touched on all those known to us at this time.
Before purchasing a sliding door smart lock, research the lock's compatibility with your door type and verify that it will work with your existing door setup. This will ensure that the smart lock you choose will provide the security and convenience you desire without any compatibility issues or installation headaches.
Ease of Installation
The ease of installation is another important factor to consider when choosing a sliding door smart lock. While these locks can be installed by the homeowner, it does require drilling through the frame of your slider. And really, if it were to shatter, you're better off having it be the responsibility of the locksmith installing it than yours.
When selecting a lock for your slider, review the install directions and ensure that you feel comfortable with the process. If you're not confident, hire a locksmith in your city. This will ensure that the lock is installed correctly and functions properly.
How to Maintain Your Sliding Door Smart Lock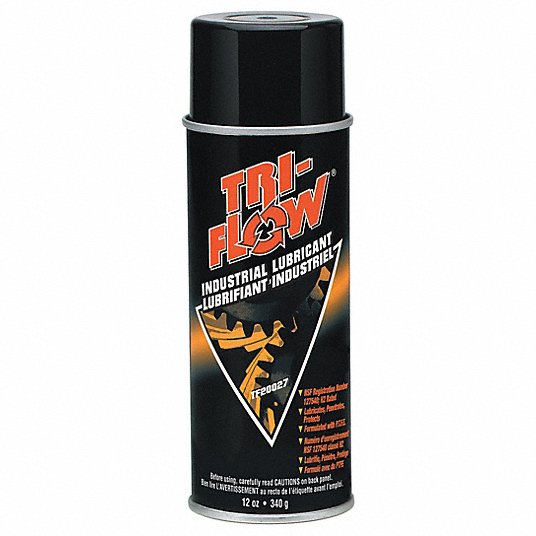 Proper maintenance is essential for keeping your sliding door smart lock functioning optimally. Primarily, Regular cleaning and lubrication is all that is required to keep your lock in top condition.
By following these guidelines, you can keep your smart lock in good working order and address any issues that may arise.
Regular Maintenance Tips
To keep your sliding door smart lock in good shape, it's important to perform regular maintenance. This includes cleaning the locking mechanism with a damp cloth and mild detergent to remove dirt and debris.
Lubricating the locking mechanism once a year can also help to ensure smooth operation and prevent wear and tear. Don't forget about the key override. Even though it's not used, it may be one day and you wouldn't want it to be filled with grime.
Our favorites and only recommended lock lubricant is Tri-Flow, and we offer Tri-flow on our website.
If needed, adjust the strike plate and tighten the screws on the hinges to ensure proper alignment and secure operation.
By performing regular maintenance, you can prolong the life of your smart lock and keep your sliding door secure.
Common Issues and Solutions
Sliding door smart locks may encounter common issues such as misalignment, damage, or battery life problems. To address misalignment issues, adjust the latch on the frame of the door. For lock damage issues, consider replacing or repairing the lock, or consulting with a professional locksmith for assistance.
Keep an eye on the battery level from within the smart lock's app. Though most smart locks have a way to "jump start" them if the batteries die, it can be a bit of a pain if you are locked out and don't have what is needed to get in straight away.
Summary
In conclusion, sliding door smart locks offer an innovative and secure solution for homeowners seeking to enhance the security and convenience of their sliding doors. With options like the Lockly Guard, TUYA Smart Door Lock, and Lockey C150 Mechanical Hook Bolt Lock, you can choose the best smart lock for your needs and enjoy the peace of mind that comes with knowing your home is protected.
Frequently Asked Questions
Can I put a smart lock on a sliding door?
Yes, you can put a smart lock on a sliding door thanks to Lockly's new Guard product. With Guard, you can make existing and new sliding doors smart with ease.
What is the best way to secure sliding doors?
The best way to lock sliding doors is to add an additional security measures that prevent the door from being lifted out of its track (like our affordable double bolt sliding door lock), as well as a shatterproof window film. To ensure maximum protection, you should also consider investing in a home security system with cameras, alarms, sensors, and monitoring. This will help keep your home secure from intruders.
How to lock sliding doors?
If you want to keep your sliding door locked, there are multiple options available beyond the lock that was installed when the door was installed. You can change to a smart lock or keyless lock, add an additional bolting lock, pin lock that pin the door into the frame, or reinforce the glass.
All of these security measures can be used alone or in combination for extra protection.