Phoenix Commercial Locksmith Service – ACME Locksmith
ACME Locksmith is a licensed, bonded and insured Phoenix commercial locksmith contracting company serving Phoenix since 1997.
We are an ROC licensed company for your protection. Arizona does not require locksmiths that do jobs that cost less than $1,000 to be licensed, but for commercial lock work, licensing is essential.
We are one of fewer than 12 licensed commercial locksmiths in Phoenix. ROC: 271563
Commercial Locksmith Services
Did you know that National Property Maintenance or Facility Maintenance Companies charge your business up to 10X what a local company would charge?
Then, they're going to call a local company, just like us to perform the work anyway. Skip the middle man. When you call ACME, you're business is serviced by ACME — a local, veteran owned licensed commercial locksmith and Better Business Bureau Ethics Award recipient.
View our Articles, Videos, and Reviews of Commercial Door Hardware
Commercial Door Hardware Supplier
Facilities managers and maintenance teams. We can help you get the right commercial door hardware for your building. We offer standard discounts to trade and facility managers that only require the commercial door hardware, not the installation.
ACME will help you determine what you need to order so that you get the door behavior you expect and meet building and ADA codes.
Allow us to supply all of your commercial hardware needs including high security locks, crash bars / panic bars, door closers, access control, mortise locks & more.
Four shop locations for easy pickup.
Establish Key Control for You Phoenix Business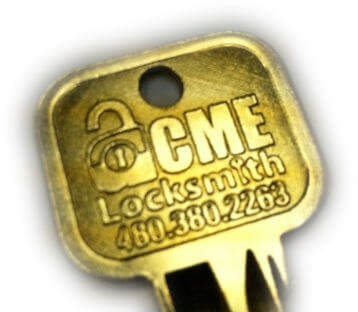 Over 33% of business theft is conducted by employees. High-security locks and keys offer your company maximum protection against external and internal threats. These keys cannot be copied because only you, the owner, have the documentation necessary. These locks offer superior protection with the best possible alloys, strength, and pick resistance. High-security locks with copy-protected keys have become very affordable.
Another way to gain back key control is through the deployment of keyless entry systems. Instead of handing out keys, hand out pin codes or access cards that can be easily changed at any time. As a Phoenix industrial locksmith, ACME will help you design and implement the right key control system for your needs.
Customer Reviews
Cesar Diaz
18:35 04 Aug 22
This is our first time utilizing Acme Locksmith. Upon intitial interaction, they professional, very responsive, and communicative. Their pricing was also reasonable and fair. The technician was engaging, friendly, presented very professionally and was overall an exceptional human being who enjoyed

his trade. I was very impressed…no reason to enlist any other locksmith in my book. It was a wonderful experience. Thank you Acme!!

read more
Bryant K
13:20 30 Jun 22
The owners and employees are so nice and willing to help and educate in any way they can. I will definitely be referring my friends and family here!
Patrick James
22:20 10 Jun 22
Really nice couple of guys who came out. They gave me a good price as well. I would certainly recommend these chaps!
Colton Brooks
21:29 12 May 22
I recently bought a truck that had a camper shell on it but the keys were missing. ACME helped me take the lock out and they cut me a new key for it.The emergency key that was in the key fob didn't work on the truck lock so they were able to help me get a key cut for the truck too.Happy with

the quick service and the price was reasonable. Will go back to ACME for any of my lock related needs.

read more
Tony Pacheco
21:48 10 May 22
Scott and Eric are wonderful people. Very courteous and extremely helpful. I had an issue with a camaro key and they went above and beyond for me. I will only go there for my key needs!
Lynsie Meyer
20:35 05 May 22
They were amazing! Just got our new house and they rekeyed the locks super quick, were very thorough in making sure everything worked properly, and love the sliding door lock! Definitely wouldn't trust anyone else!