Phoenix Commercial Locksmith Service by ACME Locksmith
ACME Locksmith is a licensed, bonded and insured Phoenix-Metro locksmith company serving Phoenix since 1997.
We are an ROC licensed company for your protection. Arizona does not require locksmith licensing for jobs that cost less than $1,000, but for commercial lock work, licensing is essential.
We are one of fewer than 12 licensed commercial lock services in Phoenix, AZ. ROC: 271563
Commercial Locksmith Services
Did you know that National Property Maintenance or Facility Maintenance Companies charge your business up to 10X what a local company would charge?
Then, they're going to call a local company, just like us to perform the work anyway. Skip the middle man. When you call ACME, you're business is serviced by ACME — a local, veteran owned licensed commercial locksmith and Better Business Bureau Ethics Award recipient.
View our Articles, Videos, and Reviews of Commercial Door Hardware
Commercial Door Hardware Supplier
Facilities managers and maintenance teams. We can help you get the right commercial door hardware for your building. We offer standard discounts to trade and facility managers that only require the commercial door hardware, not the installation.
ACME will help you determine what you need to order so that you get the door behavior you expect and meet building and ADA codes.
Allow us to supply all of your commercial hardware needs including high security locks, crash bars / panic bars, door closers, access control, mortise locks & more.
Four shop locations for easy pickup.
Establish Key Control for You Phoenix Business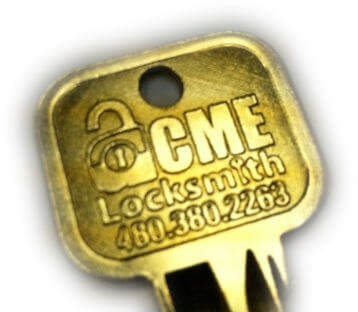 Over 33% of business theft is conducted by employees. High-security locks and keys offer your company maximum protection against external and internal threats. These keys cannot be copied because only you, the owner, have the documentation necessary. These locks offer superior protection with the best possible alloys, strength, and pick resistance. High-security locks with copy-protected keys have become very affordable.
Another way to gain back key control is through the deployment of keyless entry systems. Instead of handing out keys, hand out pin codes or access cards that can be easily changed at any time. As a Phoenix industrial locksmith, ACME will help you design and implement the right key control system for your needs.
Customer Reviews
Jensen Brewer
18:23 06 Sep 22
Ron was great! I called in the morning and within an hour he was at our place to fix our front door lock. He was very kind, respectful and educated about the process. I will recommend Acme locksmith to anyone!
Jeanette R
19:37 03 Sep 22
ACME was fantastic very punctual and professional in their service. Even when setting up the service they had some one who didn't normally do the scheduling covering and he went above and beyond finding the answers to the question he didn't know. They updated me at every step which was very nice.

Ron the tech that came out was very nice and got the job done quick! Would definitely use them again for locksmith needs!

read more
Zachary Castagna
21:38 01 Sep 22
We just moved into our home and didn't have any keys. Acme sent Big Mike to make us some new keys and reprogram our smart lock. He did a great job and is highly recommended.
Cindy Wolf
19:52 22 Aug 22
Acme was a great company! The first thing in the morning they called, I explained what I needed to have done. I was explained the cost, what they would be to do. And the best part was, they come out the same day! The tech was very nice, he explained everything to me before he started the job! The

tech did a great job! He even was very thoughtful of our dogs making sure they didn't get out of door! The tech was very professional and I was very thankful that I was able to get my request done today and didn't have to wait two or three days! I would definitely use them again,and let our family and friends know how great ACME was ! Thank you again ACME!

read more
Kevin Flake
02:56 17 Aug 22
Great service. Great to do business with. Nice folks. Can't recommend enough.
Cesar Diaz
18:35 04 Aug 22
This is our first time utilizing Acme Locksmith. Upon intitial interaction, they professional, very responsive, and communicative. Their pricing was also reasonable and fair. The technician was engaging, friendly, presented very professionally and was overall an exceptional human being who enjoyed

his trade. I was very impressed…no reason to enlist any other locksmith in my book. It was a wonderful experience. Thank you Acme!!

read more