The Most Recognized Locksmith in Gilbert, AZ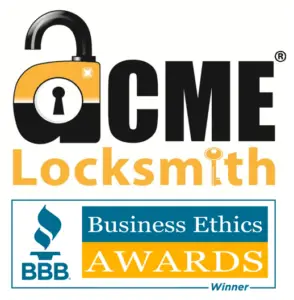 ACME's Gilbert Locksmith service has been providing lock service to Gilbert home and commercial businesses since 1997. We have served over 160,000 Arizona customers and are the most recognized lock company in Arizona. Our lock shop is located on the corner of McQueen and Elliot Rds.
When you can, by bringing your lock needs into the Gilbert store you save money by not needing to pay to get a locksmith out to your location (a service call fee). But, when you need us onsite, our mobile locksmith fleet ensures fast, friendly Gilbert lock service.
Hire With Confidence
Our Gilbert Locksmith Services
5 – Things To Ask Before Hiring a Locksmith Service
Are you a Licensed?
ACME carries both residential and commercial licenses. Hiring an ROC licensed locksmith protects you should anything ever go wrong and it GUARANTEES we are a bonded and insured company.
Do you guarantee your lock service?
Yes. We were the first locksmith in Gilbert to offer a 100% satisfaction guarantee with a 30-day, no questions asked, warranty and an additional 1-year workmanship warranty. This is the strongest lock-service warranty in Arizona. We also provide free lifetime replacement of keys stamped with our logo.
Are you members of the Associated Locksmiths & Better Business Bureau (BBB)?
Yes. We are members of ALOA and winners of the AZ BBB Ethics Award. Our technicians are very proud of their work and commitment to quality service.
Do you have a Locksmith Shop in Gilbert?
Yes! We are NOT just a mobile service. Our Gilbert location opened in 2019. Come on in and save yourself the cost of a service call.
Can I see your customer references?
Yes! ACME has over 1400 5-star-rated, verifiable customer reviews. What does "verifiable" mean? It means that based on the date of the review and the name of the writer we can tie that review back to the actual job that was completed. It's not fluff, it's real.
How Much Does a Gilbert, AZ Locksmith Cost?
There are no $9-$49 mobile locksmiths. Those quotes are scams with hidden undisclosed "fees". To open a door a legitimate lock company charges between $100- $150 during regular hours. An onsite house rekey is around $200 for a 3-door home. Price will vary a bit based on the actual number of cylinders (i.e. keyholes) on the door. Legitimate locksmiths will tell you all prices upfront and will not change from that once onsite.
Why Can't I Find a Licensed Arizona Locksmith?
In AZ, there are no licensing requirements specifically for locksmiths. Because of this, many locksmiths falsely claim to be licensed when they are not. But there is licensing for door contractors through the AZ Registrar of Contractors.
There are only around 12 Arizona ROC-Licensed locksmiths in the Metro area, and ACME is one of them, for your protection. ROC 271563
Why Should I Hire ACME Locksmith?
ACME Locksmith is the only Arizona locksmith to earn a BBB Ethics Award. We have the industry's strongest 1-year warranty on labor, our ACME-stamped keys are guaranteed for life, and we are the most recognized locksmith company in Gilbert. We're earning customers for life.
Can I Get Discounted Service?


ACME Locksmith's Gilbert Location
ACME Locksmith is a local, veteran owned Arizona locksmith company with 4 locations. Our Gilbert Locksmith shop offers full lock, key, safe & automotive locksmith services.
The Real #1 Rated Locksmith in

Gilbert, AZ

Address:

81 S. McQueen Rd. STE 102

,

Gilbert

,

AZ

85233

Phone: (480) 857-3431

There are NO $15-$39 Locksmiths. It's a Scam. Those companies will end up costing you so much more.
Field service: Monday-Saturday 8-8 pm.,
Store: M-F 8-4 pm,
Emergency 24/7.
For the most up-to-date hours due to illness, special closures, etc… visit our Google My Business Page and select Access Hours.
Value Offered Only at ACME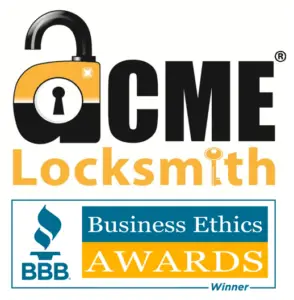 Some Reviews
Spike Jackson
16:04 17 Jul 22
Antique car locks. No keys. I tried several locksmiths and was turned away. Acme impressioned new keys and also rekeyed a lock. All in under 2 hours. Just start here. These guys knows how to get even

the toughest job done. Really excellent service.

read more
Michael Bassett
02:27 05 May 22
Great place. Friendly helpful and probably have what your looking for.
Teresa Duranti
16:49 01 Dec 21
Bobby did a terrific job fixing our lock! He gave us a couple of options and we chose what was best for us. Quick, professional, and reasonable - I definitely would recommend ACME to others.

Thank you for a great experience!

read more
DENISE GATELY
22:02 22 Nov 21
Answered all of my questions politely and patiently when I called. They were able to send locksmith out on the same day; got all of the work done quickly and well.Appreciate the fast response time

and professional service. Another company told me locks could not be rekeyed but Acme was able to do so. Great company and service!

read more
Mara Linder
22:52 27 Oct 21
ACME and Big Mike were fantastic! They showed up for a consult on time and made great suggestions to meet my exact needs. They were reasonably priced. Big Mike was professional and also very funny

and did a great job with the install and checking in with me every step of the way to make sure it was what I wanted. A very positive experience overall. I would definitely use ACME and Big Mike again.

read more
See All Reviews