A BBB Award Winning Locksmith in Gilbert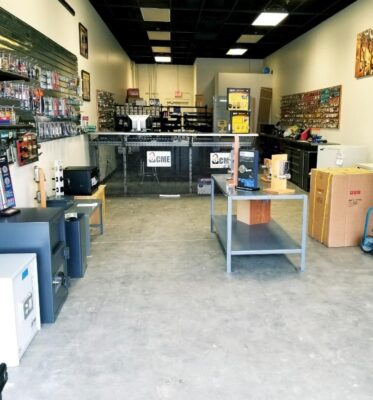 ACME Locksmith has been providing Gilbert locksmith service since 1997. We have serviced over 160,000 Arizona customers and are the most awarded lock contractor in Arizona. Our Gilbert lock shop is located at the corner of McQueen and Elliot Rds.
Bring your needs into our Gilbert location and save money by eliminating the cost of getting a locksmith to your location (the service call fee). If you do need us onsite, you'll get fast friendly Gilbert service.
Excellent Service | Reputable Company
Locksmith Gilbert Services
5 – Things To Ask Before Hiring Any Locksmith in Gilbert
Are you licensed in Gilbert?
Most lock companies DO NOT have a contractors license. We we do; both residential and commercial. Hiring an ROC licensed locksmith protects you should anything ever go wrong. It GUARANTEES we are a bonded and insured company.
Do you guarantee your lock service?
Yes! We were the first locksmith in Gilbert, AZ to offer a 100% satisfaction guarantee. We have a 30-day, no questions asked, warranty and an additional 1-year workmanship warranty. This is the strongest warranty in Arizona.
Are your keys guaranteed?
Yes! Any key that is stamped with the ACME logo is guaranteed for life. If it breaks, splits or bends, just bring it in for a free replacement.
Do you have a store in Gilbert?
Yes! We are NOT just a mobile service. Bring your key needs to our nearby shop, and save yourself the cost of a service call.
Can I see your customer references?
Yes! ACME has over 2100 5-star-rated, verifiable customer reviews. What does "verifiable" mean? Based on the date of the review and the name of the writer we can tie that review back to the actual job. It's real.
How Much Does a Gilbert, AZ Locksmith Cost
There are no $9-$49 locksmiths. Those quotes are scams with hidden "fees". To unlock a door, locksmiths charge between $100- $150 during regular hours. A rekey is around $200 for a 3-door home. Price vary based on the number of cylinders (i.e. keyholes) on the doors. All credible companies will give you an exact price, upfront, for frequent services such as car lockouts & rekeying.
Why Can't I Find a Licensed Gilbert Locksmith?
There is no licensing requirement to be an Arizona locksmith. Many lock services falsely claim to be licensed by simply referring to their business license. But, there is licensing for contractors through the AZ Registrar of Contractors. There are only ~12 lock companies that have received contractor licenses.
ACME is one of them. ROC License # 271563
Value Only from ACME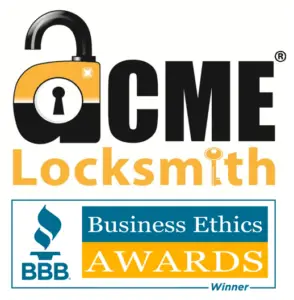 ACME Locksmith Gilbert Location
ACME is a local, veteran owned Gilbert, AZ lock company with 4 locations. Our shop offers full lock and key service including safe for sale & automotive services.
E-mail Us / Submit Photos Online
Address: 81 S. McQueen Rd. STE 102, Gilbert, AZ 85233
Phone: (480) 857-3431
Over 2100 verifiable reviews. With a 4.9 star average. (Google, Kudzu, etc…)
Field service: Monday-Saturday 8-8 pm.
Store Hours: M-F 8-4 pm, Emergency 24/7.
Please Note:
For the most up-to-date hours due to illness, special closures, etc… visit our Google My Business Page and select Access Hours.
Our locksmiths in Gilbert have to leave promptly at 4pm so they can meet family obligations. Please arrive early enough to complete your needs or be prepared to drop off the item so we may work on it first thing the next business day. For car key programming, arrive at least 1-hour prior to closing.
Map to our Gilbert Location