Last Updated on November 18, 2022


How to Cover a Door Hole
What do you do when you have a door that has a hole pattern for a previous lockset, but the new lockset holes don't line up? That is, the old hole and the new hole patterns don't match?
This is common when switching from, or to, door handle sets instead of a door knob / deadbolt combination.
You could replace the door or use a door hole filler, but replacing a door is NOT the most affordable way to fix door lock holes, and patching the door hole with door putty or other filler requires some skill, and the hole patches often crack over time.
To affordably and easily cover a door hole, you can use a door-hole cover plate to cover holes left by a single cylindrical lock, such as a deadbolt. Or, you can use push plates or door wraps, for when there are multiple holes to cover (like when switching to/from handle sets) or large air voids to cover/patch (like those left when switching from mortise locks to cylindrical locks).
Hole Filler Plates / Hole Cover Plates
Hole filler plates, also called hole cover plates, are the least expensive way to cover a door hole. They work well to cover the round holes left by cylindrical locks such as deadbolts and door knobs. They can cover holes up to 2-1/2 inches.
Door hole cover plates cover the hole on both sides of the door by installing a flat plate over each side. They are held together by a connector bolt and cap (this is basically a screw that screws into another, hollow screw). The cap side is smooth; be sure to install this with the connector bolt on the inside of the door so it cannot be removed from the outside.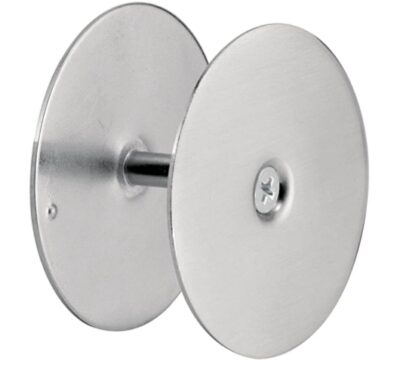 They come in a variety of hardware finishes to match your existing door hardware. You can also buy them prime coated, ready to paint to match the door.
Hole Filler Plates are available for as little as $3 on Amazon. If desired, you can also fill door latch holes using a door latch hole filler plate. These are smaller, square plates designed to fill the latch holes on the side of the door. Latch hole filler plates are also available on amazon for a few dollars.

Door hole cover plates are usually designed for 1-3/4 inch doors, but you can buy a longer screw to use at Home Depot for a thicker door.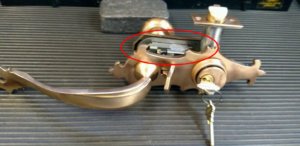 Covering Door Holes with Push Plates
Sometimes, an existing door hole isn't round at all.
This is a photo of an old Schlage brand handle set called the E-series. The hole prep for this is a large rectangle hole about 2 x 6 inches to hold everything within what's circled in the photo. In the 70s and 80s several manufacturers were designing handle sets similar to this.
Since these were made, most manufacturers have redesigned their hardware for a 'standard door prep' using cylindrical holes of 2-1/8th inches. But previous to this, door hole prep wasn't standardized, and some interesting hole patterns must be now be covered when replacing old door hardware with modern door hardware.

Push plates are an affordable solution for covering these larger holes.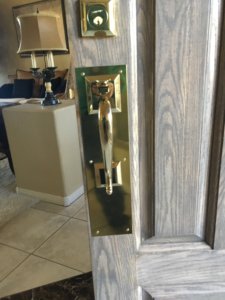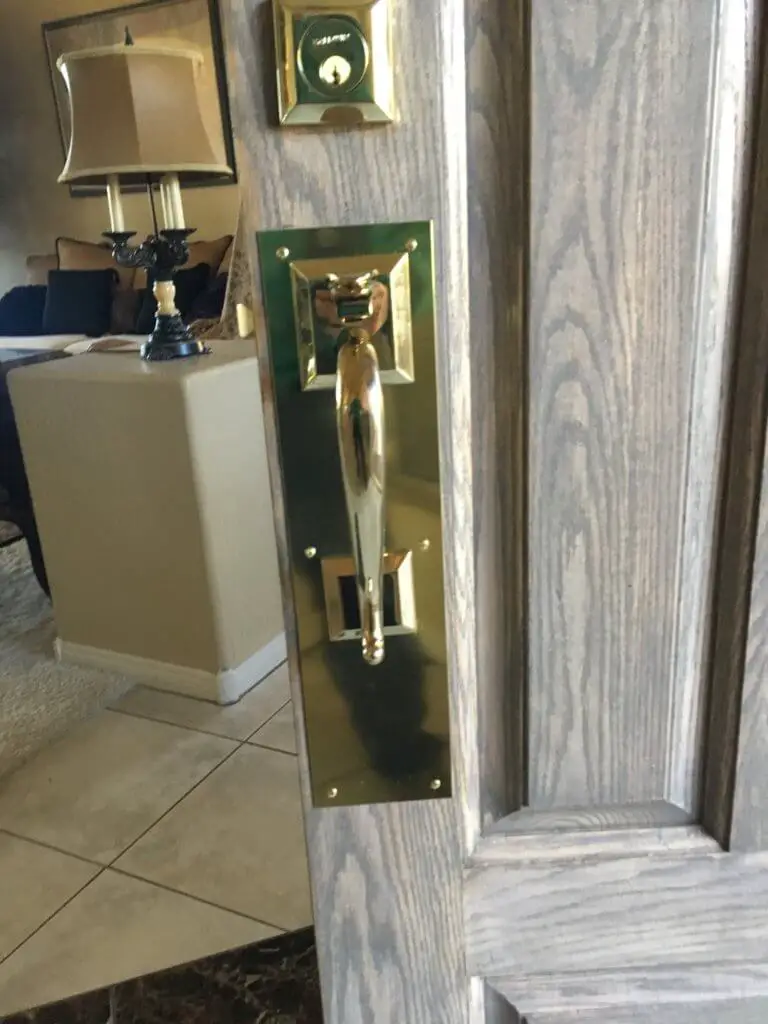 Push plates are designed for pushing open a door. They are usually 4 x 16 inches, but can be purchased in different sizes and in many different finishes. They can be ornate, but for repairing door holes you'll want a basic flat door plate so that the door hardware can easily install over it.
In the photo showing a brass push plate under a handle set, the customer had us replace her old handle set using this method. It's not as pretty as it may have been with a new door, but a couple of plates installed to cover existing door holes is drastically cheaper than replacing a solid wood door. You can pick up door push plates to fix door holes for around $13 on Amazon.
User Door Wraps to Cover Door Holes
Door Wraps (also called wrap-around plates or door reinforcers) are designed to help strengthen a door and prevent the door from being kicked in, but they can also be used to cover holes in places where holes aren't convenient.
This door, for example, had a very old (and no longer available) mortise lock body installed. When removed, a mortise lock body leaves roughly a 5" by 4" inch void in the door. Once removed, there's no place for a cylindrical lock to be attached to the door.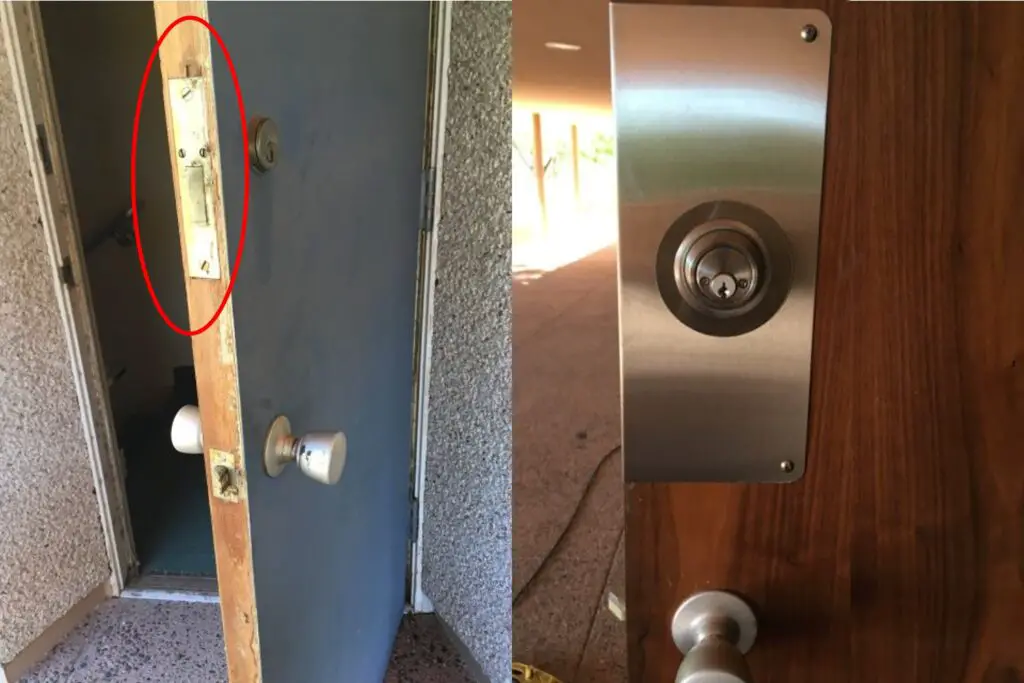 Plus, mortise body locks are very expensive! So many customers opt to have a less expensive cylindrical lock installed.
A door wrap will cover the door voids and strengthen the door.
These, too, are available in all the common hardware finishes, and they have many types of hole preps pre-drilled into them to suit the needs of the new lock installation.
Door wraps are designed for doors of a specific and standard thickness. For thick doors, they can be custom made. This can add some expense, but then again, a custom made thick door is much MORE expensive than that.
Many door wraps can be found on Amazon and are very affordable.
Disclosure: As an Amazon / Google Associate I may earn from qualifying purchases.

More of Our Favorite Security Products
See our Amazon Store for Videos and Links to All of Our Favorite Security Products.
Door Armor: Reinforce your doors. This video on YouTube shows the installation of Door Armor, and you can buy the product direct from Door Armor at a great price.
Video Doorbells: This video doorbell offers great images and video and has NO monthly video storage fees. Watch our SkyBell Video Doorbell Review on YouTube and buy it on Amazon.
Smart Locks: Access Your Locks via Smart Phone. You'll find some of our favorite smart locks that allow you to control home access and monitor entry in our Amazon Smart Lock Shop. Watch our Smart Lock Comparison Video on YouTube fore reviews of the most popular Smart Locks.
High Security Safes: When you want a safe that is designed to protect the valuable you put inside, you want a high security safe found on ACME Locksmith's Safes for Sale website.
Sliding Glass Door Lock: The best arcadia door lock that stops your sliding glass door from being lifted out of it's tracks and to prevent little ones from opening the door and leaving the home. Check out the video on YouTube and Buy it on our website.