What is That Locksmith Saying?
Sometimes it might feel that your lock and security specialist is speaking a different language. At ACME, we try use the most commonly understood terminology, but we admit it can get complicated. Hopefully, this helps clarify it all.
General Locksmith Terms
What is a Lock Cylinder?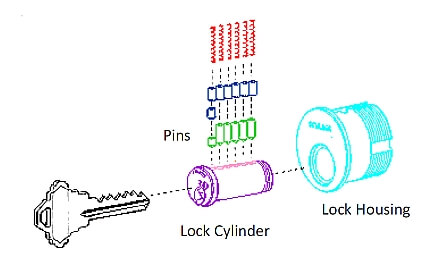 Most locks take a key. The thing the key slides into is called the lock cylinder. Cylinders have pins or wafers that can be rekeyed so the lock will work with a new key.
What Does "Lock Rekey" Mean
Rekeying is the process of making a lock cylinder work with a new key. It is accomplished by removing the old pins within the lock and replacing them with new, different length pins. Once completed the old keys will no longer open the lock.
Checkout our article on How Much Does it Cost to Rekey a Home? and What is Lock Rekeying for details on how locksmith rekey locks.
What is a Keyway?
A Keyway describes the overall shape of the shaft of the key. Different manufacturers have differently shaped keyways.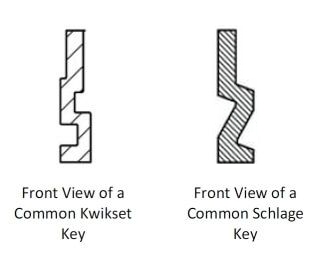 This is why you sometimes find that the key you own does not slide into the lock you just bought at a home store. The locks have different keyways and are not compatible. For example, a Kwikset key will not fit a Schlage lock. Some brands however do have interchangeable keyways. A knowledgeable locksmith will be able to help you find what you need so that all of your locks are compatible.
Checkout our Article on Can My Locks Work Using One Key?
What Does Lock Finish Mean?
Finish refers to how the lock looks. Finish can be composed of both color and texture. Here are the most common lock finishes from Kwikset and Schlage locks.
Mortise Locks vs Cylindrical Locks
A cylindrical lock is the standard lock you see on homes. It goes through the door with a cylindrical hole prep. Door knobs, door levers and deadbolts are cylindrical locks.
A mortise lock is generally, but not always, found in a commercial building. If you have an aluminum storefront door you have a mortise lock on it. They are small locks with the face being about the size of a silver dollar. The main lock body for a mortise lock is recessed into a pocket inside of the door. In home hardware, mortised locks can be very ornate affairs, but the functioning lock body will be recessed into the door, regardless it's outer appearance.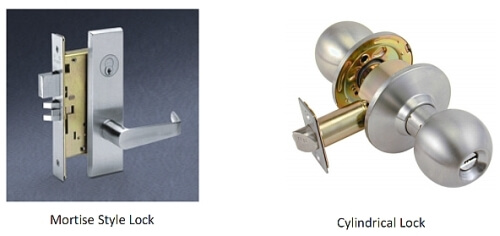 What is Key Extraction
Key extraction is a service to remove a broken key from inside a lock body. Depending on the hardware, this is usually accomplished using very small tools, or by partially disassembling a lock and pushing the key out from the backside.

Can you extract a broken key using a glue stick? Check out our YouTube video.
What is Door Handing?
Door handing refers to how the door is hung in the frame. Some door hardware only installs and works if it's handed correctly.
To determine handing, stand at the outside of the door. Doors with hinges on the left are left-handed, and those with hinges on the right are right-handed.
There's a further distinction as well; if the door opens to the outside, the door is 'reversed'. This distinction is important because, on hardware that is handed, it may require a reversed latch to function properly.

Handing isn't as common as it once was; many manufacturers now design their hardware to be 'field reversible'.
What are the Types of Lock Locking Functions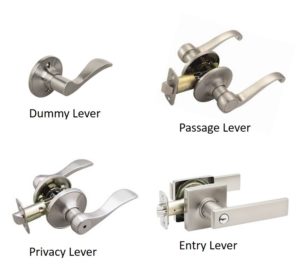 Passage, Privacy, Classroom, Storeroom, Entry Locks, Gate Locks
Did you know there are over 30 different ways a door lock can function? Here are the most common.
Passage Function Locks: Have no locking function and are for doors that don't need to be secured.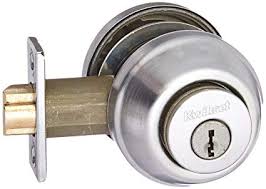 Privacy Function Locks: Privacy locks have a thumb turn to lock the lock from the inside of the door and some means to unlock the door from the outside (but not normally a key). An example would be home bedroom or bathroom door locks.
Classroom Function Locks: Classroom function locks have no way to lock/unlock the door from inside the room. They always have free egress so in case of an emergency the room can be existed always. They use a key to lock/unlock from the outside of the room.
Storeroom Function Locks: These locks always require a key to open the lock from the outside. They always allow free egress.
Entry Function Locks: Can be locked/unlocked from inside the room with a thumb turn and require a key to unlock from the outside. This is the type of lock you find on your homes and most office doors.
Gate Locks: Gate locks normally require a key for both sides and the body of the lock is basically a deadbolt. However, the major difference is that they latch (or lock) automatically when the gate gets closed just like a knob or lever does on your front door (not like a deadbolt where the latch has to be manually thrown in order lock).
What are the Different Types of Car Keys?
Older cars use a plain old metal key, a mechanical key.
For the past several years, automobiles have been requiring car keys that need to be programmed to the vehicle in order for the car to start. The head of a transponder key includes electronic components that the car uses to confirm the key is valid.
Next came laser cut or high-security automotive keys. The cuts for these keys are milled into the key. They also contain a chip that needs to be programmed to the vehicle and are very difficult to duplicate without special equipment. See our article on How Do Locksmiths Cut Laser Keys?
Next, car manufacturers combined the remote with the car. These remote / key combos were common in the 90's thru 2020 or so. The keys in these could be either the edge cut or laser cut keys.
Proximity keys are the latest in car key technology. They look similar to a basic remote but they take the place of the car key. With proximity keys, the car will start with a push of a button so long as the prox key is near the vehicle and sometimes the car door locks will automatically unlock when you approach the car.

What are the Different Types of Deadbolts?
There are Single, Double, and Half Deadbolts
A single deadbolt has a key on one side of the lock and a thumb turn on the other. This is the most common deadbolt installed on residential doors.
A double deadbolt takes a key on both sides of the door, and a key is required to lock the deadbolt even from the inside of the home.
Pro Tip: Fire code no longer allows for double sided deadbolts installed on residential home front doors or courtyard gates.
Half deadbolts, have a thumb turn on the inside of the home (to lock the door), like a single sided deadbolt. But there is nothing on the outside of the door. No key hole, no indication that a deadbolt is installed. Because of this, they cannot be picked, bumped, or jimmied open and offer a huge security improvement.

Home Smart Locks vs Electronic Locks
These are primarily terms used on residential properties.
Electronic locks allow someone to enter by using a pin code, finger print or FOB. But they are stand alone locks that do not allow remote access.
Smart locks are electronic locks that allow remote access and monitoring, usually from a smart phone, but also over an internet site.
Check out our favorite residential smart lock in our YouTube video "Smart Locks Compared – Our Favorite Smart Lock of 2022"
Can you put Smart Locks on outdoor gates? The answer is not so simple.
What is Pool Code?
All cities have codes that restrict access to public and private pools. Locks on doors, such as the back doors of homes with pools, must be installed to meet these codes. We wrote a detailed article on the Arizona Pool Code.
Why are the Types of Residential Locks?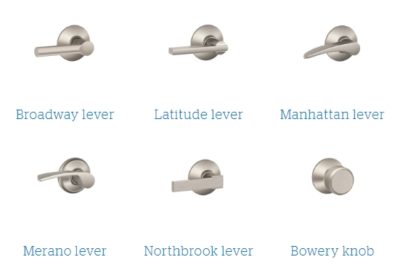 Knobs – These are round and ball shaped. They are grabbed with a fist and rotated. The knob should fit within the grasp of your hand (except perhaps ornamental designs). These are usually the least expensive door hardware option.
Levers – These turn like knobs buy have a lever instead of a ball. They do not require grasping and are more suitable for ADA requirements. They will usually be more expensive than as a knob.
Handlesets – On the outer door, these are long and often ornate handles, typically secured at the bottom with a bolt, and use a thumb-press to open. On the inner door, they are paired with either a lever or knob. Handlesets are by far the most expensive door options, and are also the most prone to failure.
Deadbolts – While the above will self latch upon closing, a deadbolt requires either a key or thumb turn to latch (lock) and open. They are used for added security on a locked door.
What Does the DND on My Key Mean?
It stands for "Do Not Duplicate". If you don't want someone making a copy of your key, stamping a key "Do Not Duplicate" is the simplest way, but although at one time this was sufficient, DND stamping no longer prevents duplication. There are better ways to accomplish key control, most notably restricted keys.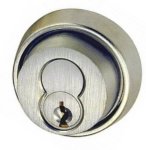 What are IC Cores
IC Cores are special lock cylinders for commercial buildings. They are designed to be removed from the lock without taking the lock off the door.
This allows the lock to be rekeyed or have a completely different keyway installed almost immediately by simply removing the old IC Core and inserting a new one.
To remove an IC Core, a specially cut key, called a control key, is used and this key will pull the IC core out of the door when it is turned and pulled.
Two main advantages of IC cores are that 1) the lock can be upgraded to a high security key without having all of the hardware replaced and 2) it can be very quickly rekeyed by performing the rekey process offsite and then coming out to swap the IC Cores with the new cores that use a different key.
The main disadvantage is that if the control key is lost, the core cannot be removed. So it can't be simply rekeyed. In many cases the cores will then need to be drill out and a new core installed. This adds significant cost to a rekey should the control key be lost.
What is Door Egress
Door egress is the act of exiting a building through a door. Building requirements require that a door can be opened to exit a building in no more than one-single motion (such as turning a lever or pressing a push bar).
What is Access Control / Keyless Entry
Access control or keyless entry is primarily a term used on commercial buildings. It gives people the right to enter a building without the use of a key.
Entry can be from Pin code, fingerprint, FOB, employee buzz-in, etc….
Access control systems are further broken down into wired and wireless. For details on Access Control see our detailed article "Access Control Overview."
What is a Lock Box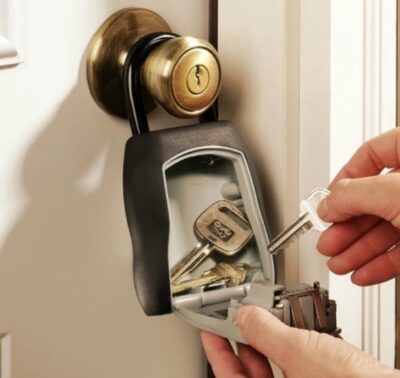 Lock boxes are placed somewhere on a home or buildings property and contain the key to that home/building. The keys in the box are accessed by entering a pin code or combination.
The are primarily use by realtors, but are also found on many commercial buildings. On commercial buildings they contain keys to the fire rooms or electrical rooms so maintenance crews can perform their work.
The boxes can be looped onto poles (like looped unto a water line or gas line) or they can be mounted directly to the building.

More of Our Favorite Security Products
See our Amazon Store for Videos and Links to All of Our Favorite Security Products.
Door Armor: Reinforce your doors. This video on YouTube shows the installation of Door Armor, and you can buy the product direct from Door Armor at a great price.
Video Doorbells: This video doorbell offers great images and video and has NO monthly video storage fees. Watch our SkyBell Video Doorbell Review on YouTube and buy it on Amazon.
Smart Locks: Access Your Locks via Smart Phone. You'll find some of our favorite smart locks that allow you to control home access and monitor entry in our Amazon Smart Lock Shop. Watch our Smart Lock Comparison Video on YouTube fore reviews of the most popular Smart Locks.
High Security Safes: When you want a safe that is designed to protect the valuable you put inside, you want a high security safe found on ACME Locksmith's Safes for Sale website.
Sliding Glass Door Lock: The best arcadia door lock that stops your sliding glass door from being lifted out of it's tracks and to prevent little ones from opening the door and leaving the home. Check out the video on YouTube and Buy it on our website.
Padlocks: Not all padlocks are created equal. These padlocks are the best for their specific application. See our Favorite Padlocks on Amazon.