What Locksmith Equipment & Tools are Needed to Run a Locksmith Business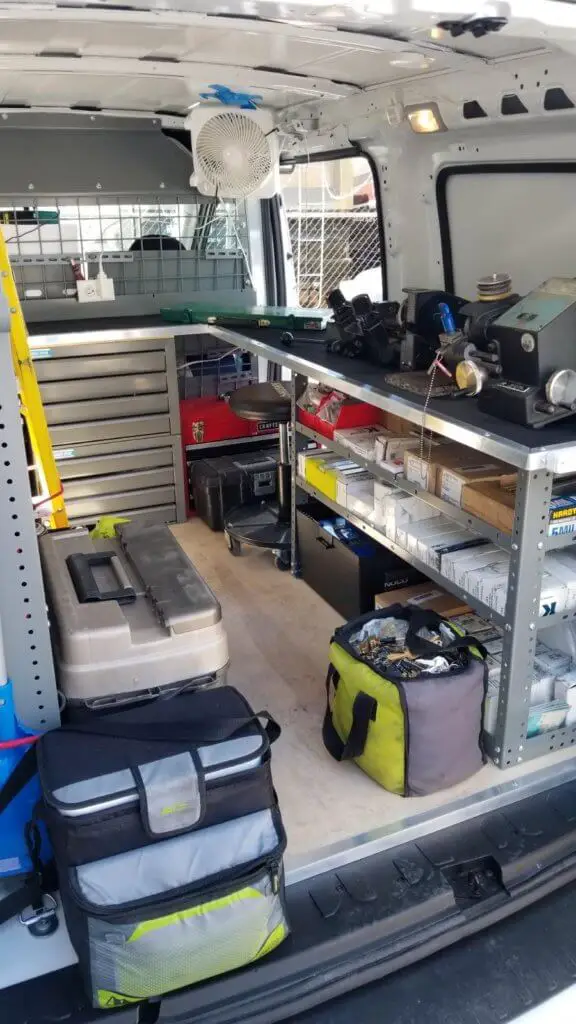 One of the first decisions you'll need to make before starting a locksmith business is how much are going to have to invest in tools and which will issue going to need to buy? This article that will help you determine both of those things.
The tools you will need to become a locksmith are key cutting machines (for key origination and duplication), software for code retrieval, lock picks, and a variety of small tools. This list talks about the basic locksmith tools and locksmith equipment necessary to get started and perform the most common locksmith services. As you grow your skill set, and start offering additional services, additional tools will be needed.
Jump to:
The Best Key Cutting Machine
Key Code Software
Auto Key Programming Tool – Tools for Key Programming Business
Locksmith Van Shelving
Misc Locksmith Hand Tools
Optional Locksmith Equipment – Recommended for Shops
Locksmith Starter Kit – the Essential Locksmith Tools
YouTube Video What You Need to be a Locksmith
Since ACME Locksmith is exploring locksmith franchises, we've spent a lot of time researching tools and machinery so our franchises can get up and running affordably and quickly. Below are some of the best tools and machines available to start a locksmith business.
If you are considering starting a locksmith business, you first need to decide if you are going to be a mobile-only locksmith service (you have no locks shop and only serve customers at their locations) or if you will have both mobile locksmith service and a lock shop / storefront.
Though there is considerable overlap but the tools needed for each are a bit different. In general though, the equipment in a mobile vehicle is a subset of the equipment in a shop.
Quick Answers to Common Questions
How Much Does it Cost to Outfit a Locksmith Van?
It is typical to spend $10,000-12,000 on tools to fully outfit a van for a mobile locksmith business. That includes advanced key cutting equipment, shelving and base-line initial inventory. But what are the tools? We'll show you.
Where is the Best Place to Buy Locksmith Equipment / Tools?
One of our new favorites is the online site Alibaba. Their key cutting machine prices are simply fantastic. For things they don't carry, a lock distributor usually provides the best price. In this article we show our favorite products and where you can buy them.
Are the Tools Needed for a Locksmith Shop Different than a Van?
The van is a subset of the tools your shop should have. There are additional tools and equipment you will want to have in your shop. Primarily to ensure that your shop always stays running there are a number of inexpensive backup machines that are beneficial.
Advance Laser Key Cutter and Key Duplicator – The Miracle A9
Keys and the key cutting equipment have come a long way. Twenty years ago you just needed one machine to cut nearly every key there was. But then things started changing. Automotive keys switched to high-security keys, where the cuts run down the middle. These keys require a new milling machine to cut. Some car manufactures introduced Tibbe keys which required add-on tool cutting devices or a new machine all together. Dimple keys are a form of high security, they have little dimples drilled into the side of the key, and that was another add-on tool or machine to required to cut the key. And then there are barrel keys. Yep, another tool.

Wouldn't it be great if you had one key machine that could cut all of these! Well, now there is one, the Miracle A9 / SEC E9. There's just one catch, you have to purchase numerous jaws to handle everything so it can get quite expensive (a jaw holds a specific type of key so it can be cut properly) , but if you do purchase those, this one machine can handle just about every key you will ever run into (except machines designed specifically to cut one type of high security key, for example Mul-t-lock requires their own machine).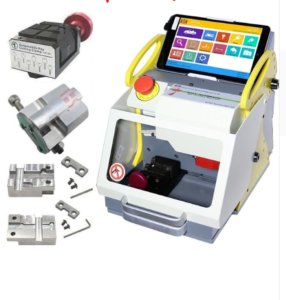 The Miracle A9 / SEC E9 is a milling machine that allows you to cut nearly every key by code for key origination (when no key is available) and to cut duplicate keys. Swapping the jaws out of the machine can take a few minutes. For mobile service this isn't that bad since you will most likely be cutting similar keys at every job site and switching the jaws infrequently.
For shop work though, this can slow you down tremendously especially when you are busy. For this reason, we always have the more traditional machines available in our shops (a basic key duplicator, laser key duplicate and barrel key machine). We only use the A9 in our shop to cut Tibbe keys and for automotive laser cut key origination.
The great part about the Miracle A9 / SEC E9 in a mobile van is that you save a lot of space. It is replacing three other machines so you save space that can then be used as additional work space or to carry, thus sell, more product.
The US version of this machine is the Miracle A9 and runs about $5,200 for they key cutter with basic jaws. But I found it on AliExpress for about half that! Check the latest price on AliExpress. If you don't know, AliExpress is China's version of Amazon. It can take several weeks to get the product, and customer support is extremely limited, but you save a ton which can be important when starting a business.
In my opinion SEC E9 is the most essential piece of locksmith equipment if you're locksmith business has a shop.
If the price of the Miracle A9 / SEC E9 still scares you off. You can get by with the three more traditional machines (a basic key duplicator, laser key duplicate and barrel key machine) instead of the Miracle A9 / SEC E9. We've listed those below as optional because they really aren't needed in a mobile locksmith vehicle when you are using the Miracle A9 / SEC E9, but they do benefit a locksmith shop because you can cut keys more quickly and you'll always have a spare machine if one goes down.
Advantages of the Miracle A9 / SEC E9:
Once machine does it all and saves valuable van space.
Disadvantages:
Expensive. Between $2500 and $5500 for the base product before you add on the extra jaws needed to do all of the key blanks.
If you don't have backup key cutters and the Miracle A9 / SEC E9 goes down, you are shut down for business until you get it fixed.
Key Code Conversion Software
Codes are available to cut many keys. A lot of locks will have a code stamped on them and that's how the code is found. For automotive locksmithing, the VIN number of the vehicle is often used, with an outside service, to provide you with the key code.
Once you have the key code, you need software to convert it to the actual cuts that are on the key. This is the security step, a key code is useless of you don't have the software to translate it to the cuts needed.
The Miracle A9 can be programmed with the cuts so that a key can be made when no key is available. There is also a very common locksmith machine, the HPC Blitz, that does the same thing (details below).
We use software called Genericode to handle the code translation for us. Another great source, with a subscription, is Lock Codes Online.
Car Key Programming Equipment
Modern car keys need to be programmed to the car by a locksmith or dealer so that the key will start and continue to run the vehicle. Without it, the car will stall after a few seconds. The most common tool out there is by Advanced Diagnostics. They offer several tools: T-Code Pro, MVP Pro, Smart Pro. Which you use is more about personal preference. They all can program most vehicles.
These are VERY expensive pieces of equipment ($3,000 to $6000). AND once you buy them, you need to purchase tokens in order to use them. Each time you try to program a car, you use a token. When you run out of tokens, you'll need to by more. The benefit to the Advanced Diagnostic tools is that they are widely used and well supported. Even though we don't use their tools, due to pricing and ongoing expenses, most locksmiths do.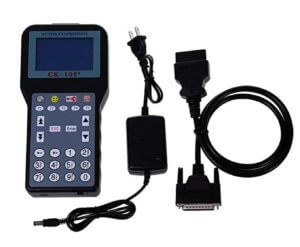 There are less expensive options and a great way to start into auto key programming without spending a lot of money upfront. With the internet and access to resellers all over the world, you can pick up simple key programmers for just a few hundred bucks. These are limited in their coverage so you need to understand which cars they will program and which they will not. Most will handle pre-2014 models. If you buy two or three different tools, you can get pretty good car programming coverage for a few hundred dollars and have no token fees (no ongoing fees). We've had good luck with the CK100, check pricing on Amazon. The CK100 is for car keys only. We've also had success with the SKP900 (see it on AliExpress). The SKP900 is a bit harder to use, but it is one of the lower priced car key programmers that allows you to program keys and remotes.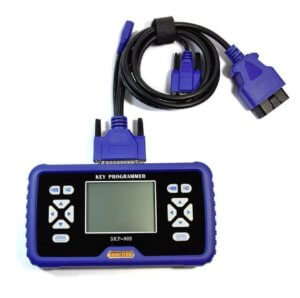 The only problem I have found with the import tools is that they have zero customer support and practically zero documentation. Some off them require a thorough knowledge of cars in order to use them.
For example, a good key programming tool will take you to the programming of a specific vehicle by inputting the year make and model of the car. Some of the complicated ones will not do this. Rather, they take you to the programming by your knowing what type of system is installed in the car and choosing it (this is the SKP900 method). Without a great understanding of car locksmithing, they are difficult to use.
Once you can program car keys, some vehicles require a special pin number in order to continue with the programming. Those pin numbers can be provided through many online services. Chrysler is a good example of cars that need PIN codes to program.

Van & Shelving
First, let's address the van. There are full size, and then there are the newer smaller vans you see around such as the Dodge ProMaster City or Ford Transits. We've converted almost our entire locksmith service fleet to the smaller work vans.
Fuel is expensive and this gets us the best gas mileage saving us thousands of dollars every year. We can us the smaller vans because our shops can stock the parts we don't need often. If we find we do need something, we can always run by one of our local locksmith shops to get it.
If you are a mobile locksmith only, you may want to carry more product in your van, so you will want to consider that larger vehicles. If you are going to do safe deliveries or safe moves, a larger van or truck will be needed to haul the safe. Think about your needs then decide on the right vehicle for you.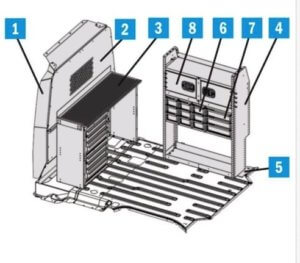 Outfitting your van is a personal preference. We recommend a work space (counter top) and as much storage as you can fit into it. You'll need your van measurements and you can pick up much of what you need online.
Adrian Steel also makes some nice systems that are prepackaged for the locksmith industry. These prepackaged systems are setup based on the type of vehicle you have, so you know they will fit. Ebay has them with good pricing. We've always custom made our vehicles using the Adrian Steel products, but the kits are a great and easy way to get started.
Misc Hand Tools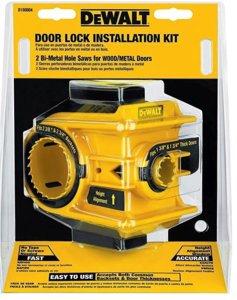 Door Lock Installation Kit: For fresh installation of door hardware. Our locksmiths like the Dewalt installation kit at Home Depot. It works well on wood and steel doors. Note. This is not a commercial grade lock installation kit. If you are doing fresh installs of locks frequently you have two choices. Upgrade to the Bore Master Installation Kit installation kit, or the Kwikset 138 installation kit. These are aluminum kits that will last a lifetime but their price reflects that. They come with every bit you'll need and the Bore Master makes quick work of strike installations with included router templates. You can go through 10 of the Dewalt kits before reaching the price of one of these professional kits.
Hand drill: Our locksmiths are also vans of the Dewalt drills. We once tried to switch to Ryobi but their batteries failed so often they ended up being much more expensive. Dewalt just builds a good drill that lasts and lasts. Dewalt has a 20V package kit with 2 batteries, and both standard and an impact drill, making it a real bargain on Home Depots website.
Tubular Pick: Tubular picks have one really cool thing about them. Once you pick the tubular lock open, you then use the pick to cut a tubular key (see optional equipment below). The best deals on these are at eBay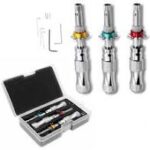 .
Pick Gun and Pick Set: Which you rely on will depend on preference, but it's good to have both and both can be found for good prices on eBay.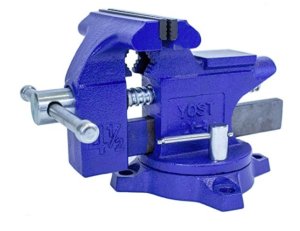 Vice
A vice is critical for key impressioning (making a key when no key is available) to hold the key while it is being filed into shape. A smaller one is sufficient for a van. Get a beefy one for you lock shop. They come in very handy. Stay away from the really flimsy vises that have a ball joint. This makes them difficult to stay in one position when filing a key.
Optional Locksmith Equipment & Tools for Lock Shops
Most of the following are key cutting machines. As mentioned earlier for van worktop space, one machine that does it all is best. But backups are important. If your one machine goes down, your locksmith business will be dead in the water without backups. For mobile-only locksmith vans, just keep the backups available in your garage. If you need one, you will have them and can put the backup key machine in your van until your main equipment is repaired.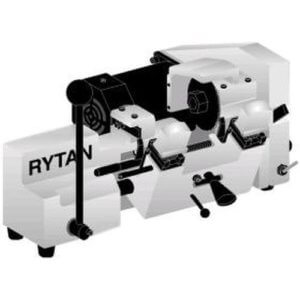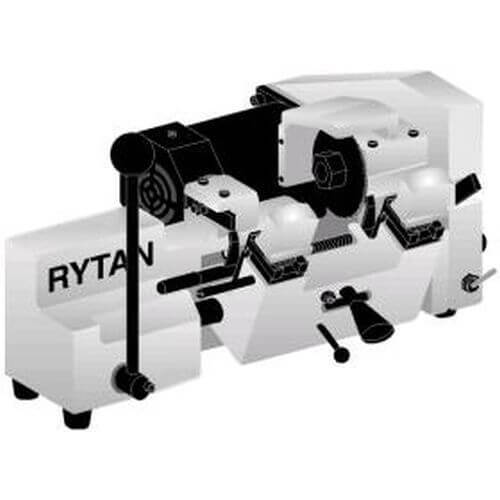 Basic Key Duplicator
We love the Rytan key duplicator. It is the backup duplicator in all of our shops and the main duplicator in our lock service vans for those that don't have the E9 yet.
We like the Rytan 200 for it's 4-way jaws allowing it to cut auto and most any standard key blank. It is as heavy duty as it gets and they offer good customer support. These are getting difficult to find online from anyone other than a locksmith supplier. We have seen the on eBay before.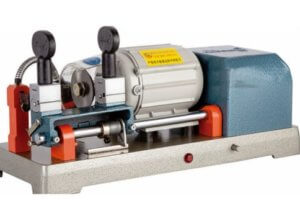 But, there are much less expensive options that can still serve you well if you are just using them as a backup. Those offered on AliExpress and eBay are less than a few hundred dollars.
We do like the Defu 2AS as a budget cutter. You can see that they are not nearly as heavy duty as the Rytan key machine, but they'll due until you can afford a Rytan.
Inexpensive Laser Key Duplicator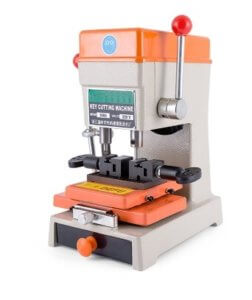 The same thing applies for laser key duplicators. If you have a lock shop, get a good heavy duty one. If you are mobile, a light duty one should suffice.
Why not a backup laser-cut, high-security key originator? Why just a duplicator? Because laser cut key origination equipment is the most expensive. If you wanted a backup of that, you'd just get another Miracle A9 / SEC E9.
For the heavy duty duplicator or preference is the Matrix Sidewinder duplicator. For the inexpensive, we picked up the Defu 368a from AliExpress and couldn't be happier with it. It's duplicated every laser cut key we've tried with it. It is not heavy duty, but for an affordable high security key duplicator, it is a great little machine for less than $200 on Ali Express.
Tubular Key Cutter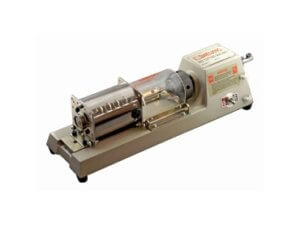 Another key cutter we found at a great price using AliExpress. Wenxing 423A Tubular Key Cutter. We were using another product that cost 5X as much. When that died, we found this one. It seems every bit as well built as the more expensive version and we've had no problems with it. Buy it from AliExpress for great pricing. These often sell out in the 120V version, but we ordered the 240v in our latest shop and use a voltage transformer from Amazon to run it without issue from a 120v outlet.
HPC Blitz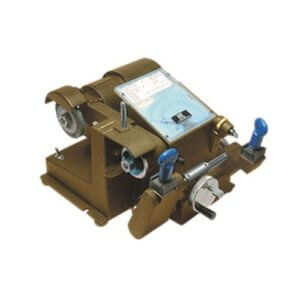 This recommendation is debatable nowadays. Although we have these in every lock shop we have and on every lock service van, it is incredibly expensive now that we know we can get the Miracle A9 / SEC E9 for less. But this key by code (making a key when no key is available) tool has been such a workhorse for us over the years that I ended up putting it on the list.
It is built from heavy duty material and should it ever fail, their support team services and returns them quickly. The main issue is that it cost more than the SEC E9 does. However, because of the quality of the built and it being a purely mechanical key cutter, you'll get years of use out of it and it is a reliable backup. Price it on eBay.
Car Opening Set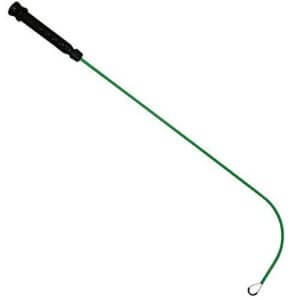 Wait, you're telling me a car opening set is optional? Yes, I am. Car opening use to be a significant part of a locksmith business. But nowadays, it's not. It comprises less than 5% of our overall business.
If you are going to originate keys for cars and that car is locked, this is a quick way to get in. And if you do want to perform the service, you need the tools. Basic car opening kits can be found on many sites very affordably.
The most important took you need to be sure is in the kit (or buy it separately to add to you kit) is a long reach tool. This tool is required for many cars but is more expensive than some entire car opening kits so many don't include it. You can find it on eBay for a good price.
Belt sander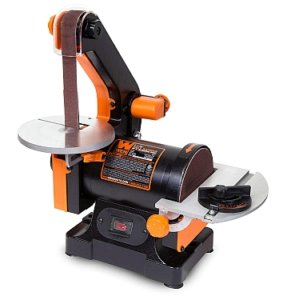 A miscellaneous tool for sure, but if you have a lock shop like ours in Phoenix they comes in very handy. There are literally tens of thousands of key blanks and your lock shop can't stock them all. Many times someone will come into a shop and you will have a blank that is just a little too long, or a little to wide, but otherwise it's perfect.
Belt sanders allow you to make changes to the key so that it can be used when an exact match is not found. In my experience having both the wheel sander and belt sander attach as one unit comes is very useful. Because this it is not used often, a light duty sander if perfect and affordable, like this sander on Home Depot.
Locksmith Starter Kit
Since posting this article, I've been asked numerous times to provide an essentials list of locksmith equipment for those just starting out. This is my list.
If you are going to start a mobile locksmith business and want only the most-essential, most affordable locksmith equipment and tools to get up and running this is what I would choose. This locksmith starter kit will not let you run 100% of every call that comes your way, but it will give you enough coverage to build cash flow and save for the more expensive, enduring pieces of equipment we've discussed. For more information on these items, read the sections above.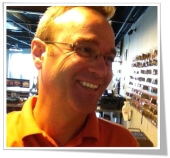 Robert has been the Owner of ACME Locksmith, Arizona's #1 Rated Locksmith, since 2007. ACME has provided locksmith service to over 160,000 Phoenix houses and businesses.
Over 1400 5-Star Rated, Verifiable Arizona Customer Reviews
Super Service Award Winner Eight Years Running
Selected as an Angie List Phoenix-Best Contractor
BBB International Marketplace Excellence Award Finalist
BBB Ethics Award Winner – The Only Locksmith to Ever Win this Award