Last Updated on November 18, 2022
In our article "How to Lock Drawers" we discussed several types of locks that also lend themselves well to locking cabinet doors.
The nice part about cabinet door locks is that there is always a door to easily attach the lock to, and there is always ample surfaces in which to secure the latching component of the lock.
This allows for several other products to be used to lock the cabinet door so you can really find a product you like with the budget you'd like to spend. There are some very nice selections available to match almost any need and style.
The preferred ways to lock cabinet doors are:

Using Cam Locks to Lock Cabinets
Using a cam lock to secure a cabinet door is the most common method of locking a cabinet. They are common and affordable (see pricing on Amazon).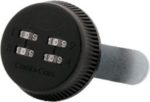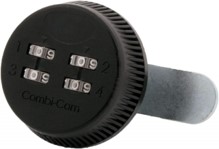 In a cam lock installation you will need to install a catch on the inside of the cabinet door (a cam lock strike) for the cam to latch to when the door is closed. They are very affordable on Amazon so buy in bulk for all your cabinet doors.The combination cam lock (price on Amazon) is also a good option here if you don't want to be bothered with keys. A code can be dialed in before turning the lock.
There is one additional consideration you have with a cabinet lock when two cabinet doors close together but there is no vertical bar between the two doors. In this case, if you want to use a single lock for both doors you will need either:
To create a fixed side on one of the cabinet doors,
Or use a special locking device that will lock and unlock both cabinet doors automatically from one installed lock.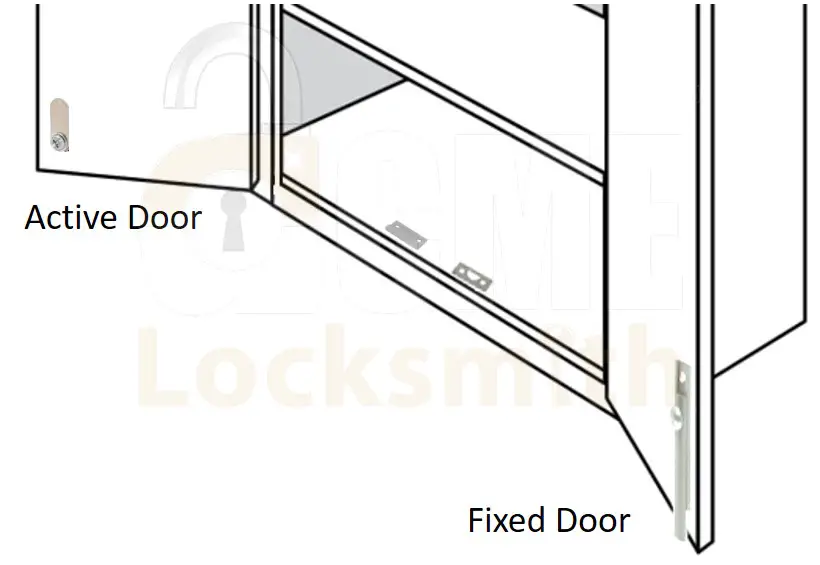 When we use a non-electronic cam lock on a double door cabinet (either keyed or combination), we often create a fixed side on one of the doors.

The fixed door is secured to the cabinet with a slide bolt, then the locking door (the active door) is secured to the fixed door after the fixed door is closed. When you need both doors open, you unlock the cabinet's active door and then reach into the cabinet to unlock the fixed side of the door.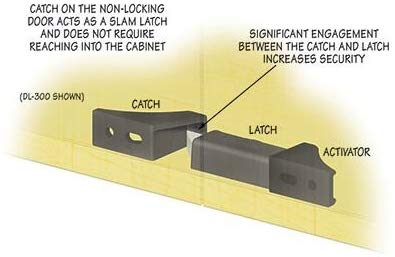 There is an awesome product by Timberline that will lock both cabinet doors together, no matter which door is closed first, and allow both doors to freely swing open once the locked side has been opened.
This product requires you to pay attention to the part you buy (there are multiple versions and how you are going to install your cabinet lock. One part is meant for when a lock is installed on the left and the other part for when the lock is installed on the right.
Electronic Cabinet Locks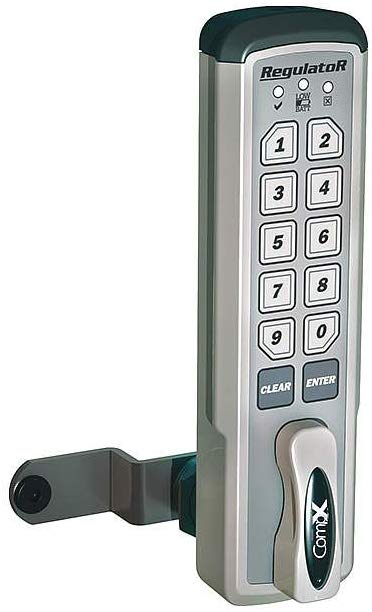 One of our favorite cabinet door locks is the Compx Regulator Keyless Electronic lock (price it on Amazon) .
We love this keyless cabinet lock and have installed many in schools and offices as part of our business services. It's especially useful when combined with the Timberline double door latch. This electronic cam lock with the dual door latch is rugged enough to withstand heavy use and perfect for school and office applications.
Hidden Cabinet Door Locks
There are primarily two types of hidden cabinet locks: pin-pad controlled and magnetic locks.
The first lock we like for business applications. It's called the Stealth Keyless Cabinet lock as well. It's made by the same company as the Regulator. It's got a great price on Amazon. With the Stealth lock, you have all the same benefits of the electronic lock plus the following:
Not visible from the exterior of the cabinet
Quick installation (~10 minutes) with no large holes to drill for the cam of a cam lock
Keyless operated using a pin code
The pin-code pin pad can be installed up to 15' away from the lock
The pin pad can control several locks at once. So for a medical office or other multi-drawer facility, you can unlock all the drawers using one code and one keypad
When using these locks, we always recommend the optional power supply. Without the power supply the lock is battery powered and the batteries are on the inside of the cabinet.
Child Safety Cabinet Door Locks
We are seeing magnetic cabinet door locks used most-often as a child cabinet safety lock. They are being made very affordable (check them out here on Amazon) because most of the magnetic cabinet lock manufactures are using plastic components specifically aimed at the child cabinet safety market and not security market.These locks are installed quickly (in many cases requiring no drilling) and don't require a key to open. More importantly, they won't ruin the beauty of the cabinet door because they are not visible on the exterior of the cabinet. They are ideal for locking kitchen cabinet doors or bathroom cabinet doors to prevent young children from opening the door.

Instead of a key, a strong magnet is held up to the door in the approximate area of the lock. The magnet retracts the latch so that the door can freely open.
If your interest is to create a child-safe cabinet, these are a great option.
Locking Wooden Sliding Cabinet Doors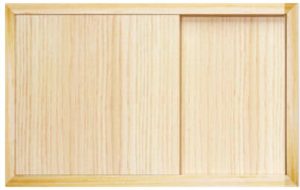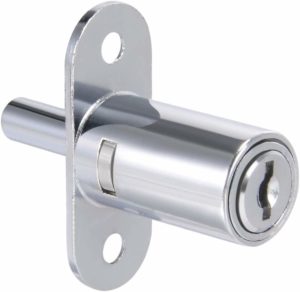 When you have two wooden drawers the slide in front and to the rear of each other, a plunger lock will become your best friend.A plunger lock is a push button lock (shop on Amazon). When pushed in, a plunger rod in the back of the lock slides in the same distance into whatever is behind the lock, and the plunger lock is locked into place until the key is used.

For sliding wooden doors, it's an ideal option since the rod of the plunger lock can slide into a hole made into the rear sliding cabinet door preventing the doors from opening.
Locking Glass Cabinets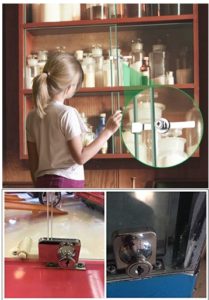 Often times there is a need to lock glass-based display cases. There are products for these, too; we call them 'showcase locks'.
These are locks designed to be attached to glass surfaces and there are a variety of options depending on how the sliding glass cabinets are configured. Sometimes they are secured via a pressure screw to hold the lock to the glass and sometimes, they are epoxied onto the glass. We view the epoxy as the better solution since it distributes force/pressure and makes the glass less likely to break, but they stopped making our favorite glass cabinet lock a few years back.
Various DIY options though can be found on Amazon.
Most solutions offer limited security as the glass can simply be broken. They are meant to keep customers from quickly swiping something out of a glass cabinet unnoticed. But for high end markets, like jewelry stores, there are entire companies devoted to high-security glass locks. Locks for glass cabinets is perhaps worthy of an article all its own.
Disclosure: As an Amazon / Google Associate I may earn from qualifying purchases.