Last Updated on November 18, 2022
Types of Drawer Locks
We get calls all the time asking how to secure things like desk drawers, garage cabinets and other small cabinet spaces. In most situations, these aren't needing to be anything robust, just something to keep honest people honest or maybe little kids away from where they ought not be prying. So the drawer locking solutions can run from the basic to the more advanced when security is indeed the primary goal.
Drawers are most often locked with cam locks. Cam locks come in both keyed and keyless lock (electronic) varieties. Other drawer lock options available are: drawer deadbolt locks, plunger locks, magnetic locks, and hidden drawer locks (not visible) so no one is aware they are installed.

In other cases, schools and offices that are securing medical supplies, will want a bit more security in their lock as well as the ease-of-access of a keyless lock.There are hundreds of products made to lock drawers. They range from just a few dollars, for the simple cam locks, to hundreds of dollars for high-security lock systems built into small application locks. We'll look at some of the most common drawer locks we install.
A word of caution on installing locks on any low-end wood product. Low-end wood products do not gain a great deal of security from a cabinet lock installation. The lock installed on wood products will only secure the cabinet to the extent that the wood protects it. Particle board is very weak. Locks installed on particle board drawers are primary for simple prevention (keep kids out, keep honest people from being tempted, stop someone from snooping, etc…). Particle board, even with locks, and will not prevent break-in.
Which Drawer Lock Should I Install?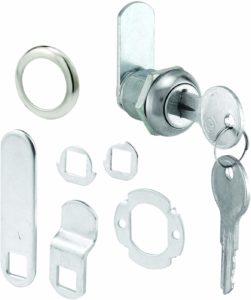 Locking drawers is all about determining:
Where space exists to house a lock that won't impede the drawer's movement and
Finding a surface in which to secure the lock.
Often, the drawer lock you choose is simply the one that can be the easiest to install based on these two factors.
Desk drawer lock options are plentiful. The most common we install are cam locks, deadbolt locks, plunger locks, or a stealth keyless lock (name the stealth because there's no indication that a lock is on the drawer).
The simplest drawer lock to use is a cam lock (readily available and affordable on Amazon) installed in the center top of the drawer face. A cam lock is very similar to your mailbox lock that you may already be familiar with.

The cam (locking piece) will turn with a key to secure the drawer against either part of the drawer or a metal catch installed under the desk surface. Most cam locks come with several different styles of cams so that you can choose the one best suited for your drawer.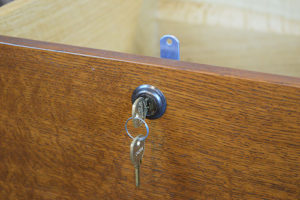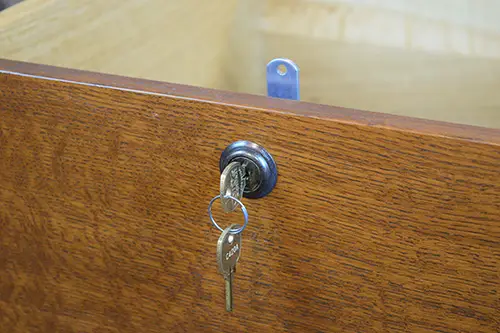 Cam locks can use standard keys or tubular keys.What if you want to lock a drawer without a key? Several manufactures are now making keyless, combination cam locks in both mechanical and electronic versions. For drawers, we recommend mechanical keyless cam locks. Since these are a mechanical keyless cam lock, they are small enough to not overwhelm the drawer by their size, and they are easy to use. Electronic keyless cam locks are bigger and better suited for larger cabinets.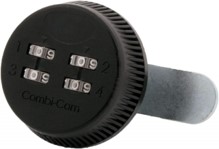 The mechanical cam lock called the Combi-Cam is our favorite and affordable on Amazon.
The other most commonly used and found drawer lock is the deadbolt lock for drawers. This lock works similar to a home deadbolt in that a latch extrudes from the lock into an installed strike to secure the door. We like these because the backing of the lock (inside of the drawer) is larger than a typical cam lock. Thus, there is more distribution of force making it harder to break open.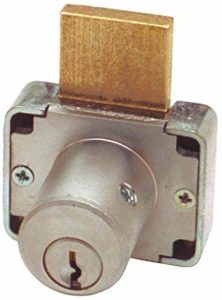 For best security, we recommend the Olympus deadbolt drawer lock, available on Amazon.
Another options you have for drawers that are on the side of a bench or desk, is a plunger lock. A plunger lock is installed to the side of the desk frame. When the lock is pushed in, a "plunger" or pin gets pushed into a hole that is drilled within the drawer's side. This locks the drawer in place.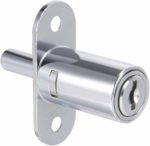 Plunger locks are a great way to lock drawers when the drawer is on the side of the desk/bench as they are often the easiest to install. They are also very affordable (see on Amazon).There are two things to be cautious about with plunger locks. First, plunger locks can be locked without a key. You simply push the lock in. So if your key is in the drawer at the time of locking, you are locked out. Secondly, plunger locks will protrude out the side of the desk. It is not a flush installation.
The last lock we'll talk about is primarily used to lock office drawers, medical facilities, school nurse's office, etc…. It can be used as both a drawer lock and cabinet lock.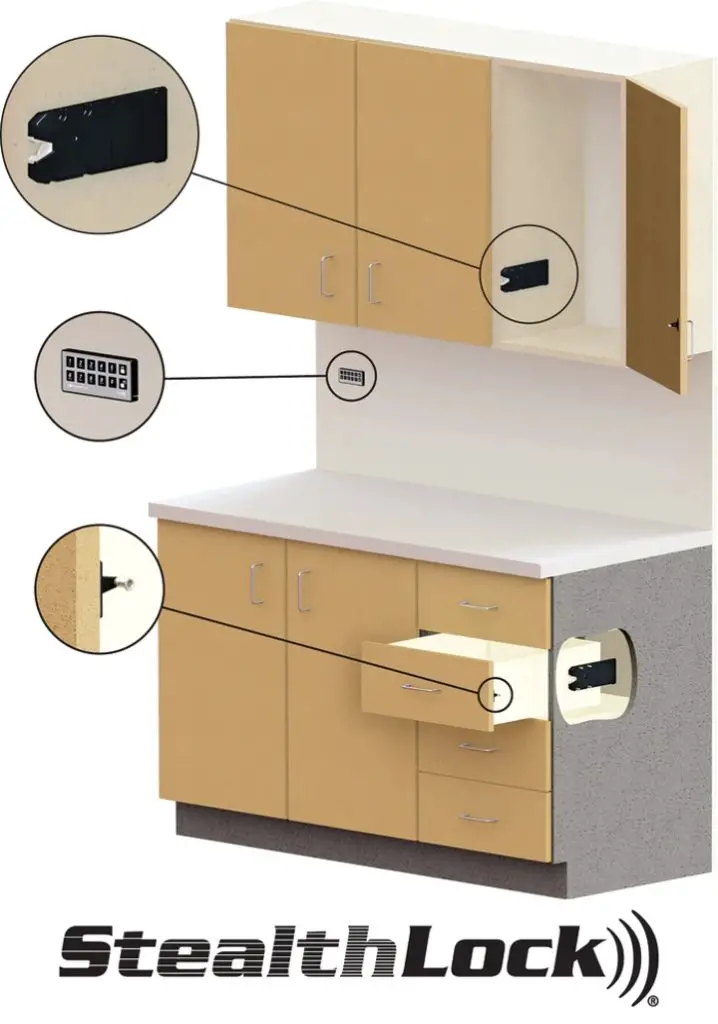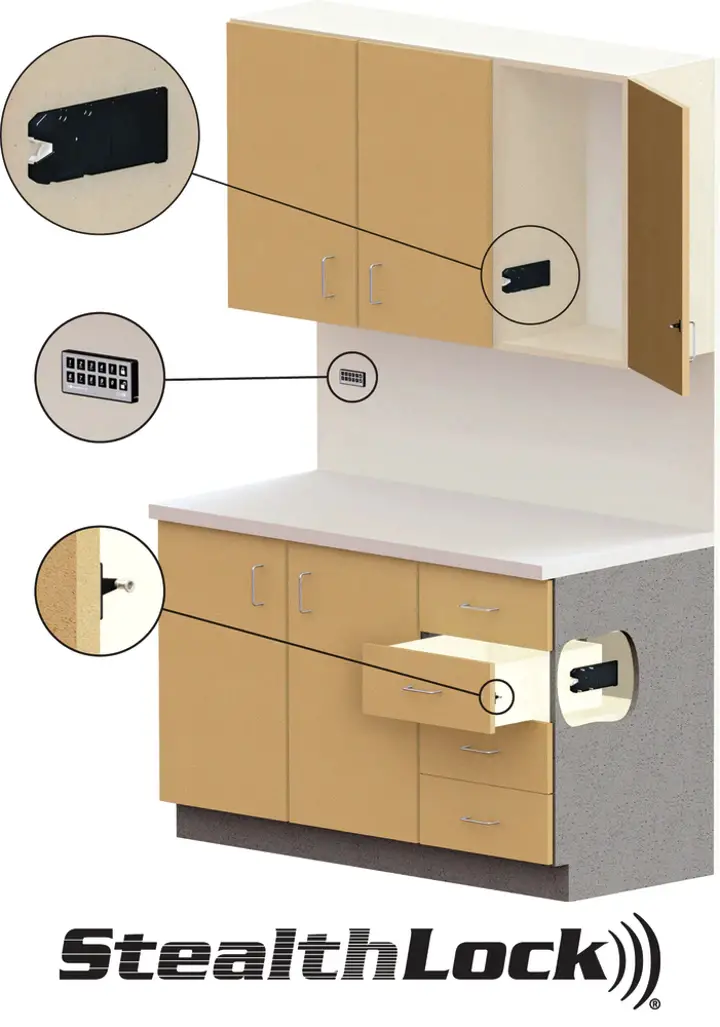 This lock is the stealth keyless, electronic lock. Though the most expensive of the drawer locks we've discussed (price it on Amazon), it is the best for the above applications because:
It cannot be seen from the exterior of the drawer/cabinet.
It can be installed in about 10 minutes with no large holes to drill.
It is pin-code operated, no keys.
The pin-code pin pad can be installed up to 15' away from the lock.
The pin-code pin pad can be setup to control several locks at once. So for a medical office or other multi-drawer facility, you can unlock all the drawers using one keypad.
It is battery operated with a plug in options.
We've installed hundreds of these and we would recommend you get the power plug option if it is at all possible. Though expensive, Amazon has them about a well priced as you can find them.
A Word of Caution When Installing Drawer Locks.
If the material is particle board (made up of little bits of wood that are pressed and glued together), the material will not hold up well to drilling holes in it, especially anywhere near the edge.
When drilling all wood material it's helpful to place painters' tape over the drill spot before drilling to help prevent chipping. Most camlock style locks are coming with little metal goof rings that will create about a ¼ inch metal ring around the lock to hide any chipping.
Additionally, partial board may start crumbling, cracking or breaking in a short period of time in areas with too little material. If it's thinner than ½ inch, the material will be too weak to support even as little as the functioning of the lock.
If, in any application, you find you are working with particle board material, use extreme caution. If the particle board has been laminated on all sides, it's an only just-slightly-better circumstance. Store your valuables elsewhere.
Disclosure: As an Amazon / Google Associate I may earn from qualifying purchases.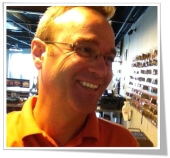 Robert has been the Owner of ACME Locksmith, Arizona's #1 Rated Locksmith, since 2007. Robert's company has provided locksmith service to over 160,000 Phoenix houses and businesses.