How To Lock File Cabinets
Our number one request in small lock solutions is for filing cabinet locks.
There are a few possible situations, and a locksmith can help you with all of them. When you need to lock a filing cabinet, you might: just need a filing cabinet key, want to replace a missing lock, or are looking to add a lock to the filing cabinet. Depending on the application, you can lock a filing cabinet with: cam locks, filing cabinet locking bars, hasps, plunger locks and dead latch locks.
Jump to:
How to Get Replacement File Cabinet Keys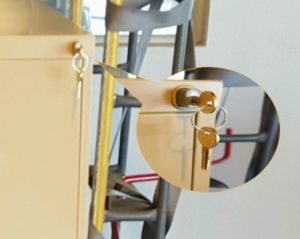 Your local locksmith can replace lost file cabinet keys by making a new key for the lock. This can be done either in their shop or at your site, and it can cost as little as $20. To replace the lost file cabinet key, the locksmith may cut a key by code or impression the file cabinet lock..
To make a key by code for the cabinet, the locksmith will use the numbers that are on the front of the lock.
If there aren't any numbers, or the code isn't in your locksmith's system, a locksmith can hand-file a key to work the lock. This technique is called 'impressioning', and usually costs a bit more than cutting a key by code.
In some cases (such as a single lock needing to have a key made), it may be less expensive to simply replace the lock than to replace the missing key. But it really depends on the lock. When there are several or more cylinders that operate off the same key code, impressioning a file cabinet key or cutting a key by code is the way to go.
To save even more money, when the cabinet is not locked, you can remove the file cabinet lock and bring it to your local locksmith shop.
When a local locksmith goes to your site there is a 'trip fee' charged to cover that cost. But, when you bring the lock to a locksmith shop, you won't need to pay that and will save a significant amount of money.
If you can't figure out how to remove a lock from a file cabinet, see if there is a manufacturer listed on the file cabinet, and search online – there is probably a video or article showing you how to remove the lock.
Can My File Cabinet Locks Be Rekeyed?
We're often asked if we can rekey file cabinet locks. In most cases, we cannot.
Most cam style locks are riveted together and not designed to come apart, and service kits (either pins are wafers) are not available.
There are a few instances where cam locks are rekeyable, however. If your locksmith has a pinning kit for the style locks, they may be able to. But even when that is the case, it's typically less to just replace it if it's a standard cam lock.
How To Replace A File Cabinet Lock?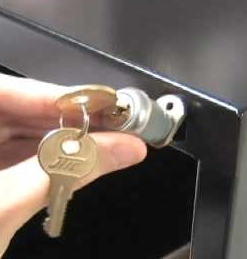 The simplest way to replace a missing file cabinet lock is to replace the lock with a cam lock. If a standard cam lock doesn't work, replacing the file cabinet lock might not be worth it when it is an inexpensive file cabinet. The cost of researching the correct part for the cabinet, the part itself , and the labor to install the part will exceed the cost of many cheap file cabinets.
But for older filing cabinets, well-built ones, fire-rated filing cabinets or otherwise high-end file cabinets; replacing the lock of an existing cabinet is the best to go. Your local locksmith will be able to order and/or install the lock you need.
Depending on the lock and the age of the file cabinet, there may be other options to lock the filing cabinet that are less expensive and offer more security.
Adding a Lock Bar to a Filing Cabinet
Filing Cabinet Lock Bars
For retro-fitting file cabinets with no locks, or instead of replacing a missing file cabinet lock, there are a number of products that can be used to lock the file cabinet.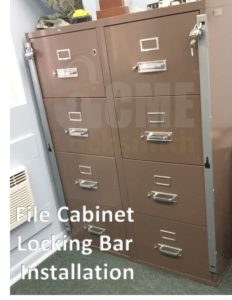 One of our favorite ways to lock a well-built filing cabinet, those found in commercial buildings and often fire rated, is to use file cabinet bars, particularly the (ABUS File Cabinet Locking Bars available on Amazon).
File cabinet locking bars are bars that are mounted on the outside of metal filing cabinets, and are secured with a padlock. The bars prevent the file cabinet drawers from being opened. Locking bars come in different and specific sizes for 1-5 drawer cabinets, and they lock all cabinet drawers at once.
They are fairly easy to install for the do-it-yourselfer, but if needed, don't hesitate to contact your local locksmith that offers business lock services to install the file cabinet locking bar. Regardless of what was on the filing cabinet at one point (if a lock previously existed) filing cabinet locking bars offer the best security across the whole cabinet.
Locksmith Tip for File Cabinet Bars: If you want, you can use a padlock that can be keyed up to your home our business key. ABUS makes one of our favorite (the ABUS 83/45 series available on Amazon). Just be sure to order the ABUS 83/45 series padlock that is the same keyway as your home or business key. Once you have the padlock, take it into a locksmith shop to get it keyed to match you existing key.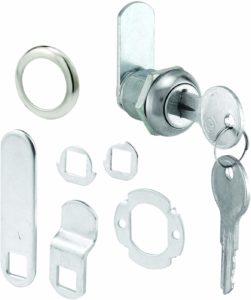 Installing Filing Cabinet Locks On Individual Drawers
If you want to secure each drawer separately, then you can sometimes fit cam locks into the drawer faces, which latch against the drawer frame materials, if the space inside allows for it.
Alternately a small piece to catch the cam arm can be put in. Cam locks are usually very inexpensive, and can be ordered to be keyed alike to or differently from each other, depending on need.
There are also cam styles that use combinations instead of keys, if you'd rather not have to use a key that might get lost. The face of these locks is a little bigger than a standard cam lock, but many people find them more convenient.
Other Ways To Secure File Cabinets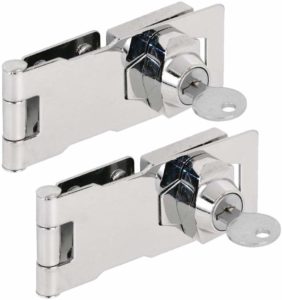 You can use a hasp between the drawer and frame to lock the file cabinet drawer.
A hasp attaches to the side of a file cabinet, and a piece of this folds over the drawer, to be secured using a padlock.
This usually isn't the ideal set-up (they aren't very visually appealing), but in some situations it can be the best (or only) way to secure them.
There are some plunger style locks available that may allow a retro-fitted cabinet to self-latch and lock upon closing, but some file cabinets may not accommodate them. These would also in this case be installed on the side of the file cabinet instead of the face, and depending on where the file cabinet is to be seated, it may not be ideal.
I'm Retro-Fitting My File Cabinet With Locks. Where Do I Install Them?
It is preferable, when possible, to install cam locks into a space that has some thickness of material to it. Very thin metal will be strained if someone tries to open the cabinet without unlocking it, and it may bend.
If the drawers have an area with more than one layer of metal used for the cam lock, it will hold up better if installed there. If your cabinets are made poorly, it may actually be cheaper to just buy a new cheap file cabinet that comes with locks, rather than the installation time and expense to retro-fit.
Installing a Lock on a Wooden File Cabinet
Wood file cabinets may also utilize a cam lock in many cases, but if they are real wood, you are open to some other options, such as flush mount locks and locks which would automatically be secured each time the drawer closed (called a 'dead latch', similar to the self-latching door lock on your home).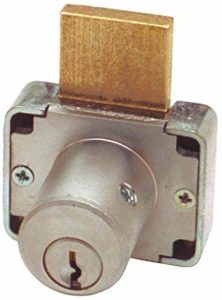 Olympus locks are great for wood filing cabinets and when installed correctly can be very secure (they are available on Amazon).In a lot of antique situations, there may be pre-cut spaces for locks which are simply missing. But chances are that there's an aftermarket lock that can fit the function and space, if you can gather the precise measurements to the existing spaces missing the locks.
If you're doing a retro-fitting, a real wood cabinet product gives you the most options for securing them in a manner that is attractive and functional. Though you may pay more for the hardware and put a little more work into the fitting of the new locks, it's worth it to have a more robust lock installed.
A final note about retrofitting locks into cabinets with particle board doors here. Particle board is made of little bits of wood that are (essentially) glued together into a flat board.
Usually, cabinets constructed of this material are not of the best quality. Drilling into particle board creates significant weak spots in the material, and they may break or 'shed' wood particles shortly after installing locks.
We don't recommend installing locks into a particle board filing cabinet. It's just not worth it. If you have a cabinet made of pressed wood, consider buying a different one, or consider storing your valuables elsewhere.
Disclosure: As an Amazon / Google Associate I may earn from qualifying purchases.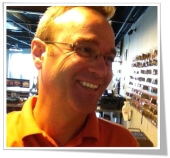 Robert has been the Owner of ACME Locksmith, Arizona's #1 Rated Locksmith, since 2007. ACME has provided locksmith service to over 160,000 Phoenix houses and businesses.
Over 1400 5-Star Rated, Verifiable Arizona Customer Reviews
Super Service Award Winner Eight Years Running
Selected as an Angie List Phoenix-Best Contractor
BBB International Marketplace Excellence Award Finalist
BBB Ethics Award Winner – The Only Locksmith to Ever Win this Award