Last Updated on October 9, 2023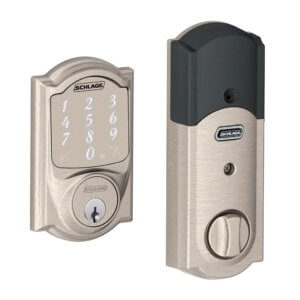 Can You Install a Smart Lock on Outdoor Gates?
With residential lock technology making big advances in the past two years, our Gate Lock and Gate Closer Service department gets asked this question almost daily.
There is a big demand from customers wanting to install keyless smart locks on their gates so that they can use the smart features (such as tracking who enters and when) or just so they can stop providing keys to those that need access. However:
You cannot use most smart locks on a gate. Smart locks are designed to be installed on a home's front door, where half of the lock is inside. This half is not water resistant. Only one smart lock we know of, the ULTRALOQ, claims support for outdoor gates. But, there are alternatives to get most, if not all, the desired functionality.
Jump to:
What are You Trying to Achieve?
Smart Lock Options that Work for Outdoor Gates
Other Smart Devices to Consider
A Non-Smart, but Keypad Lock that Works Great
Do You Need The Smart Features?
What is it you are trying to accomplish? Do you just want to stop using keys? Or do you want all of the features available in a versatile smart lock?
If you only want to eliminate keys, there are more affordable options, that are easier to install and cost much less, than smart door locks.
When you think about a smart features, the most desired are multiple access codes, unlock and lock remotely, remote access, auto unlock at set times, and monitoring.
Can you let someone in when you are not at the location? Can you lock someone out when you are not at the locations? Can you issue pin codes and delete user pin codes when you're not at the location? Can you check to see who has entered and when?
Even though there are no name-brand smart locks for gates if you need the features, you can get most of them using add-on products, non-name-brand locks, or alternatives to smart locks. We cover keyless gate locking considerations and other options in our online article.
Here we are focused on how to use smart locks on a gate.
Smart Locks for Gate Solutions That Work
Choose a Non-Name-Brand Smart Lock
For deadbolt smart lock on your gate, you can use a non-name brand. Major brands do not design both sides of the smart lock to be weatherproof, but a few non-brand versions are claiming to be weather resistant on both sides.
As a professional locksmith, we don't normally sell non-name brands. They are typically brought in direct from overseas, use very inexpensive parts, and do not have a track record of success.
But, they are very affordable, so even if it only lasts a couple of years and is then replaced, because the locks are very affordable compared to the brand names, this may be worth it for you.
The one I know my customers have used and have said works well for them, is the ULTRALOQ UL3 available on Amazon.
In addition to pin codes, the lock boasts:
Lock communication using a smartphone app
A fingerprint sensor allowing you to register fingerprints – up to 100.
Can be opened by shaking your phone when near the lock
Can be opened using a backup key override as it has a physical keyhole.
Battery life of around 1 year
Activity logs
Be Advised When Using the Ultraloq
One thing to be aware of is that the lock connects to a bridge inside the home. A bridge is just something that is plugged into an outlet and acts the communication channel between your lock and your wi-fi. The lock talks to the bridge and the bridge talks to your wi-fi.
The location of where you install the bridge will be critical. The smart lock installed on the gate must be within communication range of the bridge (~20 ft) and the bridge within communication range of your wi-fi network.
Use of this lock on a gate will require that the gate have a gate box installed to support a standard 2 3/8 backset lock.
Use Smart Lock Covers to Protect the Non-Weatherproof Side
Some entrepreneurs have created a weather resistant cover for the back of their locks. The installation process for the lock covers is easy and it will make the backside weather resistant so that it can be installed outdoors.
One manufacturer has created a generic cover that can be used on a variety of locks. For a small additional cost to the lock, the weather resistant to protect the battery.
Smart lock covers can be an ideal way to solve the problem and create a water resistant backside for outdoor use. And, if you already have an electronic lock to use, this becomes a very budget friendly option.
You can find weather resistant smart lock covers on Amazon. This cover should allow you to use any of the smart locks from our article, What are the Best Smart Locks?
Other Smart Home Devices for Outdoor Gates
Use a Smart Padlock
In lieu of a smart deadbolt, you may be able to use a smart padlock as your outdoor gate lock. Smart padlocks offer several advantages over a deadbolt, the main advantage being that you don't have to modify the gate to support a deadbolt. The smart padlocks also tend to be more affordable than smart deadbolts.
I'd recommend NOT using a fingerprint reader. In outdoor use, the scanners may be in full sun and longevity of fingerprint readers in the sun is an issue. Dust and debris may also lead to false negatives, not being able to get in when you are enrolled as a user.
Many smart devices come with a fingerprint sensors. They're not bad per say, just be sure to purchase a device where there are other methods of entry should it fail.
My favorite is the Pin Code Igloohome Smart Padlock available on Amazon. It supports hundreds of pin, single use codes, and offers monitoring of code access. All from within a solid bodied lock.
The main disadvantage to smart padlocks is that the padlocks are usually just Bluetooth based. Which means, you get full programmability, code creating / editing, and can download reports from/to your phone, BUT only when near the lock. You can't do it from anywhere.
They also do not remain locked. That is, they won't auto lock when the gate is closed.
Mechanical Keyless Gate Locks
There are a variety of mechanical keyless entry gate locks that can be used to secure you gates and provide you access via a keypad, without needing a mechanical key.
We cover many of them in our online article "Keyless Gate Locks" for a variety of gate styles.
Mechanical keyless gate locks allow you to use pin code, and when desired, change that pin code to a new code when at the lock.
You lose the remote, dynamic operability of a smart lock, but you gain a longer lifespan since mechanical keyless locks have no electronics and many come with a lifetime mechanical warranty.
Our favorite by far is to use the Lockey C120 lock (available on Amazon).
The C120 is thin enough to mount on almost any standard tubed frame gate without modification to the gate, making it a great low cost, keyless gate entry solution.
DIY C120 Mechanical Keyless Gate Lock Install
Conclusions
You cannot get install the most common household-named smart locks on an outdoor gate
You can use a weatherproof cover on a name-brand lock to make it a smart lock for outdoor use
Some non-name brands claim to support outdoor use such as the ULTRALOQ on Amazon
You can use a smart padlock on your gate to get many of the advanced features of a smart lock
If your goal is to just eliminate the mechanical key and use a keypad lock, mechanical keypad locks, such as the Lockey C120, are great – low cost- easy installation options.
As an Amazon affiliate I may make a small commission on purchases made through the links on this page.

More of Our Favorite Security Products
See our Amazon Store for Videos and Links to All of Our Favorite Security Products.
Door Armor: Reinforce your doors. This video on YouTube shows the installation of Door Armor, and you can buy the product direct from Door Armor at a great price.
Video Doorbells: This video doorbell offers great images and video and has NO monthly video storage fees. Watch our SkyBell Video Doorbell Review on YouTube and buy it on Amazon.
Smart Locks: Access Your Locks via Smart Phone. You'll find some of our favorite smart locks that allow you to control home access and monitor entry in our Amazon Smart Lock Shop. Watch our Smart Lock Comparison Video on YouTube fore reviews of the most popular Smart Locks.
High Security Safes: When you want a safe that is designed to protect the valuable you put inside, you want a high security safe found on ACME Locksmith's Safes for Sale website.
Sliding Glass Door Lock: The best arcadia door lock that stops your sliding glass door from being lifted out of it's tracks and to prevent little ones from opening the door and leaving the home. Check out the video on YouTube and Buy it on our website.