What Type of Locks and Door Locks are Available?
Locks can be broken down by function (how they lock), by application (what they lock), by style (lever vs knob vs handle), and by grade (how well they are built). This article explains and compares all of those.
Jump to:
Types of locks by locking function
Types of locks by application
Types of home locks by style
Pro Tip: How to Fix Your Home Latches
Lock Grades 1 2 3 Explained
Types by Lock Function
Passage Sets
Passage locks are used when doors do not need to be locked. There is no
keyhole in a passage lock and no means to lock it. You'll find these locks on hall closet or bedroom closet doors, pantries, supply rooms, etc….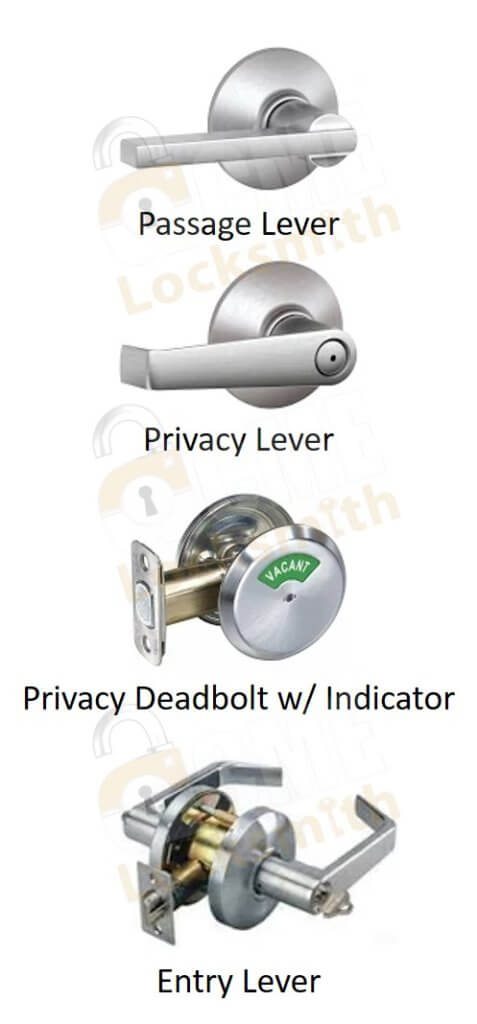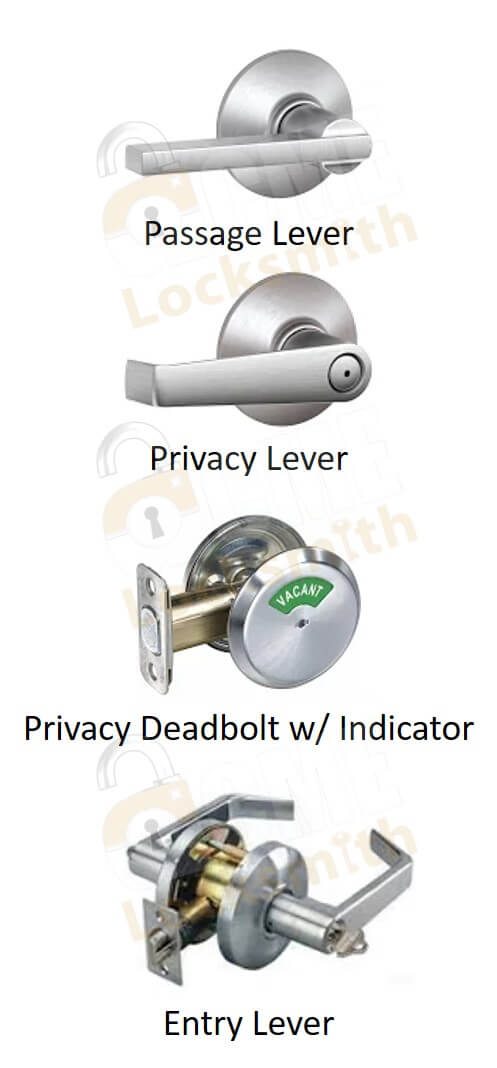 Privacy Sets
Privacy locks can be locked from the inside but do not require a key to unlock from the outside. This is usually a simply tool that unlocks it rather than a key. In homes these are most commonly the bedroom and bathroom type locks. Clothing businesses typically put them in dressing rooms.
To lock a privacy set there is usually a thumbturn or a push button/turn. Some privacy locks installed in bathrooms on commercial buildings have an indicator to show the locked or unlocked status of the lock.
Storeroom Locks
Storeroom Locks are used when the outside lever needs to be locked at all times. They require a key to unlock and open the door. There is no means to lock/unlock the door from the inside as it is always locked when the door is closed and can always be open from the inside to exit the door.
This is primary a business type of lock and can be used for secure storage rooms, mechanical rooms, and electrical rooms that do not require panic hardware.
When a storeroom lock is used there is often a door closer installed on the door to insure the door will not be left open and unsecured.
Entry Locks
Entry locks are controlled by a key in the outside cylinder and by a thumbturn or push button/turn on the inside. The use of the thumbturn/button provides the ability to lock the door or keep the door unlocked so a key is not required to enter for convenience to the user.
This type of lock should be used where unauthorized access is not a concern most of the time – like an office or storage closet that does not need to be secured at all times.
Classroom Locks
Classroom locks are controlled by a key in the outside cylinder, just like an entry lock. However, they can be set to stay locked our unlocked by the key. There is no method of locking or unlocking the door from inside of the classroom.
This function was originally designed for schools, to prevent students from tampering with the locks (i.e. locking everyone out of the classroom), but most new schools use classroom security locks (see below). A classroom function lock might also be used for a common office corridor or suite entry, where key control of the lock is needed, and a thumbturn or push button/turn is not desired.
Classroom Security Locks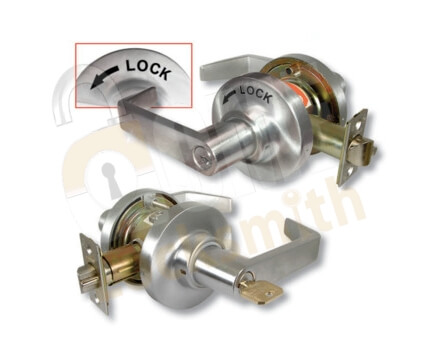 Classroom Security Locks allow control of the outside lever via key cylinders on both sides of the door. A teacher can lock her classroom door during a lock-down event without opening the door and possibly being exposed to an intruder in the corridor. In some areas these types of locks are required by law for school classrooms.

From inside the classroom, anyone can leave the room at any time, the key on the inside of the room only locks the external side of the lever. It is typically
keyed so that all of the inside cylinders on classroom doors are operated by the same key, or are operated by any key in the school's master-key system.
Types of Locks by Application
Securing Objects
These are locks that prevent items themselves from being taken. Most often this is accomplished by the use of padlocks and chains/cable around the object. Lock shackles and chains can be a few fractions of an inch to over 1/2 inch thick depending on the security lever you desire.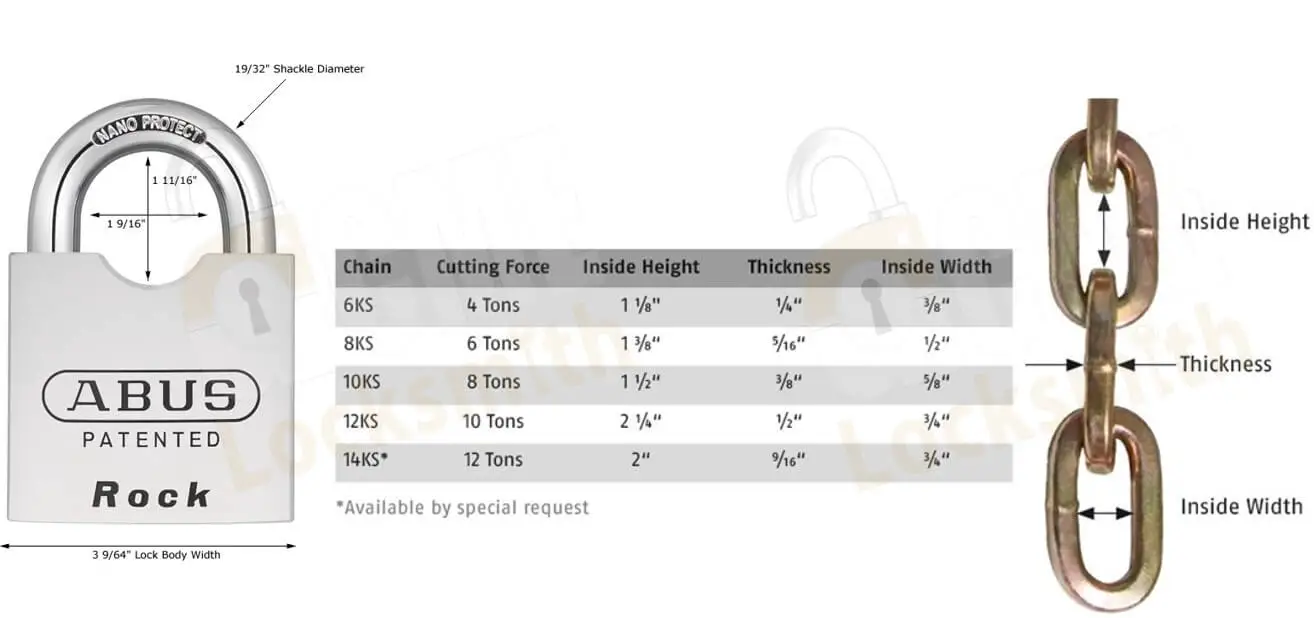 For high-end security, we love the Abus Rock padlock. It's as tough as it gets and has over a 1/2 inch shackle. The price of this lock has come down considerably over the last few years. See the latest pricing on Amazon. Combine it with a massive Abus 14ks chain (also over 1/2 inch thick) and you've protected your property to fullest extent possible. The Abus chain is not cheap, but it is the best. We found the best pricing for it.
The other method of locking objects is using a bolt mechanism. For automotive use there's the steering wheel lock called the Club. This large bulky object prevents a thief from turning the steering wheel making the car undriveable.
For bikes and motorcycles there are various u-lock options. Some u-locks have a big loop, so you can secure a bike to a bike rack. But our favorites u-locks are the little ones used on motorcycles. They work by preventing the disc brake from spinning.
Types of Residential Door Locks
Yep, these are the standard deadbolt and door knobs/levers. Door knobs and deadbolts serve two primarily different functions. The first is to automatically latch the door (so it won't blow open). This is accomplished by the latch that is in the knob or lever. The deadbolts primary function is securing the door. Deadbolts must be "thrown" to secure the door and don't latch automatically. We provide our recommendations for Best Home Deadbolts on another post.
Both latches and deadbolts can also be used on gates. The main benefit being that the gate lock can work from the house key keeping your key ring down to a minimum. For gates, a deadbolt can be modified with a gate latch. This changes the function of the deadbolt so that it will auto-latch when the gate is closed and thus auto-lock the gate. These are combined with gate closers so the gate won't be inadvertently left open.

Having recently entered the market, electronic deadbolts can be set to automatically throw the bolt of the deadbolt to lock the door after a specified time has lapsed. This is done by mechanical linkage within the lock. My favorite, and the lock on my home, is the Yale electronic touchscreen deadbolts. You can check their latest prices on Amazon.
Types of Commercial Door Locks
Almost everyone has seen a standard commercial lever (available with all the lock functions mentioned above). This is the most common and prevalent lock on a standard commercial door. Everything in a commercial lever (the latch, key cylinder, etc…) resides in one unit (i.e. the lock).
There is another very common commercial door lock. The mortise lock. The mortise lock is found on glass aluminum storefront doors. Those doors have a narrow strip of aluminum on the edge and thus the locks are considerably smaller. These locks are snapped out of place easily if you don't install a cylinder guard (our #1 recommended commercial lock upgrade).
Mortise locks are composed of two products, often purchased separately, a mortise cylinder ((the part that takes the key) and the mortise body or locking mechanism. Mortise locks can have all the same functions mentioned above with a few additional options. They can latch the door when closed or not. So entry to and from the storefront can be done by turning a handle or pushing a plate/panic bar (on the inside of the door) or the door can simply swing freely during business hours until it is locked again.
Securing cabinets/boxes
Securing cabinets or storage boxes is almost always done using a cam style locks. These types of locks have a post (cam) on the rear that turns as the key turns to lock/unlock the cabinet. There are a number of options available for cam locks.
There are a number of options available. They can be keyed to a standard key or keyed to a barrel key. They can also have a lock combination on the front of them so no key is required.
New electronic cam locks provide pin-code access and some even support audit trail (a report of who entered when). These are great for medical, dental and school medicine cabinets. Some are able to auto-lock the cabinet as well to ensure that it is not left open. The one we've installed at many businesses and my favorite electronic came lock is the CompX Regulator. Check the latest price on Amazon.
Securing Safes
We went into quite a lot of detail in our article Types of Safe Locks. There you can read about the keyed options, dials, electronic, biometric, and redundant safe lock options.

Types of House Locks by Style
There are five common types of house locks by style. They come either with a bolt that needs to be "thrown" to lock the door or a latch that will automatically hold the door closed and can also be locked.
Latching House Locks
Locks with latches will hold the door closed, even if not locked, to stop the door from accidentally opening. Pretty much all door knobs and levers are of the latch type. They can be found in passage, privacy, and entry functions.
Door knobs are the oldest of the bunch but they've fallen out of favor. They are certainly the least expensive of the options.
Door Levers are the most popular today. Our customers like them because they are easier to turn, especially for those, like me, getting up in age. The lock levers provide leverage so not as much strength is required to open the door. When customers call us wanting us to make their door knobs easier to open, we put on a lever. There are many flavors of these locks in terms of style and finish. Check out what's available on Amazon.
Door Handles are also very popular on front doors. Instead of twisting, a thumb turn is pressed to release the latch. Many of our customers do not like like the handlesets stating that the thumb turn is hard to press. However, the are very decorative and make a front door look amazing. Check out the styles and finishes of handlesets at Amazon.
Pro Tip – Latch Alignment: See that little extra piece of material on that latch? It's called a deadlocking plunger. Do you know what's it's for? Well, it serves to lock the latch in place so it can't be moved/slid back into the open position by a credit card or screw driver. This is extremely important for your home security, but many homes do not have the locks adjusted correctly so that they work.
When the latch is in the out position and the door is closed, the latch should be pushing the plunger into the door. If the door or latch is misaligned, or if someone has ground out the latch hole too big, the plunger will not be pushed in and the lock with the latch can be very easily bypassed.
Bolting House Locks
These are the deadbolt style locks. They differ in that the bolt must be thrown in order for it to have a securing benefit. Most major lock manufactures (Kwikset, Schlage, Yale, Emtek, etc…) have created electronic versions of these types of locks. The best thing about electronic locks is that they can be setup to auto-throw the bolt after the door has been unlocked for a certain amount of time. Thus, you door will always be at it's most secure. We recommended our Top 3 Favorite Electronic Deadbolts on our blog.

Pro Tip: People like to shop online, but if you buy your locks online (or even in a big box store) you may run into a couple of issues. The key for the lock purchased will not be the same as the reset of your house, and they keys may not be the same as the other locks you purchased at the same time. Before installing the lock(s) take it to a local locksmith shop. They will be able to key up the new locks to your existing house key if you want or key them all the same if you need that done. At ACME Locksmith, when we sell a lock we include the keying of it for free.
Lock Grades 1 2 3 Explained
The ANSI lock grading system was developed to setup a standard testing procedure to measure the strength and durability of a lock. The system is composed of three lock grades.
Lock Grade 3
Lock grade 3 is the least secure of the three lock grades. It should be considered basic door hardware, for non high security situations, and is the least exensive. It is also the common lock you will find on homes. If you have lock grade 3 on your home, you really should consider upgrading to grade 2 or taking your locks into a locksmith shop to install anti-bump, anti-pick pins in them in order to improve your lock's security.
For lock grade 3, the lock must be tested and able to handle 200,000 lock cycles, 2 door strikes and a 150-pound weight test. Deadbolts in this category need to be able to handle 100,000 cycles and a 2-door-strike hammer test.
Lock Grade 2
Lock grade 2 is the next level up in terms of testing and security. Grade 2 locks are not usually sufficient for many commercial buildings, but they exceed the building requirements for residential buildings. Grade 2 door knobs must handle 400,000 cycles, 4 door strikes and a 250-pound weight test. Grade 2 deadbolts must handle 150,000 cycles and a 5-door-strike hammer test. You can find grade 2 locks easily on Amazon.
Lock Grade 1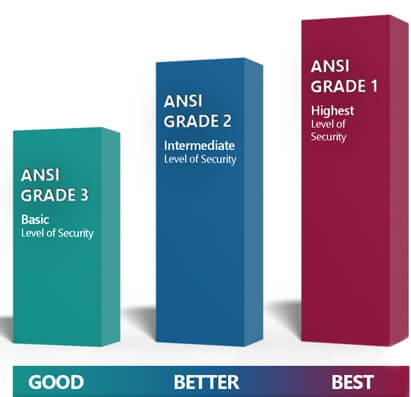 Lock grade 1 is the top of the line rating. They are typically intended for commercial security, but we are seeing more grade 1 locks targeting residential use (particularly with electronic locks). Grade 1 locks and deadbolts can be used on homes when you want the best security, but they tend to be limited in style and finish options. Budget becomes important here as well since grade 1 locks are the most expensive. Grade 1 door knobs units need to withstand 800,000 cycles, 6 door strikes and a 360-pound weight test. Grade 1 deadbolts need to withstand 250,000 cycles and a 10-door-strike hammer test. There are some nice residential grade 1 locks well priced on Amazon.
If you need any help on choosing which lock type you should go with, stop by a local locksmith shop and they'll be glad to help.
The Difference Between Residential Grade Locks and Commercial Grade Locks
The ANSI grading system does not appear to make a distinction between residential and commercial graded locks. So long as the minimums mentioned above meet the tests, the grade will hold for either.
However, there is no doubt in my mind that lock types intended for commercial use are better products. They are heaver, use no plastic parts, and in my experience more durable in every way. You can check out our lock comparison of a grade 2 residential deadbolt sold by a big box store and a commercial use grade 2 deadbolt sold by ACME Locksmith.

Disclosure: As an Amazon Associate I earn from qualifying purchases.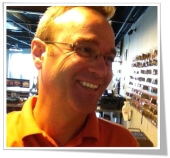 ACME Locksmith is Arizona's #1 Rated Locksmith. We have been performing lock and key services in Arizona for over 20 years. In that time ACME Locksmith has serviced over 100,000 customers.
Over 1900 5-Star Rated, Verifiable Arizona Customer Reviews
Super Service Award Winner Eight Years Running
Selected as an Angie List Phoenix-Best Contractor
BBB International Marketplace Excellence Award Finalist
BBB Ethics Award Winner – The Only Locksmith to Ever Win this Award
Details About ACME Locksmith