Last Updated on February 24, 2023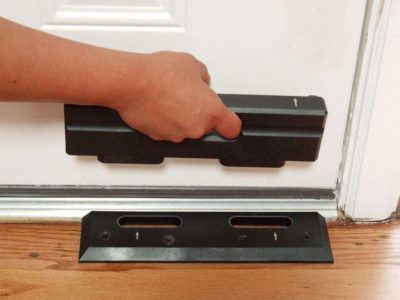 Standard home locks don't make your door safe from a would-be intruder.
Your door locks are likely held to the framing with only 1/2″ screws secured into trim molding. This door can be easily forced open. Swapping those out with 3″ screws is a must to prevent forced entry (see our article, How to Reinforce a Door), but that's just the first step.
Most big-box-store, common home locks can be picked, bumped or otherwise bypassed within seconds, and YouTube shows everyone exactly how to do it.
The best way to secure a door from the inside is to use door barricade devices (or door braces). Barricades will reinforce the door to protect from forced entry and stop the door from opening if the locks are bypassed. They are easy to install and easy to remove. They are one of the best door security products you can use to reinforce a door.
The Best Door Barricade Devices – Locksmith Recommended
---

Common Types of Door Braces
Door barricades (or door braces) are installed on the inside of a door to further secure an entry door from forced entry. There are four primary types of door barricade devices: portable braces, security bars, half deadbolts / flush bolts, and door reinforcement / jammers.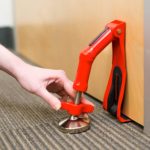 Portable braces are lightweight so they can easily travel. They offer an increased level of security but can still be forced open in some cases. Other types only benefit when the door does not lock with a key or you believe someone could open the lock with a key/code.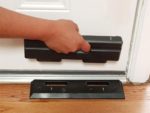 Door reinforcement / jammers offer security by stopping the door from an inward or outward swing, making the door resistance to kicks and brute forceful entry.
Door reinforcement increases the pounds per square inch of the pressure needed by a burglar to break into your home or business. Typical doors, residential and commercial, are compatible with the various braces. For front and back doors, you should use heavy-duty braces since these are the main entry points.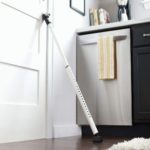 Security Bars come in two forms. The first is placed on the floor on one end and under the lock on the other. The second, the better barricade of the two, lays across the door and secure to both sides of the door frame.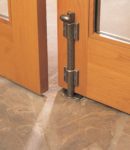 Deadbolts/ flush bolts operate very similar to each other. The goal is to secure the door on the inside to the frame, ceiling or floor using a bolt. Deadbolt do this while being installed inside the door. Flush bolts to this while being installed on the surface of the door (i.e. flush to the door).
Our Evaluation Criteria
Level of Effectiveness
Capability. Does the brace/barricade provide a level of security above that of a standard locked door. For example, our portable door lock does very well at achieving the strength of a deadbolt for a door that either does not have one (or has one that has been bypassed), but since it does not improve upon that strength, we rated it a neutral 3.0.

Flexibility. Standard doors are from 30 inches to 36 inches and about 80 inches in height. However, this is not the case for every door. So, before you purchase a door brace, measure the door's height, thickness, and width to make sure the product you are looking at is within the product's working dimensions. If it is not, the product will not work.
Placement. Consider where the security bar will be placed on your door. The strongest brace will be installed near the middle of the door, where most people kick or hit the door. Braces at the top and bottom of the doors, will be less secure than those used in the middle, especially when force is applied to the opposite end of the door. leave the other side of the door less secure.
There are specific door braces for outward swinging doors too but those are primarily for commercial doors.
Type of Flooring. Before you buy the door brace, make note of the flooring next to the door you want to secure, because some security bars may not work on linoleum or carpet flooring.
Looks
You may not want to to feel like you're living in a prison, but the most secure door barricades are large and bulky. Is that acceptable to you? Using them may make some people feel claustrophobic in their own home.
Many braces are large and will need to be set aside when not in use. Is it OK for you to always have this piece propped next to the entry door when not in use?
Ease of Use
Installation: If you are not good with tools, you may want to choose products that are easy to install without professional help or can be installed affordably. Some braces take less than a few seconds to install. No drilling required. Others require securing to the foundation (concrete), and the most complex ways require drilling additional holes into the floor or door. Though difficult to install, the latter can provide the best door security improvement.
Implementation: Once installed, how easy is it to put the barricade in place on the door when needed and how easy is it to remove when you need to use the door?
Cost
If we all had unlimited cash, we would just buy high security locks costing several hundreds of dollars, but the brace you choose will be partially decided by your budget.



Detailed Analysis of the Barricades We Selected
Best Overall Door Barricade – Detailed Review of Doorricade
(available on Amazon – check price here)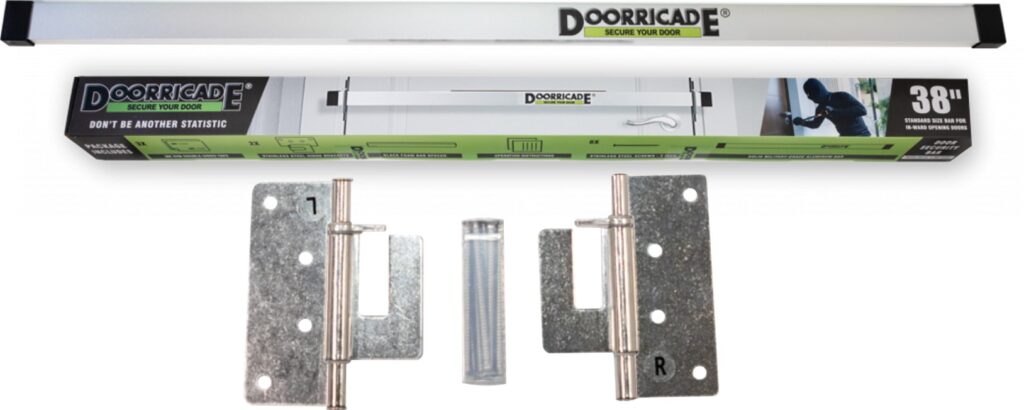 Overview:
Security bars that go across the entire door offer a tremendous amount of door reinforcement. They are the best protection against a forced entry.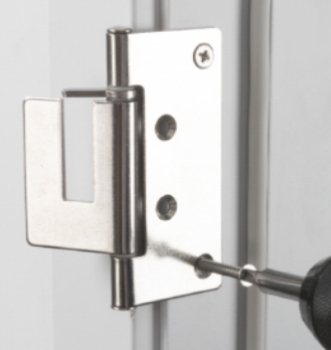 The bars are centrally located to minimize door flex during a force entry attempt, and they secure the door from the inside on both the left and right sides of the door (for better distribution of force).
This bar won out because of how it is attached to the frame of the door with 2-4 3″ security screws into the 2 X 4s behind the framing.
This vertical attachment helps minimize the visibility of the brackets to make the bar more attractive than most in the door bar category.
Most security bars of this type secure outside of the door frame and hitting a 2 X 4 isn't guaranteed (you may just be securing to dry wall).
The solid aluminum bar is held in place by easy to use pivot locks and there's a spacer that can be placed on the back of the bar, against the door, to remove any gap in the door.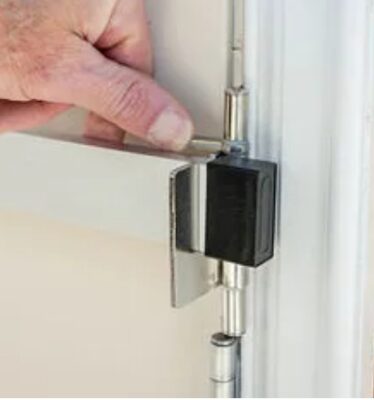 Scores:
Effectiveness:
Appearance:
Ease of Use:
Cost:
Summary:
If you don't mind a security bar, the Doorricade door barricade is the best alternative product to lock your entry door in place.
It's been tested to 6500 lbs of force, yet the bar can still be quickly removed. And, for a security bar, it has a pleasant appearance and doesn't leave you feeling like your in a prison.
PROS
Everything you'll need in the box, including the 3″ screws we recommend on all entry doors.
Secures in the middle of the door, on both sides, into the 2 X 4 framing.
Solid aluminum bar.
The bar is secured to the brackets but can be easily removed when needing to exit.
Tested to 6500 lbs of force.
If it's removed in the future, with the door closed the previous installation is not visible.
CONS
In-swing doors only.
May want to have it professionally installed.
Some may not like the look of a door bar.
---
Evaluation of the OnGard Floor Mounted Door Brace
(available on Amazon – check price here)
Overview:
The OnGard is one of the most solid door braces you can find. We have installed several for our customers.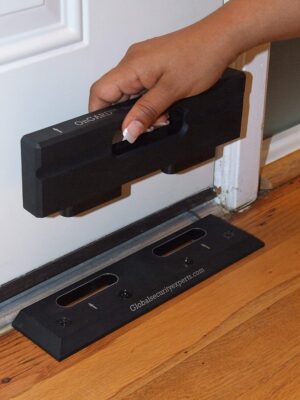 Instead of just relying on pressure against the floor in order to brace the door, the OnGard comes with a flat plate that is secured to the concrete foundation, through any flooring in place, using screws. Because of this, some may not be comfortable installing this themselves and OnGard recommends professional installation.
Note: the base plate is ½" high so you will need to ensure you have that much clearance when the door swings open.
What sets this apart from the other floor mounted braces we've installed is the ability to quickly remove the brace by simply lifting it up. Others need to be slid out along a track, so this has an ease of use advantage over the other similar brands. You'll still have to bend over every time, but it's easy and quick to place and remove and you won't have to get on your hands and knees.
The one thing we don't like about the floor mounted braces is that door will start to flex as it is being tried to be force open because all the resistance is at the bottom of the door (once the locks are open). In fact you see this in the OnGard's product demonstration on their YouTube channel but this door barricade product still holds.
Scores:
Effectiveness:
Appearance:
Ease of Use:
Cost:
Summary:
The OnGard can withstand up to 3,100 pounds of force; that's the weight of an elephant. It is the only product we are recommending in this line up that will also work on a French door (without additional things needing to be installed). Perfect for most type of tiles, concrete and wood floors.

PROS
Tested to 3100 lbs of force.
Works on double doors (French doors) without modification to the doors.
Easier to place and remove than other similar floor mounted products.
Better looking than a door bar.
CONS
One of the more expensive solutions especially if hiring an installer.
Mounted at bottom of door which can lead to door flex when trying to force the door open.
---
Evaluation of a One-Side Deadbolts
(available on Amazon – check price here)
Overview: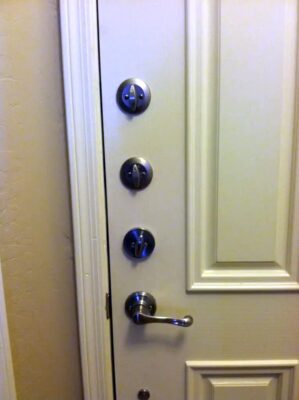 One sided deadbolts (or half deadbolt or single sided deadbolts) are our favorite door reinforcement. We've written several articles on them (see The Best Home Deadbolt), and we've installed hundreds of them.
What makes them a door barricade? Unlike a regular deadbolt that has a key on the outside of the door, one-sided deadbolt have no indication that a lock is present. So it's an extra bolt on the door that is not visible from the outside, a.k.a a door barricade.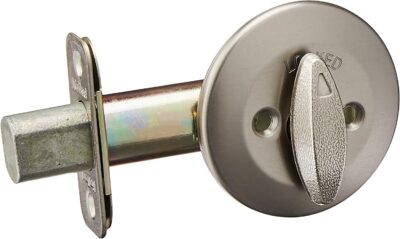 Several manufacturers make half deadbolts, some being slightly better than others (we prefer the Schlage), but they will basically all perform similarly. And, having the different manufacturers ensures that you can get one that matches your current door hardware, for the most attractive door brace available.
What's more, it's a single motion throw device, installed near the center of the door. So it is the easiest of this group of door braces to use.
We've had customer ask us to install as many as four of these on their doors.
Scores:
Effectiveness:
Appearance:
Ease of Use:
Cost:
Summary:
Single sided / half deadbolts are the easiest to use and most attractive of all the door barricades. Even when all locks have been bypassed, you still have the strength of a deadbolt (or two or three) distributing force and keeping the door shut. Be sure to follow our recommendations on How to Reinforce Entry Doors to get the maximum benefit from these.
PROS
The easiest door brace to use.
Can match existing door hardware.
Can install more than one for extra protection from force entry.
CONS
Likely requires professional installation, making it more expensive than other solutions.
---
Evaluation of the Addalock Portable Door Lock
(available on Amazon – check price here)

Overview:
Portable door braces can be very effective when used in appropriate situations. Primarily, the are to be used only in situations were you cannot lock a keyed door (bathrooms, bedrooms, etc…) or you believe that someone else can bypass the keyed entry (for example hotel rooms and AirBnB rentals).
In our detailed review of the portable door locks, those that hooked into the strike on the door frame perform better than those that use the floor as a tension point, the later tending to slip.
The Addalock proved to give any door lock the strength of a locked deadbolt. Even when the door lock was unlocked.
The Addalock's metal tab hooks into the strike plate on the frame of the door and uses another plastic covered piece of metal to brace the door from opening.
Scores:
Effectiveness:
Appearance:
Ease of Use:
Cost:
Summary:
In our evaluation of four portable door locks, this one won out because it is very easily packs into a suitcase, holds the door as if it were locked by a deadbolt, can be used on a wide variety of door latches and size, and is affordable (price it on Amazon).
Prefer Video? Portable Door Lock Demo & Review
Amazon's Best Selling Portable Door Lock Review
PROS
Gives a door the strength of a deadbolt even if one is not installed or has been bypassed.
Can be used in a variety of applications (hotel, bedroom doors, entry doors, commercial doors).
Secures in the middle of the door, reducing door flex during a forced entry attempt.
Inexpensive and easily transported.
All pieces are attached, so they won't be misplaced
CONS
Though I found it easy to install, some have reported difficulty in getting it work.
In-swing door only.
---
Conclusions
Door barricade devices can be used without replacing your existing locks or doors to provide a high level of improved door security and to prevent the door from being kicked in or forced open.

There are various options including those for travelers. For the do-it-yourselfer, our favorites are the OnGard floor bracket, and the Doorricade barricades, but half deadbolts are the clear best solution when ease of use and appearance are desired.
Disclosure: As an Amazon / Google Associate I may earn from qualifying purchases.