How to Lock Outdoor – Gate Lock Options
As a Phoenix Locksmith Service we provide locksmith service for residential and community gate locks. We've seen them all, and we get all types of requests. Below are the most common ways to lock gates under a variety of needs and for a variety of gate styles.
Gates can be locked in a variety of ways. Which is best depends on the type of gate you have, what you are trying to achieve by locking the gate and your budget. Your options to lock a gate are padlocks, standard door locks, gate-specific keyed locks, mechanical key less locks, and electronic locks designed for gates
Jump to:
Overview Outdoor Gate Locks: Side Gates & Courtyard Gates & Community Gates
Securing Commercial Chain Link Gates
Keyed vs Keyless Gate Locks
    Keyed Gate Lock Options
    Keyless Gate Locks Mechanical
Smart Locks for Outdoor Gates
What to Expect Gate Modifications for Gate Lock
How Much Does it Cost to Install a Gate Lock?
Gate Lock Option Q &A
Locking Outdoor Gates: Side Gates, Courtyard Gates & Community Gates
Have you been using a padlock to secure your gates? Though it is the most common way to lock an outdoor gate, it's also one of the least secure. Padlocks, if not bought carefully, can easily be cut or pried off – as can the chain or hasp that is holding them.
It's can also very frustrating that, just when you need to get it, you can't find the key!
Outdoor gates can be secured using several alternate methods. Padlocks being one of them, but also keyed latches, keyed deadbolts, keyed levers, chains, and keyless locks can be used.

Gate Locking Challenges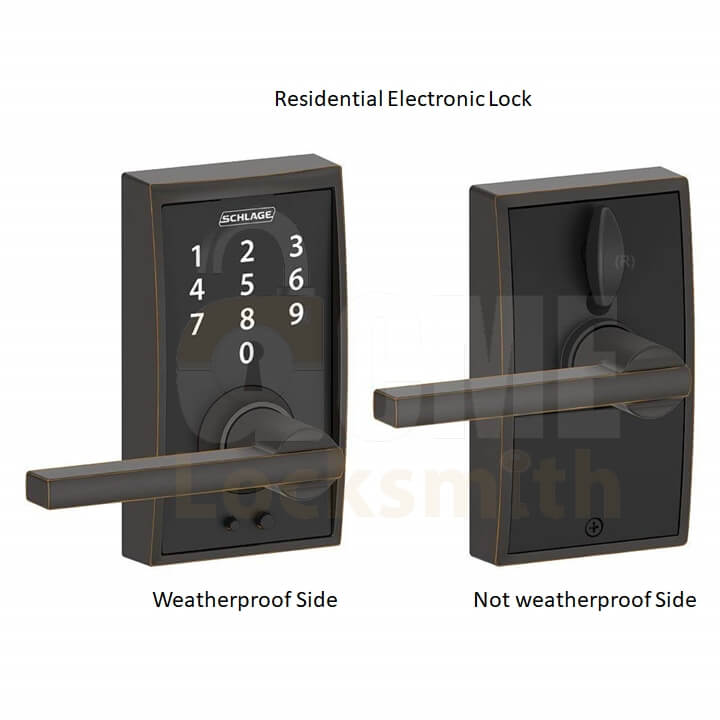 The Gate is Outdoors.
Whatever lock is put on needs to be weather resistant. We know of several home owners that installed home electronic door locks on their outdoor gate. That's a big no no. Only one side of a residential electronic lock is weather resistant. The part of the lock that is normally inside the home, is not. Putting these locks on gate results in a quick failure of the lock.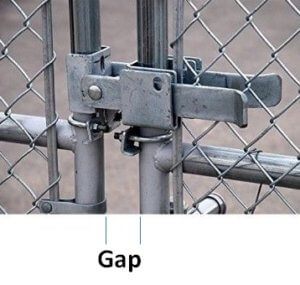 The Configuration of the Gate
This is true especially if the gate is old or a chain link fence. All gate locking solutions that we are discussing require that the swing-side of the gate be close to the stationary post of the gate in order to lock.
Any locking mechanism need to cross this open gap for the gate to be able to secure. On many old gates, the gap is too wide and major modification will be needed in order to latch the gate shut.
Depending on the gate, this distance will likely need to be less than one inch. For gates with steel square tubing (where a gate box will be required to be installed), a locksmith can close the distance when welding in the gate box. The measurement of this gap should always be taken into consideration when shopping for a solution.
Will a Gate Box Need to be Installed?
Some of the available products for locking gates won't require a gate box to be installed, but many will.
A gate box is a box that is welded or otherwise secured to the gate. The box is specifically milled to properly secure the type of lock you are installing. Some gate boxes also contain an extra piece of metal (see image) that piece acts as the stop so the gate will stop in it's proper position when swinging closed.

You will need a gate box if you plan on using a standard piece of door hardware (deadbolt, doorknob or lever) or a commercial-grade keyless gate lock.
You will not need a gate box if you are using a keyed latch, hasp or a good durable chain with padlock.
Most local locksmiths carry the welder needed to weld to steel and can install the gate box and lock to the gate for you.
Do You Need a Gate Closer?
Do you need a gate closer? When modifying your gate, you will want the gate to close automatically so that when it latches the gate will be locked, and if you own a pool this is a code requirment. You will need a gate closer (a kant-slam gate closer or springs / pneumatic gate closer) so that the gate can close and lock automatically. Gate closer pricing varies wildly depending on what you want to purchase, you can find the prices of almost all options on Amazon here.
Again, your local locksmith can assist with this installation. If the gate already closes on its own, you are all set.
Is this an Arizona Gate?
In Arizona, nearly all new homes are built with block / stucco fences that have wooden slat gates. So our locksmiths in Gilbert, AZ and locksmiths in Chandler, AZ are installing lock boxes with deadbolt or mechanical keyless access in most cases.
Our Scottsdale, AZ Locksmiths see higher end gates made of all steel or wrought iron. Locking each of these gate types are similar and discussed below.
Tempe, AZ and Phoenix have older homes, many of which have chain link fences so our Tempe Lock Service and Phoenix Gate Lock Installation often use a different gate locking solution.
Securing Commercial Chain Link Gates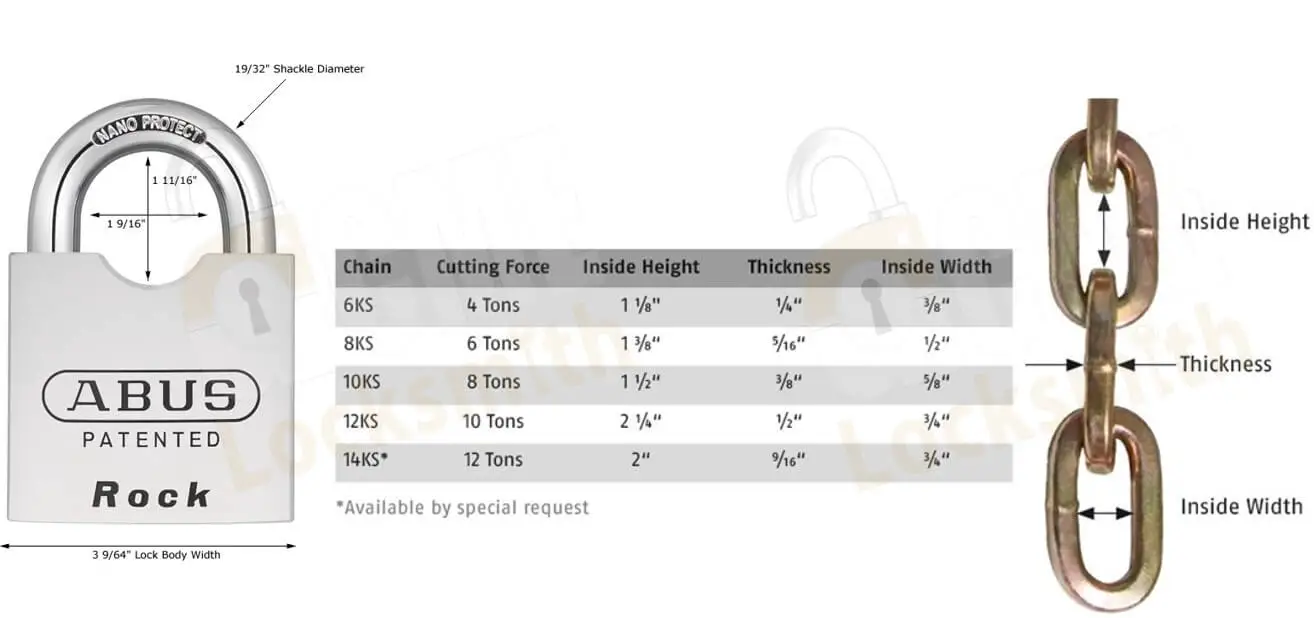 Chain link fences can be the most difficult to add after market locks to. A standard steel welder cannot weld to the galvanized metal used in chain link fences and your local locksmith will most likely only have a standard welder. So that eliminates the possibility to install a gate box and thus eliminates a number of options you might of otherwise had.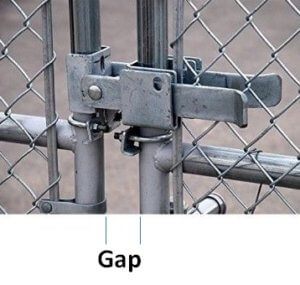 For this reason, if the gate was not fabricated with another lock in mind, most people just use a a padlock to secure the locking hinge in place with a chain or a hasp specifically designed to use on chain link gates. If this is the only method available to you use a secure padlock and chain. Take a look at both our article and video of our favorite padlocks for different price points.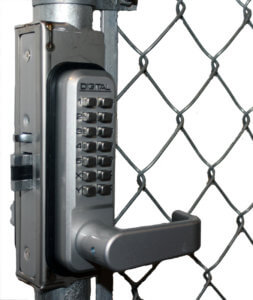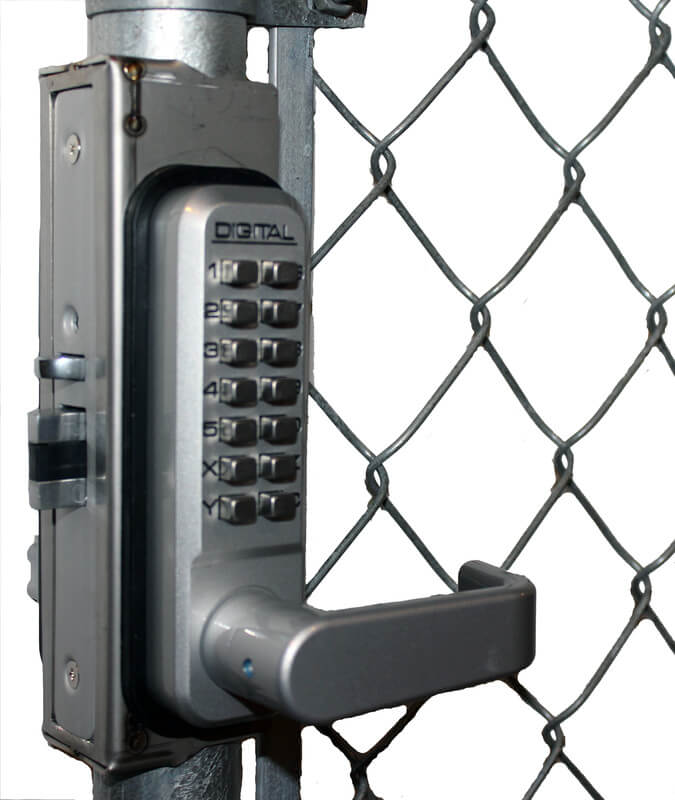 Lockey came out with an excellent product to secure a chain link fence, the GB2900, but there are a few considerations. The gap between the rail and the post must be tight. Usually 1/4″ – 1/2″ before installation. Otherwise the latch will not catch and lock the gate. Additionally the fence rail must be 1 5/8″ or 1 7/8″ to secure the box.
No welding is required to install this gate box. Considering the very limited options for an easy to open keyless chain link gate lock, this is a great solution. I found a good price for it when writing this blog on Amazon.
If you do need the chain link gate box, in order to get the self latching feature when the gate is closed you need to get the Lockey 2985. it also has a good price on Amazon. If you're in the our Phoenix locksmith service area, we have a ton of experience installing these locks. If you're not in Arizona, just contact your local locksmith if you need assistance.
Keyed vs Mechanical vs Electronic Gate Locks
Once you've determined that your gate can support a lock box you now have the option of installing keyed locks (like deadbolts, door knobs, and levers) or keyless locks (such a those that use mechanical pin codes or electronic pin codes / fobs).

What are the trade offs?
Keyed Gate Locks
Keyed locks have one big advantage: price. Especially if you can use the Keyed Latch shown. These locks are easy to install and a great price at Home Depot. The brand I carry use the Kwikset keyway. So if your home locks are Kwikset, this can easily be keyed up to the same house key. Just take it to your local locksmith before installing and they will take care of keying it for you.
If you can't use the keyed latch, you can use normal residential door hardware but the gate will need to be modified. Even with the modification, it will be considerably less to use keyed hardware rather than keyless because not only is keyed hardware less expensive but the keyless hardware will require the same type of gate modification to support it.
Without that right planning, keyed gate locks will suffer from the same problem as padlocked gates – keeping track of that extra key. Nothing is more annoying than realizing you need to open the gate only to discover you can't find the key!
To minimize this problem with keyed gates, make sure that the keyway of the keyed lock you are planning to install matches the same keyway as your house key. Thus, eliminating the need for an extra key. If having an extra key does not bother you, keyed gate locks are a very affordable and easy solutions.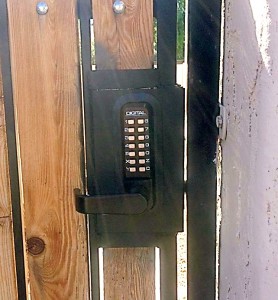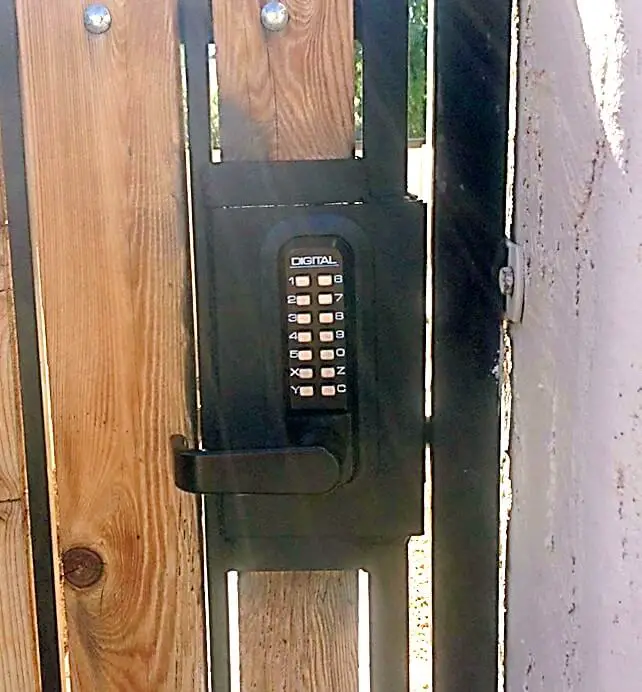 Mechanical Keyless Gate Locks
We love keyless locks for gates. They have two main advantages: convenience and flexibility.
For convenience there are no keys to keep track of so you'll never be searching for the key. For flexibility the codes can usually be changed by the owner. So if that lawn care crew you were using doesn't work out, you can simply change the code so that they no longer have access to your back yard, giving you the best security.
But cost can often be the issue, especially when the gate was not configured to support these locks. Gate modification will be required for most of the keyless gate locks, plus there is the cost of the gate lock itself.
Mechanical gate locks are less expensive than their electronic counter parts. However, it can be difficult to change the code because the locks must be taken apart and a series of wafer pins rearranged. If it is too much, your local locksmith will certainly be able to help. Mechanical gate locks only allow one code, but this is sufficient in most applications.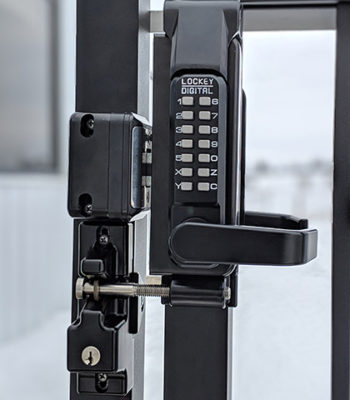 Our favorite mechanical gate locks are from Lockey. The offer a lifetime mechanical warranty and can be found on Amazon. They are a great value and a great gate lock.
Lockey just introduced a new keyless gate lock option that does not require welding so long as the gate meets the size and spacing restrictions of the lock. This is a great way to go and if you want a DIY keyless gate lock. The lock is expensive, but you will save on the welding and labor of installation, so in the end it is about $100-$200 less than the welded options.
The requirements are that the width of the square posts must be at least 1.5 inches. This will eliminate a lot of gates. The gap between the two posts can be up to 2″ and the latch will still work. The depth of the post can be up to 3.5″ out of the box and up to 5″ when you add the extension kit. We sell this lock on our website at a discounted price.

Electronic Keyless Gate Locks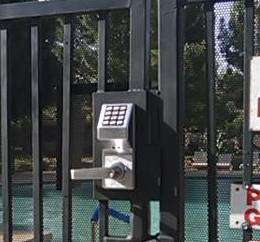 Electronic gate locks offer all of the advantages of mechanical keyless gate locks. But they have the additional advantages of supporting more than one code (good for community gates where tracking access is desired) and the codes are easier to changed than on the mechanical locks.
Electronic locks are are the most expensive locks available though. Check out our article discussing our favorite stand alone electronic locks to see if these locks are right for you.
Residential Smart Locks for Gate
Residential smart locks, those with a touchscreen and wireless access via a smart phone, for outdoor gates are currently very rare.
This is because the residential-style locks are not weatherproof/waterproof on BOTH sides. See our detailed article Can I Use Smart Locks on Gates?
We found only one non-commercial smart lock claiming to be for outdoor applications, the Ultraloq UL3 Bluetooth Enabled, Fingerprint and Touchscreen Smart Lock. This lock is available on Amazon.
This smart lock claims to have it all. Bluetooth support, touchscreen and fingerprint scan. It can hold up to 99 user codes and has the ability to download an audit trail (who gained access to your gate and when) to the phone via the bluetooth connection). It also has a key override at the base of lock, out of view, but available if needed.
We have not yet tested this lock we cannot state how good it is, but it is the ONLY Smart lock available claiming to be weather proof on both sides for use on outdoor gates. Based on the price point, I am suspicious if it would last on an outdoor gate.
For keyless gate locks we would urge you to consider the mechanical keyless gate locks by Lockey. They are an exceptional one-code option. And for electronic, multi-code options, commercial locks by Marks and Alarm lock are excellent. Both are field tested, keyless gate lock options that will last for many years.

Marks
If you order any of the above, be sure to get a gate box to support the lock. Unless you have welding experience, we recommend hiring your local locksmith to help with the installation.
Modifying a Gate to Support a Lock
Unless you are using the padlock or the keyed gate latch, existing gates may need extensive modifications. Make sure the local locksmith you hire to modify the gate for a gate lock understands the following:
Welding. A portion of the gate will need to be cut out to support the gate box. The gate box will need to be welded into place.
Reach Around. Depending on the height of the gate and the gates current construction, you may need to prevent someone that wants to get in from simply reaching through or over the gate in order to open the lock from the lever inside. Reaching through is often prevented by welding on a piece of steel mesh over the slots in the gate. Reaching over is prevented by either heightening the gate or welding an additional piece of metal around the lever. The image shows the inside side of an keyless gate lock installed. Both the mesh and a protective shield have been used, though it's difficult to see the mesh. You can also choose a lock that has a key on the inside or a keypad on the inside so that someone can't reach over/through the gate. Depending on the gate, this may be a fire code violation so always check with your local fire department before preventing free egress.
Gate Closer Serving. If they gate does not currently close on its own, a closer will need to be installed if you want the gate to self close and automatically lock.
How Much Does it Cost to Add a Gate Lock?
The cost to add a mechanical keypad lock to a gate will depend on the lock itself and the gate modification you want done. In order of expense with our recommended products. For keypad gate locks, professionally installed will cost between $300 and $1000 depending the on gate modifications needed to support the new lock.
A padlock keyed to your house key will run about $50
A simply mechanical keyed deadbolt installed by a locksmith can run from $300 to over $1000 for the labor, welding, gate box, and lock. Once of the most affordable mechanical gate locks is shown in our YouTube Video.
Commercial grade, electronic keyless entry, depending on the options of the lock, $900-$1500
If your gate already has a deadbolt installed but does not lock automatically, Keyed Gate Latches can be had for around $50 (see it on Amazon). If you need a local locksmith to install add $100 for the service call and labor.
Padlock and Chain: Our favorite padlocks and chain will secure that gate of under $150.
Gate Modification: Cutting and welding in a gate box varies a little depending on the gate box needed and the existing configuration of the gate. For gates that do not need any reach around protection you local locksmith will run in the neighborhood of $200-$250 for the service call and labor. Add $100-$150 more for reach around protection. These prices do not include the parts.
Gate Modification Self Closer: If the gate needs an additional closer, welding and part will run approximately $150-$250 depending on what type of closer is used. This does not include the part.
Locks: Standard key locks are priced just like house door hardware and are in the neighborhood of $50 per piece. A good mechanical pin-code lock will be about $200 (see on Amazon) and a good heavy duty commercial grade electronic lock $350 on up (see on Amazon).
Disclosure: As an eBay / Amazon Associate I may earn from qualifying purchases.

More of Our Favorite Security Products
See our Amazon Store for Videos and Links to All of Our Favorite Security Products.
Door Armor: Reinforce your doors. This video on YouTube shows the installation of Door Armor, and you can buy the product direct from Door Armor at a great price.
Video Doorbells: This video doorbell offers great images and video and has NO monthly video storage fees. Watch our SkyBell Video Doorbell Review on YouTube and buy it on Amazon.
Smart Locks: Access Your Locks via Smart Phone. You'll find some of our favorite smart locks that allow you to control home access and monitor entry in our Amazon Smart Lock Shop. Watch our Smart Lock Comparison Video on YouTube fore reviews of the most popular Smart Locks.
High Security Safes: When you want a safe that is designed to protect the valuable you put inside, you want a high security safe found on ACME Locksmith's Safes for Sale website.
Sliding Glass Door Lock: The best arcadia door lock that stops your sliding glass door from being lifted out of it's tracks and to prevent little ones from opening the door and leaving the home. Check out the video on YouTube and Buy it on our website.
Padlocks: Not all padlocks are created equal. These padlocks are the best for their specific application. See our Favorite Padlocks on Amazon.
As an Amazon / Ebay affiliate I may earn a small commission if products are purchased by following links on this webpage.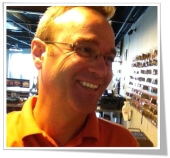 Robert has been the Owner of ACME Locksmith, Arizona's #1 Rated Locksmith, since 2007. ACME has provided locksmith service to over 160,000 Phoenix houses and businesses.
Over 1400 5-Star Rated, Verifiable Arizona Customer Reviews
Super Service Award Winner Eight Years Running
Selected as an Angie List Phoenix-Best Contractor
BBB International Marketplace Excellence Award Finalist
BBB Ethics Award Winner – The Only Locksmith to Ever Win this Award